It's back and better than ever! Our Break Out Culture podcast is back with a bang for a third series. Culture editor, Ed Vaizey, and associate editor, Charlotte Metcalf discuss the week's cultural offerings with a brilliant edit of what you should be watching, reading, listening to, booking and visiting each week. Their roster of high profile guests from adds illuminating insight to the current cultural landscape.
Listen on iTunes
Listen on Spotify
Break Out Culture Podcast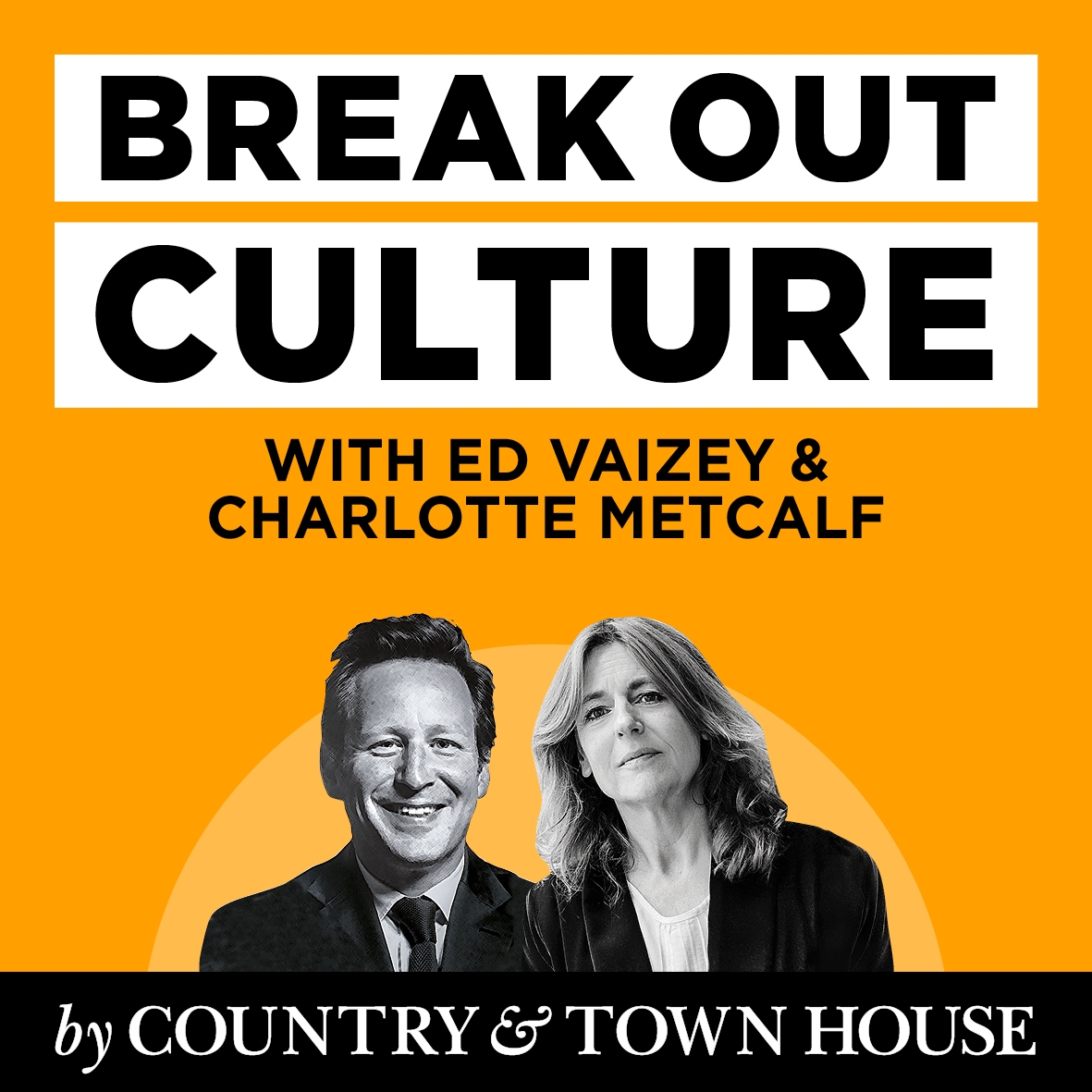 EPISODE 88:
New Perspectives on Lucian Freud, w
ith his friend and assistant David Dawson and curator Dr. Daniel Herrmann
This December marks the centenary of the artist Lucian Freud's birth. To celebrate, the National Gallery has gathered around 60 of his works, spanning seven decades, from all over the world to mount New Perspectives, an important exhibition that encompasses the best of his work from the early 1940's till his death in 2011. The show is a magnificent tour-de-force and on this week's podcast we're delighted to be in conversation with curator Dr. Daniel Herrmann about what New Perspectives reveals about Freud's art and character, so often overshadowed by our preconceptions.  
We're also thrilled to be talking to the artist and photographer, David Dawson, Freud's long-term friend, confidant and assistant. From 6 October, Hazlitt Holland-Hibbert in Bury Street St. James is exhibiting some of Freud's rarely seen drawings, etchings and metal etching plates, alongside some of David's never-before-seen photographs, many of them taken in the days leading up to and immediately after Freud's death. The photographs present an intimate, gentle and affectionate portrait of the artist and David talks movingly of Freud's last days and his tender relationship with his mother as well as his friendship with other major artists and the subjects of his paintings. Thanks to Daniel and David, we gain a real insight into Lucian Freud's personality as well as his paintings and working methods. Between them, Daniel and David provide an invaluable introduction to these two exhibitions that are not to be missed.
EPISODE 87:
Books in a Bomb Shelter: KC Philippe Sands and Sofiya Chelyak on the Lviv Book Forum
Autumn is the time for literary festivals, including the mighty 10-day Cheltenham Literature Festival, London's South Bank, the small but beautifully formed Cliveden and many more including Bridport, Petworth, Stratford, Henley, Harrogate, North Cornwall, Braemar and more. But this week we're going to war-torn Ukraine to feature the Lviv Book Forum, in collaboration with Hay Festival, which runs in a bomb shelter between 6 and 9 October. We talk to the courageous and undaunted Programme Director, Sofiya Chelyak, and to the human rights KC, Philippe Sands, celebrated author of East West Street, The Ratline and a new book The Last Colony. Philippe will be attending the extraordinary festival alongside Henry Marsh, Misha Glenny, Margaret Atwood, Yuval Noah Harari, Elif Shafak and Margaret MacMillan.  
It's actually the 29th edition of the Lviv Book Forum, Ukraine's biggest literary festival, but given the war it's had to be shrunk and with Hay's support, it's defiantly going ahead with just 40 writers. As its digital partner for the first time, Hay will broadcast the conversations free in English, Ukrainian and Spanish. Sofiya describes the festival as running 'in defiance of the evil that seeks to squash their freedom,' and so we applaud and admire its efforts to keep these vital conversations alive and deepen our understanding of this little known, vast and complex country.
EPISODE 86:
Dr. Nick Merriman on how a community museum bagged the biggest museum prize in the world
This week we discover why in July, The Horniman, a small museum in Forest Hill, South London, won the hugely coveted Art Fund Museum of the Year Award. We talk to Dr. Nick Merriman, who's been Chief Executive and Director of Content there since 2018. Nick's a widely published expert on museum studies and was director of the Manchester Museum since 2006, increasing visitor numbers to 450,000 a year. He's also been Chair of the International Council of Museums UK and Chair of the University Museums Group, amongst many other illustrious appointments.  
We find out what attracted him to this small but perfectly formed gem of a museum with its beautiful, extensive gardens overlooking London. He tells us about the museum's history, dating back to 1890 and founded by tea merchant Frederick Horniman, originally in his private home. In 1901 it reopened as a purpose-built museum with its signature tower, that still houses the museum today. The collections are gloriously quirky, comprising an aquarium, a mini farm, a butterfly house and around 350,000 objects including a big range of stuffed animals, musical instruments and numerous anthropological artefacts and curios.  For any of our listeners who've not yet been, there is something here for everyone – gorgeous garden walks, loads of imaginative, interactive fun for kids and enough fascinating exhibits to keep adults fascinated for hours. We love it.
EPISODE 85: Tristram Hunt, Champion of Creativity at the V&A
Break Out Culture is back, and we kick off the autumn season by talking about one of the most important issues of our time – creativity, or the lack of it, in our education system. Tristram Hunt has been director of the Victoria and Albert Museum since 2017 and is a historian, broadcaster and journalist with several books under his belt, as well as having served as a Labour MP and Shadow Secretary of State for Education. He's now on a mission to ensure that the V&A champions design and creativity for everyone, believing that creative and design skills amongst children and young people are drastically diminishing. With his roles in education and politics as well as at the V&A, no-one's better placed to lead this important national debate. So, tune in to learn about how the V&A is redressing the balance.  There's a a specially commissioned film, Creativity: It's What Makes Us, and three new sites, Young V&A, opening in Bethnal Green next year, V&A East Storehouse and V&A East Museum. Plus he tells us about the forthcoming exhibitions from Hallyu! The Korean Wave to Chanel, set to be next year's blockbuster.
EPISODE 84: Summer Round Up
This is our last podcast before our summer break, so we've selected some of our favourite conversations of the last year.
ART: we celebrate Patrick Hughes's birthday, talk to Tracey Emin about battling cancer and to gallerist James Burch about drinking with Francis Bacon. 

BOOKS: Rose Tremain tells us about her novel 'Lily', Barbara Taylor Bradford explains how she found inspiration to write the prequel to 'A Woman of Substance', Ben Okri inspires to see trees in a totally new light, we discuss culture wars with Bernardine Evaristo and lyricist Don Black, while talking at Jewish Book Week, makes us laugh.

THEATRE: we talk to playwright David Hare about 'Straight Line Crazy' and the death of the avant garde, actor Nathaniel Parker about playing Henry VIII in Hilary Mantel's 'The Mirror and the Light', Nick Allott from Cameron Mackintosh regales us with hilarious theatrical anecdotes and Creative Director of the Young Vic, Kwame Kwei-Armah, praises playwright James Graham. 

HISTORY: Andrew Roberts tells us about George III and A.N. Wilson explains how our Trafalgar Square Christmas tree was a gift from the King of Norway during World War II.

MUSIC and DANCE: we talk to ballet-dancer Marcelino Sambé about playing Romeo in Kevin McMillan's ballet, to choreographer Matthew Bourne about his stellar career , to soprano Anush Hovvanisyan about all the Armenians at the Royal Opera House and playing Violetta in Richard Eyre's 'Traviata' and finally Dylan Jones, polymath and long-standing editor of GQ, tells us what David Bowie was really like.
EPISODE 83: Jake Fiennes: Land Healer
This week our guest is Jake Fiennes, Ralph's younger brother and Joseph's twin, but doing a very different job from his famous siblings as the Director of Conservation at Holkham Hall in north Norfolk. At the Earl of Leicester's ancestral 25,000 acre estate, Jake is causing a stir with his radical approach to helping nature recover from intensive farming and letting the hedges he loves run wild. The persuasive new voice on the conservation scene, Jake tells us about his new book, Land Healer: How Farming Can Save Britain's Countryside, published the day before we talked to him. He did ask his brother Ralph to do the audio version but ended up doing it himself, a tremendous feat for someone so dyslexic.  
Increasingly Jake's being sought out by organisations and individuals alike, from the Prince of Wales to DEFRA, for his radical solutions and his optimistic, upbeat approach. He says he has the best job in the world and with strong opinions on everything from hedge 'porn' (all explained in Chapter One of his book) to butterflies, swearing and having famous siblings, he transports us to the heart of Norfolk and gives us a fascinating and entertaining account of what needs to be done if we are to restore the countryside we all yearn for.
This summer marks the 90th season of this beautiful theatre in the heart of the park's Inner Circle. Regent's Park is the oldest, professional, permanent outdoor theatre in Britain, and we celebrate by talking to Chief Executive and Artistic Director, Timothy Sheader, about the theatre's history and its delightfully varied 2022 summer programme, including Legally Blonde, which ended its run this weekend, 101 Dalmatians, just opened, and Antigone, opening in September.
101 Dalmatians is a newly commissioned musical with music and lyrics by Douglas Hodge and book by Johnny McKnight, based on Dodie Smith's classic story and adapted for stage by Zinnie Harris. We're also chatting to Kate Fleetwood, a Tony and Olivier Award Nominee who stars in the Amazon Prime series The Wheel of Time. Kate tells us about playing the ultimate villainess Cruella de Vil and the impact of being able to see the audience on her performance.  We have a fun, summery, upbeat chat about the Dalmatian puppets and the secrets of staging a really good musical in which every song is earned.
EPISODE 81: The Royal College of Art: a Petri Dish of Future Solutions
With the RCA's Vice Chancellor Dr. Paul Thompson and Chair of the Governing Body Sir Peter Bazalgette
This week we're talking about the RCA's brand new £135 million Battersea campus. In a fascinating conversation with Dr. Paul Thompson and Sir Peter Bazalgette, they tell us how the new facilities can give future creative leaders the tools to learn to solve some of the most pressing global issues, from climate crisis and ageing populations to mobility, urbanism, inclusivity and ensuring AI remains a force for good. As Paul Thompson says, 'We're trying to introduce some core fundamentals of science into the RCA art petri dish.' The new development comprises a large scale hangar, robotics centre and an intelligent mobility design centre as well as sculpture and contemporary art practice studios.
RCA alumni include some of the world's most innovative designers from Jony Ive to James Dyson and Thomas Heatherwick, alongside artists including David Hockney, Henry Moore, Barbara Hepworth, Bridget Riley and Tracey Emin. Listen in to hear how the RCA is in a better position than ever on the global stage to produce the creative leaders our world needs.
EPISODE 80: Britain vs France
Writer and Director John Morton on tackling Call My Agent for a British Audience
This week we talk to John Morton, the writer famous for classic TV hits like WIA, Twenty Twelve and People Like Us. He's been brave enough to take on our favourite show, the much-loved French series Call My Agent and create and direct the British version, Ten Percent.
He talks to us about why agents are so fascinating and the complicated business of writing tightly scripted comedy. With eight episodes available to view on Amazon Prime, John tells us about the lead cast members, how and why he made the main characters so different to suit a British audience. We explore the gaping differences between British and French culture: Are we simply much less glamorous? Or, unlike the French, are we just unable to say what we really mean?
The critics were uncertain and divided to start with but became lured in and are looking forward to Series Two – if it happens. We very much hope so, and John talks openly about the challenges of taking on such a project.  Stars playing cameos of themselves include Dominic West, Helena Bonham Carter, Kelly Macdonald and David Harewood.
EPISODE 79: The Historic Episode
This week we're talking about the Chalke Valley History Festival, the biggest festival in the world devoted entirely to history, which runs from 20th to the 26th of June at its beautiful Wiltshire home near Salisbury.   On the podcast with us is the festival director, Jane Pleydell-Bouverie and two historians who'll be talking there, Christopher de Bellaigue and Tracy Borman.
Christopher tells us about his book The Lion House, The Coming of a King, which has received rave reviews and depicts the great Ottoman ruler, Suleyman the Magnificent, and his rise to becoming the most feared and powerful man of the 16th Century.  Tracy talks about her book, Crown and Sceptre:  A New History of the British Monarchy from William the Conqueror to Elizabeth II, which explores the institution as far back as 1066 and gives us her views on the future of the monarchy. Jane gives us the rundown on all the exciting events happening at the festival this year from The Duchess of Cornwall's Reading Room, where Philippa Gregory and Alison Weir are rediscovering women in history to Bill Browder on his book Freezing Order: A True Story of Russian Money-Laundering, State-Sponsored Murder and Surviving Vladimir Putin's Wrath.
EPISODE 77: Celebrating Women in Fiction with Mary Ann Sieghart and Dorothy Koomson
Today we're talking about the 27th prestigious 2022 Prize for Women in Fiction, which honours outstanding ambitious original fiction written in English by women from all over the world. The entries are judged by a panel comprising Lorraine Candy, Anita Sethi, Dorothy Koomson and Pandora Sykes. The Chair of the Judges is Mary Ann Sieghart, prolific journalist, broadcaster and author of the bestseller The Authority Gap, Why We Still Take Women Less Seriously than Men and What We Can Do About It. She's with us alongside her fellow judge Dorothy, herself a globally best-selling author known as 'Queen of the Reveal'.
The shortlist incorporates a broad range of themes from ghosts, sisterhood and identity to mental illness, gender violence and the power of nature in global settings from Antarctica to Trinidad. Mary Ann and Dorothy discuss the six shortlisted entries by Lisa Allen-Agostini, Louise Erdich, Meg Mason, Ruth Ozeki, Elif Shafak and Maggie Shipstead.
We also talk about the role of a judge, the extraordinary stories on the shortlist, why men don't read books by women and why this prize, founded by novelist Kate Mosse, is so important.
EPISODE 76: Stonehenge: An Enduring Mystery. With Dr. Neil Wilkin from the British Museum
Just a month away from the summer solstice, we explore the mysteries that still surround Stonehenge.  Our guest is Dr. Neil Wilkin, the extraordinarily knowledgeable curator of the British Museum's exhibition 'The World of Stonehenge', which you still have time to catch as it runs till mid-July. It's not to be missed as it's the first major exhibition on Stonehenge to be staged in London and there's been no exhibition about it in Britain for 35 years. Over 430 objects have been gathered from all over Europe, almost two thirds are loans, and most have never been seen in the UK before.
Dr. Neil Wilkin guides us through the major exhibits: Seahenge, the circle of 54 oak posts discovered on remote north Norfolk beach in 1988, the Nebra Sky Disc, at 3,600 years old the world's oldest map of stars on a portable disc, the Sun Pendant, the most significant piece of Bronze Age gold ever found in 2018 in Shropshire by a retired engineer with a metal detector, the gold lozenge buried with the Bush Barrow chieftan and the Amesbury Archer Treasures. Dr. Neil Wilkin brings the site to life with his vivid evocation of what life must have been like on Salisbury Plain 5,000 years ago.
EPISODE 75: Ring Master: John Walsh on his book Circus of Dreams about 1980's literary London, with Sally Emerson
This week we're going back to the eighties, a time of momentous change, as chronicled by John Walsh in his new book Circus of Dreams. John, renowned literary editor, journalist, author and popular panellist on Radio Four's The Write Stuff, persuades us that the eighties were probably the most exciting time to work in the literary world. The decade was hit by a tsunami of talent as new authors like Martin Amis, Rose Tremain, Jeanette Winterston, Hanif Kureshi, Ian McEwan, Julian Barnes, Sebastian Faulks, Douglas Adams and Salman Rushdie and many more exploded onto the scene and changed the literary landscape forever.
Together with Sally Emerson, who was then Editor of Books and Bookmen and is now an award-winning and highly acclaimed anthologist, novelist, short story and travel writer, John takes us on a highly entertaining journey back to the days before computers when business was done in pubs or parties, office life was ramshackle and fun and writers were the great glittering stars of their day.  John brushed shoulders with everyone from Andrew Neil and Rupert Murdoch to every author you've ever heard of. It was an exciting time and John and Sally transport us back to it with their insider knowledge, much laughter and hilarious anecdotes.
EPISODE 74: The Crafty Episode with Guy Salter, founder of London Craft Week, and Rosalind McKever, co-curator of Fashioning Masculinities at the V&A
On this week's episode we hear from Guy Salter about London Craft Week, the capital-wide festival celebrating talented makers from all over Britain and around the globe, opening on Monday 9 May. We also chat to Rosalind McKever about the extraordinary craft down the ages that's gone into menswear. Fashioning Masculinities, in partnership with Gucci, is on at the V&A until November and culminates in a celebratory 'Finale Room' showcasing three fabulous outfits – the tuxedo gown by Christian Siriano that Billy Porter wore to the Oscars, the Alessandro Michele for Gucci gown and tailored jacket worn by Harry Styles on the cover of Vogue and the Ella Lynch wedding dress worn by Bimini Bon Boulash in Ru Paul's Drag Race.
No-one is more knowledgeable or passionate about the glories of craft than Guy and he provides the perfect guide to all that's on offer this week, from learning about silk weaving with the Queen of Malaysia to knitting beanies out of upcycled materials.  Along the way, Pimlico Road will be open to all, Design Centre Chelsea Harbour hosts Artefact, an opportunity to meet the makers and much, much more. There will be over 300 events celebrating the capital as the global fulcrum of craft, putting craft firmly in the cultural mainstream and encouraging visitors to have the confidence e to assert their individuality and commission bespoke pieces.
EPISODE 73: Is the Avant Garde Dead? With Sir David Hare
On this week's episode we're honoured that our guest is Sir David Hare, not just one of Britain's leading playwrights, but also a screenwriter and theatre and film director. He's written over 40 full length plays, 19 staged at the National, including Plenty (which went on to be a star-studded movie), Skylight and many more.  He talks to us about his new play Straight Line Crazy, directed by Nicholas Hytner and showing at The Bridge Theatre in London. It opened to many reviewers saying this was David's most dramatically play for decades and stars Ralph Fiennes as Robert Moses, the man who set out to build parks and expressways across Manhattan in the 1950's.  It's extraordinarily relevant to the way London is being developed at such a hectic pace, often with little or no concern for its residents. Moses wanted to extend the lower Manhattan expressway through the residential district of Washington Square where he was met by fierce opposition who managed to block the plans. One of his opponents Jane Jacobs, played by Helen Schlesinger, went on to write The Death and Life of American Great Cities about the ongoing battle between communities and the planners who oppose them.
David also talks about his frequent collaborations with Ralph Fiennes, who starred last year in David's one-man play about battling Covid, Beat the Devil. He talks about the influence of America on his work and his period of self-imposed exile there after the critics panned Plenty. He laments the passing of an age in which theatre producers from Peter Hall to Richard Eyre took risks and stood by avant-garde writers to be replaced by our 'box office crazy'. He's also full of sage advice for anyone wanting to write a screenplay and explains the differences between the two. Finally, he and Ed settle down to bury the hatchet and iron out their political differences. This is David Hare at the pinnacle of his game, reflecting on a life spent in theatre, television and film – not to be missed.
EPISODE 72: Happy Birthday Shakespeare! With Robert McCrum
This week we're celebrating Shakespeare's 458th birthday with Robert McCrum, author of Shakespearean, and Editor-in-Chief at Faber and Faber for nearly 20 years, as well as literary and associate editor of The Observer.   Robert's enthusiasm is infectious as he guides us through the best of this summer's stage productions from Gregory Doran's production of Richard III at RSC Stratford from 23rd June, to Kathryn Hunter playing King Lear from 10 June and Julius Caesar from 3 May, both at The Globe. We also chat about Henry V with Kit Harrington, filmed at the Donmar Warehouse and screening in cinemas via National Theatre Live and The Tragedy of Macbeth with Denzel Washington and Frances McDormand.
And happy birthday to Ralph Vaughan Williams too, who would be 150 this year.
We're booking:
A Sea Symphony by Ralph Vaughan Williams with Hallé Orchestra conducted by Sir Mark Elder at Bridgewater Hall on 30 April
To Glorious John conducted by Sir Mark Elder at Bridgewater Hall on 12 May – tune into BBC Radio Three at 7.30pm to hear the concert live
Phantasy Quintet by Ralph Vaughan Williams with Hallé St. Peter's Chamber Series at Bridgewater Hall on 15 May
We're reading:
My Year Off:  Rediscovering Life after a Stroke by Robert McCrum
EPISODE 71: Clover Stroud on Giffords Circus and its founder, her late sister, Nell Gifford
This week the author Clover Stroud, known for writing 'about the way life feels', talks to us about her new book The Red of my Blood. In it she recounts the year she spent mourning her sister Nell Gifford's death, who died tragically of cancer aged just 46. The book is described as a Story of Death and Life, and on the podcast Clover describes her idyllic childhood in Wiltshire, which inspired Nell to start the magical Giffords Circus with her husband Toti in 2000.
The phenomenally popular Giffords Circus re-opens for its summer tour on 14 April at its home at Fennells Farm near Stroud in Gloucestershire. It will tour England till 22 September when it will be open at Fennells Farm again until 2 October.
Clover talks about Nell's vision, her legacy and how the circus is changing and gives us an extraordinarily moving and searingly honest account of her struggle to come to terms with her beloved sister's death. Listen in as the podcast is also a valuable lesson in how to react to and behave around people who are grieving.
We're taking a short break till Sunday 24 April.  Happy Easter!
EPISODE 70: Let's go to the Movies: Celebrating the BAFTAs and the Oscars
This week we're going on a whirlwind tour of the movies with BAFTA committee member Anna Higgs.  She tells us about the BAFTA winning movies, starting with Jane Campion's The Power of the Dog starring Benedict Cumberbatch and Kenneth Branagh's Belfast and moving on to Jeymes Samuel's contemporary Western The Harder they Fall. We discuss some of the winning actors from Will Smith for King Richard, the film about the father of Venus and Serena Williams, Joanna Scanlon for Ali Khan's After Love and Tony Kotsur, the first deaf male actor to win, for Coda (which means Child of Deaf Adult). We also chat about the inspiring acceptance speech given by Lashana Lynch, for her Rising Star award voted for by the audience, who shot to fame for her role as the next 007 in No Time to Die.
We're airing just before the Oscars so Anna gives us her rundown and predictions on these too – why Andrew Garfield in Lin-Manuel Miranda's Tick Tick… BOOM! and Olivia Colman in The Lost Daughter are in the running for an Oscar but weren't nominated for a BAFTA. We also discuss the smaller films making big waves like animated Danish film Flee and one of Anna's favourites, Ali & Ava.
Listen in, and then head straight out to the cinema or get streaming – we give you enough good movie tips to keep you busy for weeks.
EPISODE 69: Celebrating Sculpture in the Wild
This week we celebrate the start of spring by giving you the lowdown on the best of Britain's wonderful sculpture parks from Chatsworth, Farleys House and the Barbara Hepworth Garden to Forestry England's woodland sculpture trails and On Form, Europe's biggest exhibition of stone sculpture opening in Asthall, Oxfordshire in June.
No round-up of sculpture parks would be complete without talking about Henry Moore and the magnificent Yorkshire Sculpture Park, celebrating its 45th birthday this year. We chat to Godfrey Wordsall, Director of the Henry Moore Foundation and Dr. Helen Pheby, Head of Curatorial Programming at Yorkshire.  Helen tells us about working on a sculpture exhibition  in Kyiv, Ukraine and the role of sculpture in unifying communities.  We chat about Moore's extraordinary legacy and what's in store for visitors at both YSP and  The Henry Moore Studios and Garden in Perry Green, Hertfordshire this summer – definitely both worth a visit.
EPISODE 68: The Indomitable Tracey Emin on Her Exhibition 'My Journey to Death' And Her New School
This week we chat to one of Britain's best-known artists, the indomitable Tracey Emin. Having wrestled with a particularly brutal and aggressive cancer, she is now setting up a foundation to help artists. In an extraordinarily generous philanthropic gesture, she has bought an Edwardian bath house in Margate and is transforming it into artists' studios.  'I want to give artists everything I never had,' says Tracey. It's no secret she had a tough start in life, and she explains to us why that made her so determined to provide artists with clean, warm, safe studios. She's also going to be drawing on her friends in the art world to visit the studios to teach, inspire and encourage the artists working there. Artists can apply from all over the world, but this is no school for dilettantes – you will have to prove you are truly motivated to take advantage of this once-in-a-lifetime opportunity.
Tracey also tells us about a new exhibition at the Carl Freedman Gallery in April. 'A Journey to Death' will comprise giant mono screen prints and self-portraits executed while she was just out of hospital. Plus, she chats away about the joy her two cats bring her – and much much more. Absolutely not to be missed – she is an example of extraordinary courage, resilience and a salutary lesson in how to grab life with both hands and make the most of it.
EPISODE 67: The Godfather of Swing Ray Gelato on jazz in today's world
This week we focus on jazz for the first time and talk to the singer, songwriter, bandleader and sax player who's been taking his fun, upbeat, distinctive style of swing, jazz and R & B to concerts, clubs and festivals all over the world since 1988.
Ray Gelato and his band The Giants have had a long-established residency at London's famous Ronnie Scott's in Soho,  have twice entertained Her Majesty the Queen, opened for Robbie Williams at the Albert Hall and played at Paul McCartney's wedding. Ray tells us about his extraordinary life in music, beginning by busking on London's streets with The Chevalier Brothers and ending up doing the rounds of huge venues like the Lincoln Centre and numerous jazz festivals – like Montreal, Blue Note and Umbria – where he's played 12 times.  Listen in to hear some of his most famous songs – including Just a Gigolo and the song he wrote for Bar Italia, one of his favourite Soho haunts.
Ray's latest album Locked Down and Not Out is available here
Ray and his band will be playing live at the Green Room, Leo Green's speakeasy and residency at  QT Presents in the Middle Eight Hotel in Covent Garden. For two nights only: at 8 pm and 10 pm on Wednesday 9th March and at 8 pm and 10 pm on Wednesday 23rd March. Tickets available here.
EPISODE 66: Behind the scenes of our great West End theatres with Nick Allott
If anyone's seen it all in theatre it's Nick Allott, who spent 40 years with Cameron Mackintosh, running it for 20. This week we chat to Nick about theatre's glory days, from Cats and Phantom to  Les Misérables and Hamilton. But he also sheds sobering light on how devastating the pandemic has been for the industry as theatres went dark for the longest time in their histories.  As the sector slowly starts to recover, Nick looks to the future while regaling us with a host of hilarious, entertaining anecdotes ranging from Princess Diana doing the splits in his office to Andrew Lloyd Webber drenching Barbra Streisand's canapés in champagne. He also offers us a backstage pass to the real stories behind the headlines – why did Elaine Paige take over from Judi Dench in Cats?  Why was Martin McCutcheon so panned in My Fair Lady? Why did losing out to Jodie Prenger in the 2008 BBC Series I'd Do Anything ultimately catapult Jessie Buckley to stardom? What's Hugh Jackman really like? How did Nick end up with a gun in his fridge?  Listen in to hear what it's really like to live your life behind the scenes of London's leading West End theatres.
EPISODE 65: Celebrating Jewish Book Week's Platinum Anniversary with legendary lyricist Don Black
Did you know Jewish Book Week is London's longest running literary festival? Claudia Rubenstein, Director of Jewish Book Week, tells us about its extraordinary history and what to look forward to amongst the host of fun events that begin on Saturday 26 February.  Those taking part include Elif Shafak, Michael Ignatieff, Julia Neuberger, Claudia Roden with Jay Rayner, Simon Schama, Howard Jacobson in conversation with Melvyn Bragg, Mike Leigh, Amy Bloom and Edmund de Waal delivering the 70th anniversary keynote speech. Plus Simon Kuper on football and celebrations of Sondheim and Lehrer, Dylan and Cohen. Closing the festival with a celebratory flourish on 6 March will be Don Black, talking to Michael Grade about his long, distinguished career and his book 'The Sanest Guy in the Room'.  Don puts his sanity down to having a loving family and never having had an unhappy day in his life. To round off Marti Webb, Don's long-time collaborator, will perform some of his best-known songs. Don also regales with us some hilarious anecdotes about working with a host of legends from Barbara Streisand to a young Michael Jackson.  'She was so normal,' he says of Barbara Streisand. Tune in to hear more.
Jewish Book runs at Kings Place from 26 February till 6 March
EPISODE 64: Dylan Jones on Bowie, Paul Weller, the 90's, the future of magazines and curating an exhibition with social photographer Dave Benett
Ed and Charlotte take a whirlwind tour through British culture with the man who's been there, done that and seen it all – Dylan Jones. The irrepressible and legendary Dylan, who was at the helm of GQ for over two decades, is busier than ever with a new book and TV series on the 90's, another on Paul Weller, an exhibition of Dave Benett's photographs, 'Great Shot, Kid', at J.D. Malat Gallery, and the jukebox musical he's writing based on the music and lyrics of American songwriter Jimmy Webb. Listen in to hear his stories about David Bowie and his opinions on everything from the future of media to music.
EPISODE 63: Francis Bacon: Man or Beast
This week we chat to James Birch, gallery owner and author of Bacon in Moscow, about his life-long friendship with Francis Bacon, one of Britain's most popular and controversial artists. Having known him since childhood and been a regular Soho drinking companion, James gives us a fascinating, often funny and moving, insight Bacon's life. He tells us all about his new book, the extraordinary story of taking a Bacon exhibition to Moscow in the late eighties during Perestroika. James also sheds light on the influences behind many of Bacon's paintings showing in the brilliant new exhibition Francis Bacon: Man and Beast at the Royal Academy in London.
We also give you a run down on what to see in the art world this month. In London, there are Van Gogh's Self-Portraits at The Courtauld Gallery, Louise Bourgeois at the Hayward Gallery, Helen Frankenthaler at Dulwich Picture Gallery and Lubaina Himid at Tate Modern. Meanwhile, outside London, there's an exhibition of prints From Hockney to Himid at Pallant House in Chichester, Audubon's Birds of America opens at the National Museum of Scotland in Edinburgh and Ai Weiwei's exhibition The Liberty of Doubt opens at the wonderful Kettle's Yard in Cambridge. We also suggest a visit to the glorious Yorkshire Sculpture Park to see Full Circle, an exhibition of drawings by David Nash.
And our top tip of the week? Beg, steal, cheat, lie, borrow to get to see Eddie Redmayne and Jessie Buckley in Cabaret at the Playhouse Theatre, brilliantly converted into the KitKat Club in 1930's Berlin. Cast changes on 21st March so move fast.
EPISODE 62: Fashion Designer Osman Yousefzada on His New Book and Marcelino Sambé on the Joys of Playing Romeo for the Valentine's Day Royal Ballet Production
On this week's podcast, we're talking to Royal Ballet's principal dancer Marcelino Sambé about the challenges and joys of following in Rudolf Nureyev's footsteps – and many more – playing Romeo in Kevin MacMillan's much-loved ballet. Juliet will be played by Anna Rose O'Sullivan. Since Romeo and Juliet was first performed to Prokofiev's score in 1965, it's become a firm favourite and this version, with designs by the late Nicholas Georgiadis, has been filmed and will be streamed to 900 cinemas worldwide on Valentine's Day. Find out where you can book it and catch it here here.
We also talk to Osman Yousefzada, the multi-disciplinary artist behind his eponymous fashion label, who dresses everyone from Beyoncé and Gwyneth Paltrow to Lady Gaga and Claire Foy. He's now written a brilliant book, The Go-Between – this month's C&TH book club pick – about growing up in Birmingham. As the son of illiterate Pashtun immigrants from the border region between Pakistan and Afghanistan, Osman grew up in a closed, hidden community and tells us movingly about what it was like and what happened to his sisters. It's a brilliant read and we highly recommend it.
EPISODE 61: Bernardine Evaristo introduces us to five forgotten black writers
On this week's podcast, we were honoured to talk to Bernardine Evaristo about the project she's spearheading with Penguin to bring back forgotten black writers into circulation and help reconfigure black British literary history.  She tells us about five reprinted works of non-fiction, which she's chosen and written the introductions for, and why it's so important that their stories are retold today.
The books are:
We go on to have an inspiring conversation with Bernardine about how she's used her platform as the 2019 Booker Prize Winner for Girl, Woman, Other to champion black writing.  She tells us that she's now going to be a little less visible as she gets to work on her next novel. Watch this space!
We also talk to Alice Insley, co-curator of Hogarth in Europe at Tate Britain. We discuss the controversy that the commentary accompanying the exhibition has provoked, many critics claiming it was gratuitously 'woke'. Listen in to hear what Alice has to say about it – and whatever anyone thinks about the commentary, we all agree that the paintings are superb and the exhibition is well worth a visit to see close up the details of Hogarth's much loved, brilliant works. The exhibition runs until 20 March.
EPISODE 60: Who is Gatsby Randolph? The mystery man who infiltrated Hollywood
In the first episode of 2022, Ed and Charlotte set out to discover who the mystery man is taking Hollywood by storm. They talk to Londoner Alexa Jago who has produced a BAFTA-nominated mockumentary about Gatsby Randolph's astonishing rise to celebrity status. How did he do it? Find out by listening in to her and to Gatsby himself, all the way from LA. See the trailer on YouTube here.
We chat to writer of epic historical blockbusters Kate Mosse about her eagerly anticipated latest novel The City of Tears, the second in The Burning Chamber series. It's a gripping family saga set over 300 years and ranging from France to South Africa. Kate also tells us why women, from Hilary Mantel to Maggie O'Farrell, make such brilliant historical novelists.
And we transport you to Compton Verney, a beautiful grand house in Capability Brown parkland in Warwickshire, which is staging a fabulous exhibition of portraits painted by people who took part in the Sky Arts Portrait of the Year series. Expect to see a host of famous faces from Graham Norton to Michaela Coel. Exhibition 19 February. Book here
EPISODE 59: Kit Hesketh-Harvey on his Litvinenko opera and playing King Rat in Dick Whittington
We're visiting:
A Generous Space: A celebratory exhibition of works sold via The Artist Support Pledge, Hastings Contemporary, until 17 April 2022. hastingscontemporary.org
Miss Clara and the Celebrity Beast in Art 1500-1860, The Barber Institute, Birmingham, until 27 February 2022. barber.org.uk
We're booking:
Dick Whittington, The Yvonne Arnaud Theatre, Guildford, until 9 January 2022. yvonne-arnaud.co.uk
EPISODE 58: Julia Peyton-Jones on Princess Diana, life after the Serpentine and motherhood
Plus Kwame Kwei-Armah on his and James Graham's new plays at the Young Vic and Henry Faber on playing Chris Blackwell in Get Up Stand Up! The Bob Marley Musical
We're reading:
Pia's World by Julia Peyton-Jones
We're booking:
Best of Enemies by James Graham, The Young Vic, 6 December 2021 – 22 January 2022. youngvic.org
The Collaboration by Kwame Kwei-Armah, 16 February – 2 April 2022. youngvic.org
EPISODE 57: Artist Chris Levine on how his light and sound beams are transforming Houghton Hall
Plus: The glories of the renovated Courtauld Gallery and a scary Christmas ghost story at Wilton's Music Hall
We're visiting:
Chris Levine: 158 Hz Love Frequency, a solo exhibition by Chris Levine at Houghton Hall, Thursdays, Fridays and Saturdays only from 4.30 – 9pm until 23rd December. houghtonhall.com
We're booking:
The Child in the Snow by Piers Torday, based on Elizabeth Gaskell's ghost story The Old Nurse's Story, Wilton's Music Hall until 31 December. wiltons.org.uk
EPISODE 56: Barbara Taylor Bradford on still being a Woman of Substance and photographer David Yarrow on Changing Lanes
We're reading:
A Man of Honour by Barbara Taylor Bradford
We're visiting:
Changing Lanes by David Yarrow at the Maddox Gallery, Westbourne Grove (Extended till 5 January 2022)
Waddesdon Manor Christmas Fair (Wednesday through Sunday 12 to 7 Grounds, until 23 December, plus Monday 20 and Tuesday 21 December) waddesdon.org.uk
EPISODE 55: Rose Tremain on her new novel Lily
Plus Fragonard's The Swing restored and introducing Inque, a new concept in magazines
We're reading:
Lily by Rose Tremain
We're visiting:
The Wallace Collection, Manchester Square. wallacecollection.org
Jean-Honoré Fragonard's The Swing, permanent collection
Frans Hals: The Male Portrait, until January 30 2022
We're booking:
We're subscribing to:
The first edition of Inque
EPISODE 54: A.N. Wilson on the story of the Trafalgar Square Christmas Tree
Plus Matthew Bourne on Patrick Hamilton, the inspiration for his ballet The Midnight Bell and Christmas favourite Nutcracker!
We're reading:
The King and the Christmas Tree by A.N. Wilson
We're booking:
Matthew Bourne's The Midnight Bell. new-adventures.net
Warwick Arts Centre, Coventry, 10 – 13 November
Eden Court, Inverness, 18 – 20 November
Theatre Royal, Bath, 23 – 27 November
Matthew Bourne's Nutcracker! new-adventures.net
Theatre Royal, Plymouth, 15 – 20 November
The Lowry, Salford, 23 November – 4 December
Sadler's Wells, London, 7 December – 30 January
Then touring to Bristol, Birmingham, Milton Keynes, Glasgow, Liverpool , Canterbury, Cardiff, Southampton, Newcastle, Nottingham and Woking until 23 April 2022
EPISODE 53: La Traviata: The Most Performed Opera in the World
Anush Hovannisyan on playing Violetta in La Traviata and Stewart Collins tells us about this week's Petworth Literary Festival
We're reading:
The King and the Christmas Tree by A.N. Wilson
We're going to:
The 2021 Petworth Festival Literary Week, Until 7 November. petworthfestival.org.uk
Highlights:
Jeffrey Archer on Sunday 31 October, 5.30pm at Seaford College
Hamish de Bretton-Gordon on Sunday 31 October, 8pm at St. Mary's Church
Isabel Hardman on Wednesday 3 November, 5pm at St. Mary's Church
Joan Bakewell on Thursday 4 November, 7.30pm at St. Mary's Church
Sebastian Faulks on Saturday 6 November, 2.30pm at St. Mary's Church
Jonathan Aitken on Sunday 7 November, 3pm at St. Mary's Church
Max Egremont on Sunday 7 November, 6pm at St. Mary's Church
EPISODE 52: Artist Patrick Hughes and Historian Andrew Roberts
Patrick Hughes on his new exhibition as he celebrates his 82nd birthday and Andrew Roberts turns our assumptions about George III on their heads
We're reading:
George III: The Life and Reign of Britain's Most Misunderstood Monarch by Andrew Roberts
We're going to:
Paintings by Patrick Hughes 'The Perspective Paradox'. The Hang-Up Gallery, Hoxton, 29 October – 16 December 2021. hanguppictures.com
EPISODE 51: Nathaniel Parker on playing Henry VIII in The Mirror and the Light
We're booking:
The Mirror and the Light, Gielgud Theatre till 23 January. themirrorandthelight.co.uk
We're going to:
Cliveden Literary Festival, 23 and 24 October. clivedenliteraryfestival.org
The Affordable Art Fair, Battersea Park, 21 – 24 October. affordableartfair.com
EPISODE 50: Ben Okri on our famished forests
We're reading:
Every Leaf a Hallelujah by Ben Okri, illustrated by Diana Ejaita
We're visiting:
The Times and Sunday Times Cheltenham Literature Festival, 8 – 17 October. cheltenhamfestivals.com
StART Fair, 13 – 17 October, Saatchi Gallery. startartfair.com
EPISODE 49: The Glories of African Art and the Joys of Song
We hear from:
Cas Ojo on African Art, the 20th Oxford Lieder Festival and Aonia, the latest cultural platform
Founder and violinist Sholto Kynroch on the Oxford Lieder Festival
John Benson Co-Founder on the new cultural platform Aonia
We're visiting:
The African Art Series, 8 – 9 October, the Bulgari Hotel, Knightsbridge. eventbrite.com
1-54 Contemporary African Art Fair, 8 – 10 October, Somerset House. somersethouse.org.uk
20th Oxford Lieder Festival: Nature's Songbook, 8 – 23 October, various locations in Oxford and live-streamed. oxford-lieder.co.uk
EPISODE 48: Axel Rüger on the Summer Exhibition Bringing Joy to Autumn
The Summer Exhibition at the Royal Academy of Arts, 22 September 2021 – January 2022. royalacademy.org.uk
Light Lines: The Architectural Photographs of Hélène Binet, Royal Academy of Arts, 23 October – 23 January 2022. royalacademy.org.uk
Late Constable, Royal Academy of Arts, 30 October 2021 to 13 February 2022. royalacademy.co.uk
Francis Bacon: Man and Beast, Royal Academy of Arts, 29 January – 17 April 2022. royalacademy.co.uk
Whistler's Woman in White: Joanna Hiffernan, Royal Academy of Arts,  26 February – 22 May 2022. royalacademy.co.uk
Kyōsai: The Israel Goldman Collection, Royal Academy of Arts, 19 March 2021 to 19 June 2022. royalacademy.co.uk
Andrew Bernardi on saving a rare Stadivarius for the Bernardi Music Group: Listen to Andrew Bernardi playing the Amici Bernardi Stradivarius in White Storks, composed by Helen Ottaway to celebrate wilding at Knepp Castle. bernardimusicgroup.com
Duncan Grant: 1920, Charleston, 18 September 2021 – 13 March 2022. charleston.org.uk
Tunji Adeniyi-Jones: Astral Reflections, Charleston, 18 September 2021 – 13 March 2022. charleston.org.uk
EPISODE 47: We're Back!
We talk Dante Gabriel Rossetti, events to stream from round the world and talk to the artist whose work is lighting up the brand new Battersea Power Station tube
Rossetti's Portraits at The Holburne Museum, Bath, 24 September 2021 – 9 January 2022. holbourne.org
Sunil Gupta:  The New Pre-Raphaelites at The Holburne Museum, Bath, 24 September 2021 – 19 January 2022. holbourne.org
Marquee TV: Listeners can claim their 50% subscription discount here marquee.tv/culture
Alexandre de Cunha at Battersea Power Station Tube: see Art on the Underground. art.tfl.gov.uk
Chelsea Flower Show, 21 – 26 September 2021. rhs.org.uk
Charlotte Smithson with YSP X The Oak Project. ysp.org.uk
EPISODE 46: Special Bumper Issue – We Celebrate a Year in Culture!
With Andrew Lloyd Webber, Nicholas Hytner, Gyles Brandreth, Hugh Bonneville, Paul Greengrass, Kevin McDonald, Nicole Farhi, Gilbert & George, Andrew Marr, Russell Tovey and Rob Diament, Misan Harriman, Gered Mankowitz, Sathnam Sanghera, Peter York, Elif Shafak, Charles Spencer, Loyd Grossman, Edmund de Waal, Matthew Parris, Joh Preston, Ben England, Akram Khan, Julia Samuel
We'll be back on Sunday 19 September.
EPISODE 45: Simon Russell Beale on being Johann Sebastian Bach
Plus Iwona Blazwick on Whitechapel Gallery's one-night-only art festival and Lewis Biggs on the Folkestone Triennial
We're going to:
Bach and Sons at the Bridge Theatre, until 11 September, bridgetheatre.co.uk
Nocturnal Creatures at Whitechapel Gallery and around the East End, 17 July, [email protected]
The Folkestone Triennial Festival, 22 July – 2 November, creativefolkestone.org.uk
EPISODE 44: Juliet Stevenson's mission to put women's poetry centre stage
Juliet Stevenson on her film on Stevie Smith and the Ledbury Poetry Festival, Camilla King on the Cheltenham Music Festival and digital artist Philip Colbert on launching Lobsteropolis in Decentraland with Simon de Pury auctioning his NFT work with DEVO
We're going to:
The Ledbury Poetry Festival, 2 – 11 July, poetryfestival.co.uk
We're buying tickets to:
Watch Juliet Stevenson present Dead Poets Live's film on Stevie Smith, 7pm, 11 July, poetry-festival.co.uk
We're going to:
Cheltenham Music Festival, 2 – 11 July, cheltenhamfestivals.com
We're going to hear:
Dog Poems! With Matt Black, 11am, 11 July, Cheltenham Music Festival
EPISODE 43: Kamila Shamsie on Refugee Tales and Julian Opie's new show
Plus historian James Holland on the Chalke Valley History Festival
We're reading:
We're walking:
In support of detainees 3–4 July, refugeetales.org
We're visiting:
EPISODE 42: Artist Zak Ové on Kensington + Chelsea Art Week
We're going to:
Kensington + Chelsea Art Week, A World of Culture in West London, 21 June – 4 July. kcaw.co.uk
The Other Art Fair, West Handyside Canopy, King's Cross, 1 – 4 July. theotherartfair.com
We're visiting:
Our local bookshop to celebrate Independent Bookshop Week, 19 – 26 June. Indie Book Awards announced 25 June on Scala Radio. bookshop.org
We're reading:
The Great Godden by Meg Rosoff, Shortlisted for Award for Best Children's Fiction in Indie Book Awards
EPISODE 41: Iran at the V&A, Romeo & Juliet and Andrew Marr's new paintings
Andrew Marr on painting and why the government needs to do more to support the arts, Ina Sarkihani Sandmann on redefining Iran at the V&A and Isabel Adomakoh Young on playing Juliet at Regent's Park Open Air Theatre.
We're visiting:
Town & Country, New paintings by Andrew Marr, Eames Fine Art Gallery. 9 June – 4 July. eamesfineart.com
Epic Iran, Gallery 39 and North Court, V & A Museum, 29 May – 12 September. vam.ac.uk
We're booking:
Romeo and Juliet, Regents Park Open Air Theatre, 17 June – 24 July. openairtheatre.com
EPISODE 40: Celebrating Hay Festival With Caroline Michel, Russell Tovey, Robert Diament and Tahmima Anam
We're visiting:
Hay Festival till Sunday 6 June, hayfestival.com
We're reading:
Talk Art: Everything you wanted to know about contemporary art but were afraid to ask by Russell Tovey + Robert Diament
The Startup Wife by Tahmima Anam
We're tuning into:
Hay Festival
Russell Diament and Robert Diament in conversation with Olivia Laing at 1pm on the Baillie Gifford Digital Stage
Tahmima Anam talks to Georgina Godwin at 3pm on Baillie Gifford Digital Stage
'Your Culture Needs You!' Neil Mendoza, Nina Plowman, Emma Rickett and Iwona Blazwick talk to Ed Vaizey at 5pm on Baillie Gifford Digital Stage
EPISODE 39: Impresario Raymond Gubbay lowers the tone and raises the roof and Parham House opens its doors with a new exhibition
We're visiting:
Adrian Sassoon at Parham, A House of History. Online 26 May – 31 August, in-person late June – 31 August. parhaminsussex.co.uk
We're reading:
Raymond Gubby's autobiography, Lowering the Tone and Raising the Roof
We're watching:
Capernaum, on All 4 and Amazon Prime
Quo Vadis, Aida?, on Amazon Prime
EPISODE 38: Saving our bees on World Bee Day, Barbara Hepworth at the Hepworth Wakefield Gallery and 25 concert to celebrate London's Wigmore Hall's 120th birthday
We talk to Sarah Wyndham Lewis about bees, Simon Wallis, director of the Hepworth Wakefield Gallery in West Yorkshire, and Wigmore Hall's director John Gilhooly.
To celebrate World Bee Day, Martin Miller's Gin is offering listeners a 10% discount on all its ranges from 12th May till 31st October. Code: Breakout. Buy from masterofmalt.com
We're reading:
Planting for Honeybees: The Grower's Guide to Creating a Buzz by Sarah Wyndham Lewis
We're visiting:
Barbara Hepworth: Art & Life at The Hepworth Wakefield Gallery. 21 May 2021 – 27 February 2022
Summer Concerts and the Learning Festival at London's Wigmore Hall
EPISODE 37: Sex With Mr. Hell and When Marilyn Monroe Met Dame Edith Sitwell
Young Kim on her erotic memoir A Year on Earth with Mr. Hell and Simon Berry on his new radio play The Dame and the Showgirl with Emma Thompson. Plus sculptor Conrad Shawcross on Art in the Age of Now at Fulham Town Hall.
We're reading:
A Year on Earth with Mr Hell by Young Kim
Limited edition of 2000 only from Ubu Gallery in New York, ubugallery.com
We're listening to:
The Dame and the Showgirl by Simon Berry on Audible
We're visiting:
Art in the Age of Now at Fulham Town Hall, 20 May – 6 June, fulhamtownhall.com
EPISODE 36: Shakespeare's neighbours, the new art platform taking galleries global and opera in a circus top
We're reading:
Living with Shakespeare: St. Helen's Parish 1593 to 1598 by Geoffrey Marsh
We're making sure we're on Longborough Opera Festival's waiting list to see:
Die Walküre (main house)
Big Top:
Così Fan Tutti
The Return of Ulysses
The Cunning Little Vixen
See:
Andreas Gursky at The Hayward Gallery
Art Now by Lisa Brice at Tate Britain, thevov.art
EPISODE 35:  A year on: Psychotherapist and podcaster Julia Samuel on navigating change in a post-Covid world.
This week Break Out Culture celebrates its one year anniversary.
We're listening to:
A Living Loss, the Art of Losing and Finding Yourself : the new podcast from Julia Samuel, available on Spotify
We're reading:
Grief Works by Julia Samuel
This Too Shall Pass: Tales of Change, Crisis and Hopeful Beginnings by Julia Samuel
We're learning to play the piano from scratch in a month with AyseDeniz Gockin at the Borderless Piano Academy.  Sign up for $149 – other courses available. borderlesspiano.com
We're watching:
Bloods starring Samson Kayo and Jane Horrocks, airs on Sky1 from 5 May
EPISODE 34: Edmund de Waal on his new book 'Letters to Camondo' and his attempts to resolve his feelings about his tragic family history
Plus we talk to Leo Villareal about lighting up the Thames and to Thomas Del Mar about a clever plan to help fund Westminster Abbey, The Wallace Collection and Grange Festival
We're reading:
Letters to Camondo by Edmund de Waal
The Hare with the Amber Eyes by Edmund de Waal
Keep an eye on the Musée Nissim de Camdondo's website for news of the exhibition curated by Edmund de Waal opening in October, madparis.fr/em
We're visiting:
Illuminated River, illuminatedriver.london
We're bidding at auction, donating or consigning what we can to raise funds for Westminster Abbey, The Wallace Collection and Grange Festival via Olympic Auctions' series of fundraising auctions, olympiaauctions.com
EPISODE 33: Kevin Macdonald on directing Jodie Foster and Tahar Rahim in The Mauritanian
We're watching:
The Mauritanian, starring Jodie Foster and Tahar Rahim on Netflix
We're reading:
Guantánamo Diary by Mohamedou Ould Slahi
We're booking:
We're visiting:
New Normal Pictures by Gilbert & George. White Cube, Mason's Yard, whitecube.com
We're celebrating:
The Jerwood Blue Sky Fund, which has given £1 million to The Theatre Artists Fund and Help Musicians, jerwoodarts.org/2021/03/12/jerwood-foundation-announces-blue-sky-fund/
EPISODE 32: The Messiah and Van Gogh reimagined, and how fairness could change the world
The London Handel Festival's Easter Concert, Van Gogh Alive comes to Kensington Gardens and Ben Fenton talks about his book 'To Be Fair'
We're reading:
To Be Fair: The Ultimate Guid to Fairness in the 21st Century by Ben Fenton
We're booking:
Van Gogh Alive, opens in Kensington Gardens on 4 June till 26 September
EPISODE 31: CAN THE ART MUSEUM SURVIVE?  Charles Saumarez Smith talks about the challenges ahead.
We're reading:
The Art Museum in Modern Times by Charles Saumarez Smith
We're following:
Charles Saumarez Smith's blog
We're visiting:
The virtual exhibition Electric Dreams
We're watching:
Jack Jewers's short films illustrating five ancient classical poems to celebrate World Poetry Day
We're going on:
A Virtual Walking Tour of the Jewish Quarter in Budapest on 15th April, arthistoryinfocus.com
We're visiting:
The Yorkshire Sculpture Park and seeing Alison Milner's exhibition Decorative Minimalist
EPISODE 30: GILBERT & GEORGE define the NEW NORMAL
Gilbert & George on their new exhibition 'The New Normal Pictures'.  Plus Desmond Cecil on being a musical diplomat
We're booking:
We're reading:
The Wandering Civil Servant of Stradivarius: Themes and Variations by Desmond Cecil CMG
EPISODE 29: A Grand Episode: The Duchess of Rutland on ghosts, Dan Snow at Blenheim Palace and Hugo Rittson Thomas on Wildflowers for the Queen
We're listening to:
Duchess: the podcast by Emma, Duchess of Rutland
We're tuning into:
The Unknown Churchill: Dan Snow talking to Blenheim Palace historian Antonia Keaney, Wednesday 17 March at 7.30 pm (free for Blenhaim Palace Annual Pass holders) virtual.blenheimpalace.com
We're reading:
Wildflowers for the Queen: A Visual Celebration of Britain's Coronation Meadows by Hugo Rittson Thomas
LISTENER OFFER: Listeners receive a 15% discount: go to hugorittsonphotogaphy.com and apply the code 'Breakout' at checkout.
EPISODE 28: Sympathy For The Devil? John Preston on Humanising Robert Maxwell‪
John Preston on Robert Maxwell and The Dig and Jan Dalley, Arts Editor of the FT, tells promises everything from super-brainy chat to cocktails and style at the FTWeekend Spring Festival
We're reading:
Fall: The Mystery of Robert Maxwell by John Preston
A Very English Scandal: Sex, Lies and a Murder Plot at the Heart of the Establishment by John Preston
The Dig by John Preston
We're watching:
The Dig with Ralph Fiennes, Carey Mulligan and Lily James on Netflix
A Very English Scandal with Hugh Grant and Ben Whishaw on BBC iPlayer
We're tuning into:
EPISODE 26: Hugh Bonneville on playing Roald Dahl, The Master of Tango, Astor Piazzolla and What YouNever Knew About Dan Brown and Lee Chil‪d
We're watching:
To Olivia starring Hugh Bonneville and Keeley Hawes, available on Sky Cinema
We're browsing:
Books and supporting our local bookshop by buying books from bookshop.org
We're tuning into:
Dan Brown's Wild Symphony project and listening to the Wild Symphony album
We're checking out:
EPISODE 25: Valentines Day: Sex, Movies and Design in an Age of Crisi‪s
We chat to British cinematographer Sir Roger Deakins in LA about his knighthood, his Oscars and his podcast with his wife and collaborator James. Victoria Broackes, Director of the Design Biennale, talks about Design in an Age of Crisis (and David Bowie) and author Olivia Fane pleads for a return to a less dark sexuality.
We're tuning into:
We're marvelling at:
All the submissions to Design in an Age of Crisis (young people can still submit ideas)
We're reading:
Why Sex Doesn't Matter by Olivia Fane
EPISODE 24: Films of Hope: Director Paul Greengrass on Directing Tom Hanks in News of the Worl‪d
Plus we talk to Gala Gordon and Isabella Macpherson of Platform Presents on the hybrids giving a boost to the performing arts industry and meet the young film-maker celebrating Rachel Carson and Silent Spring in a new film Nevergreen.
We're watching:
Paul Greengrass's movie News of the World, starring Tom Hanks, on Netflix
Good Grief, written by Lorien Haynes, starring Sian Clifford and Nikesh Patel, produced by Platform Presents. Online from Monday 15th February till 15th April, buy tickets at platformpresents.com
EPISODE 23: The Big Issues
Is the BBC our greatest cultural institution? Yes, and we must fight to keep it, argues social and cultural commentator Peter York. Times columnist Sathnam Sanghera discusses his new book Empireland and says we'll never understand our complicated multi-cultural society if we don't learn the truth about the British Empire.
We're reading:
The War Against the BBC: How an Unprecedented Combination of Hostile Forces is Destroying Britain's Greatest Cultural Institution… And Why You Should Care by Patrick Barwise and Peter York
Empireland: How Imperialism Has Shaped Modern Britain by Sathnam Sanghera
We're watching:
It's a Sin on Channel Four
Call My Agent on Netflix
Finding Alice on ITV
Spiral on BBC4
Cobra Kai on Netflix
EPISODE 22: Dancing Nation – Ballet is Back with Akram Khan
Star choreographer and dancer Akram Khan tells us about dancing with Natalia Osipova for Dancing Nation, Sadler's Wells' all-day event and Ian Rosenblatt, founder of Rosenblatt Recitals, regales us with the ups and downs of staging a provincial arts festival.
We're tuning into:
Dancing Nation from Sadler's Wells and BBC Arts | Thursday 28 January from 12 noon | Akram Khan dances with Natalia Osipova in Mud of Sorrow | bbc.co.uk/iplayer / sadlerswells.com
We're listening to:
We're watching:
Lungs by Duncan Macmillan starring Claire Foy and Matt Smith on Old Vic: In Camera | oldvictheatre.com
We're subscribing to:
We're browsing:
Get the episode on iTunes or Spotify
EPISODE 21: How a Small Theatre in Kilburn Became Theatre of the Year
Indhu Rubasingham, Artistic Director of The Kiln in Kilburn, tells us how she and her team transformed the theatre into an award-winning community hub and runner and anthropologist Michael Crawley explains how a strong sense of community is also integral to the supremacy of Ethiopia's top runners
We're supporting:
We're watching:
Dear Future Generations, an original film written and performed by The Kiln's 16-18 Young Company | kilntheatre.com
We're reading:
Get the episode on iTunes or Spotify
EPISODE 20: Your Favourite Songs Specially Arranged, Performed and Streamed into Your Living Rooms
Ed and Charlotte are back from the Christmas break and plunged into another national lockdown! Don't worry, we won't be changing the name of the podcast again and will firmly remain Break Out Culture! They catch up with Patricia Hammond and Matt Redman on their online music commissioning service and share their latest TV and book recommendations.
We're commissioning:
We're reading:
Out of Thin Air:  Running Wisdom and Magic from Above the Clouds in Ethiopia by Michael Crawley
Exercised: The Science of Physical Activity, Rest and Health  by Daniel Lieberman
Ctrl Alt Delete: How Politics and the Media Crashed our Democracy by Tom Baldwin
Shuggie Bain by Douglas Stuart:  Winner of the Booker Prize 2020
The Mission House by Carys Davies
The Overstory by Richard Powers :Winner of the 2019 Pulitzer Prize for Fiction
We're watching:
Bridgerton on Netflix
The Serpent on BBC iPlayer
Get the episode on iTunes or Spotify
EPISODE 19: A Song and Dance About Christmas: The Nutcracker, The Little Match Girl and the Self-Isolation Choir plus Pallant House Gallery
We'll be back on Sunday 10th January. Happy Christmas to all our listeners.
We're hoping to go to:
Tchaikovsky's The Nutcracker directed by Peter Wright | Royal Opera House, Covent Garden | Till 3 January | roh.org.uk
Hans Christian Andersen's The Little Match Girl directed and choreographed by Arthur Pita | Sadler's Wells, Rosebery Avenue, London | Thursday 17 till Sunday 27 December | sadlerswells.com
We're watching:
Sadler's Wells Global Gala on You Tube till 5 January | youtube.com
We're hoping to visit:
Pallant House Gallery, Chichester | Christmas Greetings by Modern British Artists | Till 6 January | pallant.org.uk
Degas to Picasso:  International Modern Masters | Till 18 April | pallant.org.uk
Richard Hamilton: Respective | Till 18 April | pallant.org.uk
We're tuning into:
Get the episode on iTunes or Spotify
EPISODE 18: Nicole Farhi's Hidden Loves and Dick Whittington Comes to London
Nicole Farhi on her new show 'Couples', Jude Christian on adapting Dick Whittington for the National Theatre and three American artists at Gazelli Art House.
We're visiting:
'Couples' by Nicole Farhi at the Fine Art Society Ltd. | 25 Carnaby Street (entrance in Marlborough Court), W1 | Until 23 December | thefineartsociety.com
Claudia Hart:  An Imaginary Ruin till 17 January | Jann Haworth:  Mannequin Defectors till 9 January | Perle Fine: The Cool Series till 9 January | All at Gazelli Art House, Dover Street, London W1 | gazelliarthouse.com
We're booking for:
Get the episode on iTunes or Spotify
EPISODE 17: At Home With The Stones : Gered Mankowitz the man behind the lens
Gered Mankowitz talks about that photograph of Jimi Hendrix, photographing the Stones, and many more. Plus Love and War, a new podcast about gay love in the trenches to celebrate 100 years since Wilfred Owen's first book of poetry was published.
We're buying:
Goin' Home with The Rolling Stones '66, Photographs by Gered Mankowtiz | Published by Reel Art Press £19.95 | reelartpress.com
We're listening to:
Love and War, a podcast by Kevin Childs with Sam Fairbrother as Wilfred Owen and more | play.acast.com
We're watching:
Icon:  Music Through the Lens | 6 x one-hour programmes | Sky Arts at 10.10 pm on Fridays
Get the episode on iTunes or Spotify
EPISODE 16: Diving Into History: Charles Spencer Goes In Search Of The White Ship
Charles Spencer on his book The White Ship, 900 years after the ship sank, three exhibitions at Hauser & Wirth Somerset and the Hay Digital Winter Weekend.
We're reading:
The White Ship:  Conquest, Anarchy and the Wrecking of Henry I's Dream by Charles Spencer, published by William Collins, £25
We're Visiting:
We're tuning into:
We're watching:
The Crown on Netflix
Small Axe: Mangrove, directed by Steve McQueen on BBC i-player
All of Us on Amazon Prime
Get the episode on iTunes or Spotify
EPISODE 15: Hallelulujah! And Matthew Parris's geniuses
How to sing your way to Christmas in isolation and Matthew Parris talks about his new book on trauma and genius.
We're joining:
The Self-Isolation Choir and their Christmas at Home Concert on 20th December |theselfisolationchoir.com
We're reading
Fracture: Stories of How Great Lives Take Root in Trauma, by Matthew Parris, published by Profile Books, £16.99
We're going online to
The Stratford Literary Winter Weekend Festival | Friday 20th November to Wednesday 25th November | Matthew Parris talks about his book at 8pm Friday 20th November (available until 11pm 25th November) | stratlitfest.co.uk.
We're watching:
A one-time live reading of Shakespeare's The Tempest, directed by Jenny Hall and starring Geraldine James and Rebecca Hall | November 19th at 7.30 on Zoom | Tickets from ticketsource.co.uk
We're buying:
Portraits of NHS Heroes compiled by Tom Croft, published by Bloomsbury, £25 | All royalties and £2.50 of every sale goes to NHS Charities Together |  bloomsbury.com
Books are My Bag Reader Awards Winners:
Reader's Choice Book of the Year  : Hamnet by Maggie O'Farrell (Tinder Press)
Fiction: The Devil and the Dark Water by Stuart Turton, Raven Books, Bloomsbury
Non-Fiction: by Dara McAnulty (Little Toller Books)
Poetry: Tiger, Tiger Burning Bright: An Animal Poem for Every Day of the Year by Britta Teckentrup and Fiona Waters (Nosy Crow)
Young Adult Fiction: Cinderella is Dead by Kalynn Bayron (Bloomsbury)
Children's Fiction:  The Highland Falcon Thief by M.G. Leonard & Sam Sedgman, illustrated by Elisa Paganelli (Macmillan Children's Books)
Breakthrough Author:  Jean Menzies author of Greek Myths (DK)
Get the episode on iTunes or Spotify
EPISODE 14: Theatrical Gyles Brandreth
Gyles Brandreth cheers up lockdown by lifting the lid on all the stories and gossip since theatres began.   Art gallerist Johnny Messum tells us how Messums keeps opening new galleries and thriving during lockdown. And we lift the lid on our TV habits.
We're revelling in:
The Oxford Book of Theatrical Anecdotes by Gyles Brandreth
We're voting for our favourite books:
Awards Ceremony hosted by Grace Dent to be screened on Tuesday November 10th at 5.30 pm | Vote: nationalbooktokens.com
We're watching:
The Undoing on Now TV
Roadkill on BBC i-player
Better Things on BBC i-player
The Queen's Gambit on Netflix
Adult Material on More 4
We're visiting (virtually):
Get the episode on iTunes or Spotify
EPISODE 13: A Christmas Carol, Carnaby Street and Pioneering Women Artists
We talk to Nicholas Hytner about the The Bridge Theatre's Christmas season and hear from art dealer and TV sleuth Philip Mould about Pioneers, his exhibition celebrating 500 years of British women in art.  Plus we chat to Kojo Marfo about a new pop-up on Carnaby Street to celebrate black business and creativity
We're going shopping at:
56B  Carnaby Street to visit 21 Youth Street, My Runway Group's pop-up store for emerging black businesses and talent | carnaby.co.uk
We're going to The Bridge Theatre to see:
We're booking:
A Christmas Carol starring Simon Russell Beale at The Bridge Theatre | bridgetheatre.co.uk |From 21st November
We're dropping into:
Pioneers: Celebrating 500 Years of Women in Art at Philip Mould & Co., 18-19 Pall Mall | philipmould.com | Runs till 27th November
Get the episode on iTunes or Spotify
EPISODE 12: Andrew Lloyd Webber on his new Cinderella
This week Andrew Lloyd Webber talks candidly about Cinderella, what it will take to get our theatres open again and how he feels after taking the Covid-19 vaccine.
We're booking:
Cinderella at the Gillian Lynne Theatre, written by Andrew Lloyd Webber with Emerald Fennell. Set to open in April or May, andrewlloydwebberscinderella.com
Disney's Frozen at Theatre Royal Drury Lan. Due to open Spring 2021, lwtheatres.co.uk
Get the episode on iTunes or Spotify
EPISODE 11: Out Of The Box
This week: Plymouth's dazzling new art space. Plus, portraits of Britain's black female academics and spying on Jonathan Yeo painting Jamie Oliver.
Dr. Nicola Rollock tells us about commissioning Bill Knight to photograph Britain's 45 black female professors for an exhibition on London's South Bank. We talk Jo Loosemore, curator at The Box, Plymouth, about a new exhibition turning myths about the Mayflower on their head and artist Jonathan Yeo welcomes everyone into his studio – via his brand new app.
We're visiting:
We're breaking out to:
Mayflower 400:  Legend & Legacy, until September 2021, The Box, Plymouth, book tickets here theboxplymouth.com
Phenomenal Women, until November 8th
We're lobbying:
Get the episode on iTunes or Spotify
EPISODE TEN: John Tusa's On Board secrets, the tiny theatre making Londoners smile and Stanley Spencer's tragic love life
Renowned TV journalist John Tusa spills the beans on what goes on behind the doors of Britain's art institution.  Anthony Biggs, Creative Director of The Playground Theatre in Notting Hill, tells us how a small community theatre can flourish and Amanda Bradley, Curator of Love, Art, Loss, tells about the complicated love life of the great artist Stanley Spencer.
We're visiting:
Love, Art, Loss:  The Wives of Stanley Spencer at the Stanley Spencer Gallery in Cookham. The show runs till Autumn 2021. stanleyspencer.org.uk
We're reading:
We're booking:
We're registering to be part of:
Get the episode on iTunes or Spotify
EPISODE NINE: How Sir Terence Conran Changed Our Homes
We talk to designer Sebastian Conran about his father's legacy and his influence on British design.  We discover Cromwell Place in South Kensington, London's newest venue for galleries and collectors shaking up the art world.  Plus we talk to the Dutch artist Jan Hendrix at his home in Mexico about his new exhibition, Paradise Lost, just opened at Shirley Sherwood's Gallery of Botanical Art at Royal Botanic Gardens Kew.
We're tracking down and rereading:
We're visiting
Electronic: from Kraftwerk to The Chemical Brothers, The Design Museum, Designmuseum.org
Paradise Lost : an exhibition by Jan Hendrix, The Shirley Sherwood Gallery of Botanic Art,  Royal Botanic Gardens Kew
Cromwell Place in South Kensington, Visitors must register to visit beforehand at Cromwellplace.com
Get the episode on iTunes or Spotify
EPISODE EIGHT: How Books Can Make the World a Better Place
Elif Shafak on curating the Cheltenham Literature Festival, Chris Riddell's Poems to Save the World With and Kensington and Chelsea Art Week.
We're booking up:
The Times and The Sunday Times Cheltenham Literature Festival. From Friday 2nd October until Sunday 11th.  For all details of what's on and how to book visit cheltenhamfestivals.com.
We're visiting:
Kensington and Chelsea Art Week. From Thursday 1 October until Sunday 11. See website for details and for exhibits that will be in situ for longer ckaw.co.uk.
We're reading:
How to Survive in an Age of Division by Elif Shafak
10 Minutes and 38 Seconds  in this Strange World by Elif Shafak
We're loving:
Poems to Save the World With by Chris Riddell by Macmillan Children's Books
Get the episode on iTunes or Spotify
EPISODE SEVEN: 'Saucy' Loyd Grossman's Roman Holiday
Loyd Grossman discusses his new book and saving our culture and the Royal Borough opens its Physic Garden and National Army Museum for its annual History Festival.
We're reading:
An Elephant in Rome : Bernini, the Pope and the making of the Eternal City by Loyd Grossman, £19.99
We're going to:
We're visiting:
The National Army Museum nam.ac.uk and The Chelsea Physic Garden  chelseaphysicgarden.co.uk for numerous live events during The Chelsea History Festival – BOOKING ESSENTIAL
We're scrabbling to get the last seats for:
Jesus Christ Superstar at Regent's Park Open Air Theatre – till 27th September, Openairtheatre.com
ENO's Drive & Live : Puccini's La Bohème at Alexandra Palace till 27th September, eno.org
Get the episode on iTunes or Spotify
EPISODE SIX: Digital Theatre, free culture for all and lifting the lid on undiscovered  London
This week:  Neelay Patel on how Digital Theatre is transforming young people's lives and revitalising the theatre world, Phil Edgar-Jones on how and why we're all going to be watching Sky Arts for free and Hafsa Adan on exploring hidden, uncelebrated parts of London at this weekend's Open House Festival.
We're tuning into Sky Arts for free on Freeview from midday Thursday 17th September
We're logging onto Digital Theatre at digitaltheatre.com, subscribe for £9.99 per month or rent productions for £7.99
Teachers, libraries and all educational institutions can subscribe to Digital Theatre + at digitaltheatreplus.com/education
We're exploring London this weekend with the Open House Festival from Saturday 19th September. For details of what to see and now to book go to openhouselondon.open-city.org.uk
We're pre-ordering Open House's Alternative Guide to the London Boroughs, £14.99, edited by Owen Hatherley from shop.openhouselondon.org.uk
Get the episode on iTunes or Spotify
EPISODE FIVE: Racism in the Capital and Blue Plaques
Vogue photographer Misan Harriman on combatting racism in the capital and Kate Mavor from English Heritage chooses her favourite sites and blue plaques to visit.
For our cultural nutrition, we're logging onto What We Seee  whatweseee.com
We're visiting sites cared for by English Heritage. To book please visit english-heritage.org.uk
We're downloading the Blue Plaques of London app and watching English Heritage's video about how it makes them youtube.com
Get the episode on iTunes or Spotify
EPISODE FOUR: We Can Go To The Movies!
Can we go out to watch a film this summer? Ben Roberts, CEO of the British Film Institute tells us what's happening with British cinema and Rob Adediran from London Music Masters tells us about the positive changes happening in the music industry.
We're breaking out to:
Recently opened National Trust Properties. For all details of how to book: nationaltrust.org.uk
Petworth House in Sussex
Barrington Court in Somerset
Kingston Lacy in Dorset
Lyme in Cheshire
Oxburgh Hall in Norfolk
The Argory in Country Armagh
Packwood House in Warwickshire
Festivals:
Gisburne Park's Pop Up – the first socially distanced festival in Lancashire: Parties in the park every Friday and Saturday from 11 July to 31 August gisburneparkpopup.com
Red Rooster Festival: celebrating the best of the American Deep South at Euston Hall in Suffolk, 4-6 September redrooster.org.uk
Theatres:
Cinema:
The BFI on the South Bank will open on 1 September bfi.org.uk
To find out what Odeons are open please see odeon.co.uk
Sign up to I'm In, the new tool from London Music Masters londonmusicmasters.org
For more of what's on every week, sign up to our Weekly What's On newsletter here
Get the episode on iTunes or Spotify
EPISODE THREE: Tony Hall on the Future of Art
Tony Hall in his new role as Chair of the National Gallery shares his vision for the gallery's future and the Marquis of Cholmondeley talks about working with Anish Kapoor to mount his exhibition, now open to the public at Houghton Hall in Norfolk.
We're breaking out to:
Get the episode on iTunes or Spotify
EPISODE TWO: June Sarpong Talks Diversity and Change the Beeb
All Change: June Sarpong, TV broadcaster, panellist and author of Diversify became the BBC's first ever Director of Creative Diversity last October. She talks to Ed and Charlotte about change at the BBC, gives a sneak preview of all the exciting programming coming up this summer and autumn, and tells us how white people can be effective allies in the fight against racism.
We're breaking out to:
Masculinities: Liberation through Photography at The Barbican from 13th July
Jan Svoboda: Against the Light at The Photographers Gallery from 14th July
Radical Figures:  Painting in the New Millennium  at Whitechapel Gallery from 14th July
 We're Reading:
Diversify by June Sarpong
The Power of Women by June Sarpong
We're Watching:
I May Destroy You: BBC iPlayer
Noughts and Crosses: BBC iPlayer
Get the episode on iTunes or Spotify
EPISODE ONE: Desire, Death and Dutch Masters
Breaking out from lockdown – what's opening up from art galleries to the office? Cabaret duo Kit and McConnel on the future of cabaret and pantomime, Martin Waller of Andrew Martin on the new-look office and Spirit and Endeavour, the opening of a new art exhibition to celebrate 800 years of Salisbury Cathedral.
This week we're breaking out and visiting:
We're browsing:
Andrew Martin's brand new store and 'Luxe Lab' Pop Up on 72-74 Sloane Avenue
We're watching:
Get the episode on iTunes or Spotify
Lockdown Culture Series Notes
EPISODE TEN: Discover Jesus' Secrets
Matthew Burrows explains his Artists' Support Pledge has saved thousands of artists' incomes during lockdown and Jesus Adorno, London's favourite maître d shares his secrets and tells us if London's iconic and much-loved restaurant Le Caprice has a post-lockdown future. As we start to leave lockdown, the philanthropist Sir Lloyd Dorfman encourages everyone who's lost a loved one to Coronavirus to create a memorial for them on St. Paul's Cathedral's tribute site Remember Me.
Ed and Charlotte will be back next week with BREAK OUT CULTURE  
Get the episode on iTunes or Spotify
EPISODE NINE: Beyond Lockdown With Nicholas Coleridge
An exclusive podcast interview with Sir Nicholas Coleridge, Chairman of the V&A, Condé Nast supremo and author of The Glossy Years, on life beyond lockdown. What's going to happen to our museums, to the fashion industry and to magazines?
We're Reading:
The Glossy Years by Nicholas Coleridge (published in paperback 16th July)
And we're….
Getting ready to go back out again.
Next week will be our last week as Lockdown Culture – but we'll be back with a new focus on breaking out of lockdown and going out again.
For any suggestions, recommendations and comments, email [email protected]
Get the episode on iTunes or Spotify
EPISODE EIGHT: Covid Comedy in Edinburgh, Chineke Orchestras and Sitting in Limbo
Ready for a laugh?  As we start easing up on lockdown are we ready to laugh about it yet?  We ask comedy producer Emma Brunjes, producer of Dave's Edinburgh Comedy Awards about comedians' take on Coronavirus and how they'll survive without the Edinburgh Festival.  And we talk to Founder of the Chineke Orchestras, Chi-chi Nwanoku about the Junior Orchestra's triumph on Britain's Got Talent, the Black Lives Matter movement and the future for classical musicians of colour.  Plus we discuss all latest exciting offerings on television  from Sitting in Limbo and Little Fires Everywhere to Filthy Rich and Steve Coogan in Greed.
We're laughing at:
We're listening to:
Deep River by Samuel Coleridge-Taylor, a tribute to George Floyd and other victims of racism performed by The Chineke Orhcestra
We're watching:
Sitting in Limbo : BBC i-Player
Little Fires Everywhere:  Amazon Prime
Filthy Rich:  Amazon
Greed:  Amazon Prime
Get the episode on iTunes or Spotify
EPISODE SEVEN:  Going Local
We go local:  Hastings Contemporary – the local gallery using a robot to take Sir Quentin Blake's Guernica global, Sir Nicholas Kenyon on the Barbican's Radio Local and Bettany Hughes seeps us off on her epic Greek Island Odyssey from the comfort of our armchairs.
We're listening to:
Barbican Radio Local with Hunt and Darton: culturemile.london, till Friday between 1 and 2 every day on Resonance DAB or on Resonance DAB between 1 and 2 till Friday or at 10 am on Resonance 104.4 FM
We're watching:
Everything at The Barbican
Secrets of Pompeii's Greatest Treasures with Bettany Hughes on Channel5
Bettany Hughes's Greek Island Odyssey, Episode One, 9 pm on Friday 12th June, Channel5
The Bush Theatre Monday Monologues: bushtheatre.co.uk
We're visiting:
We're reading our children:
Tad by Benji Davies, Winner of the 2020 Oscar Award
We're wearing:
Get the episode on iTunes or Spotify
EPISODE SIX:  I Want To Break Free
Song, movies, good news and sex to cheer us up: the national singalong  of I Want to Break Free, Gabriel Jagger and his good news channel, the first virtual global film festival We Are One and Lindsay Duncan and Hilton McRae on sex and storytelling during the Black Death.
We're reading:
Kevin Child's new translation of The Decameron
Good news stories on Gabriel Jagger's positive news media channel Why Now?
We're listening to:
A new podcast bringing stories from The Decameron, Passion and the Plague: play.acast.com
We're watching:
We're singing along to:
Get the episode on iTunes or Spotify
EPISODE 5: BalletBoyZ, ArtUK and Lockdown LitFest
This week Lockdown Culture explores the nation's quarter of a million hidden art treasures with Andrew Ellis of ArtUK. We meet Michael Nunn OBE, one of the duo behind the contemporary dance troupe BalletBoyZ, celebrating 20 extraordinary award-winning years and we point you in the direction of Lockdown Litfest, specially created for our screens.
We're visiting
We're watching
We're Loving
Get the episode on iTunes or Spotify
EPISODE 4: Hay-on-Wifi
This week Lockdown Culture brings you Hay-on-Wifi, as Boris Johnson has christened the Hay Festival. Founder Peter Florence tells us about the challenges of taking a literary festival digital and we talk to filmmaker and author Hannah Rothschild about her new Cornish caper The House of Trelawney and celebrate Shakespeare with poetry fanatic Allie Esiri and actor Dominic West.
This week's recommendations
Get the episode on iTunes or Spotify
EPISODE 3:  Diana Quick at the Donmar, the first ever drive in opera, poetry for the soul and Cocktails with a Curator at the Frick
This week Ed and Charlotte welcome their first guests – they hear from actress Diana Quick, chat to Stuart Murphy, Chief Executive of English National Opera and talk to William Sieghart who tells them how Poetry Pharmacy is providing thousands of people – including the actress Emilia Clarke – with solace.
Get the episode on iTunes or Spotify
We're Reading:
Poetry Pharmacy by William Sieghart
We're Watching:
Midnight Your Time starring Diana Quick from Wednesday 13th May for a week youtube.com
Caliphate: Netflix
Call my Agent: Netflix
Art We're Loving:
For more information on English National Opera's drive in: eno.org
EPISODE 2: Normal People, The How To: Academy, the ultimate top 100 classical music hits and the virtual Great Wall of China
This week he raves about BBC's Normal People, discovers Classic FM's 100 top pieces of music going back 1000 years and tells us where to look out for artists' work in response to Covid-19
Get the episode on iTunes or Spotify
We're Reading
City of Girls by Elizabeth Gilbert
House of Glass by Hadley Freeman
East West Street and The Ratline by Philippe Sands
Such a Fun Age by Kiley Reid
We're Watching & Listening
EPISODE 1: Lockdown Culture With Ed Vaizey
In the first episode, Ed admits his devotion to Tamsin Greig in Twelfth Night, Belgravia and Friday Night Dinner, introduces us to the new documentary series on Michael Jordan, tries out Olafur Eliasson's new Earth perspective with his kids and admits a weakness for Lee Child's Jack Reacher novels.
Episode Notes:
We're Reading
The Walker's Guide to Outdoor Clues and Signs by Tristan Gooley
All the Jack Reacher novels by Lee Child
We're Watching & Listening
Listen now on Spotify or iTunes.
---