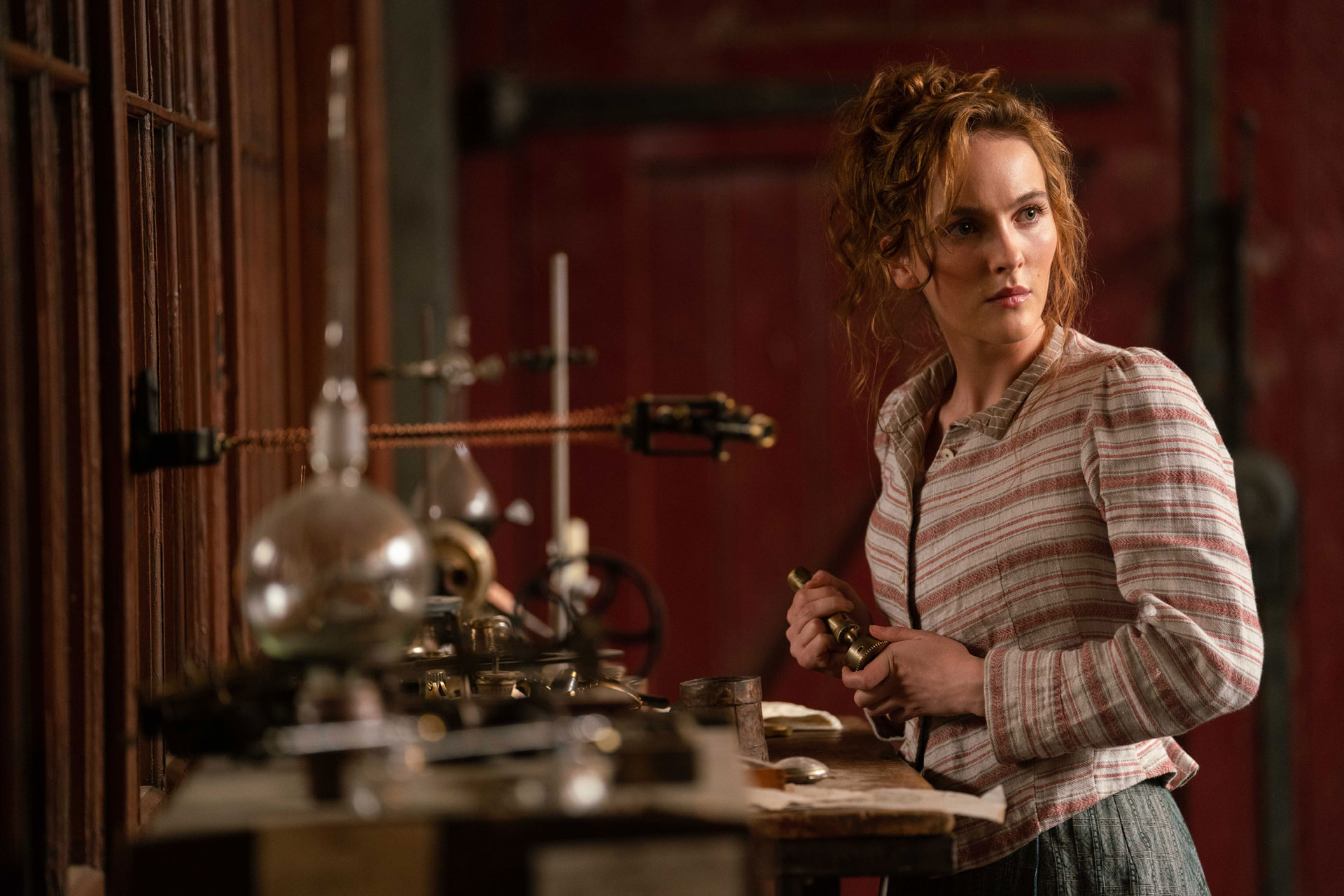 Q&A with The Nevers' Ann Skelly
---
Meet the breakout star of Sky series The Nevers
Dublin-born Ann Skelly is just 24, but she's already earned her stripes on the TV scene. She's starred in the BBC's Little Women series, acted alongside Jamie Dornan in The Death and Nightingales and played the lead role in independent feature film Kissing Candice. Her most recent project, though, is the most exciting yet. Skelly plays Penance Adair in new Sky series The Nevers, which tells the story of a group of women who suddenly manifest supernatural powers. Read on to find out more.
Q&A with The Nevers' Ann Skelly
What can you tell us about The Nevers?
The Nevers explores what happens when those without legitimate power in society suddenly gain a form of power and how the established order reacts to that. It's got beautiful dialogue, a lot of humour and a range of all sorts of characters played by really exceptional actors. I've never worked with so many women in one job before in a role, or been able to indulge the lighter side of myself.
Role you'd cut your right arm off to get?
A character like Azula from Avatar: The Last Airbender. I love the idea of lost worlds and the character's interaction with nature. She starts off as this absolutely relentless oppositional force, and eventually gets driven mad by power – which would be a fun arc to do.
What demands do you have on set?
I shan't film in the wind, or run. I'm kidding. I know I'll need a little sugar boost on hard days and so I'll scope out a hidey hole for my sweets. That's not really a demand though.
Director you'd most like to work with and why?
Bong Joon-ho. Growing up I've usually been more inclined towards non-English language films and he's a brilliant example of what happens when you look past subtitles – you get to experience a much wider world of storytelling.
What qualities do you think have made you successful?
A love of people, intuition and obsessiveness.
Film you think everyone in the world should see?
Maybe Parasite? I'm on a Bong Joon-ho buzz.
What's your relationship with social media like?
Terrible, I made one for work but that's all I have. It's a weird thing of being incredibly boring but addictive.
What did you want to be when you were a little girl?
I did always have the inclination to be an actor, but maybe that came from wanting to be Leeloo in The Fifth Element, Annie in Annie or Babe from Babe. Probably the latter.
If you could give advice to your 15-year-old self, what would it be?
Throw your phone out the window and home-school yourself.
Three books you'd take to a desert island and why?
Cleopatra: A Life by Stacy Schiff, which reclaims Cleopatra from patriarchal biases of the time and shows her as an incredibly intelligent leader and person. An Intimate History of Humanity by Theodore Zeldin because it distils universal themes to very personal stories. And The Myth of Sisyphus by Albert Camus, because every sentence is very dense and I need time to think on it.
The most challenging moment of your life?
Probably being a teenager, I wouldn't go back to re-live that period of my life for anything.
How can we all live a little bit better?
By making things simpler.
Any life hacks your learnt in lockdown that you can share?
The Real Housewives of New York will keep you company.
What's your interior design style?
I like a natural, earthy situation. Where everything looks like it would last.
Are you conscious of what you put in your body?
Pre-lockdown, yes – but it feels very long ago since I ate my last vegetable.
What is your current beauty regime?
Double cleanse in evenings, SPF in the day, a hyaluronic and antioxidant serum in the day, retinol at night. It comes down to water, sleep and food though.
What are your indulgences?
Perfume. I've got a good nose so smell makes a difference to my whole day.
What would your best friend say about you?
She's told me she thinks I'm brave, but probably because being an actor is her worst nightmare.
How do you relax?
Tea and a chat. Or a bath.
If we're coming to your area for a visit, what should we do?
Go to Brick Lane for Crosstown doughnuts.
Are you a rule breaker or a rule taker?
Rule taker, which is very un-Sagittarius of me.
The Nevers is available to watch on Sky Atlantic and NOW TV. All images are from Sky Pictures.
MORE INTERVIEWS: