Pride in London is a not-for-profit organisation with an aim to provide a platform for all LGBT+ people across London.
Run by a large group of selfless and committed volunteers, Pride in London (the most diverse Pride in the UK) is a month-long celebration that puts the LGBT+ community centre stage. Pride in London is perhaps the the only occassion where such a bright light is shone on the issues the community and people within it face and aims to represent every part of London's LGBT+ community including those who are "lesbian, gay, bisexual, trans*, queer, questioning, intersex, non-binary, asexual, polysexual, genderqueer and gender variant". Whilst from the outside it might just seem like an excuse to celebrate, it's important to remember the real reason Pride is and should be such a big deal. Same-sex marriages where only legalised in England 5 years ago. The Gender Recognition Act came into effect in 2004, but was critisised harshly by many members of the House of Lords and still is. And, regardless of laws in place to protect and promise respect, violence and intolerance gainst LGBT+ people can be found far more easily than we'd like.
So this Pride, celebrate and walk respectfully hand-in-hand being a true ally to the LGBT+ community but keep in mind the challenges they face and most importantly, donate to the causes:
Discover more charities at charitynavigator.org
How to Celebrate Pride in London
The Parade: Saturday 6 July
This year's parade celebrates the conception of the modern LGBT+ rights movement 50 years ago. The parade begins at Portland Place at 12pm, will move along Oxford Circus and Regent Street, through Trafalgar Square and ending in Whitehall. If you'd rather watch the action from the comfort of a seat, book a grandstand ticket here.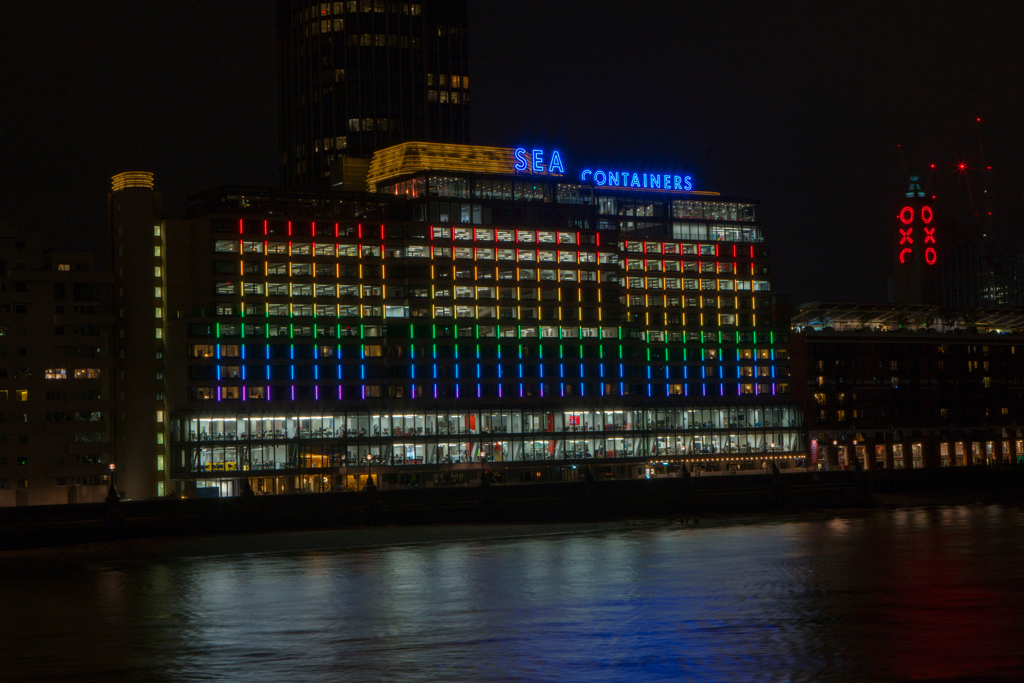 Events
Celebrations at Sea Containers London
Stylish South Bank hotel Sea Containers London has a few events in store for Pride 2019. From July 4th, one of the pride flags will be illuminated across the exterior of the hotel. On the day (July 4th) they're hosting a screening in their intimate Curzon at Sea Containers cinema of the award-winning 'The Adventures of Priscilla, Queen of the Desert'. All ticket proceeds will be donated to Stonewall. Plus, before the parade on July 6th, pop into their new gallery space to get a makeover from hair studio Tuttii Fruitii. Get tickets to the screening at eventbrite.co.uk
Barry's Bootcamp: Special Pride Classes
Barry's Bootcamp are putting on special Pride classes on July 5th across all their studios in London, with all proceeds going to the official Pride in London charity. July 5, 7.30pm, all London studios.
Life in Colour: Portraits of Queer Londoners
An exhibition of Leo Crane's work. Over the past few months, a variety of queer Londoners have sat to be painted in Crane's studio. The portraits will reveal the dialogue between the artist and the subject and will showcase just some of the endless different faces of queer London. 6 June – 31 July, 6pm – 9pm. Free entry, Stratford East Picturehouse.
The Ivy Talks: Pride
Kicking off the Ivy Soho Brasserie's Gay Times talk series on 3 July will be iconic fashion designer Henry Holland, followed by Paris Lees on 9 July. A writer, broadcaster and campaigner for media representation of the transgender community, Paris is a columnist for British Vogue as well as being Channel 4's first transgender presenter. Hosted by Gay Times CEO, Tag Warner, the talks will look at the evolution of Pride while touching on personal, inspirational stories too. 3 & 9 July, The Ivy Soho Brasserie x Gay Times 'Spirit of Pride' series; £25 per person including a glass of Champagne and canapés
SoLo Craft Fair: Pride Special
Shop crafty bits and bobs from (some) LGBTQ+ makers and enjoy the fact that a portion of profits will be donated to The Albert Kennedy Foundation, a charity which supports homeless LGBTQ+ people. 8 June, 12pm – 5pm. Free entry, Balham Bowls Club.
Pride in London 10K
Pride in London costs about £1m to put on. If you're a natural runner, enjoy a 10k through Hyde Park and get family and friends to sponsor you so you can help put on Pride in London and make it as amazing an event as it can be. 9 June, 9:30am – 1pm. From £16, Hyde Park
Pride's Got Talent Music Final
For the fifth year running, the Pride's Got Talent music competition allows new talent in the community to be celebrated and judged by industry-recognised judges. Watch the final at London's Apollo Theatre and before you do so, check out the finalists and choose your favourite here. 9 June, 6:30pm – 10:30pm. From £11.50, Apollo Theatre.
Trans in Tech – Driving for Authenticity
Bring your most authentic selves to this event with guest speaker Charlie Martin, LGBTQI+ activist and racing driver. Emily Coates will also speak about her experience as a transgender woman working at Microsoft and what her experience was like transitioning in a work environment. The aim of the event is to help people take away an understanding of how showing up as your authentic self does wonders for both your personal and work lives. 19 June, 6pm – 9:30pm. Free, Microsoft Reactor
Sweat for Charity with Sweat It
On 4 July, Sweat It will be celebrating Pride the only way they know how; sweating! The high-intensity, treadmill-based group exercise concept will be challenging Londoners to exercise for charity, putting you through your paces to a soundtrack of banging tunes – plus a heavy helping of glitter. The 50-minute workout is the perfect way to start off your Pride celebrations, especially when followed by free flowing bubbles and a DJ to bring you into the after-after-party at Klub (WC2H 7BA) where you'll also receive free entry and a free drink. 4 July, 8:00pm – 11:00pm; tickets include work-out class, freeflow Prosecco, entry and one drink at Klub, and cost £10 with all proceeds going to Albert Kennedy Trust; eventbrite.co.uk
Pride at Chotto Matte
On 28 June 1969, the Stonewall Uprising began a series of events which eventually led to the modern Pride movement as we know it today. To celebrate Pride, the Japanese restaurant, grill and sushi bar are partnering with the Stonewall charity to remember the past 50 years of activism. Pride-inspired dishes like the 'Love Pop' (an alcoholic popsicle) and 'Rainbow Sashimi' among them, with £1 from every dish sold donated to The Stonewall Charity to support their work. Book now at chotto-matte.com
J. Crew x Hello My Name is Wednesday
To celebrate Pride the all-American label J. Crew have teamed up with queer activist-artist-designer Hello My Name is Wednesday to design special artwork for t-shirts that will be sold for Pride. On 1 July you can swing by the J.Crew store on Regent Street to watch as Hello My Name is Wednesday paints the windows, and to own your own piece of wearable you can art stop by the shop on 2 July between 5 – 9pm to get your own screen printed t-shirt (along with frosé and pride biscuits). 10% of sales from the whole evening will be donated to the Albert Kennedy Trust who work to support vulnerable LGBTQ+ young people who are homeless, living in hostile environments or in housing crisis. 2 – 5 July
Hashtag for Charity
For every person that uses the #PrideInCoventGarden on social media, Covent Garden will be donating £1 to the Albert Kennedy Trust – so get tagging people!
Glitterbox: A Deeper Love Party at W Hotel
To celebrate Pride, W London will be sending out a LOVE OUT LOUD themed show-stopping spectacular golden float complete with iridescent metallics, neons and a whole load of colour, with a troop of 50 people in tow dressed head-to-toe in outfits by Irish fashion designer Derek Purcell of BANG London. Post-float, head to W London for a Glitterbox party where dancers and performers will provide the entertainment and a DJ will be playing beats to bring you into the late night, with Café Belvedere's Espresso Martini pop-up helping you into the early hours.  designmynight.com
There are over 100 events taking place this year. Find the full schedule and line-up at prideinlondon.org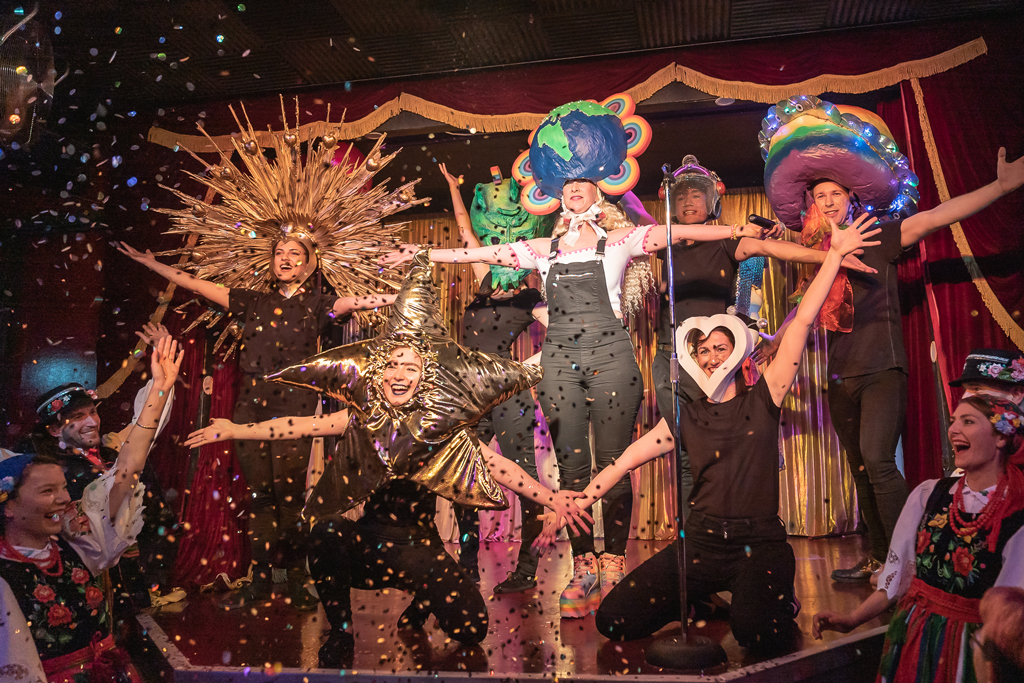 ---