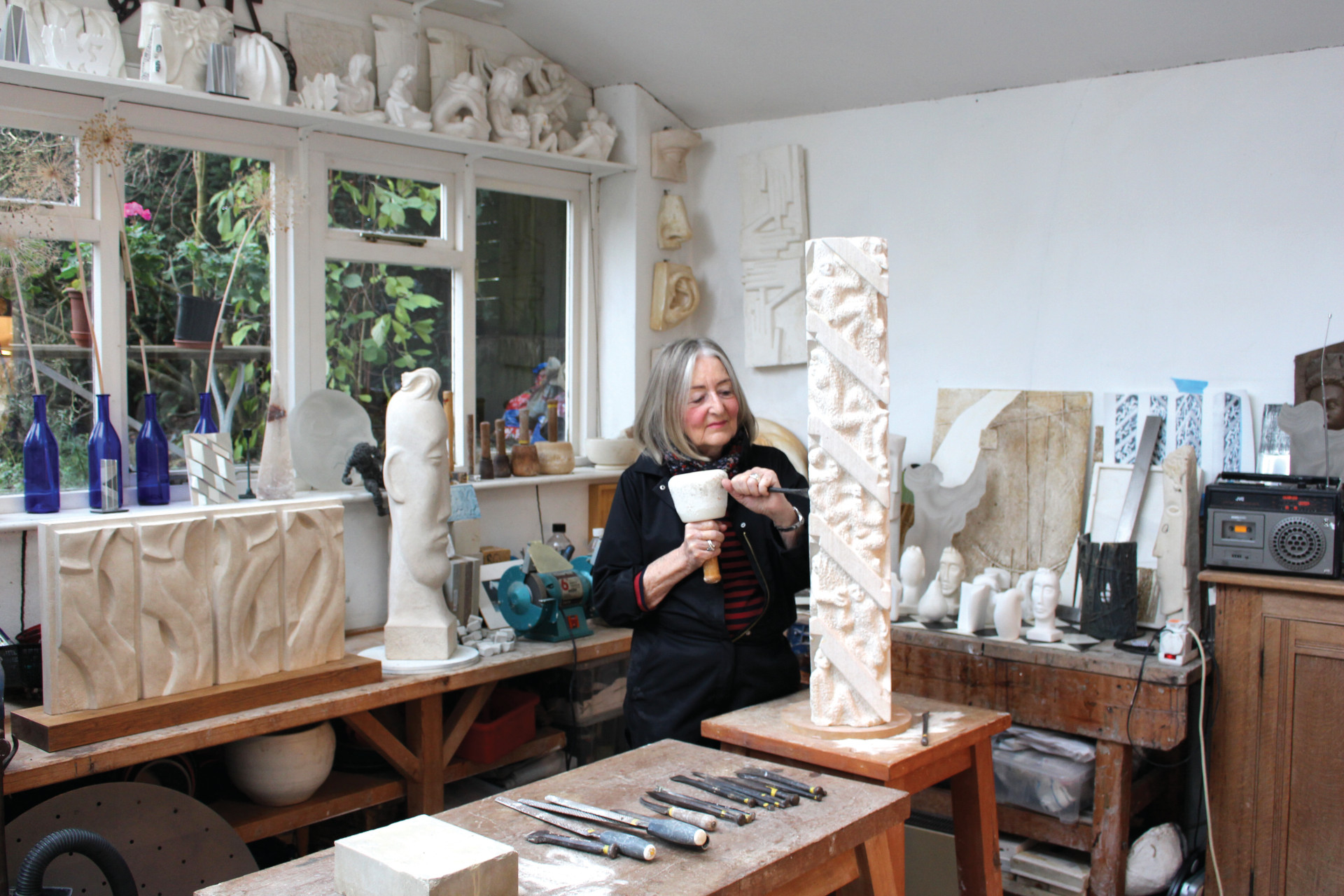 Artist's Studio: Glynis Owen
---
'There's a ring in the stone and a tap, tap, tap – I just lose myself in the act of creation.'
Caiti Grove discusses realism versus abstraction with celebrated sculptor Glynis Owen.
Sustainable Exhibitions and Art Shows in the UK
Artist's Studio: Glynis Owen
Glynis Owen is famous for her realist installations, yet she is an artist who dances the line between abstract and figurative genres. A Fellow of the Royal Society of Sculptors and author of books on casting and carving, her realist work appears all over the country. On Covent Garden's Southampton Street her four metre-tall bronze relief dedicated to the once-busy fruit market features a young man bordered by a bounty of vegetables; he carries a tower of baskets on his head. Family is a remarkable stone sculpture in the centre of Stevenage. She even made the trophy – titled The Thinking Man – for the National Teaching Awards, and delights in seeing it recast every year.
Yet her Hampstead house studio-gallery displays her abstract sculptures, painting and prints. 'I'm constantly trying to leave figurative behind. But it always pulls me back somehow,' she explains of her two fields. In front of a fireplace, three swirls of alabaster balance on plinths: 'A college in Camden stopped teaching sculpture; a photographer friend was driving past in his camper van, spotted these stone carving tables and thought, "I know where they'll have a good home". I did the three of them last year.'
In a conservatory, chisels and hammers lie on a wooden table alongside maquettes, one a tall slither of a face. It's Glynis's grandson. 'When he was about 14, he would gel his hair with this quiff. I had this long block of stone and wondered what to do with it. When I saw the Modigliani exhibition at Tate Modern, I thought I'd do this stretched face.'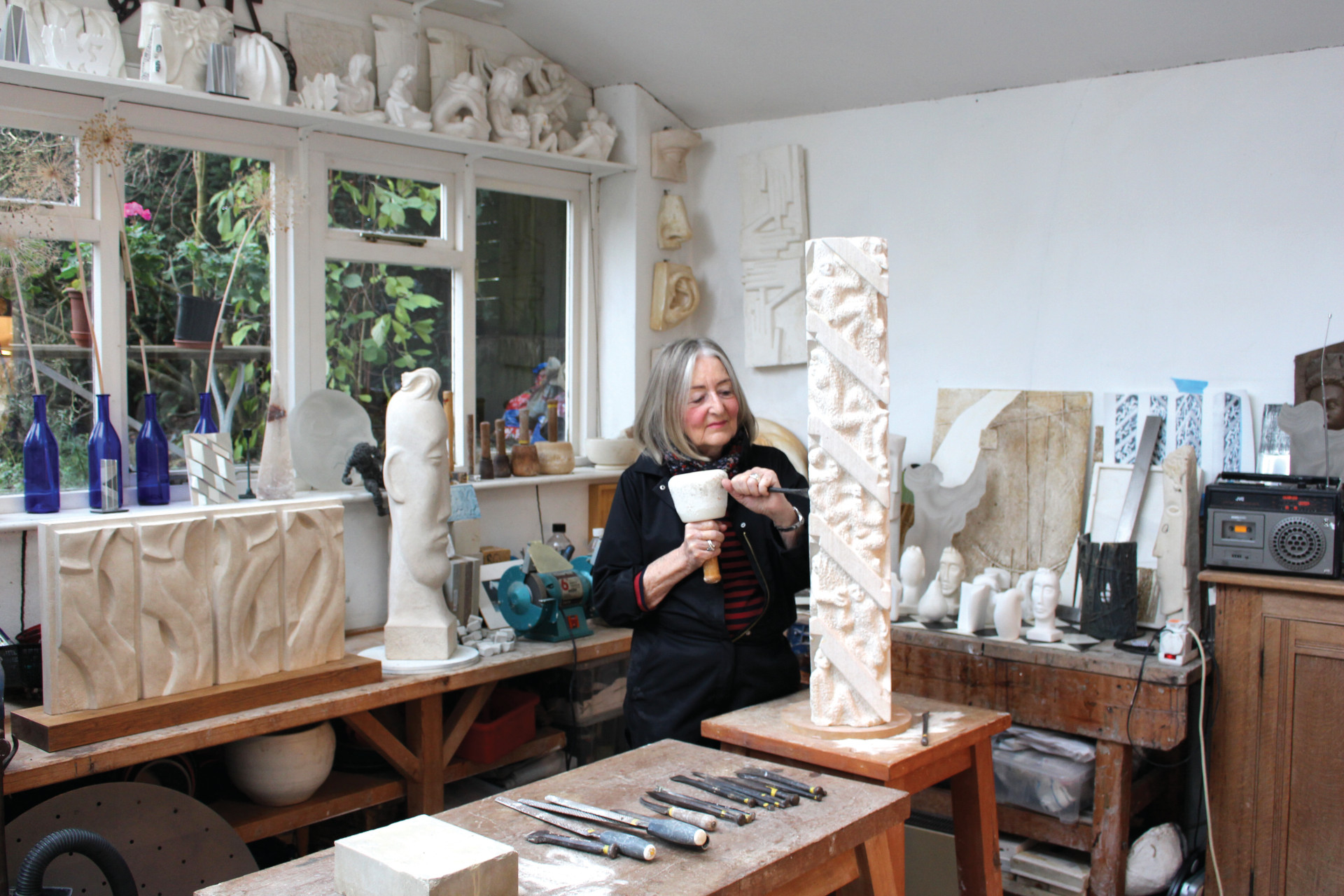 Front and centre of the studio is her latest work; a cylindrical swirl of Lincolnshire limestone, four feet high.' This is about the coronavirus; the figures help each other up, fall down and get back up,' she says as she strokes the pale stone. 'I love this timeless way of making – my mind works at the same pace as I carve. There's a ring in the stone and a tap, tap, tap – I just lose myself in the act of creation.'
Back in the realist world, one of Glynis's best-known works is her 1990 sculpture of cellist Jacqueline du Pré, who died tragically young. She never met her, but she lived up the road; Glynis's neighbours recall her being pushed to the Heath in her wheelchair, her long hair blowing in the wind. After her death Glynis decided to make a sculpture to honour her, just as St Hilda's College, Oxford commissioned a bronze for their concert hall built in her memory. 'Serendipity,' she says, 'has played a big role in my career.'
Glynis remembers seeing the sculpture department at art college for the first time (she did her BA in fine art at Portsmouth College of Art). 'I just thought: I love it; the sun was shining and all the blocks of stone looked golden. I thought: "Here's what I want to do for the rest of my life."'
You can see more of Glynis Owen's work at glynisowensculptor.co.uk
Artist's Studio: Kevin Francis Gray / Artist's Studio: Nick Hornby