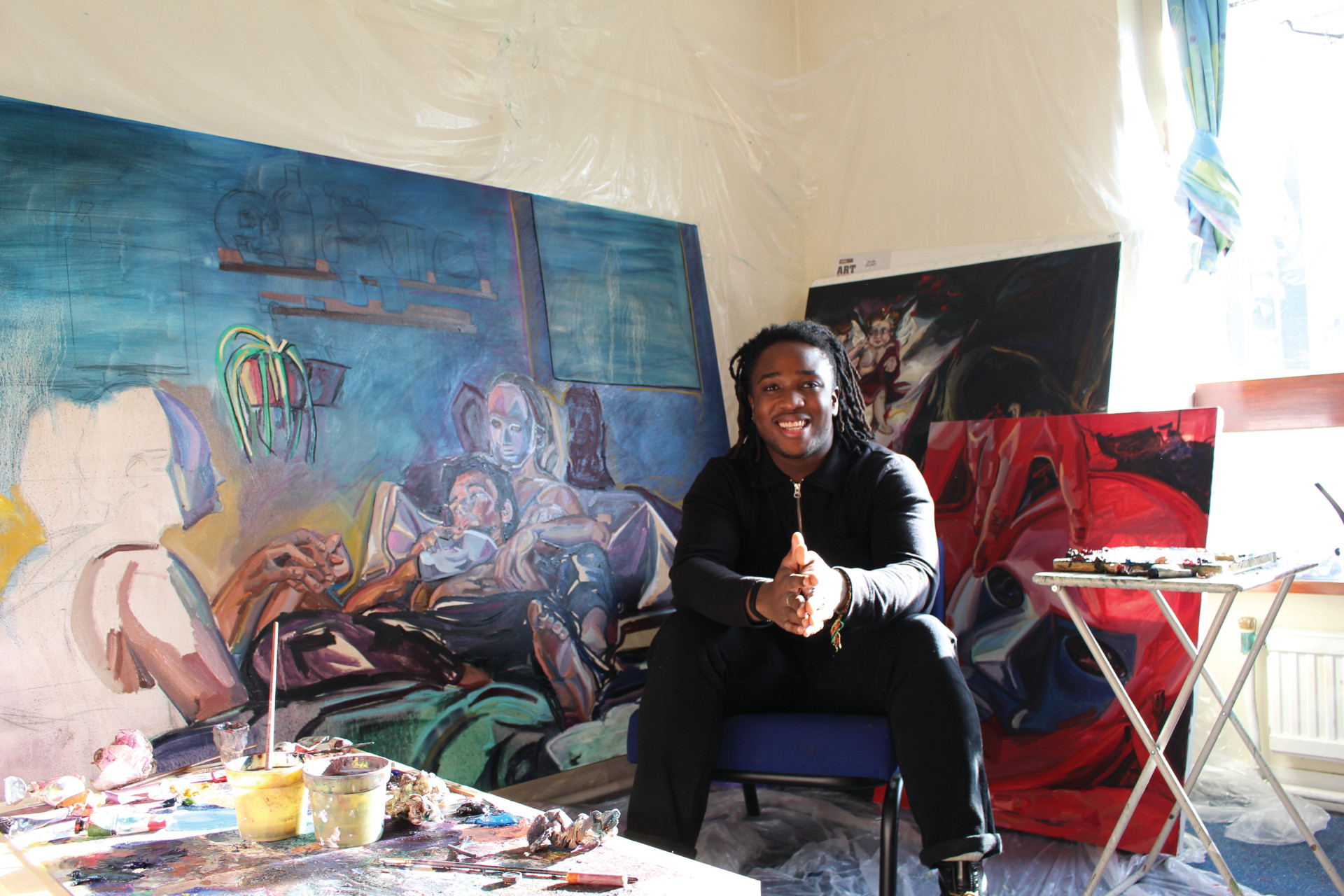 Artist's Studio: Shaqúelle Whyte
'There are infinite possibilities for the moment of resolution. I love that in my own work, to ask the viewer what happens next.'
Already selling to private collectors, Shaqúelle Whyte grew up in Wolverhampton and is now based in London as a student at the Slade. Caiti Grove discusses the art of capturing emotion with the up-and-coming painter. 
The Best UK Art Exhibitions of 2021
Artist's Studio: Shaqúelle Whyte
'Tintoretto invented the idea of film, so they say,' declares a smiling Shaqúelle Whyte in his Camden studio. 'His paintings are almost in motion, like a film still – there are infinite possibilities for the moment of resolution. I love that in my own work, to ask the viewer what happens next.'
The painting propped up in his studio illustrates his point. A young man lies languorously back onto a woman, her face obscured by a mask, while he holds the hand of another masked woman beside them. The threesome dynamic and their concealed faces are slightly uncomfortable to look at – a romantic embrace interrupted. 'This painting is inspired by Rubens' Samson and Delilah in the National Gallery,' Shaqúelle explains. 'And really laments on my own relationships – platonic and romantic.'
A third-year student at the Slade, Shaqúelle had to join the lockdown stampede out of the famous school of art last March. He self-isolated in the front room of the childhood home where he grew up with his mother and grandmother, to ensure they would be safe from potential contamination. His mother left meals in front of his door and cleaned the house whenever he walked to the bathroom. When the two weeks finished he was like a caged bird set free: 'I was one of those 5km runners; I pegged it all round Wolverhampton. I was literally seeing parts of Wolves I'd never glimpsed before.'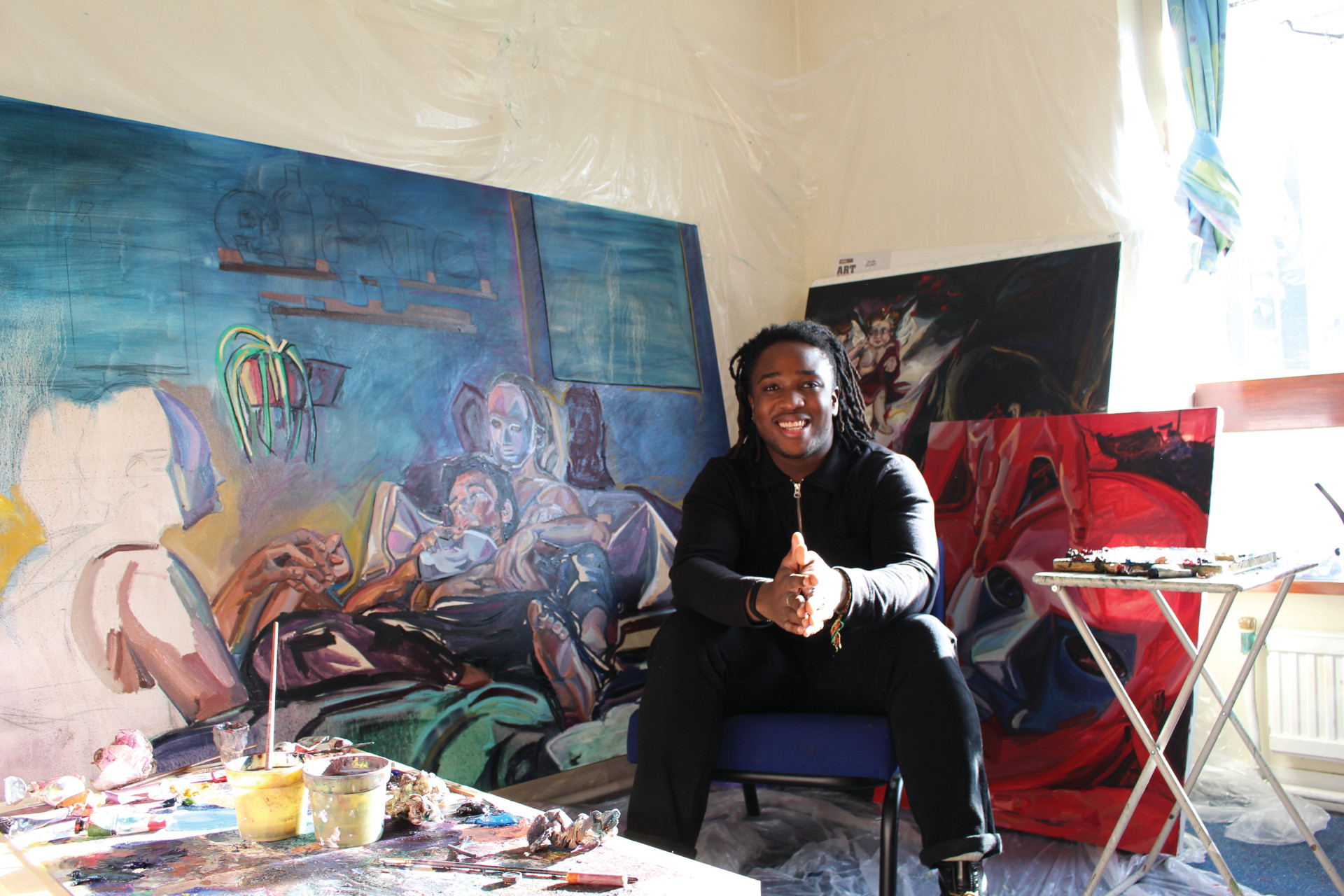 Suddenly his luck changed. In the summer he got a residency at the Columbia Hotel near Hyde Park, where he made work alongside art students from the Royal College and Goldsmiths. 'I started making bigger pieces for the first time,' he says, gesturing at the two-metre-long canvas that stretches almost the entire length of his studio. 'It means I've got enough room to fit multiple figures. I enjoy that.'
As a child, Shaqúelle would go to a holiday club while his mother was at work. Art was one of the club's activities but, by the age of 11, he refused to take part and, aside from playing with friends, would stay at home with his grandmother. 'That's when I got more into drawing, it was essentially the training. At that point, I was trying to make an apple look like an apple. How do we do this? How do we get to that point?' Now his characters tread tentatively into abstraction, the features refracted, the skin brushed with greens and blues. 'I've got no other interest in making hyper-realist paintings. For me, it's an exercise in technicality. That's academic painting. I know I can do it. But I'm trying to convey emotion, an atmosphere.'
To meet a homegrown artist only 20 years of age with such complex work is unusual, and makes it all the more exciting to wonder – as in a Tintoretto painting – what will happen next?
See more of Shaqúelle Whyte's work at shaqwhyte.com
Artist's Studio: Nick Hornby /Artist's Studio: Philipp Humm