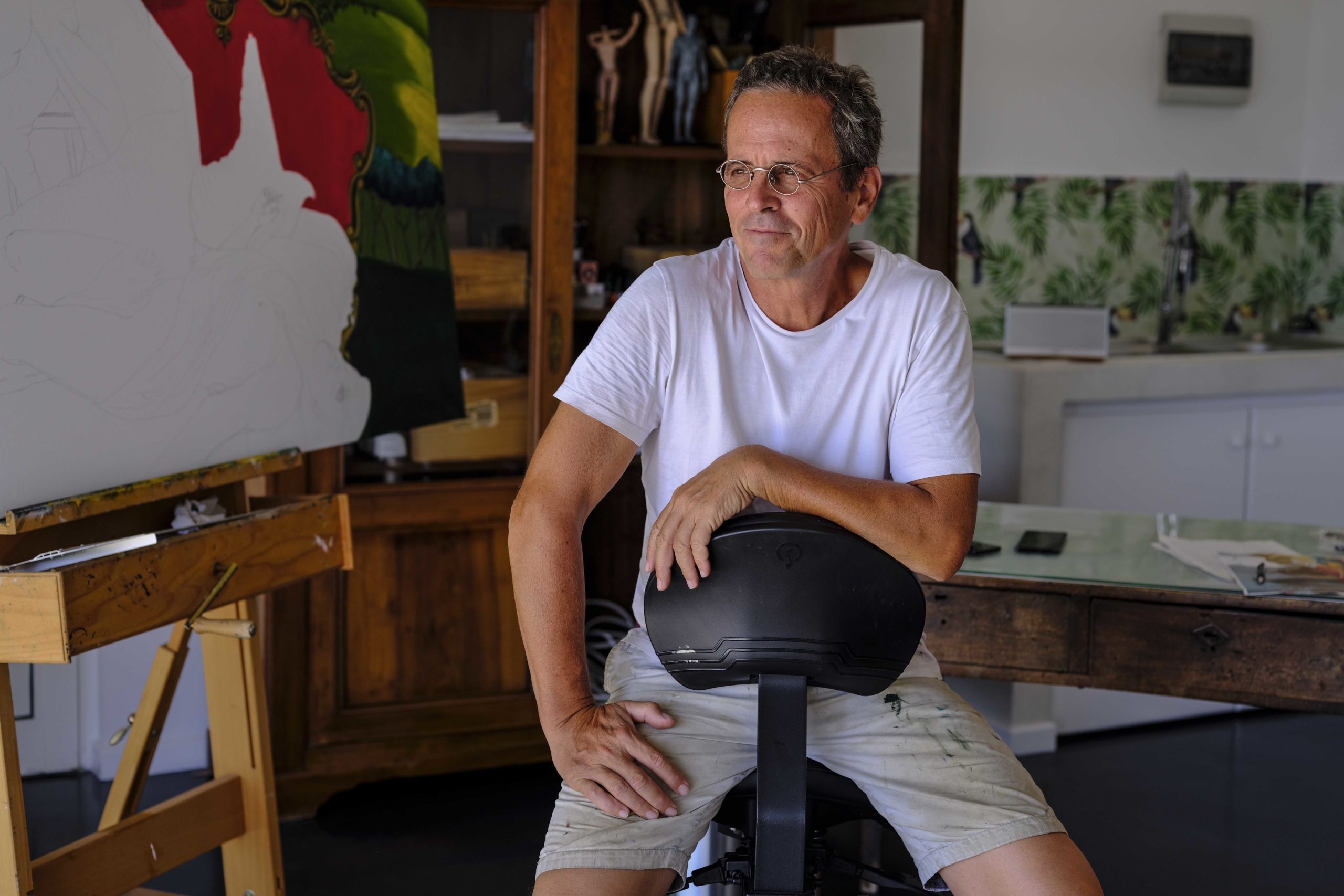 Artist's Studio: Philipp Humm
---
'We play with fire when we let our curiosity to invent things run wild'
Caiti Grove meets Philipp Humm, the artist imagining a Faustian future.
Artist's Studio: Philipp Humm
'We play with fire when we let our curiosity to invent things run wild,' asserts Philipp Humm as he slides an oil painting back into a rack in his bright, lightfilled London studio. 'If you create a self-learning computer system more intelligent than yourself, it might attempt to save the planet by eliminating humans altogether.'
This chilling prospect – of annihilation by machine, the overreach of human ambition – is the theory behind Humm's latest project, The Last Faust. Based on Johann Wolfgang von Goethe's epic Faust, the story of a scholar's pact with the Devil in exchange for infinite knowledge, it includes oil and watercolour paintings, drawings, photography and sculpture.
There is also an art film, starring Steven Berkoff, of Bond film fame. Updated with intriguing prescience, lustful Dr Faust still trades his soul for power and sex, but now appears as Dr Goodfellow, the CEO of Winestone Inc, a Silicon Valley tech company. He falls in love with a teenage employee and when she dies, travels back in time to marry Helen of Troy. In the end, AI takes over and possibly puts an end to the human race. It's as nightmarish as it sounds; stylised, intense and very surreal.
Humm's north London townhouse is full of scenes of the story; he aims to produce around 200 images. The first floor is home to an immaculately organised studio where his Dalí-esque paintings are stacked to the ceiling. In the kitchen, there is an eight-foot long photograph of an angel atop a bus stop; in the living room another angel is crucified – a blue shawl exposes one breast as Faust looks on in despair. Next to it, a bronze captures Faust riding a poodle, the devil's first disguise when he arrives on earth. In the hallway, an oil painting depicts Botticelli's Venus as she lounges insouciantly bare-breasted before Van Gogh's The Yellow House.
So how did Humm come to see technology as wildly dangerous and Silicon Valley as sordid and secretive? Far from being an arty outsider, he was Vodafone's CEO for Europe until five years ago, and before that he was at T-Mobile US. When he moved from Seattle to London, he decided to change. 'There are two things that drive Seattle – one is technology and the other is the outdoors. Definitely not arts. And so, you don't have the same triggers as you have in London; arriving here it was suddenly so, so clear.' He studied at the Fine Art Studios in 2015-16 and the Florence Academy of Art in 2016. Since then he has exhibited at the Saatchi Gallery, the Museum of Nevada and at art fairs in LA and New York.
So what next for Faust and his journey through time and space? 'I think a novella,' Humm declares. 'And theatre – I love it – that's where Faust started.' He says it so simply that from anyone else, it would be immediately dismissed as a vague musing about the stage. But Humm's impulse to create is palpable – and if he wants Faust to walk the boards, it will happen.
Discover Humm's The Last Faust at philipphumm.art
Featured image: Photography by Daniele Mah
Artist's Studio: Kevin Francis Gray / Artist's Studio: Helaine Blumenfeld