Almost one in five cars sold by 2025 will be battery powered – have you plugged into the electric revolution? Jeremy Taylor investigates…
The Best Electric Cars 2019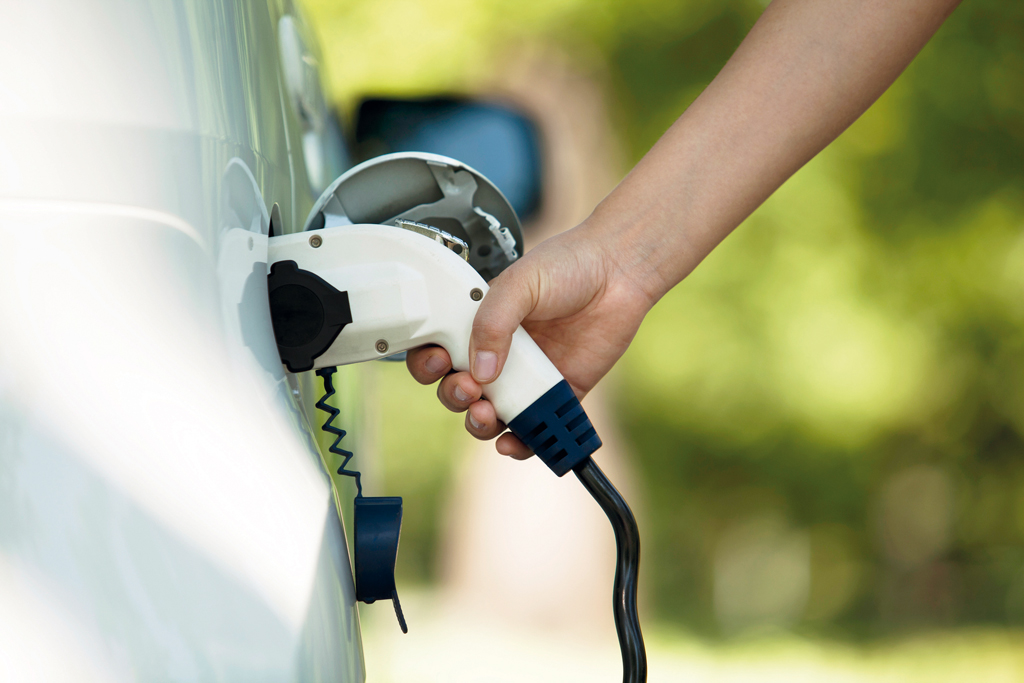 The rise and rise of the electric car market is going to change the way we get from A to B forever. Electric cars are lean, green and soon to be seen in every town and village across the country. Manufacturers around the world are locked in a race to build the most economical vehicle for every type of buyer. SUVs and urban runabouts top the list but even luxury saloons and sports cars are included in the electric revolution.
Ignore the charge towards electric cars at your peril – opting for a diesel right now could seriously hit you in the purse. Their demise has been accelerated thanks to the Volkswagen emissions scandal known as 'dieselgate'. Porsche has already stopped making diesels. Volvo, Toyota, Fiat and most other manufacturers will soon follow suit. Britain will officially ban the sale of all petrol and diesel vehicles from 2040.
New electric models continue to flood the market in 2019, with Nissan, Ford, BMW, Renault and Volkswagen leading the charge. You can read our thoughts on some of the best to the right but if it sounds like the future has finally arrived on the driveway, it's worth remembering this isn't the first time motorists have been magnetised by the power of electricity.
A century ago, the first electric vehicles were essentially horseless carriages that didn't require the driver to struggle with awkward gearsticks. Easy to operate, manufacturers blatantly targeted women customers who wouldn't have to worry about the mechanics of a steam or motor car.
Pope Manufacturing Company's Christmas advert of 1904 proudly proclaimed: 'There is absolutely nothing that you can give her for Christmas that will afford as much happiness, convenience, luxury and social prestige as a Pope Waverley Electric. Absolutely noiseless and odourless – they glide as smoothly and silently as the flight of a bird.'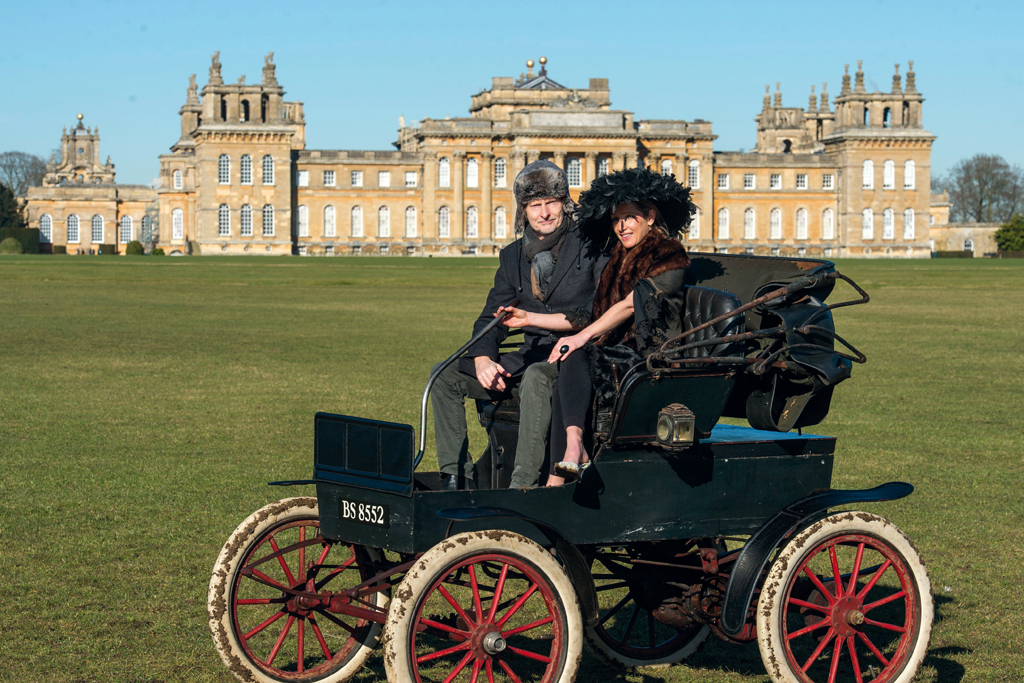 Among the early pioneers in Britain was Consuelo Vanderbilt, an American heiress who put the celebrity into society weddings. In 1895, she married Charles Richard John Spencer-Churchill, the ninth Duke of Marlborough and the most eligible peer in the country.
After moving in to Blenheim Palace, the new Duchess wasted no time in investing in a Columbia Phaeton electric carriage to explore the 12,000-acre Oxfordshire estate. Built in America by Pope, the two-seater cost $1,500 and would travel at about 15mph. It had an impressive range of 75 miles on one charge.
It is said the Duchess bought the EV not because of the environmental bene ts but because she didn't like the noise of an engine. When the couple separated in 1906, the Phaeton disappeared and its whereabouts is now unknown.
Today, the wheel has turned full circle as electric charging points are being installed at one entrance to Blenheim, with more planned in the main car park. Dominic Hare, CEO at the estate, explained: 'We are considering a variety of electric options that aid the environment, including an electric car share scheme with people in neighbouring Woodstock.'
No doubt Consuelo would have approved. Here's a guide to the best electric cars currently on the market…
1. Aston Martin Rapide E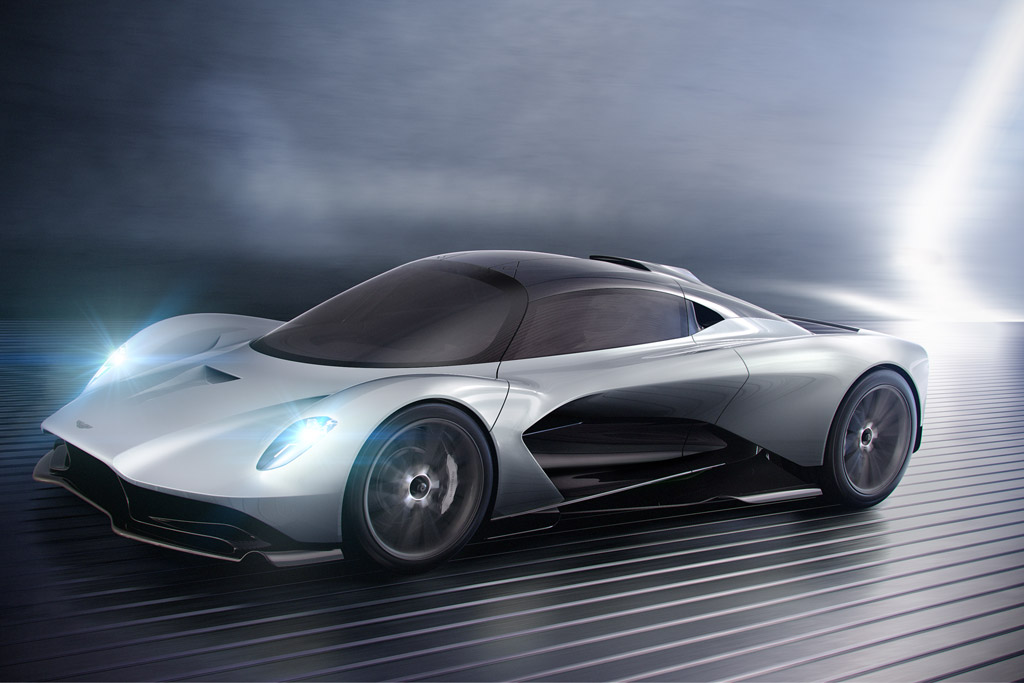 Aston Martin's first all-electric supercar which looks like it has driven straight from the future into the 21st century was unveiled to the car lovers at Auto Shanghai on April 16th. The Rapide E, built in Wales, is its most powerful model yet with twin electric motors. With assets such as this, it's no wonder the Rapide E has been dubbed 'both evolutionary and revolutionary'.
Price: POA at astonmartin.com
Engine: Twin rear-mounted motors
Power: 610PS and 950Nm of torque
0-60mph: sub 4.0 seconds
Max range: 200 miles
2. Volvo XC60 T8 plug-in hybrid SUV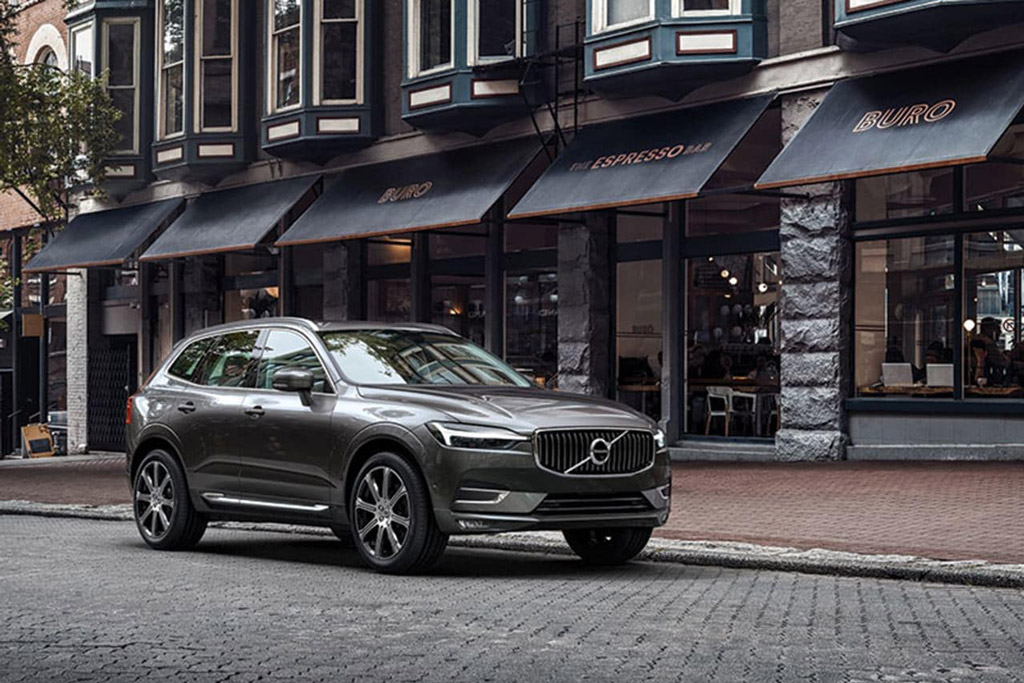 Volvo, in a bid to be more sustainable, have released a statement sharing that by 2025, every new car they product will be built with 25% recycled plastics. As a starting point and to prove how this can be done and how other car companies should follow suit, Volvo have created a special version of their Volvo XC60 T8 plug-in hybrid SUV which has had some of its plastic components replaced with recycled materials such as renewable fibres. Their commitment to sustainability also goes further into the company ethos than just their cars – Volvo, like C&TH, have banned single-use plastics from all their offices, events, and canteens.
Price (on-the road): £55,005
Engine: 1969cc petrol engine (303hp) + electric motor (87hp)
Power: 390hp
0-62mph: 5.5 seconds
Max range: 27.3-33.5 miles (electric only)
3. Toyota RAV4 Hybrid
Toyota's RAV4 Hybrid is fourth generation and promises the best of both worlds – sleek style and technology, with low level C02 emissions and high torque. Described as the 'go anywhere' vehicle, consider this innovative model for your next road trip.
Price: From £29,640.00
Engine: 4 cylinders in-line – 2.5-litre petrol
Maximum system output: (bhp/kW) 215/160 (Front wheel drive) 219/163 (All Wheel Drive-i)
0-62mph: 8.4 (Front wheel drive) 8.1 (All Wheel Drive-i)
Max speed: (mph) 112
4. Honda e Prototype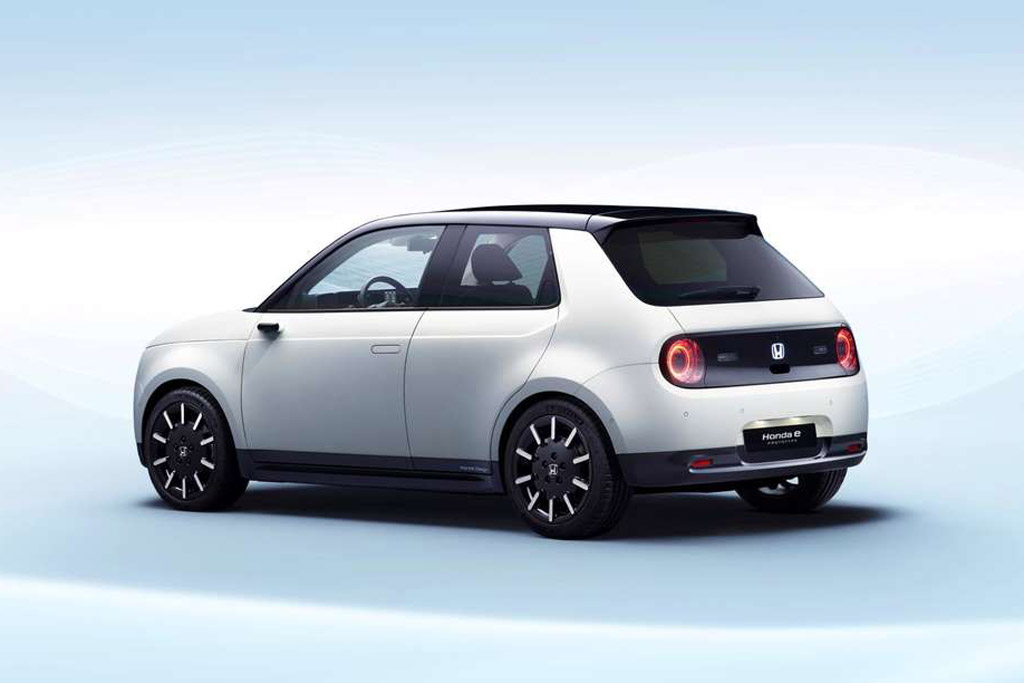 Honda's new electric car promises 0% emissions. The new car, the 'e Prototype', marks a new chapter for Honda. "We want to be reborn," says President and CEO of Honda Takahiro Hachigo, and reborn they have been indeed, promising that every new model created in Europe will use electric technology.
Price: Register interest at honda.co.uk
Max range: 125 miles
5. Audi e-tron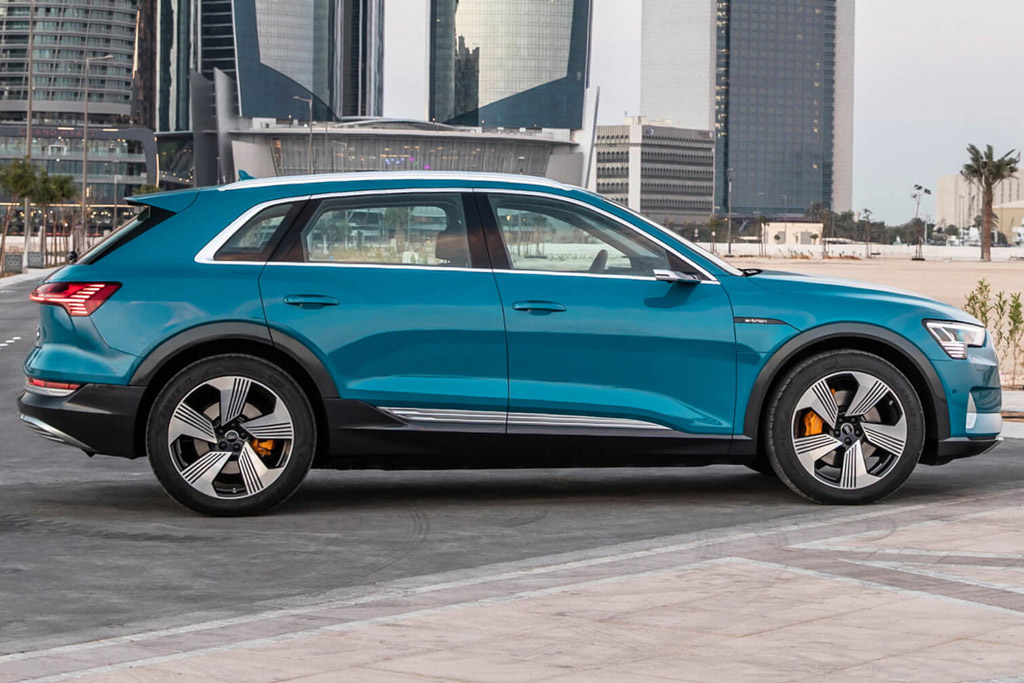 Their most innovative model yet, Audi's e-tron is completely electric 5-door SUV. Stylish and contemporary, this model is a great environmentally friendly option for a family car.
Price: from £71,520
Power: 300kW
0-62mph: less than 6 seconds
Max range: 241 miles*
6. Jaguar iPace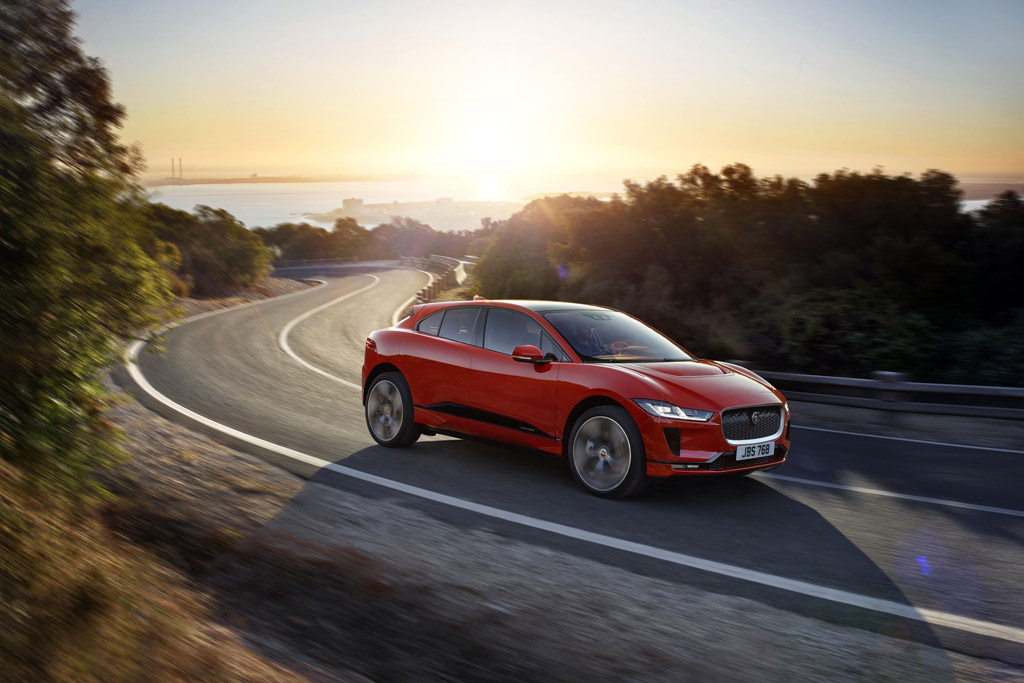 Jaguar's electric SUV proves to be anything but static, says Jeremy Taylor. In 1990 I took a draughty ferry to the Paris Motor Show because the Channel Tunnel still hadn't been completed. Glamorous models draped themselves over bonnets, and forgettable cars like the Renault Laguna and Rover 100 were born. Citroën dominated the main hall and pride of place went to their new, very unsexy C5 electric van. It seemed like a pointless exercise in an age before the diesel revolution – and petrol was still only 39 pence a litre in the UK anyway. Now every car manufacturer is feverishly preparing a fleet of hybrid and electric cars to replace the combustion engine, officially due for the scrap heap in this country by 2040 at the latest. The government's Road To Zero campaign will make sure of that – but does it mean the end of the road for exciting cars too? If the Jaguar's newest SUV is anything to go by, the answer is a resounding no.
The I-Pace is a fast, good-looking and desirable all-wheel drive that just happens to have batteries and a couple of electric motors instead of an engine. How fast? Well, the I-Pace will see off a Porsche Boxster or the fastest hot hatchbacks. The heavy batteries are spread out evenly under the floor, giving the Jaguar excellent handling characteristics without eating into valuable luggage space. No engine means there is a stash of extra carrying capacity under the bonnet, while the boot is as roomy as a BMW 3 Series estate. Inside, the I-Pace isn't as space-age as its only all-electric SUV rival, the Tesla Model X, but it is all stylishly screwed together with a variety of leather, wood and metal finish trims to choose from. However, it's the quietness of the cabin at speed that will surprise most electric car newbies. Barrelling into a corner minus any engine noise is a very odd experience but all EVs feel the same and make for a more relaxed mode of travelling.
The I-Pace has been called the most important Jaguar since the iconic E-Type and it's easy to understand why. It is truly ground-breaking and has stolen a march on German rivals who have yet to enter the electric SUV fray. Drivers still need to get their heads around the dreaded range anxiety as the battery energy drains away. But, with up to 292 miles of battery power from one top up and more and more charging points springing up around the country, there's really no excuse not to join the EV revolution. RATING: 5/5 
Price: £74,445
Battery: 90kWh
Power: 394 bhp
0-62MPH: 4.5 seconds
Range: Up to 292 miles
7. Lexus UX 250H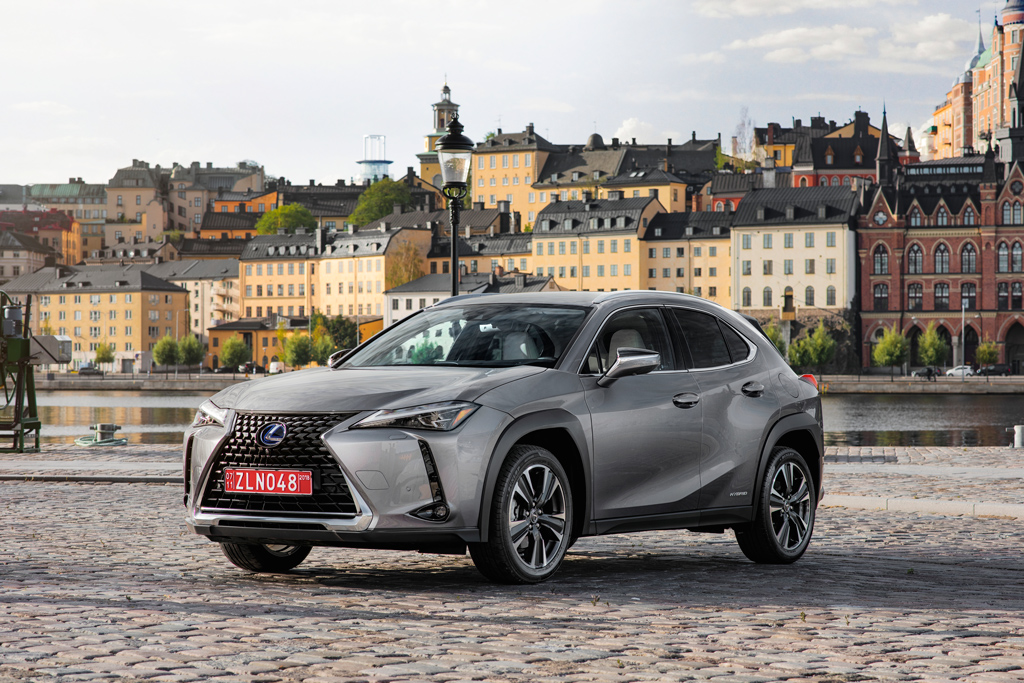 Lexus' UX 250H is a sporty SUV, totally self-charging. The car emits a low amount of C02 emissions, benefits from smart technology in the form of a multimedia screen, wireless charger and more, and the design is modern and sleek, perfect for cruising round town or equally for a trip to the countryside.
Price: From £29,905
Engine: 4 cylinders in-line – 2.0-litre petrol
Maximum system output: (bhp/kW) 181/135
0-62mph:  8.5 (front wheel drive) 8.7 (E-Four)
Max speed: (mph) 110
8. Tesla Model X 100D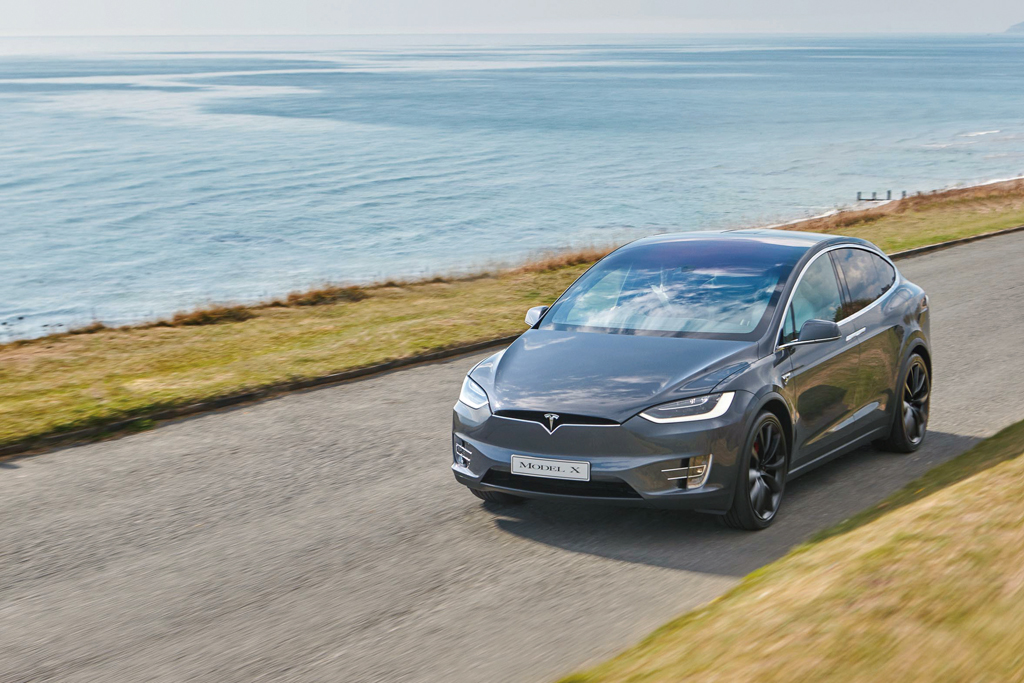 Space man Elon Musk's funky family-mover boasts more luggage space than a Range Rover, will outpace a Porsche and features a thoroughly entertaining party piece. The list of features also includes four-wheel drive, optional seven seats (£2,800 extra) for the school run, and a cool interior to make your children the talk of the playground. Model X is at the cutting edge of battery technology – even though it's undeniably expensive compared to a 'normal' car. The party piece? Tap into 'Celebration Mode' and the Model X puts on a display of light flashing, door opening madness to music. You have to admire a man who can build a car with a sense of humour…
Price: £88,105
Engine: Plug-in 100 kWh
Power: 525hp
0-62mph: 4.9 seconds
Max range: 351 miles
9. BMW i3 Auto (with Range Extender)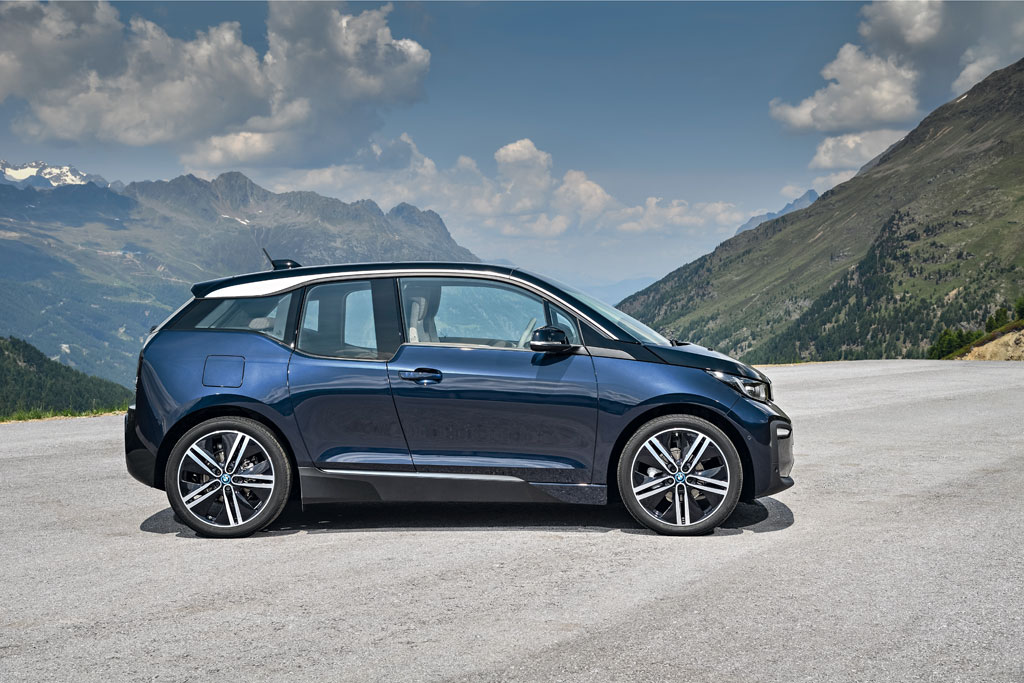 Range anxiety – it's every EV owner's nightmare. I got used to it but there 's always a calculation going on in my head comparing the distance to destination with miles left in the battery. The funky i3 it comes with the option of the Range Extender, a tiny, two-cylinder petrol engine that offers an extra 40-50 miles to get you home. Brilliant. If that sounds like cheating then save the extra £3,000 and go completely green because the latest 2018 model has plenty of power from the batteries alone. The i3 isn't that big but it's the best small, premium electric vehicle you can buy. It looks great and drives even better.
Price: £37,220
Engine: 647cc petrol and
33 kWh motor
Power: 170hp
0-62mph: 7.3 seconds
Max range: 186 miles
10. Nissan Leaf Tekna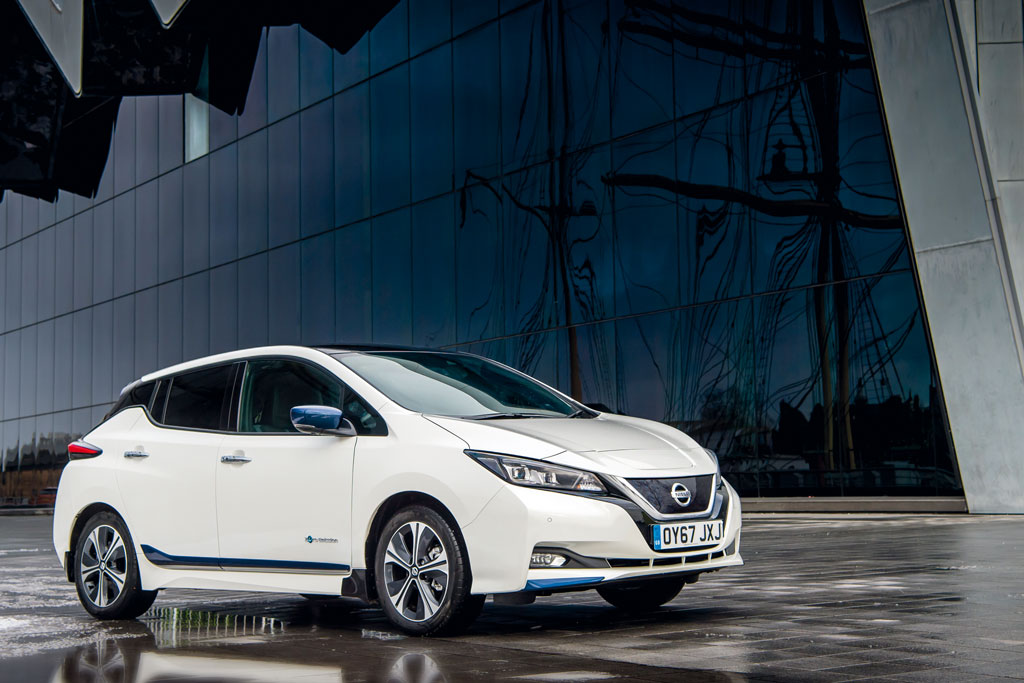 Some manufacturers are racing to bring out their first all-electric car. This is already the second-generation Leaf and it's officially the world's bestselling EV with 300,000 sales. Leaf has all the range most people will need for their daily commute, is relatively affordable to buy and comes absolutely loaded with standard equipment. However, not everybody will like the styling, and regular motorway drivers covering hundreds of miles should look elsewhere. I also found the seats strangely uncomfortable, whatever way I adjusted them, but I found it hard not to like the Leaf because it has been designed for first-time EV owners. Everything from the bonnet ap plug-in ports to the chic interior appeals.
Price: £28,390
Engine: Plug-in 40 kWh
Power: 147hp
0-62mph: 7.9 seconds
Max range: 168 miles
A Guide to Sustainable Gardening
11. Range Rover PHEV Vogue SE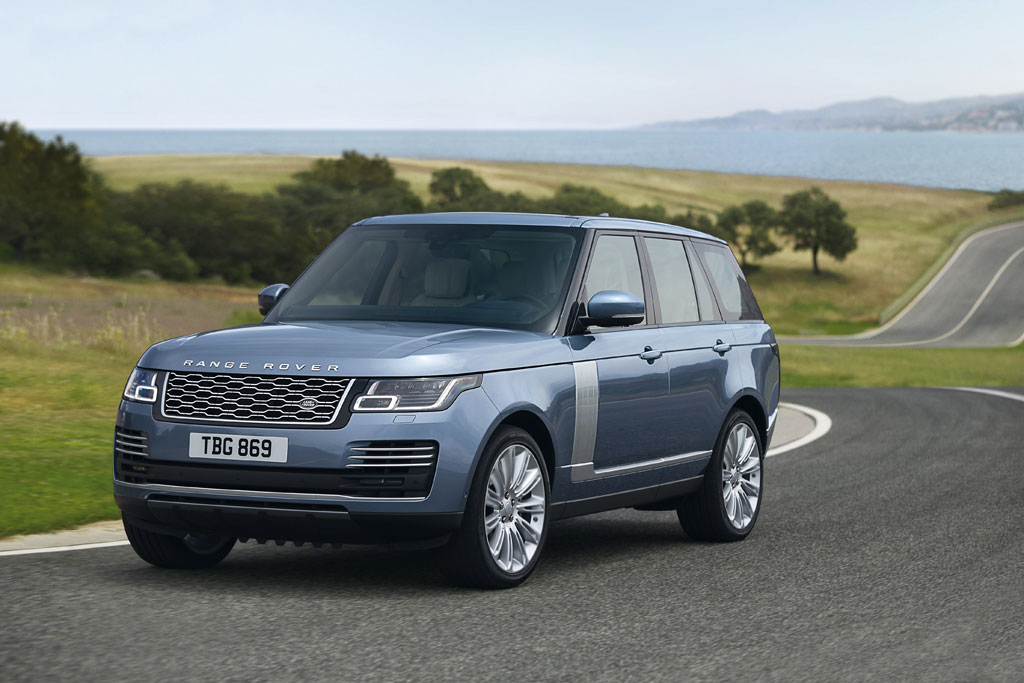 Land Rover has offered a hybrid before but never a plug-in. This one has a tiny – by Range Rover standards – 2.0-litre petrol engine and a small electric motor. Remarkably, combine the two and this model performs as well as the diesel equivalent. Inside, it has the latest Land Rover double- screen dash, which disposes of a rash of buttons but will require use of the manual. After a few hours, I found it all pretty straightforward. Off-road it's still an unbeatable Range Rover. And in EV mode you can creep through the trees without any noise at all…
Price: £93,465
Engine: 13.1 kWh motor/ 2.0 petrol
Power: 404hp
0-62mph: 6.8 seconds
Max range: 31 miles battery only
12. VW E-Golf BEV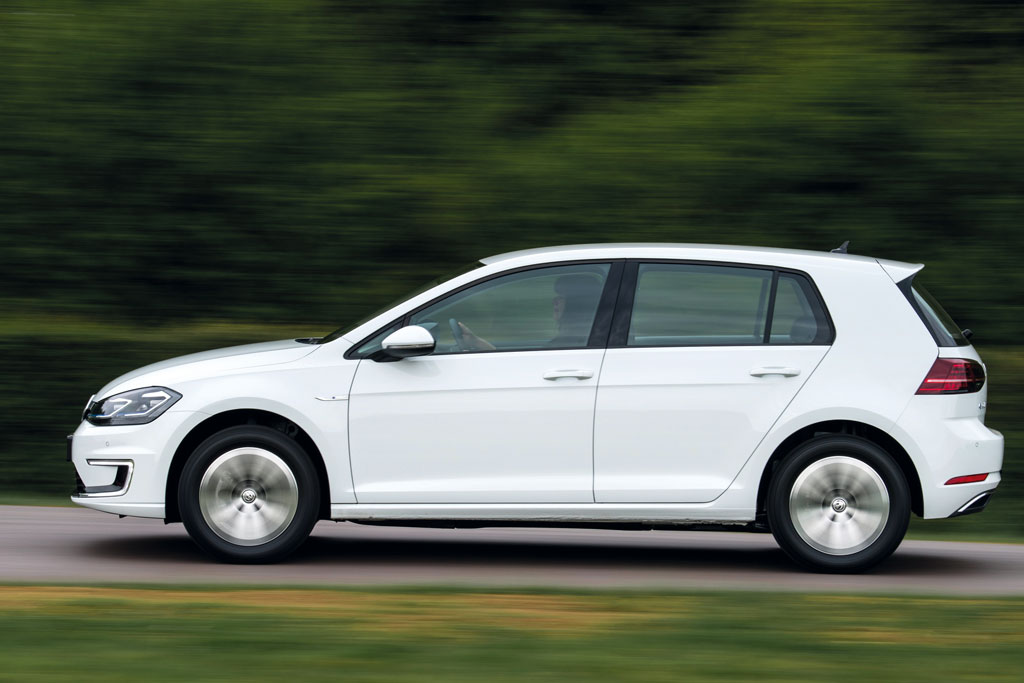 Understated, classy, Volkswagen's all-electric Golf is just what you would expect it to be. Not as well-equipped as the Leaf, or as conspicuous as the BMW, the VW is a tried and trusted ve-seater that has been around for decades. In fact, VW has deliberately kept the car as Golf-like as possible, with a familiar interior that won't frighten away newbies to EVs. Quality of finish, practicality and space are exceptional. It's not as zippy around town as the i3 but the ambience is a cut above the Nissan. On a country lane, it handles with Golf sure-footedness.
Price: £32,730
Engine: Plug-in 24.2 kWh
Power: 136hp
0-62mph: 9.6 seconds
Max range: 186 miles
---