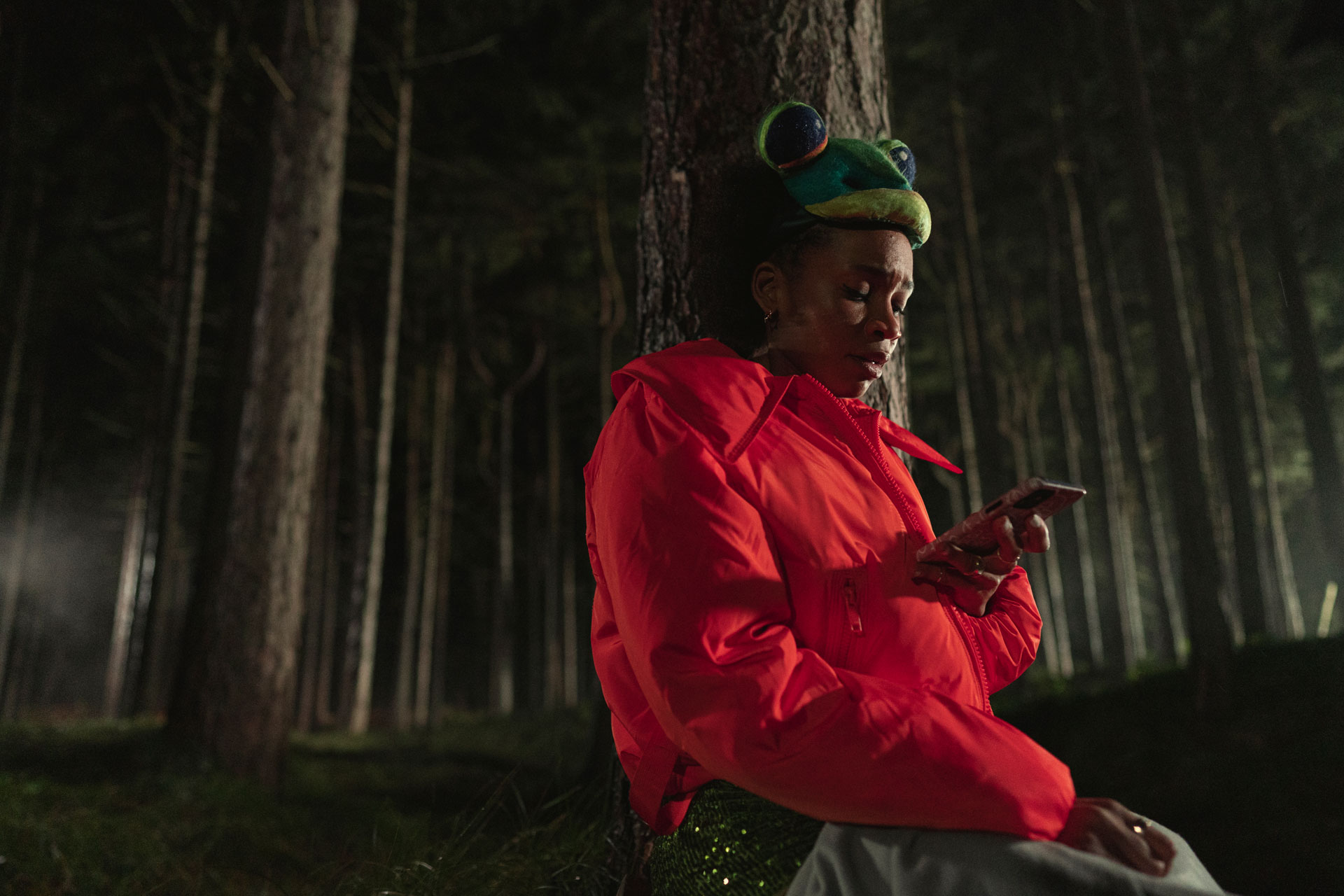 Bethany Antonia on Stay Close
---
The rising star gives us the lowdown on Netflix's upcoming thriller
Birmingham-born Bethany Antonia knew she wanted to act from a young age. As a child she'd watch TV and mimic actors, writing out the scripts and performing them, and soon realised she wanted to do what they were doing. She researched how to become an actor, joined a drama school and worked hard to make her career take off.
In 2017, after a series of theatrical roles, Bethany landed her first on-screen part in Deborah Haywood's Pin Cushion, a moving mother-daughter drama, before trying her hand at comedy in E4's Stath Lets Flats. She's perhaps best-known, though, for Get Even: a ten-part Netflix series based on a novel by Gretchen McNeil, which follows four teenage girls at a private school who set out to expose bullies in the student body.
For her latest project, Bethany gives the thriller genre a whirl, starring in Harlan Coben's gripping thriller Stay Close. The series follows the lives of three people who all live comfortably, but conceal dark secrets, with an all-star cast featuring Cush Jumbo, James Nesbitt and Richard Armitage.
Q&A with Bethany Antonia
What can you tell us about Stay Close?
Stay Close is a new eight-episode thriller which follows three people, each living seemingly comfortable lives, but hiding dark secrets – and even darker pasts. I play Kayleigh, the eldest daughter of Megan who is determined to find out the truth behind her mum's antics, whatever the cost.
Favourite person on the set of Stay Close and why?
I can't pick a favourite. We really were blessed with the most lovely cast and crew, and we spent so much time together outside of the show whilst we were filming – it was really special.
Role you'd cut your right arm off to get?
I'd cut my arm clean off for a role in a play at the RSC (Royal Shakespeare Company).
What demands do you have on set?
Carrots and hummus must be available at all times, whatever and wherever the location. If it needs to be checked into hold luggage on the airplane, then so be it.
Director you'd most like to work with and why?
Amma Asante. I'd absolutely love to work with her one day. She was the first Black director to ever win a BAFTA, and she was only the second Black British female director to direct a feature film in the UK, period. To know that, and to know the work that must have gone behind that journey, makes her a superhero in my eyes.
What qualities do you think you have to have to be successful?
In this industry, sheer cling-onto-the door determination. The ability to pick yourself up, dust yourself down, and still believe in yourself even when everything (and everyone, it will seem) is screaming at you to do the opposite.
Film you think everyone in the world should see?
Parasite.
What's your relationship with social media like?
Honestly, it changes constantly. Some days I'm so grateful it exists because I get to keep updated with my friends' lives in a way that just wouldn't be possible otherwise. Other times, I turn my phone off for three days at a time just to escape the pressure. The age old saying about comparison being thief of joy is something I live by. So sometimes, the apps have to go, the books have to come out, and the brain has to have a rest.
What did you want to be when you were a little girl?
Always an actor, even when I didn't realise acting was a real job. I thought I'd just be putting on plays in my garden forever.
If you could give advice to your 15-year-old self, what would it be?
The one piece of advice I wish I could go back and tell myself would be this. Think of one thing that you love about yourself – be it your nose, or your skin. Now think about how often you bother looking out for that thing in other people. Probably never, because we only look for the things we dislike in ourselves in other people, to make ourselves feel better. Now, know that everyone around you is also doing that. So when it comes to the thing you're deeply insecure about, the only people looking are the ones who have the same insecurity as you. Literally, everyone is worrying about themselves. So take a breath and enjoy being a teenager.
Three books you'd take to a desert island and why?
Staying Power by Peter Fryer. This book is probably the most important book you could ever read if you're Black and British. It's a book that really helped me find my way when feeling out of place. Then You Don't Know Me by Imran Mahmood – one of the best books I've ever read in my life. And finally, Girl, Woman, Other by Bernardine Evaristo. It's the book of our generation to me. This would be the book I'd take and read over and over again every single day until I could leave the island, finding new details every single time.
How can we all live a little bit better?
By spending more time giving and doing than consuming; thinking about what we can give to the planet and the people around us, instead of what we can take.
What's your interior design style?
I'm in a minimalism phase right now – but ask me again in two weeks and it will probably be a manic books on every shelf kind of vibe.
What is your current beauty regime?
I'm really trying to do the bare minimum when it comes to my skin and give it a chance to breathe when I'm not filming. Also, I think it is so important for us to get used to just existing without makeup on. So just a basic double cleanse, moisturise, SPF and we're good to go. I love using The Body Shop's camomile cleanser to get my makeup off after filming. It melts off an entire full face of make-up and smells amazing.
What are your indulgences?
I'm a sucker for a full bag of pic 'n' mix, paired with a new series, with at least two seasons that I can binge watch.
What would your best friend say about you?
Probably just: 'thank god acting worked out for her'. She's been my best friend since we were eleven and has supported every single thing I've ever done. The teeny stuff, the massive stuff, the terrible stuff that she probably hated, but said kind things about anyway. So, I think she's probably relieved it worked out in the end and her constant support was an investment well spent.
How do you relax?
I've really fallen in love with walking recently – with my dog, with friends or alone. I also love listening to a podcast or an audiobook. I find cooking really relaxing too, especially when the meal turns out well and you get to enjoy a hearty meal that you've made at the end of it.
If we're coming to your area for a visit, what should we do?
I'm a born and bred Brummie, and there's so much fun stuff to do in Birmingham. We'd take a tour around the city first, starting with the Birmingham markets, then heading into the Bullring, waving to the legendary Bull on the way. Then we'd head to Digbeth, where all the real fun is. A trip to the board game cafe or arcade bar, a wander around Red Brick independent market and then we'd finish with drinks and a boogie in the gay village, the heartbeat of the city.
Are you a rule breaker or a rule taker?
Definitely a rule taker. I'm a Capricorn, and we are completely incapable of breaking rules, even when we try to. But Kayleigh in the show is the absolute polar opposite, so it was good to at least pretend to be rule-breaker for a little bit.
Stay Close is available now on Netflix
MORE INTERVIEWS: