At the start of their 2018 programme, Sotheby's S|2 London exhibits Bice Lazzari (1900 – 1981) alongside Italian-born, Brazilian modernist Alfredo Volpi.
Venetian-born, and by 1935, Rome relocated, Lazzari was an artist who faced the temporary obstacles of two world wars, as well as a life-time of prejudice against female artists. Her determination and single-minded work-ethic, nevertheless, allowed her a full career.
Bice Lazzari, First Female Italian Artist UK Solo Exhibition
In the capital of Facist Italy, when she was restricted from working beyond the city's borders, Lazzari made a living working with architects and decorators. She was frustrated with the restrictions that were part and parcel to drawing for the applied arts and according to the demands of a client.
The C&TH Guide to the Biggest Exhibitions of 2018
In 1949, no longer restricted by the war, Lazzari returned to her own painting and in 1960, began experimenting in her 'poetry of mark-making'.
'I choose the mark…because I can more clearly formulate a discourse that may easily be read. The mark because it traces a vital tension in relation to other marks, which collectively become more significant'. – Bice Lazzari
14 of the Best Current Exhibitions in London
In paintings such as the above, Acrilico N.5, her linear, ordered markings in columns with touches of colour resemble those of Mirò and Klee, but have the unique lyricism of a musical manuscript; Her enrolment in a Venetian music conservatory during youth was a great influence.
'The paintings selected for this occasion focus on the most mature stage of Lazzari's practice, dating from the 1960s and 1970s, reflecting her acute sensitivity and pursuit of a constant purity of form.' – Maria Isabella Barone of the Bice Lazzari Archive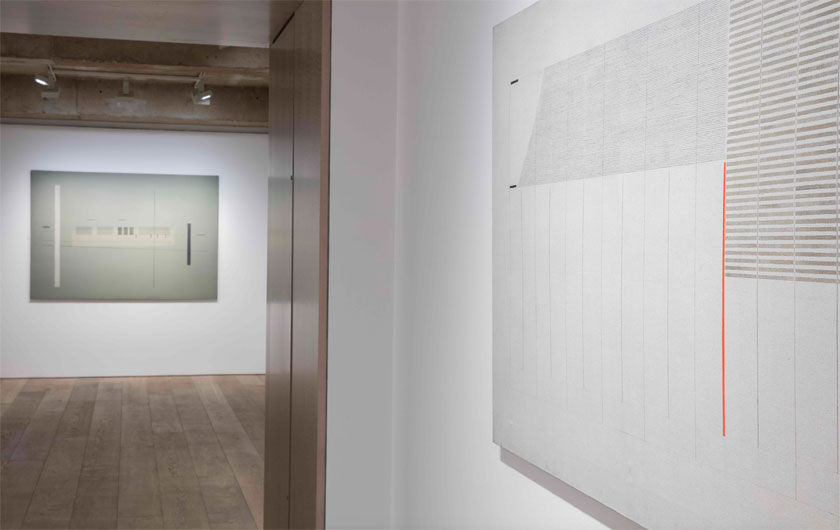 Where else to take yourself this week? Consult the Town Culture Diary.
---