Brighton & Hove Pride is the country's biggest LGBTQ event, perhaps no better illustrated by the fact that Britney Spears is headlining this year. 
August 3-5 will bring people from all over the world to Preston Park for a weekend of performance, dance, food & drink, parading and community.
Brighton Pride: Be Part of the UK's Biggest Pride Festival
Tickets
Pride Festival (Saturday only) Tickets have now SOLD OUT. Britney Spears headlines with Ella Eyre, Pixie Lott and more.
Sunday park tickets for LoveBN1Fest with Nile Rogers & Chic, Jess Glynne, Raye,  Gabrielle + more are available at pride-tickets.org. Children go free; Standard Entry begins at £37.50.
The purchase price of premium offers and VIP tickets helps Pride subsidise the discounted early bird and community tickets making Brighton & Hove Pride more accessible to members of the LGBT+ community living on limited incomes. A range of premium offers beginning at £75 offer the best views of the main stage.
Don't Miss
QueerTown: A brand new boutique area for the Pride Festival on Saturday 4 August. QueerTown promises to be a community haven at the north end of the Park, featuring a QueerTown Stage curated by Queer artist Paul Diello with top notch live music, cabaret, comedy, burlesque and performance art. Highlights include Britain's Got Talent's Lorraine Bowen, X Factor's Ginny Lemon and award winning Drag Prince (and current face of Toyota) Alfie Ordinary. Partake in the street food village and enjoy the entertainment at the popular Trans Tent.
Community Village: Enabling the community to connect, engage and support LGBT+ organisations, supporters and charities. Find charity and community stalls, the Family Diversity Area, Trans Tent, Well Being Tent, NA Meeting Tent, Rotunda Ballroom and more.
LoveBN1 Fest: On Sunday 5 August, 13.30pm – 21.30, Preston Park Brighton will bring together communities and Rainbow families to see acts such as Jess Glynne, Raye and Rowetta as well as to participate in Baby Love Disco, The Circus Project, an Alice Theme Party and more.
The Pride Village Party: Brighton's famous Kemptown is a two-day festive fairground of fabulousness at the city's iconic seafront, filled with partying of the Pride kind. Entertainment zones, bars and venues, live performances and cabaret make for a Miami Beach style weekend that delivered non-stop sunshine as DJs, drag artists, singers, performers, musicians and party-goers combined to mark a magnificent event with a fundraising purpose for Pride. Saturday 4 – Sunday 5 August. Wristbands are available from the Pride Box Office on Victoria Gardens.
The Pride Community Parade: 300,000 people will pour out into the city's streets to participate in and watch on as an all-singing, all-dancing carnival of colour wends its way from the seafront to the festival site. Every year, participants include Brighton & Hove Pride's partners and sponsors, local community groups, representatives from political parties and faith groups, the NHS, Brighton Housing Trust, Sussex Police, Sussex Fire services, the Girl Guides, Scouts, trade unions, and a number of major brands showing their support for diversity, alongside a selection of performers, musicians and artists. With 'Colour my World' announced as this year's theme, the parade promises to be global and eye-poppingly technicolour on 4 August at 11 am.
Getting There
By Car: There will be significant road closures for part of the day during Pride. There is no parking at Preston Park and its surroundings on the day. Parking is restricted on a large section of Madeira Drive. Parking in the centre of Brighton can be both limited and expensive, so public transport is suggested. More details of BHCC's road closures & parking are available.
By Train: Allow plenty of time to get to Brighton Station as it may take up to 1 hour due to the large crowds leaving at the end of the festival. Make sure you have your ticket in advance to speed things up. Note that there is a limited service on the east and west coast lines at night.
More travel advise is available online. 
Food & Drink
Curry Leaf Café: Best of the bunch is Curry Leaf Café for its zingy orange and green paint job, hyper-authentic, regionally inspired curries and let your hair down spirit. Top picks here include the Malabar lamb stew, an aromatic dish from the West coast with one foot in Portuguese traditions; a rich tomatoey, coconut Mangalorean mullet gassi; and vegetable korma that has a wicked kick to it. The killer cocktail list was designed by nearby cult bar The Cocktail Shack – order the gin-based Thai-Tanic if you need something to dampen the spices. You'll leave having spent no more than £25, full in the stomach and pleasantly hazy around the edges.
Marroccos: A trip to the seaside isn't complete without a gelato-stuffed waffle cone. Get your sticky mitts around an ice cream from Marroccos on the Hove sea front, which has been serving authentic Italian-style ice creams here since 1969. It has had a relatively recent facelift but has lost none of its charm (nor has the queue at the counter diminished).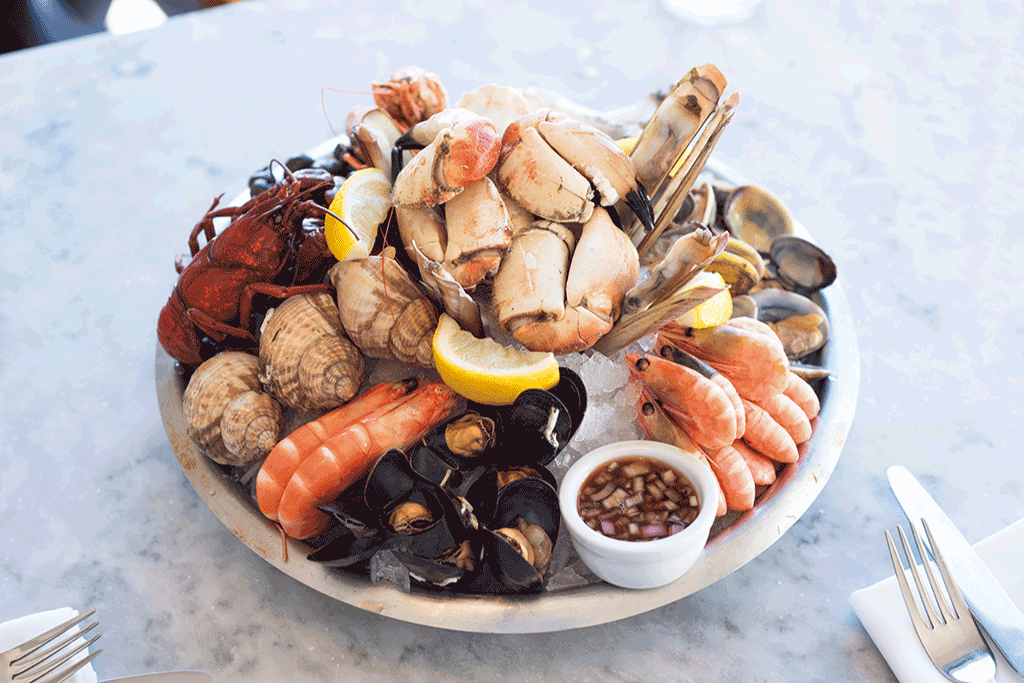 Riddle & Finns: Where better to enjoy the superlative combination of fresh seafood and Champagne than by an untouched stretch of Brighton beach right in front of you? The comprehensive menu at Riddle & Finns is a result of 12 years as Brighton's most elegant fish restaurant, working only with trusted suppliers who source as locally as possible. Seaside classics of potted shrimps and hearty fish pie stand out on a menu packed with seemingly try-hard international dishes, but take a gamble on the lobster, chilli and mango salad or calamari with peanut and ginger dipping sauce and you'll delight at your risqué choice. Gloriously, oysters take up one quarter of the menu and out-of-London prices are the perfect excuse to experiment with hot, fried and cold variations alongside foaming tankards of Black Velvet and a healthy dose of salty air. CJ
Still hungry? Find more options in The C&TH Guide to Brighton Festival
Where to Stay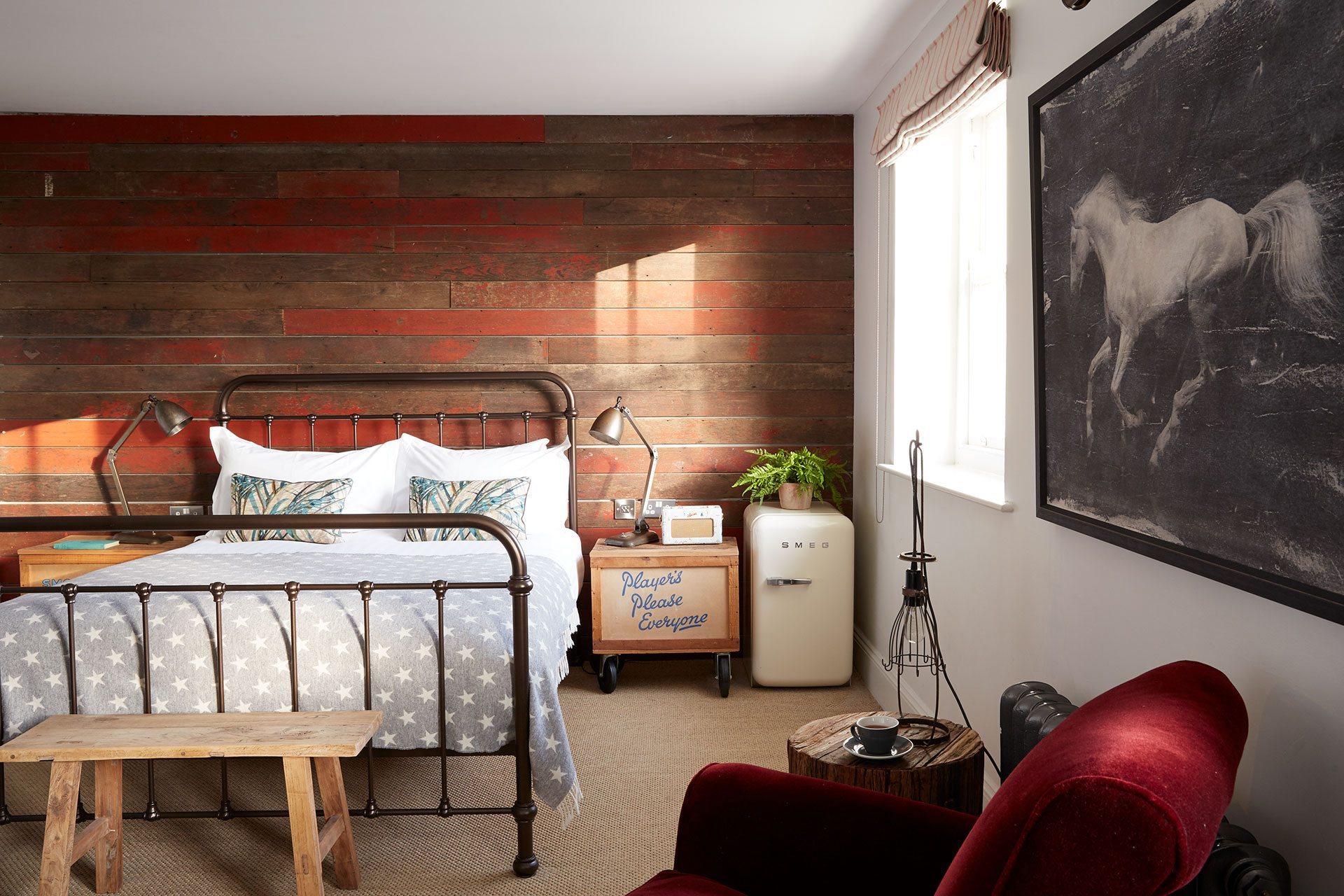 Head and shoulders above the rest of the accommodation on offer is the ultra-hip Artist Residence. What was once a tired around the edges Regency B&B had new life breathed back into its bones by Justin and Charlie, who turned around its fortunes with the help of their artist mates nearly ten years ago. Nothing feels cookie cutter here and each room is styled with individual wit and panache – weatherboard walls mixed with worn leather armchairs, hand-painted; geometric concrete tiles with deep copper bathtubs; free-form murals with upcycled furniture – be warned, your curiosity might make you want to book a new room each night. Look out for prints by Bonnie and Clyde, murals by Jo Peel. If you like it, you can buy it to take home with you too. Make time for a tipple in the Copacabana-style Cocktail Shack or a laid-back take on tasting menus in The Set.
Read the Great British & Irish Hotel Guide review
NB: Pride Camping is now sold out and the Pride Dog Show has been cancelled due to rain & wind.
---