Are British brands legal aliens or are they making the Big Apple their home city? asks Charlotte Metcalf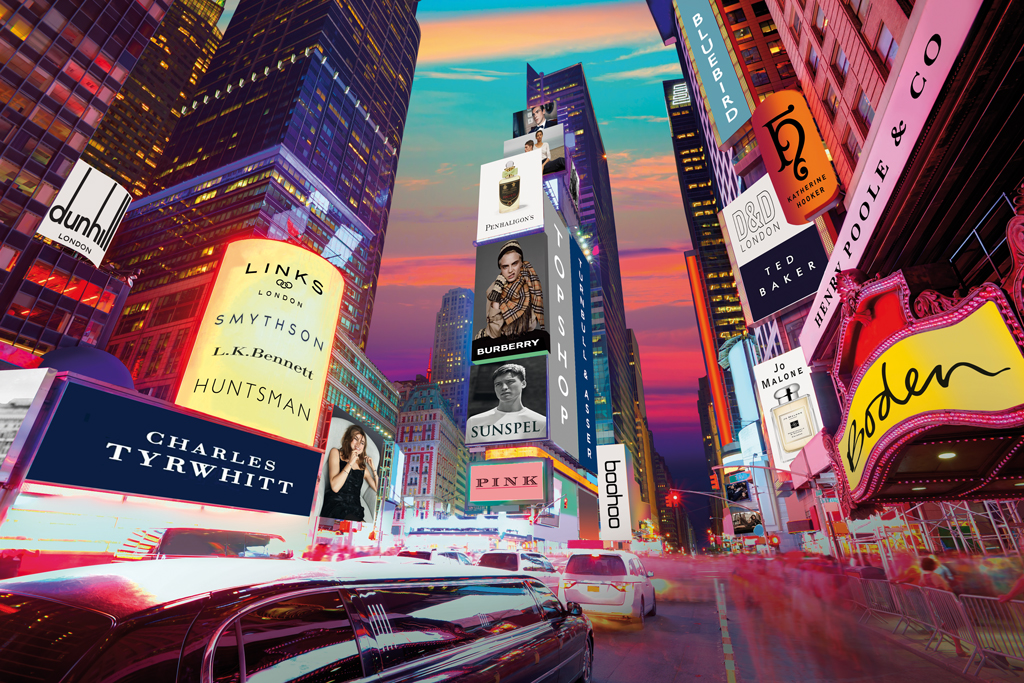 When shirtmaker Charles Tyrwhitt opened its first American store on Madison Avenue in 2002, the shop-front was emblazoned with a Union Jack announcing 'The Brits are Coming'. Charles Tyrwhitt was following Thomas Pink's lead, which had opened 'largest shirt shop in the world' on 52nd Street a few years earlier, selling shirts at around $140, over twice the British price. Thomas Pink's gamble paid off as LVMH later bought the company for millions. With Brexit looming, British brands feel under more pressure than ever to have an international presence if they are ever to attract this kind of lucrative sale. It's why so many brands are eager to enter the American market.
From London to Miami
For a while, the Brits were apparently storming America. Take British members' club Soho House, which opened in Manhattan's meatpacking district in 2003. It was so achingly hip that it featured in Sex and the City. Today the brand has clubs in Miami, Malibu, West Hollywood, Chicago and Brooklyn and the new Ludlow House on Manhattan's lower east side.
Birmingham chef, April Bloomfield, has a James Beard award (the American restaurant world's equivalent to The Oscars) for Best New York Chef and two Michelin stars – one for her West Village gastropub The Spotted Pig and the other for The Breslin at the Ace hotel. D&D London has just opened its first US outpost Bluebird, the landmark Chelsea café and restaurant formerly on Kings Road, on Columbus Circle last September serving traditional British food like fish and chips, beef Wellington and full English breakfast with black pudding and baked beans. Recently, it was announced that Robin Birley, owner of legendary members' club 5 Hertford Street, is to open a club on Union Square.
The Best Members' Clubs in London
Yet for every success story, there is a string of failures. Justin Metcalf, a consultant who specialises in launching British brands in America, says, 'What people forget is Tom Wolfe's famous line about Manhattan being an off-shore boutique and not the real America. Brits have very little grasp of American geography. To fly from LA to New York is further than London to Moscow. It's fantastically tough to run a string of shops in such an enormous country. Sixty shops in Britain is the equivalent to 800 in America – that needs a serious amount of cash.'
Cracking America
Conquering America is less about establishing a bricks-and-mortar presence as building up a customer database to sell online. Justin was the man who built on Charles Tyrwhitt's initial success in New York to expand the business – it now has seven stores across America and a big online presence. Justin also took Boden into America. Founded by Johnnie Boden, his eponymous store sells colourful, quirky clothes for men, women and children via a catalogue famous for using photographs of Johnnie's own family. Starting with zero customers in 2002, Boden now sells more women's clothes online than any other British brand in America with over a million customers. How did Boden do it? 'We learnt to respect our American customer and understand how very different she is from a British one,' says Justin. 'She is spoilt for choice with Walmart and Old Navy for basics and Pottery Barn, Restoration Hardware and Crate & Barrel for home furnishings. These are gigantic companies. Unless we're providing something unique or quirky we're arrogant to think they'd buy from us. Quirk is the thing. Look at Soho House, it's not the Hilton or Marriott – it's edgy.'
The 50 Best Interior Designers in the UK
Boden also did travelling trunk shows. Katherine Hooker, a supplier of bespoke tweed tailoring to celebrities and the Duchess of Cambridge, had considerable success with her trunk shows, just as many Savile Row tailors like Huntsman and Henry Poole do. Instead of approaching iconic Manhattan stores like Saks or Bloomingdales, Justin took Mini Boden kids' clothing into the retail giant Nordstrom with 380 stores in America. 'We created an aspirational lifestyle brand around the illusion of Johnnie having a great time with his kids,' he says. 'We hit the sweet spot. There was nothing like Mini Boden on the market and it became Nordstrom's fastest selling kids' line. We carefully introduced women's clothing there last year and it's doing well but Nordstrom represents a tenth of our sales. The rest is online.'
An Ode to British Optimism
Post the economic crash of 2008, British brands were slow to discount when even premium and luxury American brands were starting to do so. Then along came Amazon. 'It was a perfect storm,' says Justin. 'British brands floundered. It's one thing to say you have an American presence and plenty of British brands like Brora or Links of London do have lovely New York shops, but it's the giants, Burberry being the notable one, which have the staying power.' Dunhill has a firm presence. Topshop is successful in Nordstrom. Jo Malone has thrived under the enormous umbrella of Estée Lauder. Fast fashion brand, Boohoo, was endorsed by Kylie Jenner, which was perfect for its teenage demographic.
Yet British optimism is not to be dampened by a cautionary tale. Simon Gregory, Group Executive Chef at Bluebird, says, 'I've noticed an influx of British brands recently. In the Time Warner Building alone there are LK Bennett, Ted Baker and Links of London apart from us. For a long time, Britain was perceived as the Old Country but that's no bad thing because Americans like a solid brand. They like things to be classic, beautiful, elegant. They also appreciate brands that are not just some celebrity-endorsed flash-in-the-pan but have stood the test of time and are almost a bit of an institution. After all, Bluebird's been in London for over 20 years so it's a sustainable luxury if you like.' Bluebird is also providing those 'quirky' ingredients that, according to Justin, Americans like. 'When we started doing tastings here Americans didn't know what Sticky Toffee Pudding was but now we can't make enough of it,' says Simon. 'People also love our Cornish hand-raised chicken pie and pâté en croute, which is really our version of a pork pie served with piccalilli. There is fantastic produce here – fruit and vegetables from California, wonderful cheeses and fish from upstate New York, flavours from Mexico – so we try to do food that is recognisably British but without being Union-Jack-waving Brits abroad.'
America Hearts Britain
The heritage clothing brand, Sunspel, has opened its first American store on Mercer Street in SoHo. Ed Vaizey, Britain's culture minister till 2016, confesses to wearing Sunspel's clothes almost exclusively and says, 'I think Americans will love the fact they're all traditionally made and authentically British. Yet the clothes also have a modern twist to make any man feel elegant and sophisticated.' CEO Nicholas Brooke says, 'From our famed development of the T-shirt over the last 150 years to equipping James Bond with our signature Riviera Polo, our meticulous attention to detail and craft is globally recognised as a badge of quality and uniqueness.'
According to The Gentleman's Journal, the brands making waves in America are those that have 'quintessential Britishness in spades', like Turnbull & Asser, Thom Sweeney, Smythson and Penhaligon's, and it describes Charles Tyrwhitt as the 'British brand that has gone stateside to stay.' It's the staying that's the hard part. As Justin says, 'It's a long, long road and nowadays a retail foothold in New York is just the very beginning.'
Discover more cracking British brands: Great British Brands 2019
---