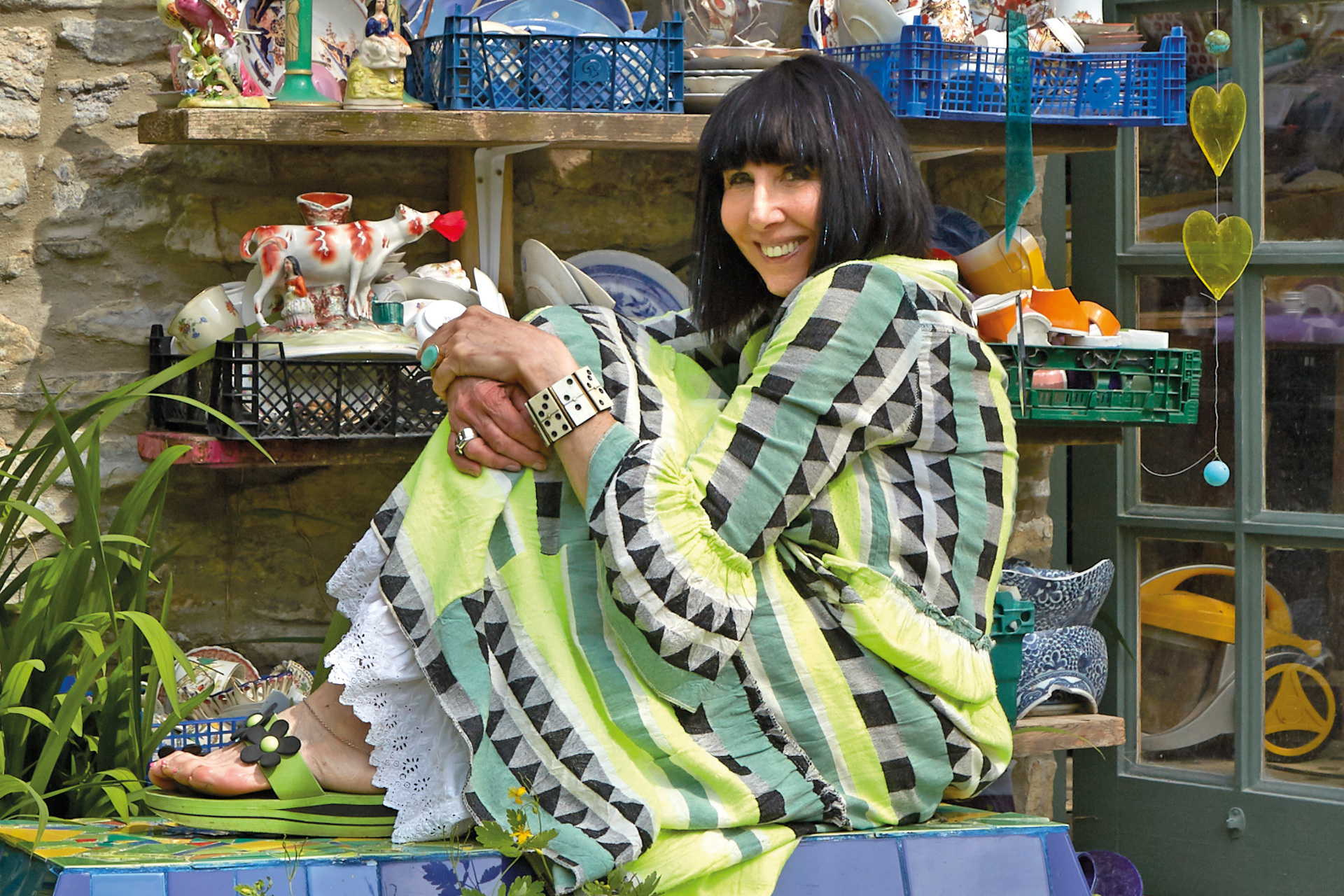 Flights Of Fancy: A Profile On British Artist Candace Bahouth
Meet artist-craftswoman and master-mosaicist Candace Bahouth
By Sandy Carr | 2 months ago
'Arrange whatever pieces come your way,' said Virginia Woolf. Candace Bahouth was listening, says Sandy Carr.
Flights Of Fancy: A Profile On British Artist Candace Bahouth
Winding downhill through the Somerset village of Pilton, Weir Lane approaches a wooden gate festooned with flowers. It feels like an enchanted place – a place where magic happens. Behind the gate a 17th-century house nestles between two streams in a tranquil garden, lush with old-fashioned roses and bright peonies. Three candy-coloured obelisks stand sentinel; tall totems twirl skywards. Encrusted with vibrant ceramic fragments, they sprout scallop shells, teapot spouts and cup handles, like so much exotic fungi. Drainpipes, pillars and pavements are similarly embellished. Its owner 'would mosaic the whole cottage if it wasn't listed'.
This is The Dell, the home and studio of artist-craftswoman and master-mosaicist Candace Bahouth. Her work is so much more than what is usually thought of as mosaic or as craft. Outside the studio, crammed shelves spill over into crates of broken ceramics, thousands of tantalising fragments waiting to be placed in one of Candace's fabulous creations. This extraordinary hoard of flea market finds, the booty of exhaustive treasure hunts and friends' gifts of broken heirlooms, will find a beautiful new life in her hands. It is the raw material waiting to be transformed into unique works of art. And they are widely celebrated. Her pieces are in museum collections, such as the Victoria & Albert, have been exhibited in major galleries, and sold at Liberty's, Paul Smith and Designers' Guild and to clients including Peter Blake, Kevin Macleod, Mick Jagger, Alice Temperley and Banksy.
When it comes to artistry, Candace is a true polymath. The range and diversity of her work is breathtaking. A New Yorker of Italian/Palestinian origin, she came to the UK after graduating in Fine Arts from Syracuse University. Originally a textile artist, she first made waves in the 1980s with her masterly woven tapestry portraits, an eclectic range of iconic figures from George Washington and King Tut to Gilbert and George. A woven portrait of the late Queen based on a postage stamp was used on the cover of the Radio Times for its Silver Jubilee issue and the one marking her death.
Needlepoint designs for Hugh Ehrman Tapestries brought her work to a wider audience. The faster pace of this technique nourished greater freedom and experimentation. Over time she has produced over 130 designs inspired by medieval unicorn tapestries, animal hides, pop, religious and royal iconography, heraldry and artists from Klimt to Kahlo.
A chance find of broken crocks in the stream sparked a new direction. Cemented onto her windowsill, they were her first mosaic. A cache of shattered Moorcroft, gifted by her friend Richard Dennis of Dennis Chinaworks, became the next. Royal commemorative china glued and grouted on to mirror frames followed and spawned a continuing theme.
Mosaics in Candace's hands turned out to be a truly liberating medium. Using a vast range of materials from pottery, figurines, china birds, animals and shells to mirror glass and ceramic tesserae, she covers an extraordinary collection of objects – those totems and obelisks, sneaker boots, stilettos frosted with tiny clamshells, urns, fireplaces and trompe l'oeil chairs that look like embroidery or leopard-skin print and reveal themselves on closer inspection to be mosaicked. Ceramic parakeets perch on candelabras entwined with leaves. Many of her pieces glitter and sparkle with mirror glass shards.
There is a joyousness in Candace's work that is life-enhancing. It is vibrant, exuberant and startling in its imaginative use of materials. This is true of her latest incarnations, a magnificent series of mirrors of which ten will be shown with 12 candelabras at Bath's Victoria Art Gallery from July, alongside Kaffe Fassett's quilts. They are rococo in spirit, from the curlicue frames – which act as a blank canvas within which her free-wheeling imagination takes flight – to the rich detail of the ceramic montage.
One, called Love, is pearly white and pretty, with gilded shells, leaves and flowers and an amorous couple escaped perhaps from a Watteau picnic. Another, Dionysus, is darkly dramatic with neo-classical figures and flashes of scarlet. A Wedgwood basalt vase was its inspiration. With no interest in intrinsic worth or provenance, she can be inspired as much by a kitschy gewgaw as a precious pot. Each mirror is an adventure, an exploration. Anything but two-dimensional, they are built up layer on layer. You might discover a fragment of Worcester, gaudy Clarice Cliff, blue Chinese, Delft or a Staffordshire flatback.
The technical virtuosity of this work is awe-inspiring, for which she gives much credit to her long-time assistant Helen Knight who says of Candace, 'She works with energy and an open heart, alive to the beauty in things in a truthful way.'
What's On
Candace Bahouth Enchanted Visions, and Kaffe Fassett: Timeless Themes – New Quilts, both at The Victoria Art Gallery, Bath, until 1 October 2023. victoriagal.org.uk
Images: Iani Kemp