During lockdown Scarfe's Bar is shut so we're asking some of our past interviewees how they're coping with isolation and how they think Coronavirus will change our world – this week, Chairman of the Victoria and Albert Museum, ex supremo at Condé Nast, prolific novelist and author of his memoir 'The Glossy Years', Sir Nicholas Coleridge. Charlotte Metcalf spoke to him on the telephone in his garden.
Conversations In Isolation: Nicholas Coleridge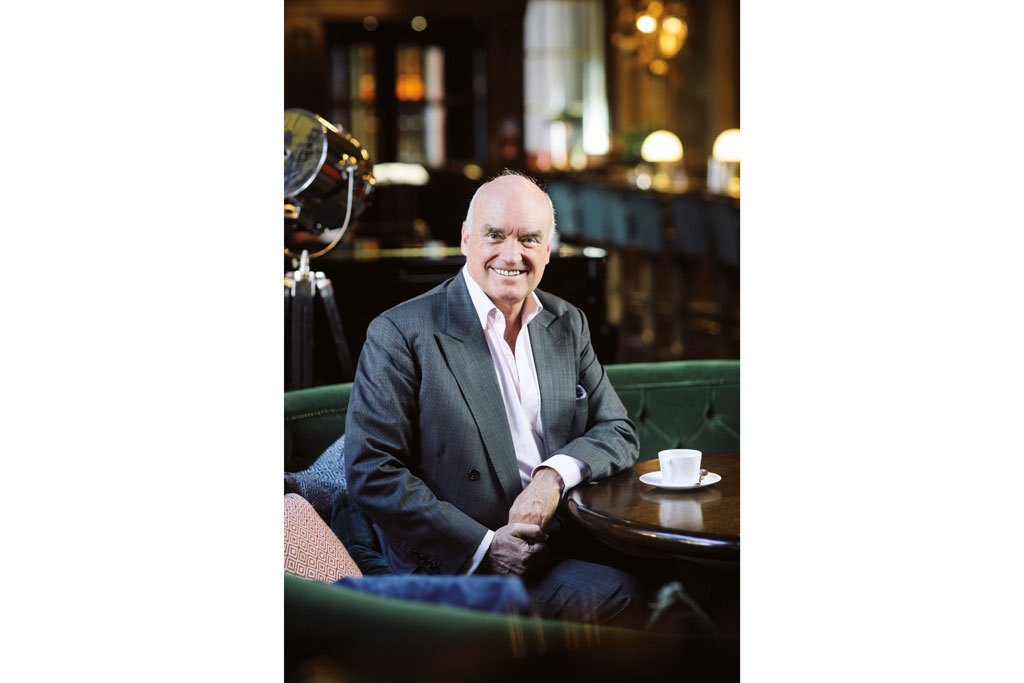 Where are you isolating?
I'm in Day 86 of isolating in Worcestershire. I'm here with my wife Georgia and all four children, Alexander 29, who's with his wife Davina, Freddie 27, Sophie 24 and Tommy 21. They found the offer of free food and drink for quarter of a year and living off Daddy very appealing – like a long weekend. Actually, it's been very nice as normally I would see them far less. And we've been very good about lockdown and obeyed the rules – we'd get straight A's for meeting the government's instructions.
How are you keeping fit?
I had Covid-19 right at the start and spent ten days in our local NHS hospital in Worcester. The first night I was there the hospital rang Georgia and told her to prepare herself for me not surviving. In fact after four days I felt a lot better and if you're fairly fit and you don't have underlying health problems you don't have to worry too much. Luckily I was never on a ventilator but I was on about 12 litres of oxygen a day. I spent the first three weeks back at home recuperating and convalescing, that mainly involved lying in a long chair in the garden contemplating the distant hills.
Also the weather's been extraordinary, reminding me of Juliet Nicolson's book 'The Perfect Summer', set in 1911 just before the first World War. This May was the hottest on record and even now I'm nearly not wearing a shirt talking to you from my garden. I feel 99% back to my old self – I've done two 12-mile walks along the Malvern Hills and I walk at least five days a week, often for two hours or more. Plus we're lucky enough to have lots of outside space and a swimming pool.
Podcast: Lockdown Culture with Ed Vaizey
What are you doing in isolation?
I've had a lot of committee and board meetings via Zoom and Teams with the V&A and various meetings with government to work out the financial implications of Covid-19 on the museum scene. I probably work for two and a half days on average and then another ten reading Ken Follett's books – when else could you immerse yourself in a 643-page book? He's one of our greatest writers – he has such a knack for making you want to keep turning the pages between the pinging and dinging of Zoom and Teams calls.
I haven't started writing another book yet. I only retired from Condé Nast at Christmas and with catching Coronavirus on top I thought it was reasonable to give myself a few months off. Normally I write about 1500 words a day when I'm here, which takes about four hours. I don't allow myself the luxury of writer's block – the truth is that to write something long you just have to keep at it and write every day.
What have you learnt in isolation?
That my daughter-in-law Davina is a very good cook and that my youngest son Tommy, who's normally driving around in an Amazon van delivering parcels, is quite good at cutting my hair – not that I have much of it. I've also discovered a deeper appreciation of nature. Normally we divide our lives between here and London so it's been a real treat to be here watching the seasons change. Normally when I arrive at a weekend I see how the beech hedges are turning brown to green in lurches but I am enjoying watching them all day slowly turn. On the whole thought I don't think my character has changed in any profound way. I'm still the same old me and having said all that about nature I'm very much looking forward to the end of house arrest.
How do you see the post-Coronavirus world?
I think there will be two big shifts – one good, one bad. The good thing will be that more people will be able to live in the country, realising they don't need to be in the city five days a week. The baptism of technology means we're all used to having perfectly reasonable virtual meetings with a dozen or so people. If I were an estate agent within 90 minutes of London I'd definitely be preparing for boom time. The bad part is that we're about to enter a hideous moment of unemployment.  There is hardly an institution or company in the world not contemplating cutting its workforce by 10 to 20 per cent. It's going to be very tough indeed for quite a while.
Socially I think it's going to take us a little time to get used to having parties and a whole load of people round a table for supper again, joshing and drinking and pushing and laughing merrily and flirting. All that seems like a world away now but I rather hope it all starts up again. I'll be so rested after four months in lockdown that I'm going to be socially insatiable.
The Glossy Years is published in paperback by Penguin on 16th July
READ MORE:
Virtual Art Shows / Bestselling Champagne Brands / Independent Bookshops in London
---