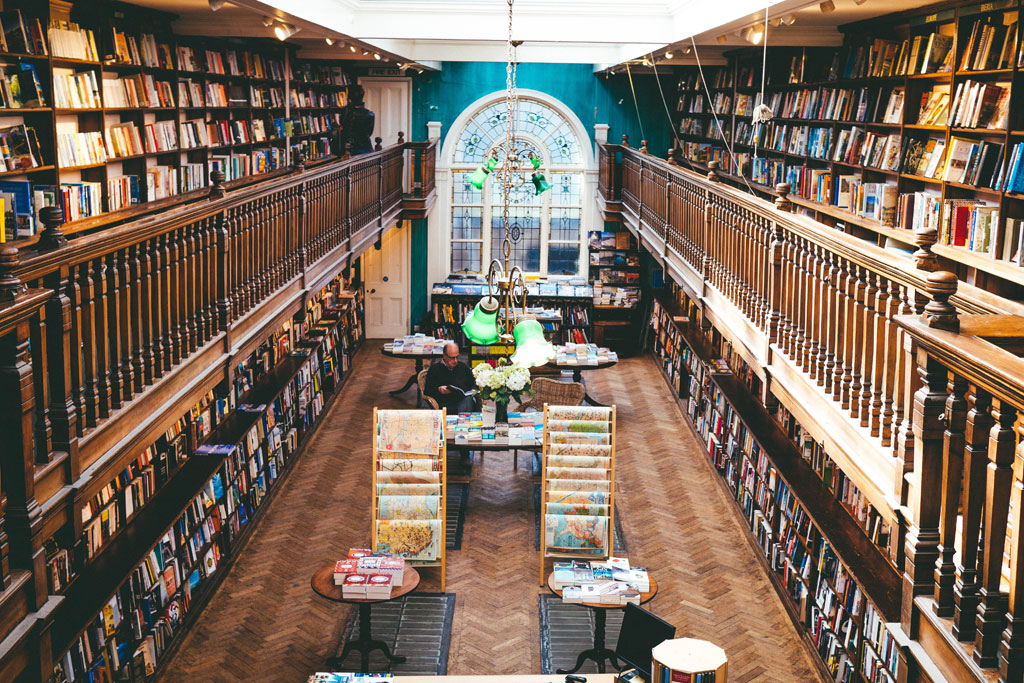 Best Independent Bookshops in London
---
Explore London's literary treasures
On a rainy day, there's nothing better than whiling away the hours in a cosy bookshop. Luckily London is home to some of the most unconventional out there. From a literary shop on water (yes, really) to the oldest in the capital, we bring you the best independent bookshops in London.
7 Best Independent Bookshops in London
Daunt Books, Marylebone
View this post on Instagram
With nine enchanting stores located across the UK, Daunt Books has established itself as a star on the independent bookstore scene. Specialising in travel literature, each store is as character-full and quaint as the other, but the original Edwardian branch in Marylebone is particularly striking – and popular on Instagram – featuring imposing oak galleries, skylights, and the store's trademark emerald green throughout. Spend a morning perusing the branch's beautiful portfolio of books, then stroll over to The Ivy Cafe Marylebone for a spot of tea whilst you dive into your new book. dauntbooks.co.uk
Gay's the Word, Saint Pancras
View this post on Instagram
Branded 'London's independent LGBT book specialist', Gay's the Word is a quirky Saint Pancras bookstore dedicated to providing Londoners and beyond with LGBT+ books and film. More than just your average bookshop, the one-of-a-kind retailer – established since the 70s – has also become a focal point for the LGBT+ community with frequent book readings, signings and weekly discussion groups. gaystheword.co.uk
V&A Bookshop, Knightsbridge
For those who look for their fashion fix within the pages of a book, the V&A is your go-to. Nestled within the museum lies an arts and style-centric bookstore where you'll find a range of beautiful publications spanning textiles, design, crafts, theatre and more, plus retrospectives of the museum's most memorable and leading exhibitions including Mary Quant and Tim Walker: Wonderful Things. vam.ac.uk
Must-Have Fashion Coffee Table Books
Hatchards, Piccadilly
View this post on Instagram
As bookshops in London go, Hatchards is undoubtedly deserving of a place on the must-visit list; it's London's oldest bookshop and a holder of three royal warrants. Established by publisher John Hatchard in 1797, the store still retains its unique charm and character today, with its regal deep green exterior, bygone windows and interior memorabilia. You'll find a wide range of reading material here, from limited edition tales of Peter Rabbit to exclusively signed copies of Rihanna's new visual autobiography. hatchards.co.uk
Word on the Water, Kings Cross
View this post on Instagram
One of the quirkiest bookshops in London, Word on the Water sells an assortment of publications – both new and pre-loved, from classics to contemporary – from the cosy confines of its 100-year-old Dutch barge. As if it couldn't get any more endearing, the eccentric store also hosts a range of creative literary events, from jazz and poetry readings to book launches and live music on the roof. Check opening times via facebook.com before visiting.
Persephone Books, Bloomsbury
View this post on Instagram
Founded in 1998 'in a room above a pub', Persephone Books is a bohemian bookshop which ardently republishes 'forgotten' stories written by female writers – it is here that you'll find the likes of Elizabeth Cambridge, Monica Dickens, Katherine Mansfield and Virginia Woolf celebrated on and off the shelves. Each reprinted novel is given a new lease of life with a trademark Peresphone grey cover incorporating newly bespoke prints, illustrations and endpapers, and is displayed in the charming Bloomsbury bookstore. Now open 12-3pm, Monday-Friday. persephonebooks.co.uk
The Alligator's Mouth, Richmond
View this post on Instagram
Tear the little ones away from technology and treat them to an afternoon at The Alligator's Mouth. The delightful children's bookstore – hailed by Jaqueline Wilson as 'bright and colourful and friendly' – is full to the brim with captivating storybooks (including treasured tales like The Tiger Who Came to Tea) and hosts regular author and illustrator visits. Previous guest appearances include author of the How to Train Your Dragon series Cressida Cowell, illustrator Chris Riddell and Jaqueline Wilson herself, to name but a few. thealligatorsmouth.co.uk
Featured Image: Unsplash
Best Book Clubs in London | The Best Art Books Ever | The Best Literary Festivals 2021