A Guide To Coventry: UK City Of Culture 2021
---
From its literary legacy to the best art galleries
Bar residents of the Midlands, many people are not aware of the rich history and credentials of Coventry – yet this year it's being crowned the UK City of Culture. Read on to find out why.
Coventry: UK City Of Culture 2021
History of Coventry
It often plays second fiddle to Shakespeare's hometown of Stratford upon Avon, but Coventry has many of its own historical claims to fame. Mary, Queen of Scots was imprisoned there in 1569 after a Catholic uprising in the north, and – as legend goes – Lady Godiva once rode naked through its streets in a bid to convince her husband to lower taxes.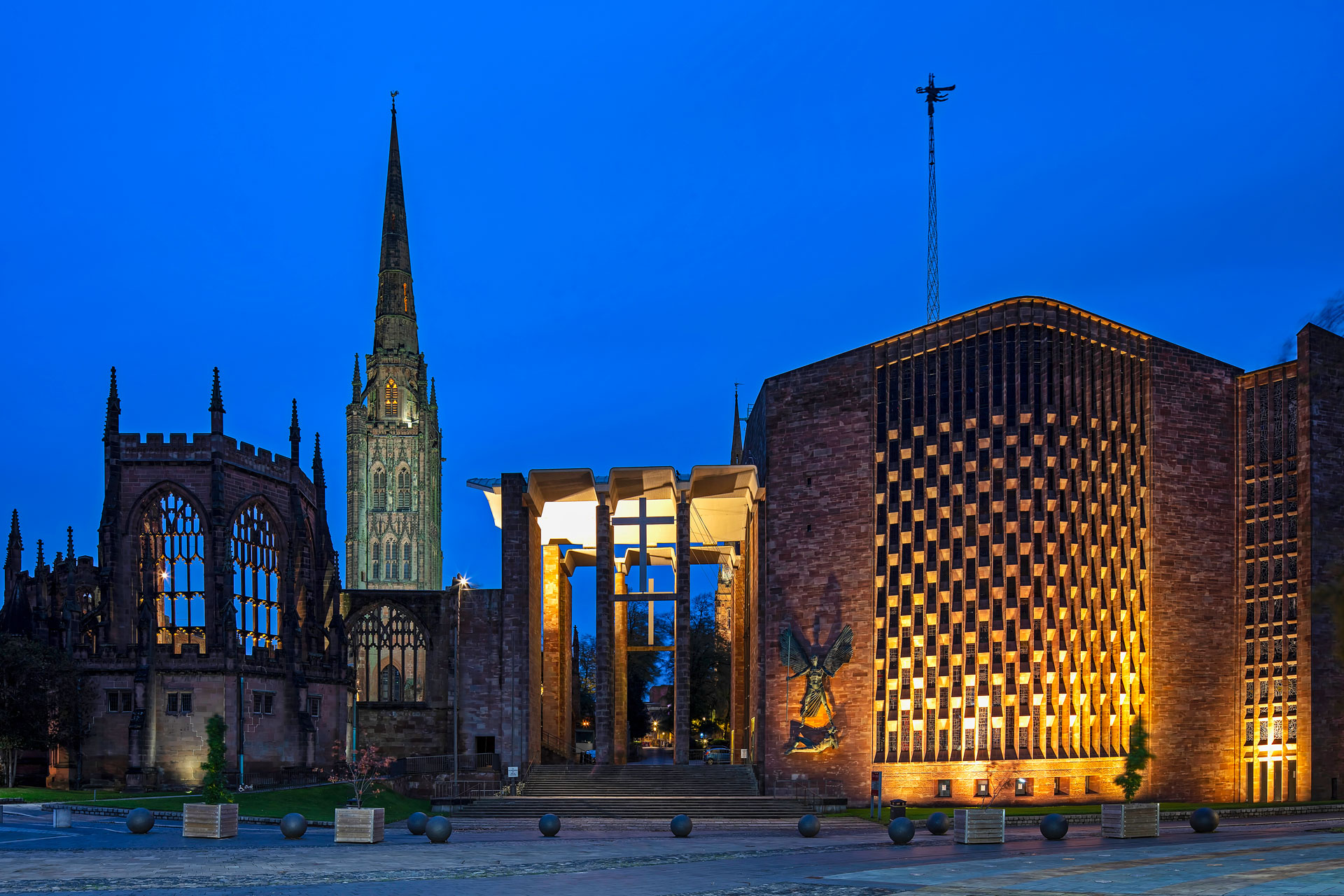 Coventry grew into an industrial hub, and during the 20th century it became a major centre for war production. Tragically, in November 1940, this led to the city being targeted by the single most concentrated bomb attack on a British city of the Second World War. Hundreds of people died, and the city centre was left in ruins, including the centrepiece of St Michael's Cathedral. The remains of the building are still there to this day, adjoined by the new cathedral, designed by Sir Basil Spence and consecrated in 1962.
Coventry has an interesting literary past too: Philip Larkin, Lee Child and George Eliot were all born there. While Eliot didn't actually write her books there, John Burton, chairman of the George Eliot Fellowship told the BBC her experiences in Coventry were important to her as a novelist.
Cars are also a big part of Coventry's past. The first ever British car was built there in 1897, and the city went on to attract a whole host of major companies, including Jaguar, Armstrong Siddeley and Alvis. While the industry shrank there during the 1980s recession, Coventry remains home to the black cab, which has been continuously manufactured there since the 1940s.
Galleries & Museums
Nowadays, there's plenty of culture to explore in Coventry. One of its most famous spots is the Herbert Art Gallery and Museum, which houses George Eliot's piano as well as letters from Elizabeth I and her mother Anne Boleyn. It's a great place to go to delve into the city's history, with permanent galleries covering everything from archives to archaeology. At the moment, the gallery is hosting various online talks and exhibitions, which you can explore here.
For car enthusiasts, the Coventry Transport Museum is well worth a visit, hosting the largest publicly owned collection of British-made vehicles on the planet. One of its 14 galleries is also home to the fastest car in the world – and while you sadly can't take it for a spin, the 4D simulator gives you a taste of the thrill of breaking the World Land Speed Record.
Theatre
The Belgrade Theatre was the first civic theatre to be built after the Second World War, and therefore became a symbol of optimism. In 1965 it launched the Theatre in Education movement, which aimed to use theatre and drama to create learning opportunities for young people. And in 1971, Monty Python performed its first live performance there. The theatre remains an important venue to this day, with upcoming shows including a meditation on the gaps in our memories titled Hold On, Let Go, as well as a brand-new adaption of Oscar Wilde's The Picture of Dorian Gray.
Just outside the city centre you'll find Warwick Arts Centre, a multi-artform hub offering a mix of theatre, dance, music and comedy. Events coming up there this year include a comedy night with Rob Brydon and a musical play adaption of Judith Kerr's classic children's book The Tiger Who Came To Tea.
Food & Drink
Rising Café in the Coventry Cathedral is well worth a visit – it was even visited by the Duke and Duchess of Cambridge on their royal tour. Pop in for afternoon tea, lunch or one of the café's famed artisan coffees.
Pastry lovers, meanwhile, should make it their mission to try one of the city's regional dishes: the Coventry Godcake – crispy puff pastries filled with sweet mincemeat. Esquires Coffee in the Transport Museum sell these.
City of Culture Programme
2021 will see Coventry take the spotlight as the UK City of Culture: a four year extravaganza of art and entertainment events. The pandemic has evidently thrown a spanner in the works, but there are lots of exciting things in the pipeline. Here are some of the highlights.
Coventry Moves: The opening celebration, Coventry Moves, is due to take place on 15 May 2021. Most details are yet to be released, but we're told the event will see the city 'transformed, rising from adversity in a spectacular performance, a celebration and a collective movement.'
Terry Hall Presents Home Sessions: In July, lead singer of the Coventry band The Specials will return to his hometown for a three-day music event, which will shine a light on the rich history of the Coventry music scene.
Turner Prize 2021: One of the world's best-known prizes for visual arts is coming to the Herbert Gallery and Museum later this year. The four shortlisted artists will be announced in the spring.
Faith: A unique day-long piece of theatre in September will explore what keeps us going in tough times, encouraging discussions surrounding who and what we have faith in.  Told through music, theatre, installation and ritual, the event will unfold an overarching story, culminating in a big moment which the audience can take part in.
READ MORE:
British Events To Look Forward To in 2021 / Best Virtual Theatre