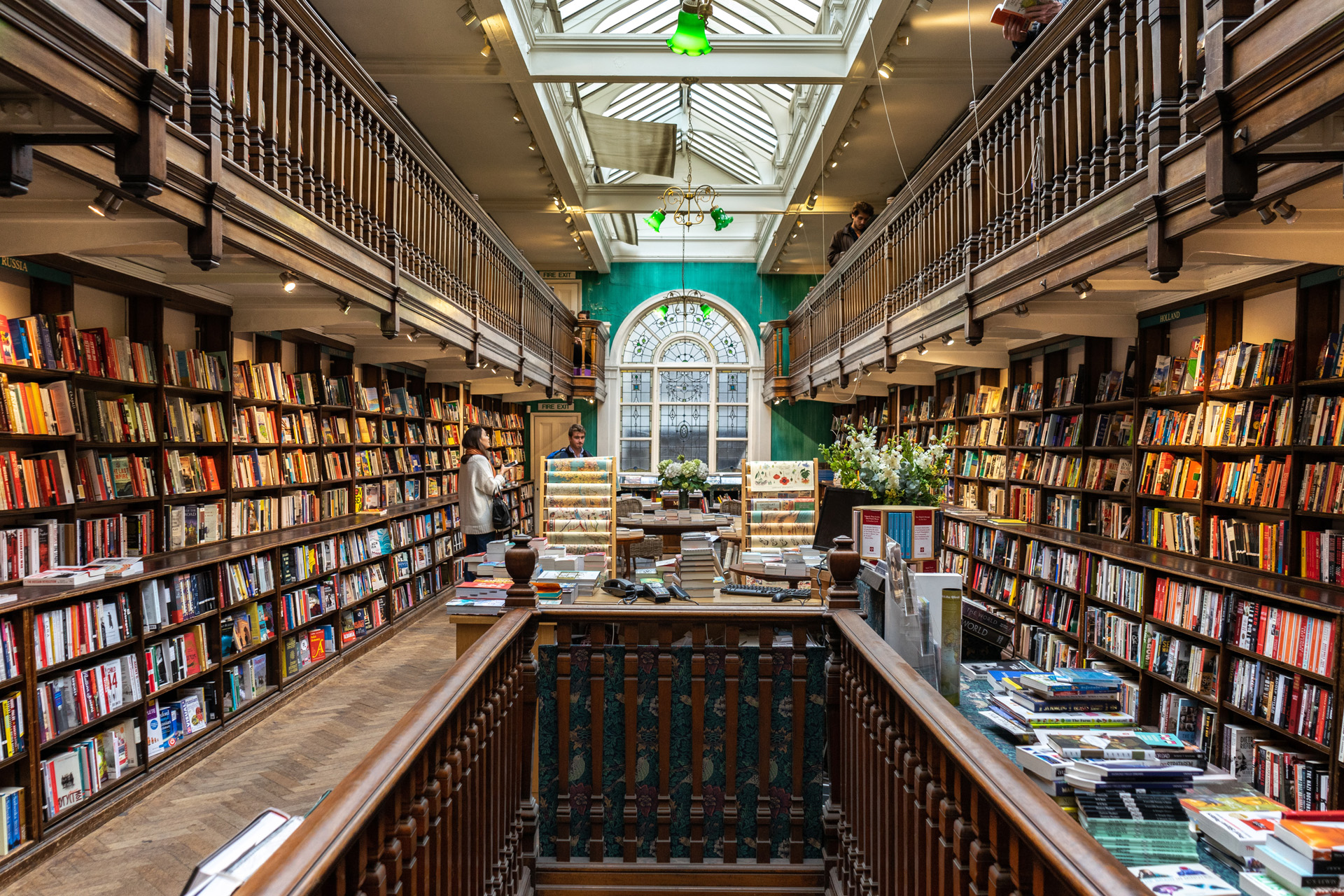 What's All The Fuss About Daunt Books?
Olivia Emily delves into the history of London's favourite bookshop
It's one of London's most famous bookshops, and it's independent to boot. But why does everyone love Daunt Books so much? Olivia Emily investigates
A Brief History Of Daunt Books
When you take a stroll through leafy Marylebone Village, one shop is guaranteed to catch your eye: beneath a towering redbrick townhouse, there's a pink granite and wood-clad façade with British racing green signage and an amber light emanating from green library-style lamps within. Daunt Books Marylebone; rows upon rows of books peer through the window. Perhaps you're only in Marylebone to experience this very bookshop. Step into the warmth, and watch the shop stretch long before you, herringbone floor and typical (if slightly more ornate) shelving units unfolding before long oak galleries with bannisters and skylights pouring light over tables brimming with fresh titles, narrow stairways venturing downwards with 'mind your head' signs, and that final famous green back wall and its altar-like arched window with a pretty stained-glass pattern.
It feels like stepping back in time – surely Daunt Books has been here for centuries? Not quite. 'Although we opened in Marylebone High Street in 1990, the shop, with its beautiful gallery, skylight and stained glass window, was originally built in 1912,' bookseller Jack Rollo explains, who has worked in Daunt Books Marylebone for around a decade. 'One of the reasons that it is such a wonderful place to browse is that it was purpose built as a bookshop, so it is still doing what it was always meant to do. We think you can really feel that as soon as you step through the door.'
View this post on Instagram
Long before James Daunt – founder of Daunt Books (and now managing director of Waterstones and CEO of the American Barnes & Noble, to boot) – set up shop, 83 Marylebone High Street was owned by Francis Edwards, who moved his antiquarian book business into the property in 1860, thought to be the world's first purpose-built bookshop. Originally specialising in theology, Francis' son (another Francis Edwards) expanded their repertoire to cover travel, topography and maps. But, as we well know, the Edwards didn't occupy the property forever, moving out in the late 1970s; Francis Edwards can now be found in Hay on Wye, a division of the Hay Cinema Bookshop. Pharos Books moved into the property in 1982, and the shop was known as 'Read's of Marylebone High Street' before James Daunt acquired it in 1989.
'When James Daunt opened the shop, it was first and foremost as a travel bookshop,' says Jack. 'The idea was that if you were about to head off on a trip through Central Asia, for example, you wouldn't just need guidebooks: you would also need novels, travel writing and history books, too – books to give you the background and atmosphere of the places you would be passing through.
'This idea is still at the core of how we sell books, both as a way to inspire travellers and as a great way to organise the store for browsing,' says Jack. You might have noticed, pursuing the laden Daunt Books shelves, that the books are arranged by country, not alphabetically. 'If everything is arranged alphabetically in the usual way, although you can go straight to the book you were looking for, you never see those great books you didn't know that you wanted,' says Jack. 'With our way of organising things, ideas start sparking between the books, and soon you find yourself with an armful!'
View this post on Instagram
This is no ordinary bookshop, and bibliophiles ought not enter with a specific title in mind, hoping to dart to the 'D' section (hint: there isn't one). 'Very occasionally, there is a slightly bemused response,' Jack says, 'but the vast majority of customers seem to love our unique way of shelving things. We think it's what makes our shop the perfect place to while away a few hours losing yourself in our country sections and dreaming of far away places.'
It's an oddly satisfying experience: going in blind, and allowing the shop to usher you to new favourites. Perhaps you liked a novel set in one country and want to read another; perhaps you've always been interested in the history of a nation and want to learn more; perhaps you really are preparing yourself for a trip abroad and want to immerse yourself in the fiction as well as the facts. 
It's also clearly a very successful model. Daunt spilled into next door's unit in the late 90s, creating the double frontage we know today. And, since opening his first in Marylebone, Daunt has collected eight more branches: Holland Park, Hampstead, Belsize Park and Cheapside in London, acquiring Kentish Town's Owl Bookshop, too, but maintaining its former name. Further afield, Saffron Waldon's Hart's Books became Daunt's first offshoot outside of London, followed by The Marlow Bookshop in Buckinghamshire, and Daunt Books Summertown in Oxford. 
So Daunt Books is still pretty southern-centric. That said, it is likely you've spotted one of their tote bags much further afield. 'When we first started selling them around the turn of the millennium, we had no idea how popular the bags would become,' says Jack. 'Customers are always telling us about the far flung locations where they have seen a Daunt bag, from half way up Kilimanjaro to a remote atoll in the Pacific.'
View this post on Instagram
Most commonly, though, you'll see these tote bags adorning shoulders on university campuses, as bookworm students boast their chic combination of cool and bookish. That, or on the shoulder of a dark academia-aspiring TikToker. In particular, Daunt Books Marylebone – with its stunning, antiquated interiors and floods of natural light – has attracted a cult following on the app. Have the booksellers noticed a change? 'Absolutely!' Jack says. 'It has been amazing to see the shop connecting with a new generation of readers. We are so pleased that people come from all over the world to see the shop, chat to our booksellers and buy some fantastic books.'
We've long thought #BookTok is a force for good in reconnecting young people with the written word, and Daunt Books Marylebone's persistent popularity both on and off the platform is testament to the recent uptick in (but also everlasting desire for) experiences: immersing yourself in the beautiful environments you've seen online, chatting with booksellers and seeking their recommendations, or something so simple yet satisfying as the tactile experience of picking up a new book, catching its fresh scent as you flick the pages through your thumb, reading the blurb, putting it down, considering another.
'We are always pleased and amazed that the shop resonates with people the way that it seems to,' says Jack. The team prides itself on this experiential quality, currently hosting their annual festival. 'It is a wonderful two-day event stuffed with talks from brilliant authors, and delicious food from some of the restaurants and food shops that are all around us in Marylebone Village,' Jack explains. 'The events start mid-morning and run throughout the day and into the evening. The line-up of speakers always reflects the wide variety of books we champion at Daunt, from travel writing, to cookery, from history and biography to the latest fiction and the best in children's literature. This year's festival is shaping up to be our best yet, with talks from Jeremy Lee, Katherine Rundell, Will Gompertz and Sheena Patel to name just a few.'
If you're just popping in, your encounter will be no less experiential. Daunt Books has a palpable atmosphere: the pleased buzz of shoppers, the quiet contemplation of browsers, the creak of centenarian floorboards beneath newfangled shoes. 'We love talking about books and offering detailed and bespoke recommendations,' Jack adds. 'So always ask for some tips.'
VISIT
84 Marylebone High Street, London W1U 4QW