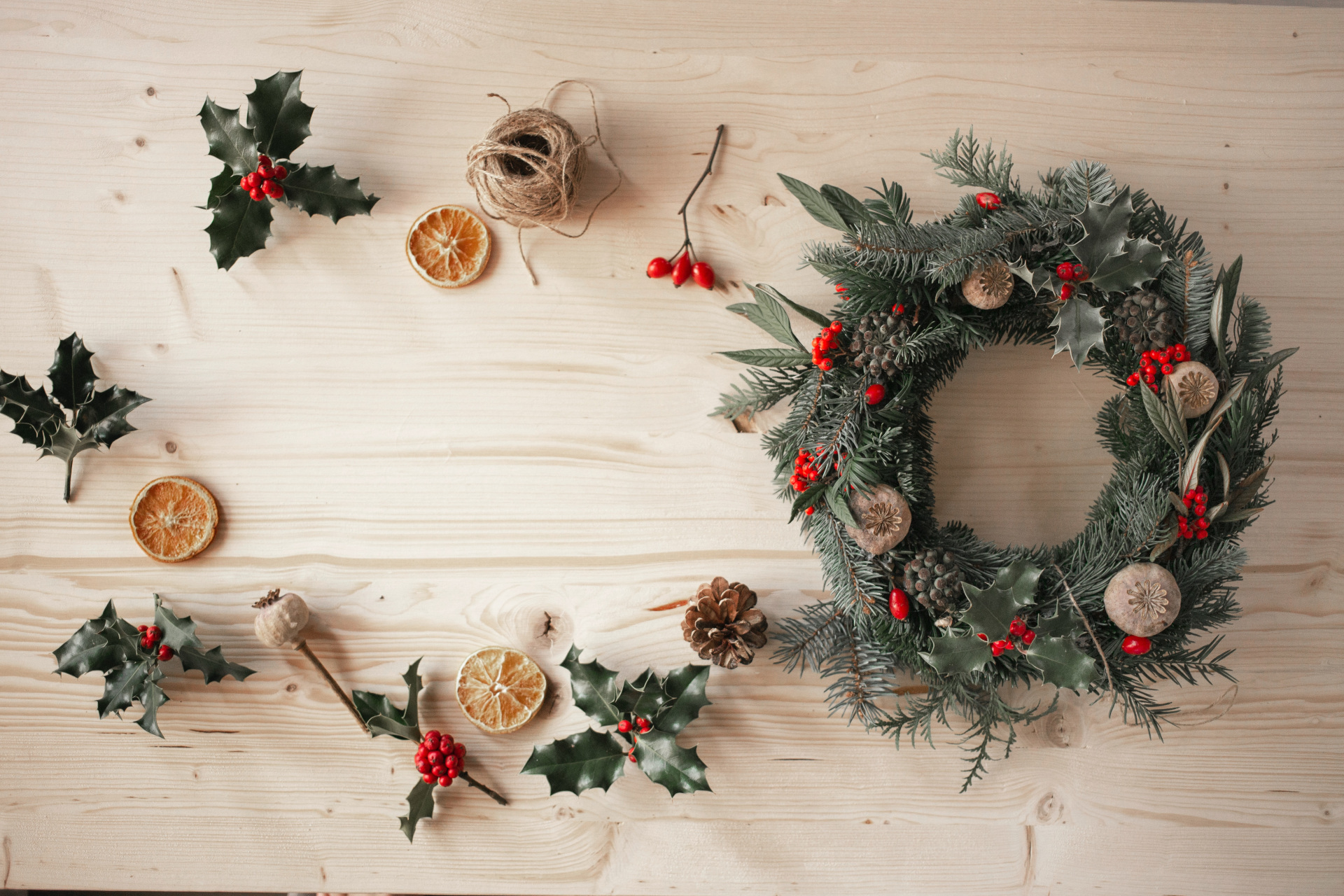 Wreath-Making Classes To Book For 2021
---
Create the perfect wreath for your front door this season
'Tis the season to brighten up your home with a beautiful Christmas wreath. Here we bring you the UK's best wreath-making classes to book now, plus some expert tips if you're going solo, and a ready-to-hang wreath to order if you're not feeling crafty. 
Last Minute Christmas Wreath-Making Classes 2021
Regent Studios
Head over to Regent Studios in London for a last-minute candle and wreath-making course, where you can learn the art of aromatherapy blending, soy wax candle construction and Christmas wreath making. The workshop will kick off with an introduction to essential oils, scent blending and candle pouring – and while your candle sets, you can get started on your own Christmas hoop wreath. Materials are provided, but the event encourages you to BYOB. 7pm Wednesday 22 December, £55pp. allevents.in
Caledonian Park
The rangers at Caledonian Park are excited to invite visitors to create their Christmas wreath using natural materials found in the park and local area. Materials are all provided for this free event – the only thing you'll need to bring is some festive creativity. The workshop will take place inside the Cally Clock Tower Centre, adjacent to the clock tower in Caledonian Park. Spaces are strictly limited to 20 people, so book soon to avoid disappointment. 11am Thursday 23 December, free event. eventbrite.co.uk
5 tips to decorate your own Christmas wreath
Always work in a clockwise direction, following the wreath's branches. This will help the wreath's design to 'flow'.
Start by adding foliage and natural leaves. We worked with eucalyptus branches to add texture to the wreath.
Use a natural hessian ribbon to tie your wreath to your door, and work with a strong floral wire to wrap around your decorations and insert into the wreath to hold in place.
Keep it natural. If you use natural ingredients like dried fruit, lavender and acorns, rather than going crazy with the tinsel, the whole wreath will dry out evenly and continue to smell great all season.
Work with bunches. Our teacher advised grouping two or three of each item together on the wreath to give more of an organised feel to your design. Tie together a few cinnamon sticks, group a couple of slices of dried orange and wire together three acorns to attach.
Make A Wreath At Home
Why not try crafting your own wreath in the comfort of your  home, whilst sipping on a delicious glass of Champagne? This Christmas, Champagne Lanson have teamed up with Beards & Daisies to create a special Christmas Wreath Package. Each kit will include a mini sized bottle of Champagne Lanson and a wreath making kit. Choose between the pink and jewel toned Rosé Champagne kit or the Black package, which includes a black and neutral wreath with the Le Black Label Brut. Champagne Lanson x Beards & Daisies Christmas Wreath Package, £50 incl P&P, beardsanddaisies.com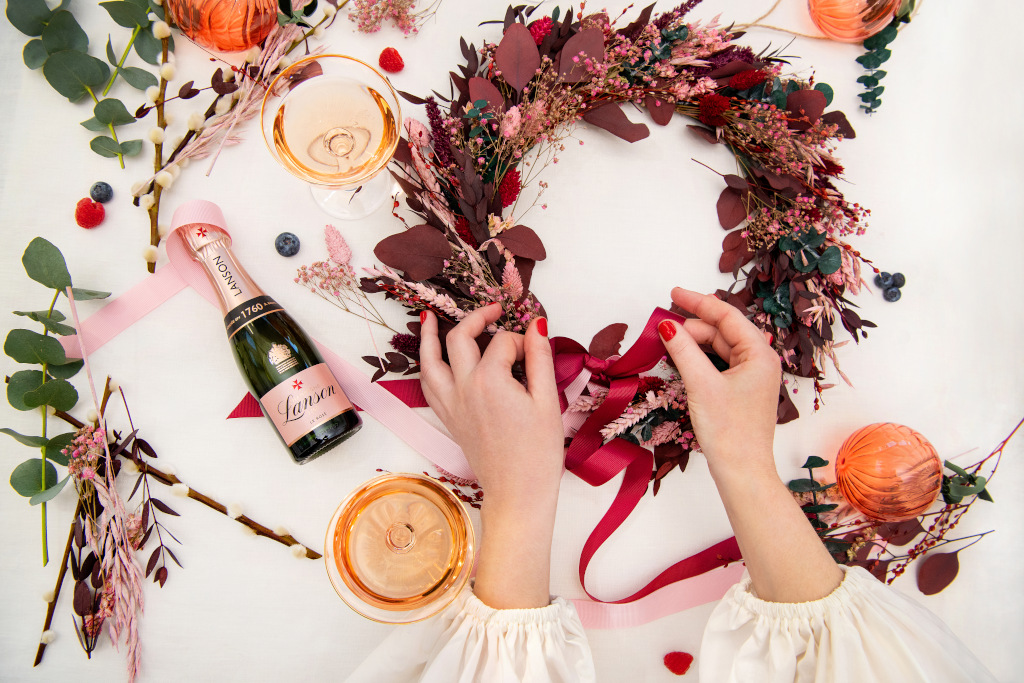 Not Feeling Crafty? Buy A Christmas Wreath
There are plenty of ready-made Christmas wreaths you can order to brighten up your door this festive season.  Our pick: The Ronny Colbie Christmas collection, all inspired by festive film classics. Ronny Colbie Miracle On 34th Street Wreath, from £75, ronnycolbie.com
DISCOVER MORE:
Christmas Lights in London | Best Places to Buy Christmas Trees in London