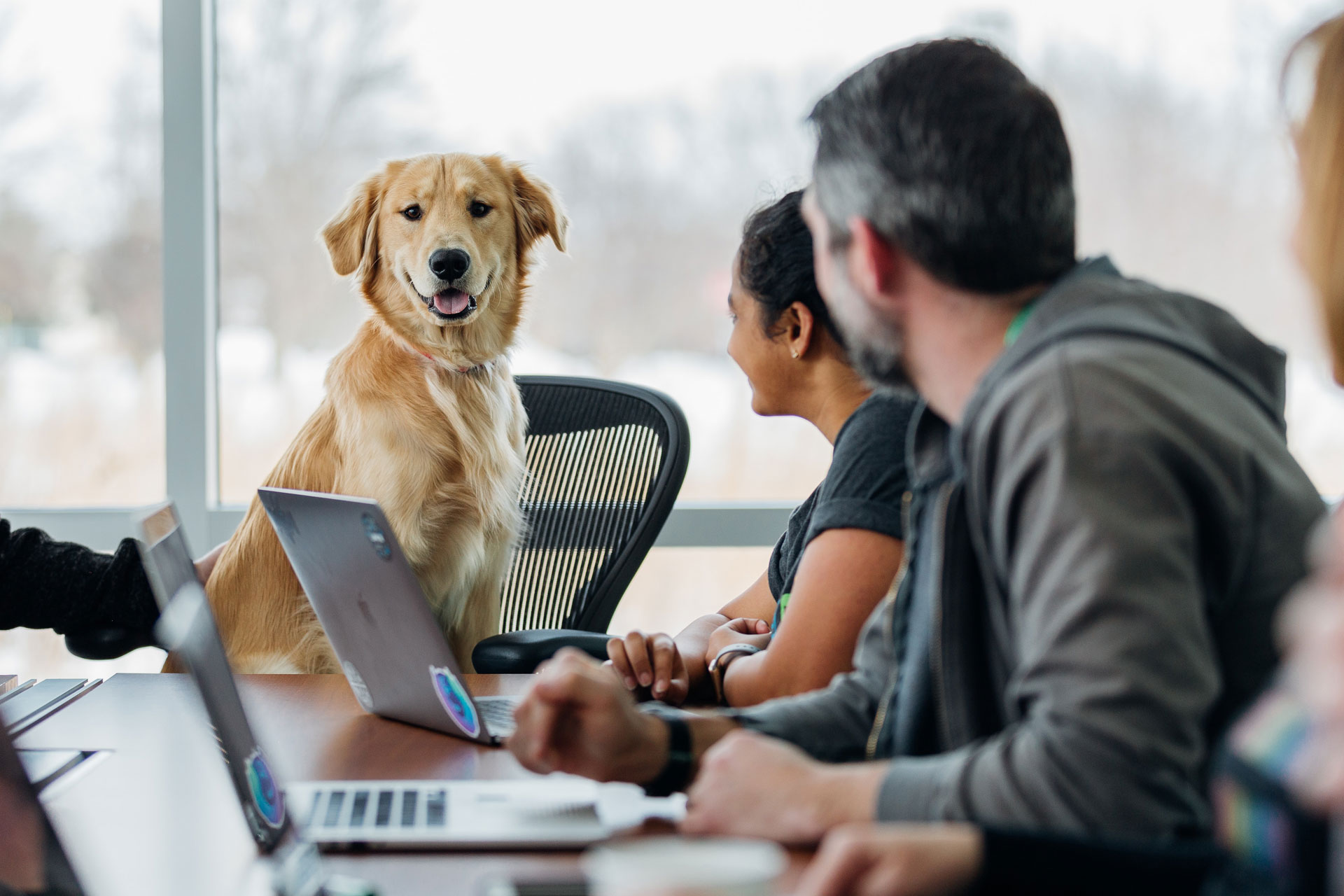 Do You Have An Office Petiquette Policy?
---
 As lockdown lifts and people head back into work, pet separation anxiety is at an all-time high. Now, more and more businesses are looking at ways to allow owners to bring their dogs with them. But would you take your pet into the office? Ashley Pearson lays out a case for office petiquette…
Taking Pets To Work: Yay Or Nay?
According to a recent survey, 1 in 3 people – and nearly 1 in 2 Gen Zers – say they got a new pet during the pandemic. And while quarantine has come with many challenges, it's only brought pets and their people closer together, with nearly all  saying they were able to bond with their pet more during this time. Now, more than half of owners agree they'll be most happy returning to their workplace if they can bring their pets, and 71% of Gen Zers and 48% of millennials are planning to request their employer implement a pet-friendly policy once offices fully open back up.
O&A Property, a London business office agent, is increasingly getting requests to find office space that is more flexible, post-pandemic, and this includes finding offices that allow dogs. This is also for peoples' mental health – not just the dogs – as they have got used to being with their dogs too. MD Peter Dudley says: "The past year has seen a real shift in the way we view working culturally – we no longer need the complete demarcation between home and office life. Many businesses now recognise that softening the edges of the working week may be beneficial to us emotionally – letting our home lives into our working lives a little – and this could include choosing office space that allows staff to bring their pets in. Our job at O and A will be to identify the exact balance that each client needs from us and find the right solution accordingly."
Mars Petcare Associate Adam Lomas has been bringing his Chow Chow dog Cooper in to work with him for the past three years, and now trains other associates on how to make this work. Adam says, "Our office has well-established 'petiquette' policies put in place to create a good environment for everyone.  Cooper sits next to me during the day, we use the lead, and we tie it to something under the desk. That way he can roam around my area but not everyone else's; it allows him to be comfortable and near to me, and it's not distracting to anyone I work with.  Of course, occasionally you need to get up and take them out, and make sure fresh water is available, but it adds a lot to your day. I have found that it really encourages social connection at work. People regularly come over to say hello to my dog; I've met so many people through Cooper. It makes the office feel a lot more connected and friendly – it really breaks down social barriers for conversations."
So if you get your boss on board, what do you need to do next?
A Dog's Life Podcaster and animal behaviourist Anna Webb says, "Dogs make such a positive contribution to a workspace. Science proves just having a dog in the room lowers stress levels, increases productivity and interaction between employees. I think what you need to be most mindful of is that an office dog mustn't bark unnecessarily equally you must train your dog to settle. This is easy to do and begins in the home. Settling on a mat or a bed is a useful skill whether in an office or just out in the pub, or at a cafe."
Animal Behaviourist and Mars Petcare Expert Dr Tammie King says: "Some questions you'll want to clear with your boss include: "Which types of pets will you allow? How often will you allow pets, i.e., every day or certain days of the week? What rules are most important to pet owners and non-pet owners?"
And once that's out of the way her advice includes:
Develop a "Pet-etiquette policy". Introducing pet dogs into the workplace, can offer a sense of comfort, help relieve stress and, in some cases, improve productivity. However, having dogs in the workplace is a privilege and it's imperative that owners take full responsibility and respect surrounding work areas and people. A formal policy can help ensure everyone has a positive experience, all guidelines, rules and controls must be adhered to, to ensure the health and safety of both people and pets on site.
Consider an approval process: Employees who wish to bring their dog onto site could request approval that includes health & behaviour considerations, and an induction for all new owners/pets including a tour of the office and confirming the areas in which dogs are allowed.
Offer a trial period: consider offering initial approval that will allow access to your dog for a 4-week trial period.Set up clear guidelines for in-office behaviour (e.g. providing dogs with adequate water and sufficient space to stand and lie down. Be clear which areas are on-lead and which are allowed off lead. Ensure your dog isn't a trip hazard laying in corridors that are high traffic areas within the office etc)
Create a two-strike rule: if your dog breaks any of the guidelines (e.g. damage to property, or making a mess) or excessively barks, or shows aggressive behaviour, a strike will be issued.  Strikes are valid for 12 months. Your dog will not be allowed to return to the office if more than two strikes are issued. This is to ensure that the 'dogs in the office' is a positive experience for everyone.
Adds Webb: "Being mindful that not everyone likes dogs, so you must train a polite meet & greet, no jumping up. and for the dog to understand settling in one spot. Naturally regular comfort breaks must be offered, and calm interaction with others in the office. Some employers choose to have a dog friendly floor, so those who might be allergic or afraid can have a floor where there are no dogs."
Are there any downsides?
Adam says, "Of course, there's going to be people scared of dogs and at Mars Petcare we have policies in place to minimise those. Naturally it's not great if you're allergic to animals, to work in an office of dogs, so we do take that into consideration to ensure that everyone is comfortable and feels taken care of. But allowing dogs really creates a great family environment and encourages employee loyalty and productivity. The dogs at work policy here and the way in which the culture is supportive of pet ownership was a massive draw for me – it is a great part of why I came to work here and why I will stay."
So the end of home-working doesn't need to be the end of that special relationship with your dog, but just prepare for your commute to get a lot more interesting…
Photo by Drew Hays