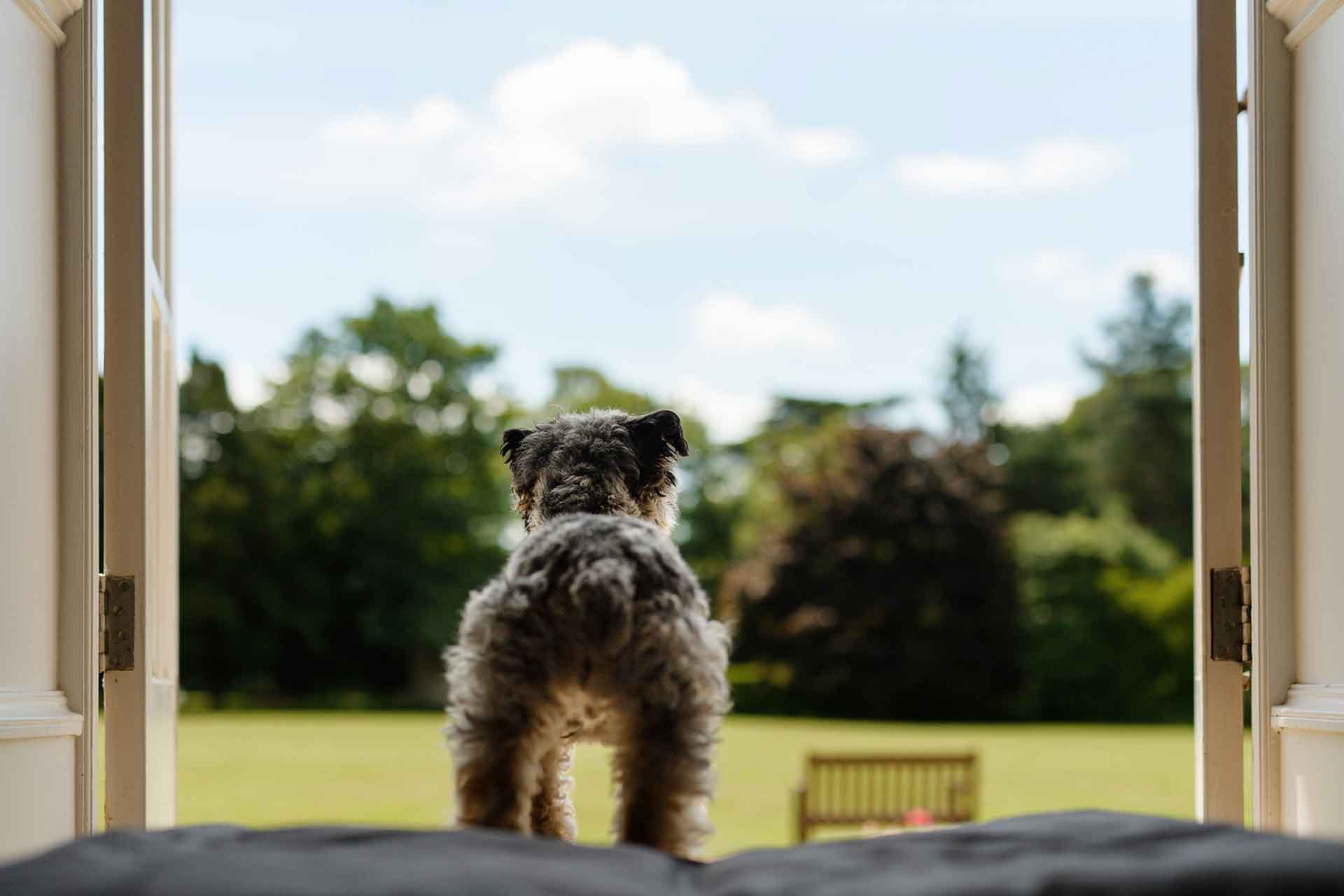 Dog-Friendly Hotels: 20+ Labradorable Places To Stay In The UK
---
Time for Fido's annual holiday? Look no further than these dog-friendly staycations
Em-bark-ing on a staycation adventure and hoping to take your four-legged friends away with you? Luckily, it has never been easier to travel with pets, and more luxury hotels and rentals than ever cater for dog lovers and their furry plus ones. If you're looking for a place to rest your head, pooch in tow, the search ends here. Here is our ulti-mutt guide to the UK's best dog-friendly hotels.
Read the C&TH Guide to Responsible Tourism
First, a few words of advice on taking your furry friend away with you. Most hotels allocate specific rooms for those bringing canines, so always ensure that you let the hotel know you're bringing your dog with you. Remember that not everyone loves dogs (the horror) and some people are allergic to them, so be mindful of other guests. Be a good dog owner and always clear up after your hound. Don't forget bags and a towel for cleaning muddy paws. Be aware of areas of the hotel that dogs are not allowed in – these typically include places where food is being served. If you're not sure, ask the reception team on arrival.
The UK's Best Dog-Friendly Hotels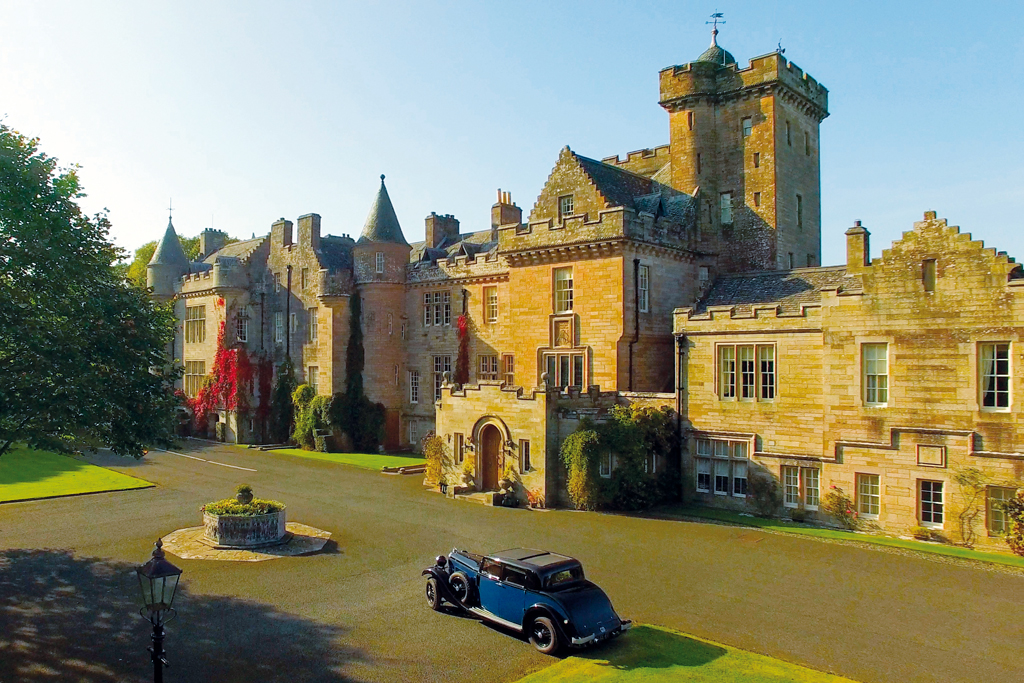 Glenapp Castle – Scotland
The stunning façade of Glenapp Castle is like something out of a Disney film with its enchanting towers and turrets. Located one and a half hours from Glasgow airport or just over a 400-mile drive from London, it's more than worth the journey. If your furry friend is happy to travel by car we recommend driving as it makes for an adventure full of breath-taking views. On arrival you'll find the warmest of Scottish welcomes. Each of the bedrooms and suites are unique, renovated and capture traditional Scottish luxury perfectly. Visitors refer to the 'Glenapp Magic' – a feeling that starts before check in and lasts until after departure.
Your Dog Will Love: The dog-loving staff, who give endless love and attention (and weren't in the least bit put out when muddy paws met a pristine white shirt). Dog-friendly rooms with direct access to the castle grounds. There are also star-gazing activities on offer at the hotel that you can take your four-legged friend along to.
Petiquette: There are extensive grounds for dogs to roam freely on but be sure to clear up after him or her. No one likes stepping in an unwelcome surprise while playing a round of croquet. The hotel doesn't allow dogs in the castle restaurant or the drawing room where food is being served. Review by Kim Pearson.
BOOK: glenappcastle.com
Airds Hotel – Scottish Highlands
Relais & Châteaux Airds Hotel is a dog-walker's heaven. With stunning views of Loche Linnhe and the Morvern Mountains beyond, all accommodation is dog friendly, along with specific dog friendly dining areas. In addition to recommending dog friendly walks, the Airds Hotel staff come with a prerequisite for pampering pooches and fuss over all four-legged guests. The hotel provides all canine overnighters with a fluffy blanket in their room and a fresh bowl of food and water on a regular basis. The Airds garden is the perfect place for a stretching run around before heading down to the local loche beach for a splash and a swim. Humans optional. 
BOOK: relaischateaux.com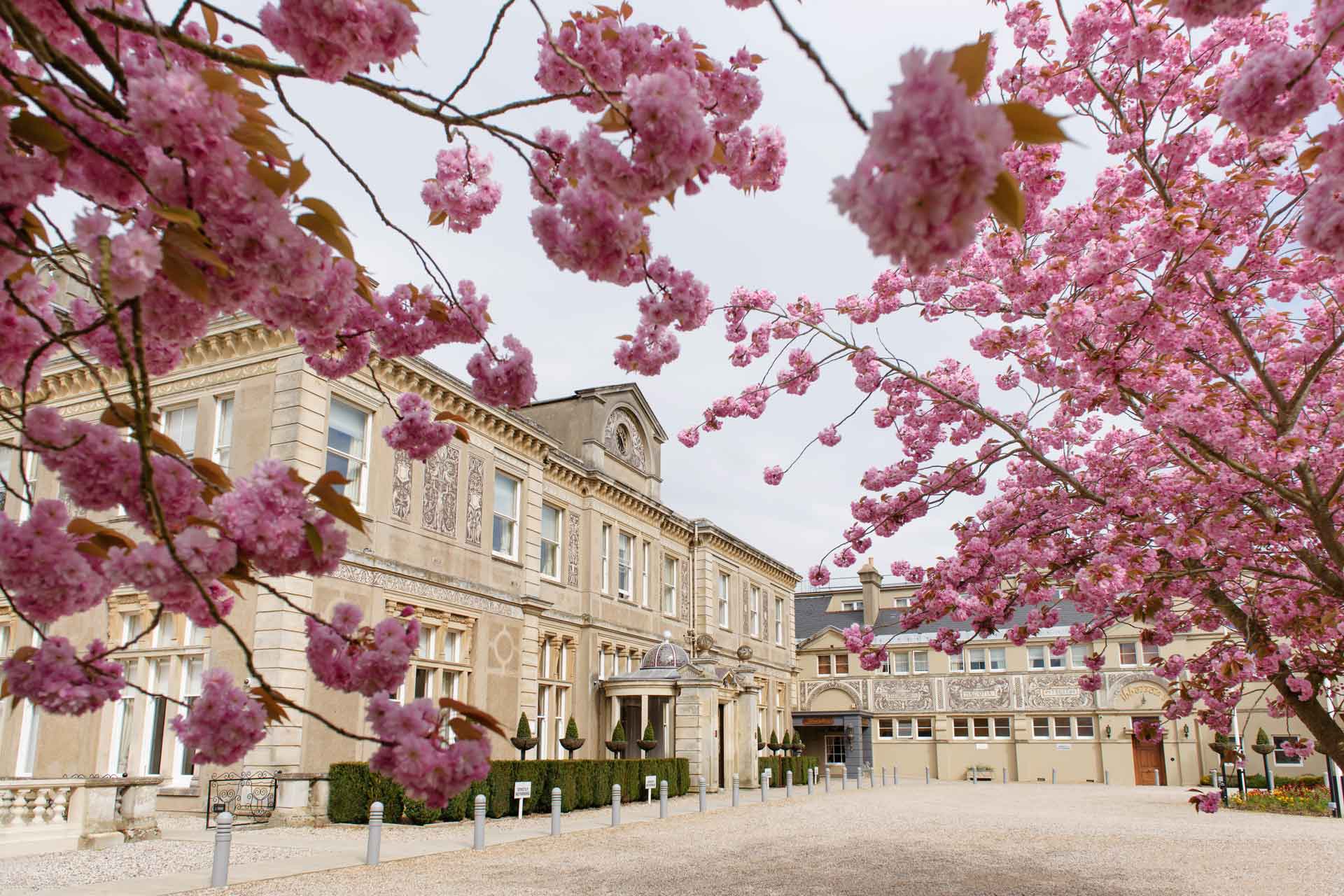 Down Hall – Essex
Just a 45-minute journey from London via Liverpool Street Station, Down Hall is situated in Bishop's Stortford within 110 acres of thriving gardens and woodland. It's the perfect destination for both dog and pet parent to explore and unwind amongst nature. If relaxation is top of your agenda, make sure you book in for a relaxing massage at Eden Spa. Unwind with tea on the terrace, or enjoy a cocktail in the Ante Lounge or Cocktail Bar. Enjoy dinner in the Garden Room restaurant, overseen by Executive Chef Graham Noonan-Chatham. The menu is prepared using fresh, seasonal produce and offers vegan and vegetarian options. Down Hall recently upgraded its grounds and facilities to ensure that guests, big, small and four-legged, can enjoy a relaxing stay within the property's expansive estate.
Your Dog Will Love: The ground floor room with direct access to 110 acres of beautiful gardens and woodland. Doggy room service, complete with homemade dishes, like Bow-Wow Tenderloin and Chow-Hound Chicken finished off with a pupcake.
Petiquette: Dogs are only permitted in designated pet-friendly bedrooms. The pet fee charge is £20 per night and includes a water bowl and snacks. Dogs are permitted throughout the expansive hotel grounds, and each of the pet friendly rooms have double doors leading onto an external area within the grounds. Pets are allowed in the lounges and on the outdoor restaurant terrace, but are not permitted in the Garden Room.
BOOK: downhall.co.uk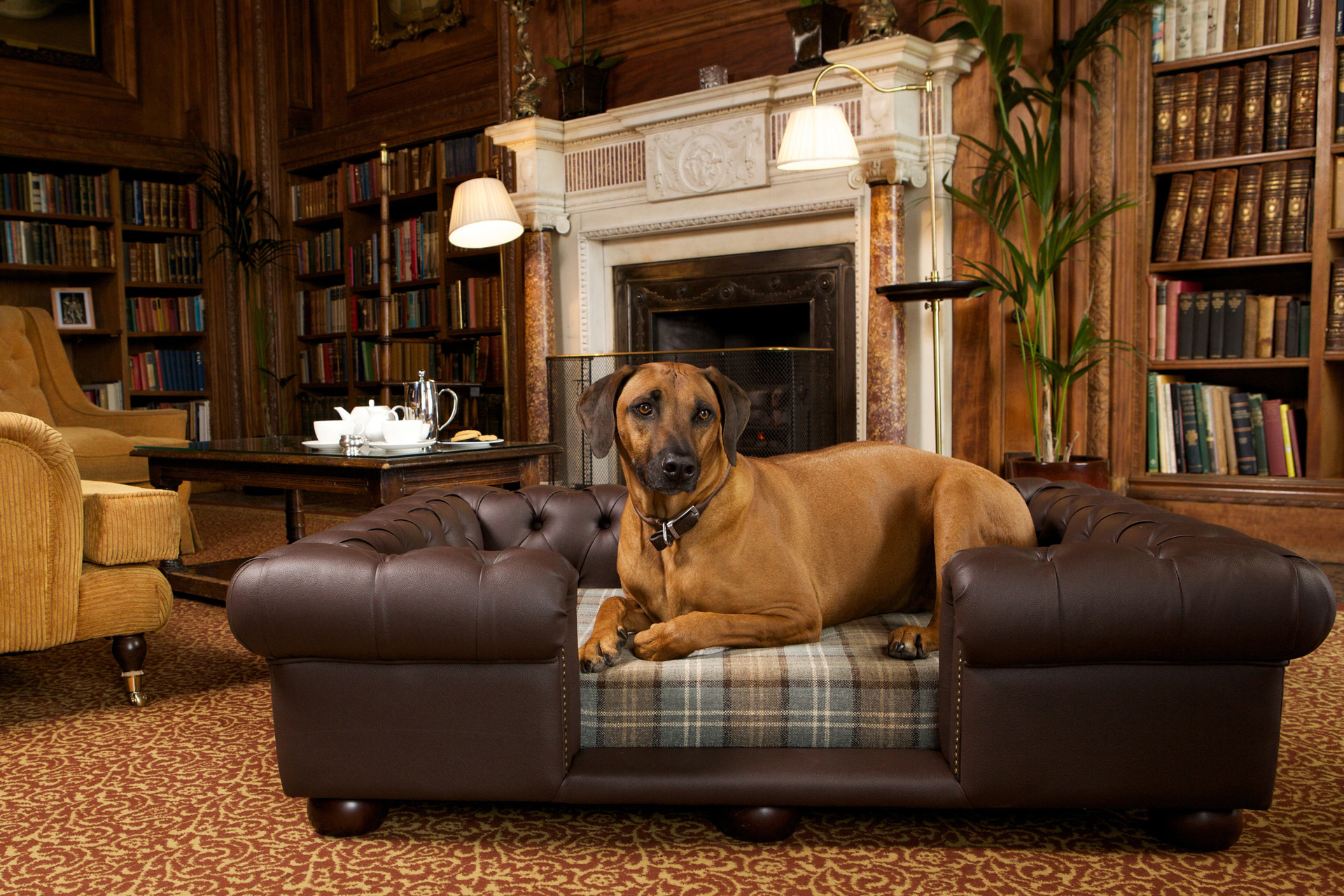 Cliveden House – Bark-shire
This historic National Trust Relais & Châteaux country house, just 40 minutes from London, is set in 376 acres of Grade-I listed formal gardens, and enjoys panoramic views over the River Thames. It is renowned as a venue for entertaining royalty and prime ministers, but it is pooches they treat best. With a doggie bed and bed time treat as standard for all four-legged friends, the highlight here is the special doggie menu in The Astor Grill at Cliveden, featuring fillet steak and rice, moistened with light gravy. After a meal fit for a king, pampered pooches can walk it off and explore the hotel's woodlands, riverbanks and formal gardens – there's plenty to sniff at around Cliveden.
BOOK: relaischateaux.com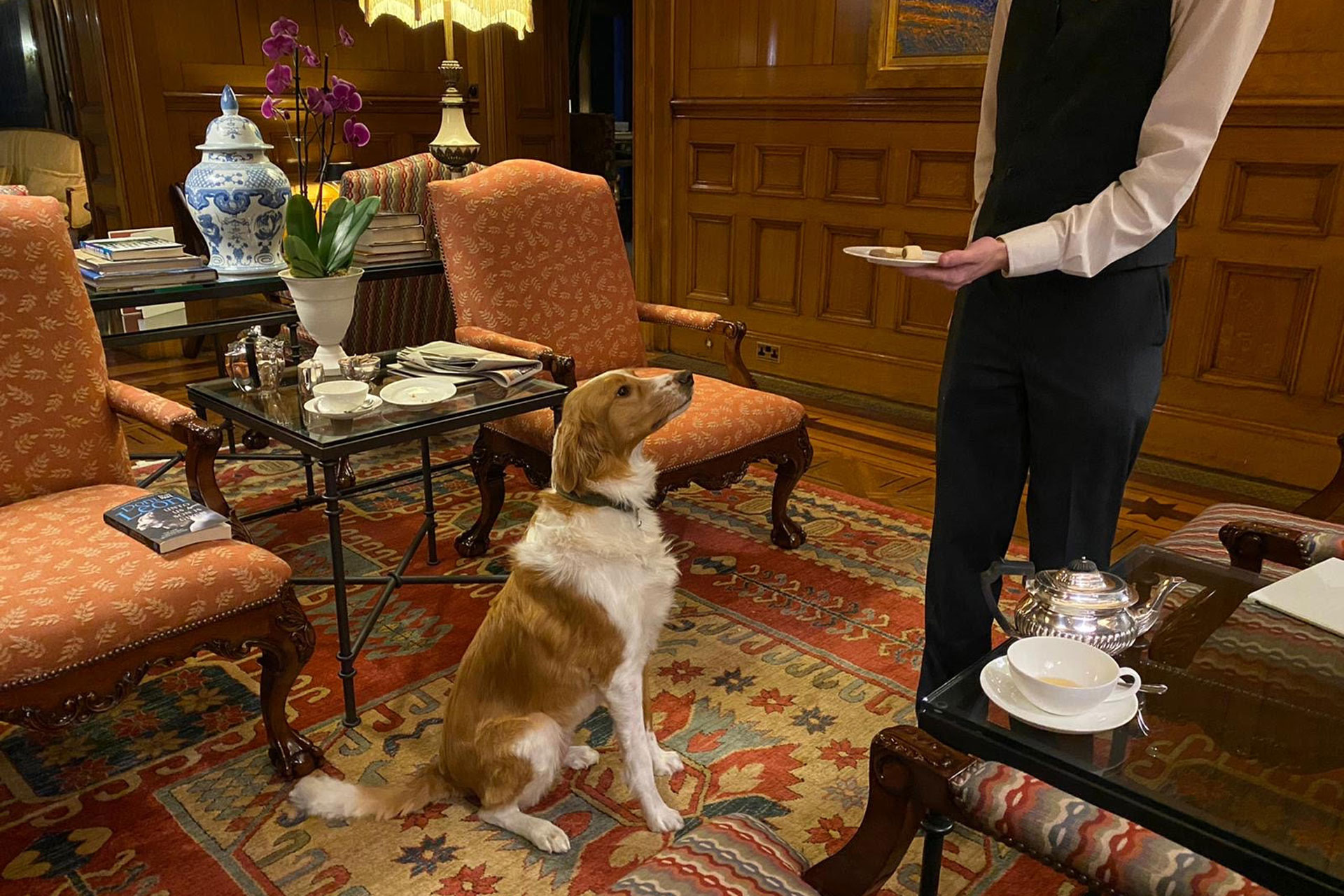 Palé Hall – Snowdonia
This luxury Relais & Chateaux country house hotel is positioned on the doorstep of Wales' Snowdonia National Park. Set in 16 acres of grounds, the beautifully landscaped gardens were filled with banks of daffodils when Lily visited. There are two restaurants to choose from. The Huntsman bistro, which welcomes dogs (the house cured smoked salmon started is a must) and a fine dining restaurant, offering five and eight course tasting menus. The hotel also offers self-catering apartments featuring hot tubs and golf buggy transfers to and from the main building. The eclectic mix of design styles throughout the hotel come together to create a cosy, run from the heart 'home from home'.
Your Dog Will Love: The provision of essentials left in the room including a doggy bath robe, perfect for keeping warm after baths and wet walks. Hikes in Snowdonia and offers of dog sitting and walking services. The more walks the better! And the kind staff who were never too busy to stop to shake paws and offer treats. A truly dog-friendly hotel in every way.
Petiquette: The hotel provides baby gates and request that dogs are kept in the bathroom (on a comfy mat provided) while you're not with them. They ask that dogs are kept off the beds and furniture. If your dog is of a nervous disposition you can arrange for a dog-sitter to stay with them in the room while you're not there. Review by Kim Pearson.
BOOK: palehall.co.uk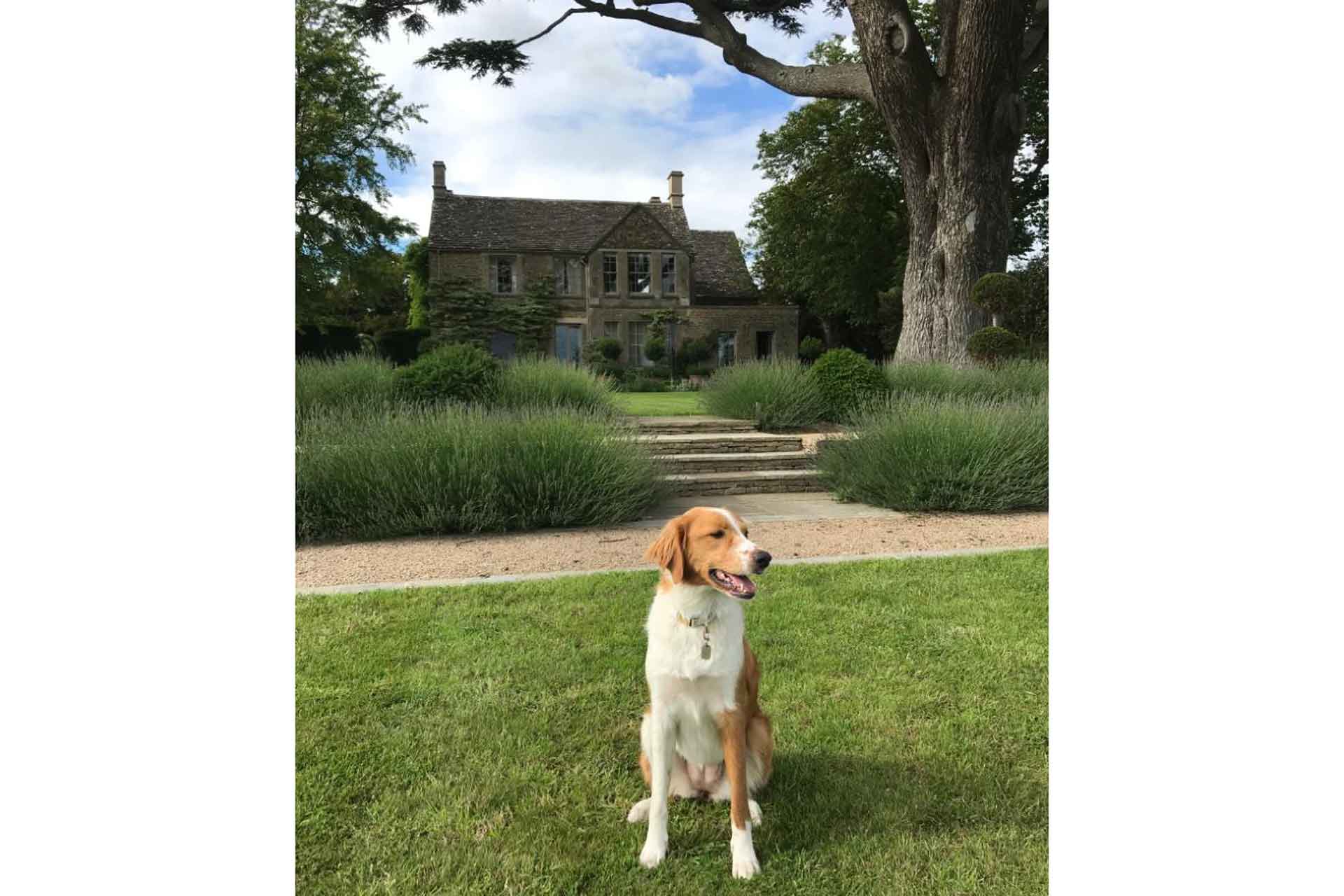 Thyme – Southrop, Cotswolds
Described as a village within a village, Thyme is located in the Cotswolds' Southrop, around 70 miles from London. It comprises a collection of restored historic buildings within an enclosed hamlet environment. The family who own this very special Cotswold destination are truly committed to environmental welfare – one of their many projects includes the beautiful planted meadow, carefully researched and curated to encourage wildlife. This and the cut flower garden are a must-see. Comprising restaurants, bars, a spa, cookery school, flower arranging classes and a farm, there's something for everyone to enjoy.
Petiquette: Certain areas of Thyme welcome dogs, but they're not allowed in the main bar and restaurant. There are specific rooms set aside for dogs so be sure to request one of these upon booking. Review by Kim Pearson.
BOOK: thyme.co.uk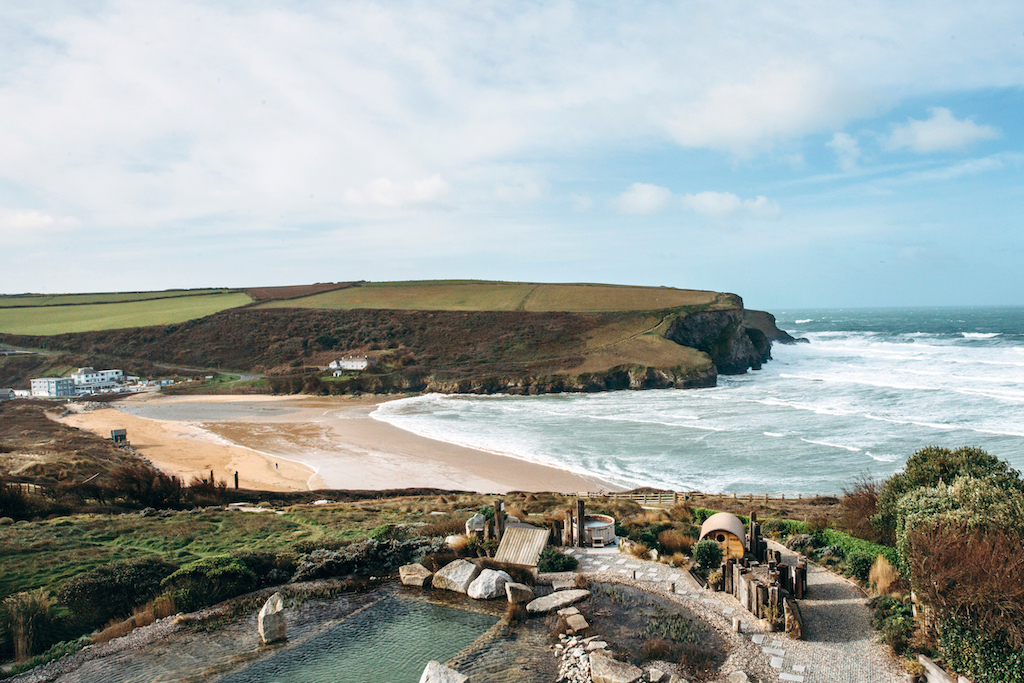 The Scarlet Hotel – Cornwall
Set into the cliffs overlooking Mawgan Porth Beach, The Scarlet offers stunning views of the Cornish cliffs, sea and skies. The hotel has been designed to connect you with the outdoors, so if the weather is good, enjoy some fresh air poolside or the cliff-top hot tubs. When it's not so pleasant, snuggle up in the relaxation lounges or treat yourself to a massage at the Ayurvedic inspired spa.
Petiquette: There are five dog friendly hotel rooms so make sure to ask for one of these when booking. The hotel has both dog-friendly and dog free areas around the hotel, to ensure that all guests are comfortable. While The Scarlet is dog friendly, the hotel is designed for adults and doesn't typically host under 18s. Fur babies only! Review by Kim Pearson.
BOOK: scarlethotel.co.uk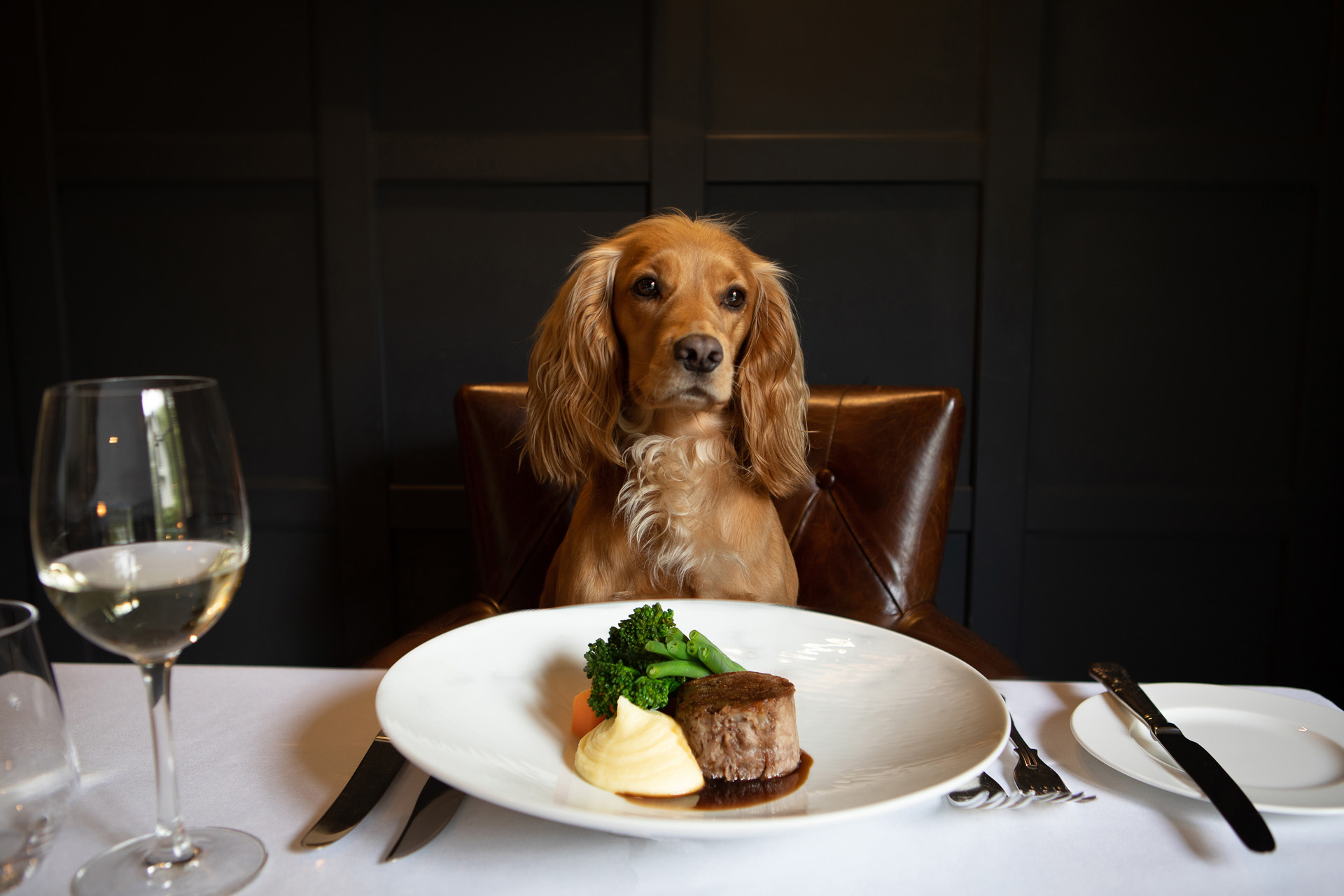 Rothay Manor – Lake District
Follow in the Lakes Poets' footsteps and hunker down in a Lake District manor house. Your pup will love exploring the pinnacle of British countryside but, over at Rothay Manor, they'll love their comfy George Barclay dog bed even more. The hotel is spacious and comfortable, with a Drawing Room for coffee, drinks or afternoon tea, the Brathay Room for breakfast and dinner, and a dedicated dog wash and boot room with Ruff & Tumble dressing gowns so furry guests can rinse off muddy paws after a day on the fells.
BOOK: rothaymanor.co.uk
Heath Hall Farm – Surrey
A study by Simoniz recently revealed that Heath Hall Farm is the place to take your furry friend for your annual staycation. Located on a farm nestled in the the sprawling hills of Surrey, guests can choose from a selection of Shepherd's huts (with hot tubs!) to spend the night. Take advantage of the setting during the day with the bicycles provided by exploring the local area – Midhurst Polo Grounds, Goodwood Race Course and Motor Racing Circuit, and Petworth Park are all a short distance away. In the evenings, unwind to the sounds of nature (and the odd farm animal or two). Prepare to be greeted by Dotty and Mabel, the owners' dogs, who will surely make a good playmate for your canine. Taking your pooch will cost an extra £10, but it'll be worth it to see their happy face once you get there.
BOOK: heathhallfarm.co.uk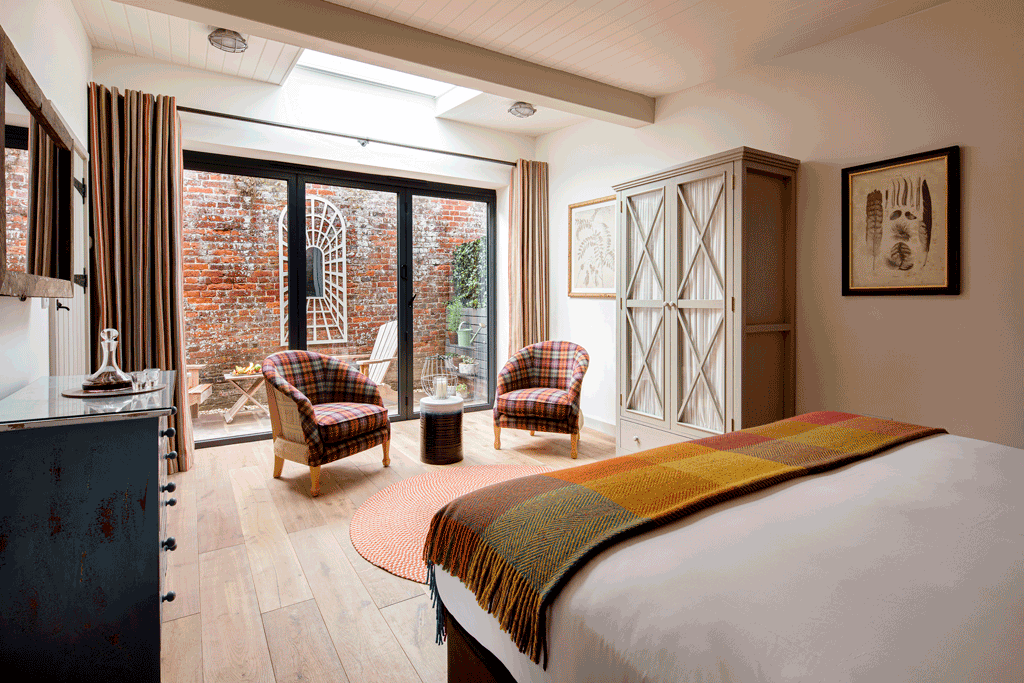 The Eastbury – Sherborne, Dorset
Pups will love The Eastbury, a countryside hotel located in the picturesque town of Sherborne, Dorset. There are nine cosy dog-friendly rooms available – most of which include their own private garden – with a dog bed, bowls, treats and a toy provided upon arrival. Canines are welcome to breakfast, lunch and dinner in the hotel's award-winning Seasons restaurant, where they'll even be treated to their own chef-made meal – chicken and rice for supper and sausages for breakfast. As for things to do, delight in the hotel's favourite dog-friendly walk where you'll catch sight of the 16th century Sherborne Castle, then potter through town and enjoy a wealth of quirky independent shops, historic pubs and the spectacular Sherborne Abbey.
BOOK: theeastburyhotel.co.uk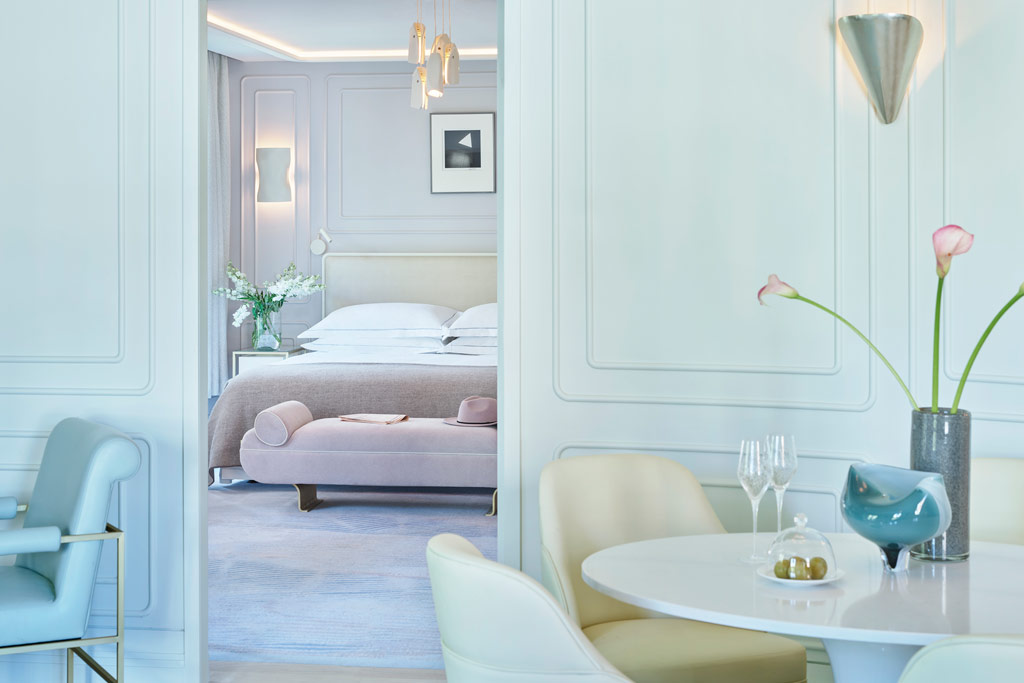 One Aldwych – London
A recent addition to the dog-friendly hotel scene, Covent Garden's One Aldwych – renowned for its enviable central London location and sumptuous interiors – is now encouraging guests to treat their furry friends to an unforgettable stay. Launched in partnership with dog boutique and grooming parlour Bow Wow London, the hotel offering includes a bed and bowl for pups to use throughout their stay, plus delicious treats from Bow Wow. Why not go the extra mile and book your pup in for a much-deserved pamper at the Covent Garden store? Then treat yourself to an equally-deserved treatment at the hotel's resident Health Club.
BOOK: onealdwych.com
Chewton Glen – New Forest
Located in the heart of the New Forest, Chewton Glen offers four-legged friends plenty of options for woodland and coastal walks. The 18th Century Relais & Châteaux country house hotel and spa boasts 14 luxurious Treehouse Suites for doggie guests to sleep nestled in the magical New Forest. To ensure dogs feel welcome, dog treats, beds and bowls are ready and waiting on arrival – and can even be personalised upon request. Dogs with a spring in their step will also enjoy the hotel's location, which is just a few minutes' walk from the beach and rocky coastline of the New Forest National Park, meaning there are plenty of wonderful walks for woofers.
BOOK: relaischateaux.com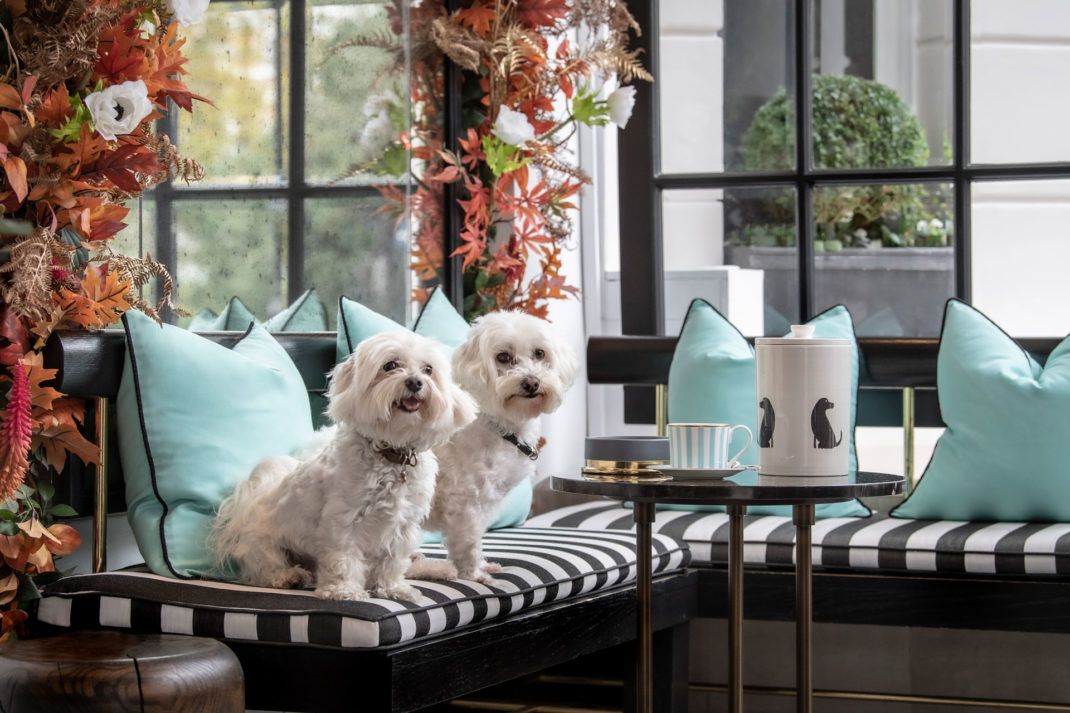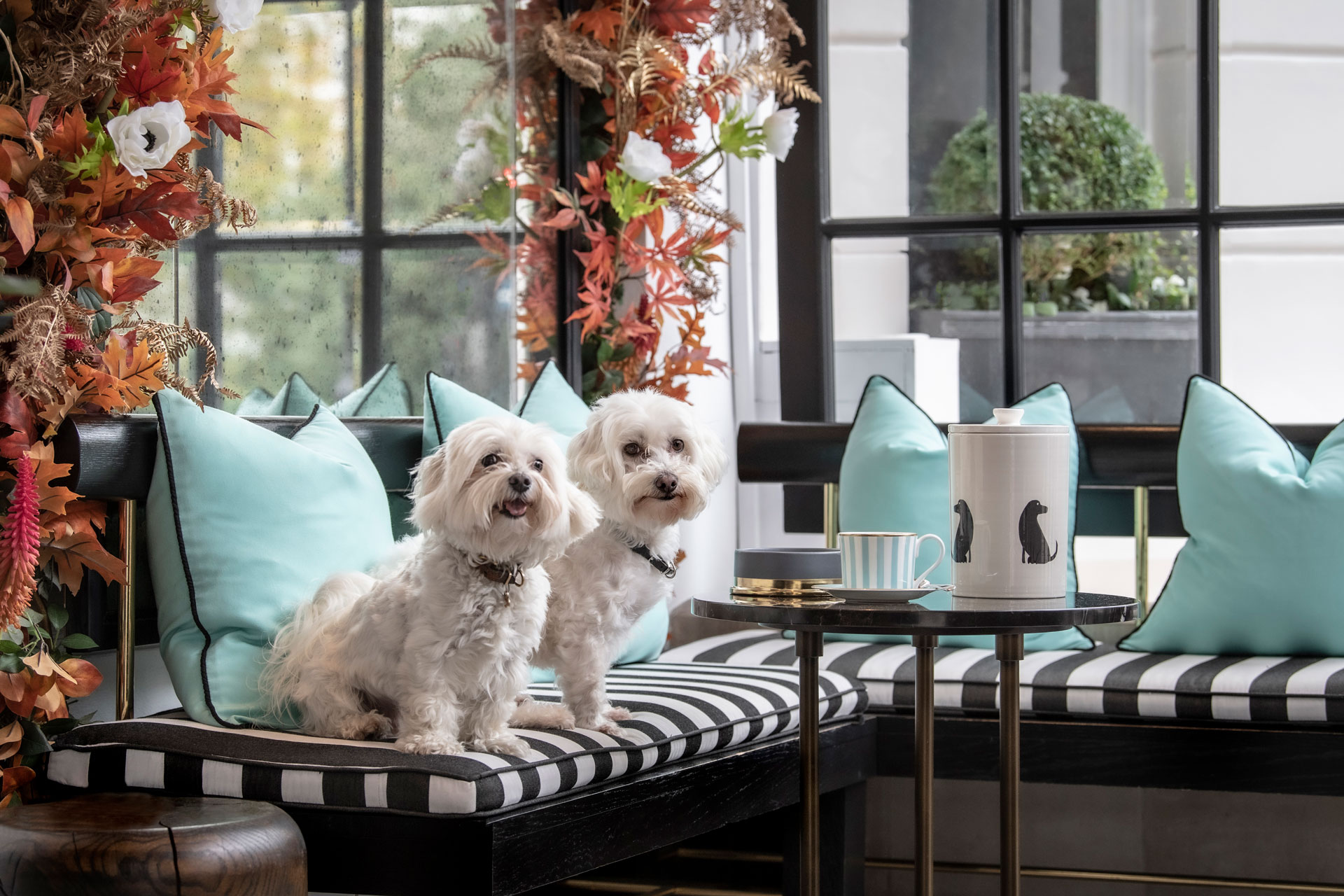 The Kensington – London
There's much for owners and dogs to enjoy at this renowned townhouse hotel – namely, the launch of its newest dog-friendly offering, 'It's a Dog's Life at The Kensington', where guests – and pups, of course – can experience a luxurious stay in a newly refurbished room or suite, including a delicious a la carte breakfast. Dog beds, blankets, food and water bowls are each provided, whilst the hotel is surrounded by a number of parks and dog-friendly spots which furry friends will love – just ask the concierge if you're in need of a walking route. Pups are also invited to tea in the hotel's cosy portico – the ideal spot to rest up after a day spent exploring the city.
BOOK: Available until 30 December 2022. doylecollection.com

Buxton Crescent – Buxton, Derbyshire
If it's a weekend of long walks you're looking to enjoy with your pup, you can't go wrong with The Peak District. Located on the edge of the national park, Buxton Crescent – an impressive Georgian Grade I listed building, having undergone an extensive hotel renovation – is an ideal dog-friendly place to stay within the country. There's much to explore outside of the 18th century hotel, from the Peak District's rolling hills to the charming and historic spa town of Buxton. The hotel spa is also worth noting – complete with a restored Victorian swimming pool – as well as the inviting hotel lounge and bar where pups and owners can snuggle up by the open fire.
BOOK: ensanahotels.com

The Egerton House Hotel – London
Dogs are more than welcome at Knightsbridge's The Egerton House Hotel. The luxury five-star establishment – located just a stone's throw from Hyde Park – even offers Doggy Afternoon Tea in the Drawing Room; think chicken and beef meatloaf, homemade dog biscuits and delicious 'doggy' ice cream. Pups are also treated to VIP grooming, pet-friendly beer or champagne upon arrival – I say! – and custom-made pet beds. There's even a dog walking service in case you can't bare to leave the sumptuous confines of the hotel.
BOOK: egertonhousehotel.com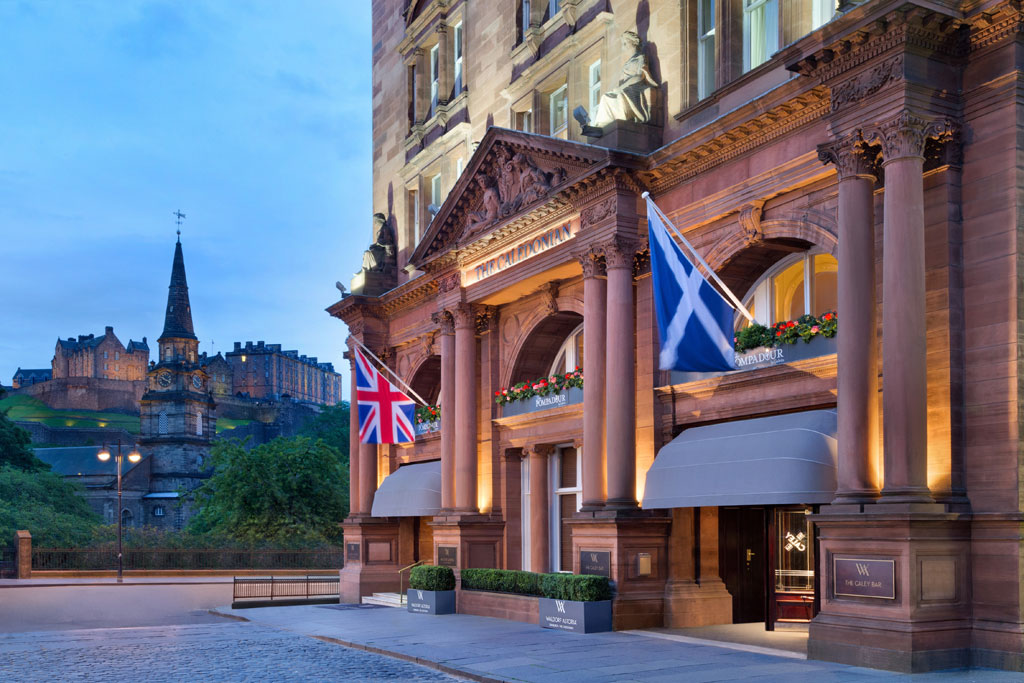 Waldorf Astoria Edinburgh The Caledonian – Edinburgh
Don't take a trip to Scotland without your furry friend in tow. The historic Waldorf Astoria Edinburgh – the Caledonian welcomes pups of all shapes and sizes and boasts and enviable location, right at the centre of Edinburgh old town. Enjoy an array of scenic walks exploring the city, through the Royal Mile, to Edinburgh Castle and across the hilly Arthur's Seat. Revitalise in the spa (taking advantage of the whirlpool and sauna), then enjoy a tipple at The Caley bar, a sophisticated Victorian drinking spot inspired by the Caledonian Railway.
BOOK: hilton.com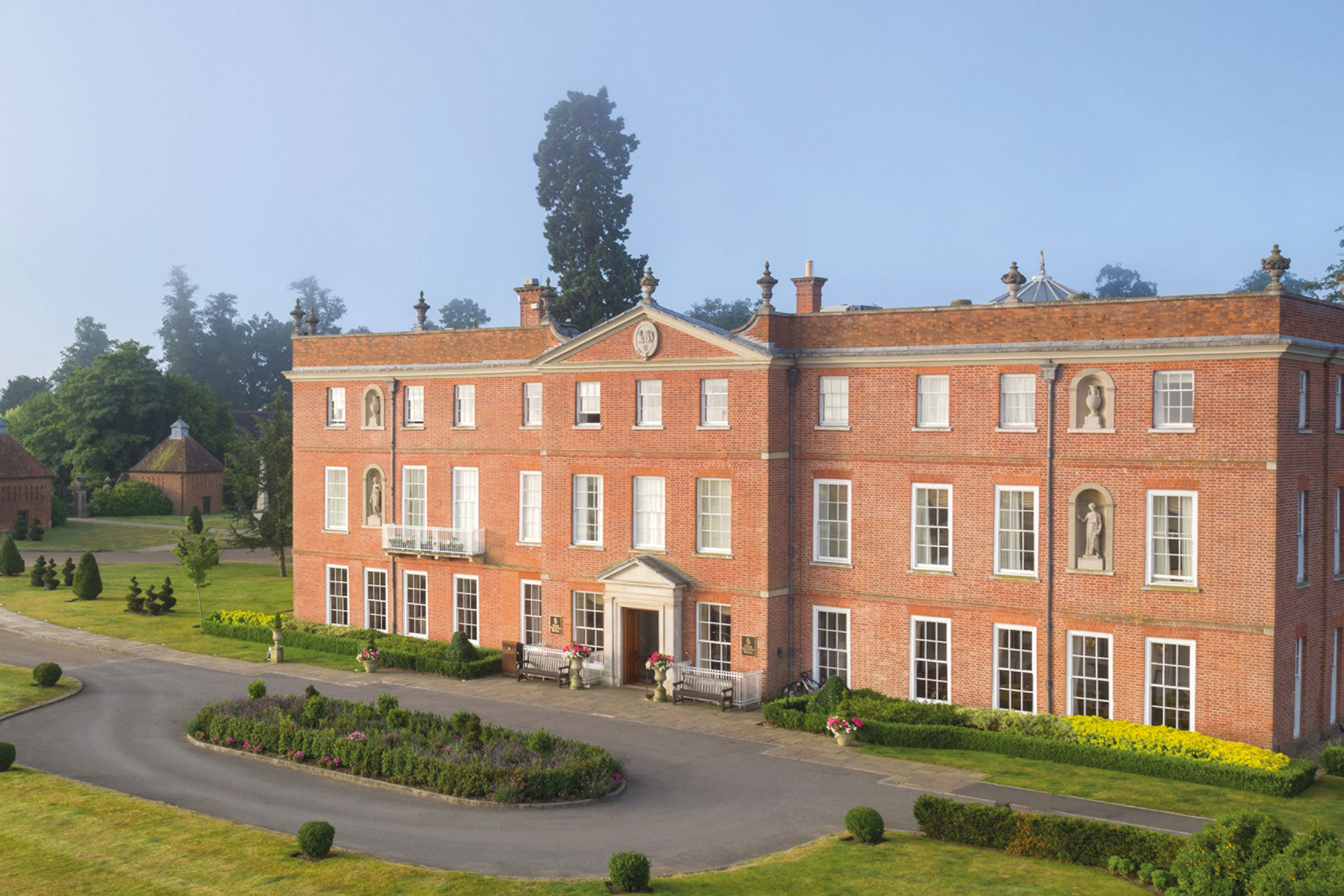 Four Seasons Hotel – Hampshire
At the Four Seasons in Hampshire there are 500 acres of gorgeous grounds to explore – meaning early morning walks are equally fun for you and your four-legged friend. Afterwards, sit outside the Wild Carrot bar for lunch or book a table on the terrace of The Library for afternoon tea. A bed, bowl and food are provided, and the concierge can arrange dog sitting (at extra cost) on request.
BOOK: fourseasons.com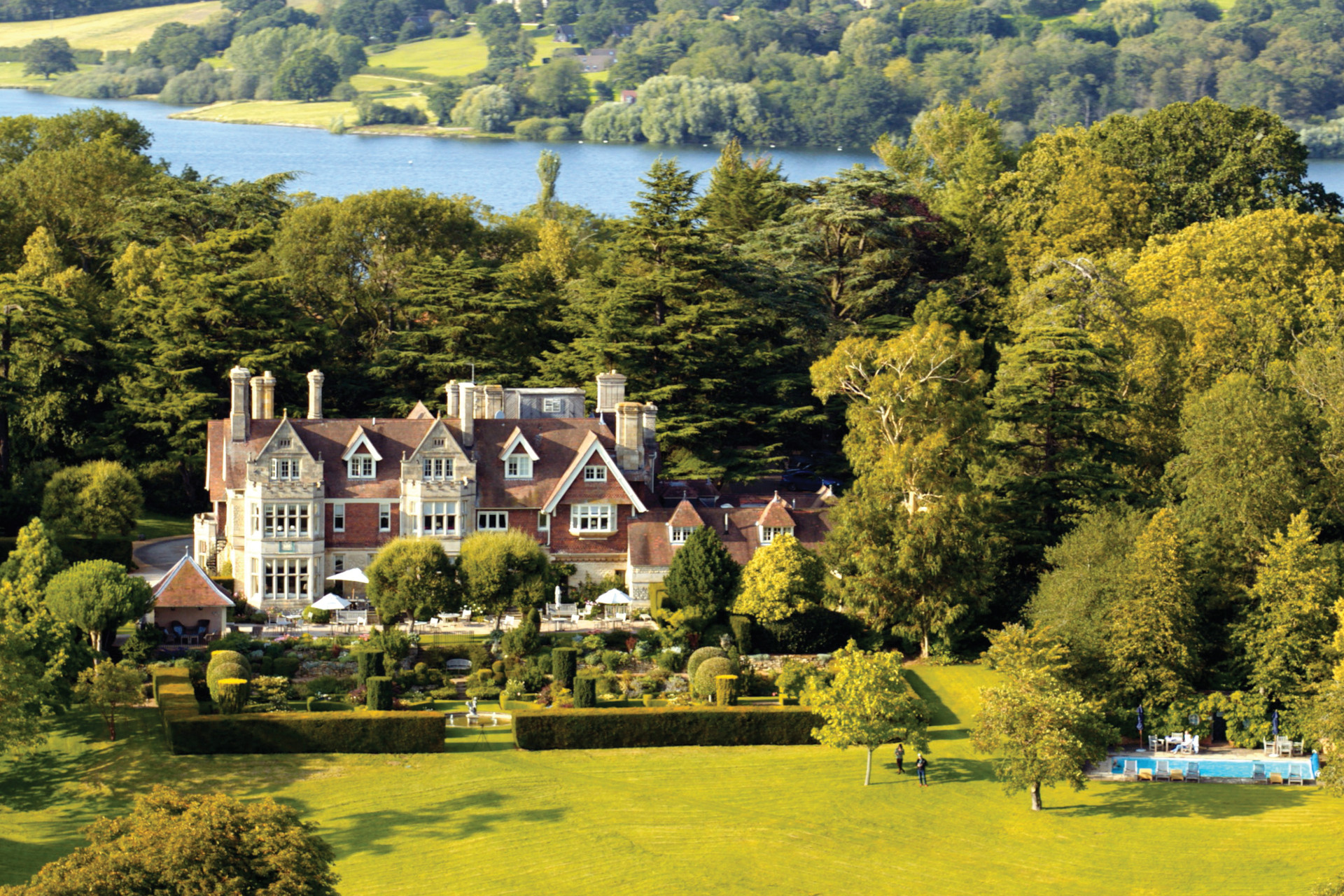 Hambleton Hall – Rutland
Hambleton Hall is a classic countryside getaway with 17 acres of grounds and gorgeous gardens. Enjoy the sitooterie on the south-facing terrace or, post winter walk, warm up in front of an open fire in the hall, where dogs can sit and watch the world go by. Ask in advance and the team can arrange anything from bedding and bowls to crates and cuddly toys. They can even sort out a dog sitter.
BOOK: hambletonhall.com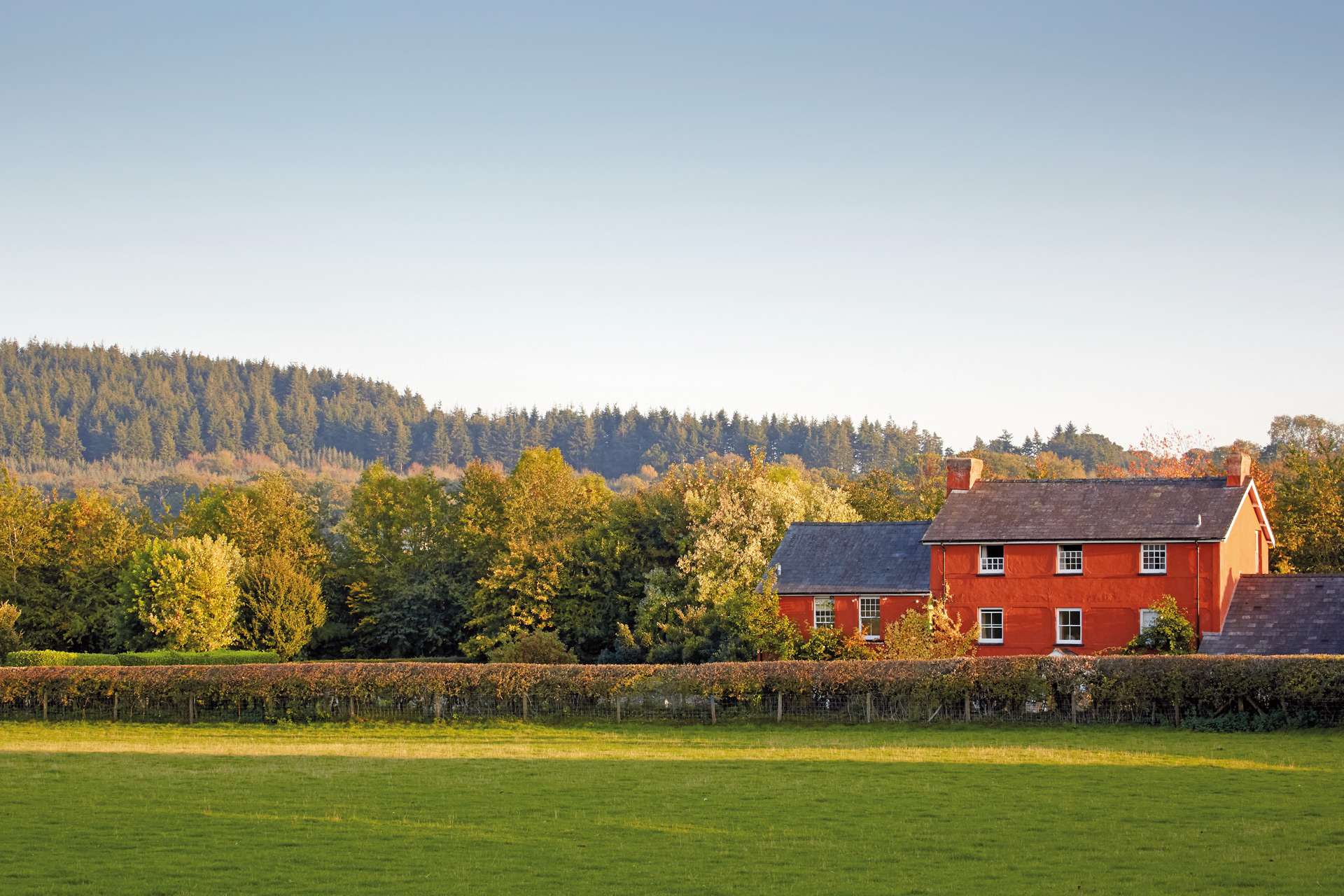 The Felin Fach Griffin – Powys, Wales
This cosy redbricked pub with rooms near Brecon welcomes dogs as much as their owners – and for no extra charge. Canine companions can patter round the bar and sit under the table while you tuck into dishes of pork ribeye or sea bream in the dog-friendly Tack Room dining area. A towel and a selection of tempting biscuits are provided in the rooms for dog guests, too.
BOOK: felinfachgriffin.co.uk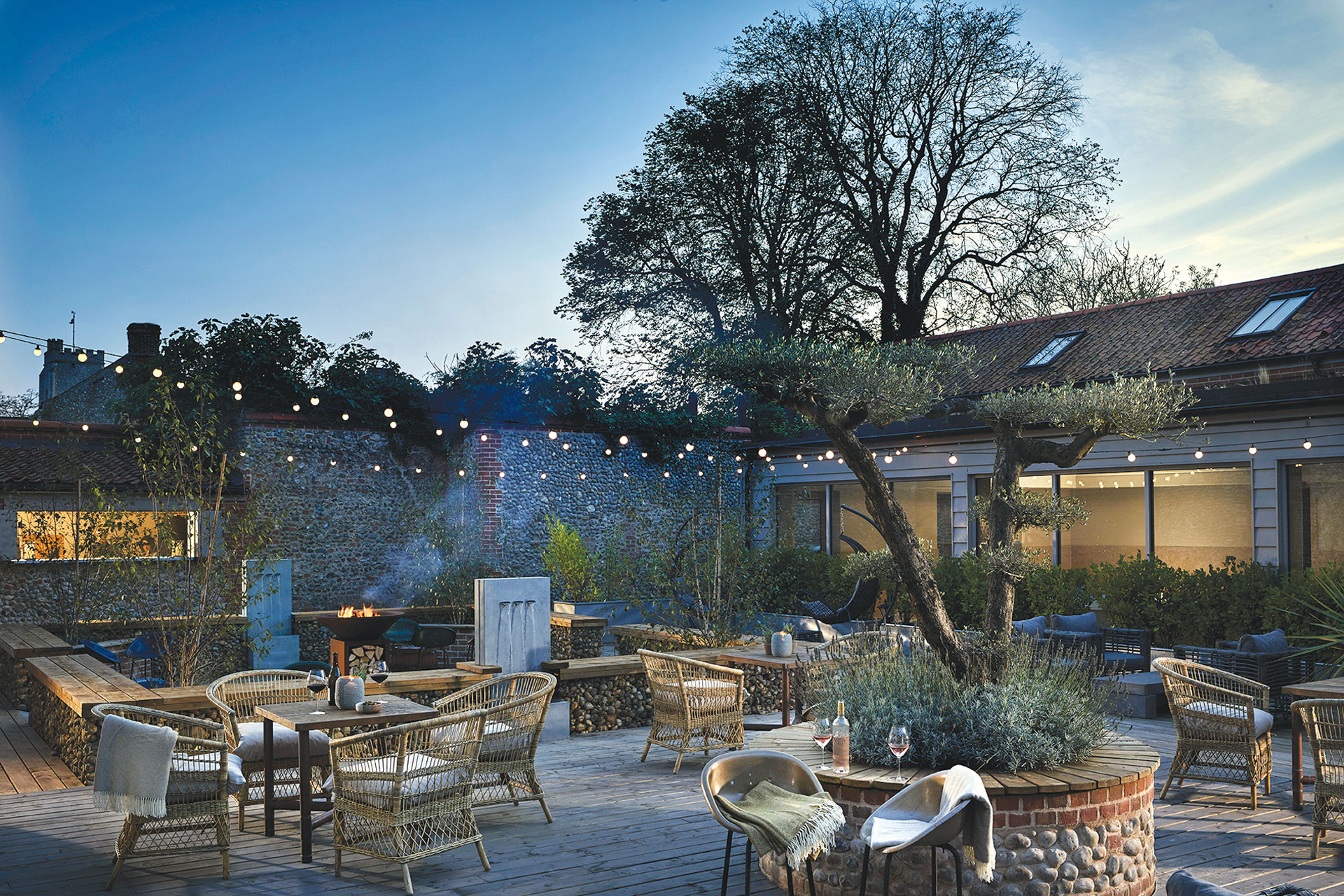 The Harper – Langham, Norfolk
There are plenty of social spaces at The Harper hotel in Langham and nearly all of them are suitable for dogs, from the casual lounge, Ivy's, with its living room style (where you can also sit down for supper) to the sun-filled courtyard and cosy bar. There are tasty treats in reception, dog beds available on request and an outdoor roll top bath, the 'dog and boot', for washing sandy paws after days out at gorgeous Norfolk beaches like Wells-next-the-Sea or Brancaster Beach.
BOOK: theharper.co.uk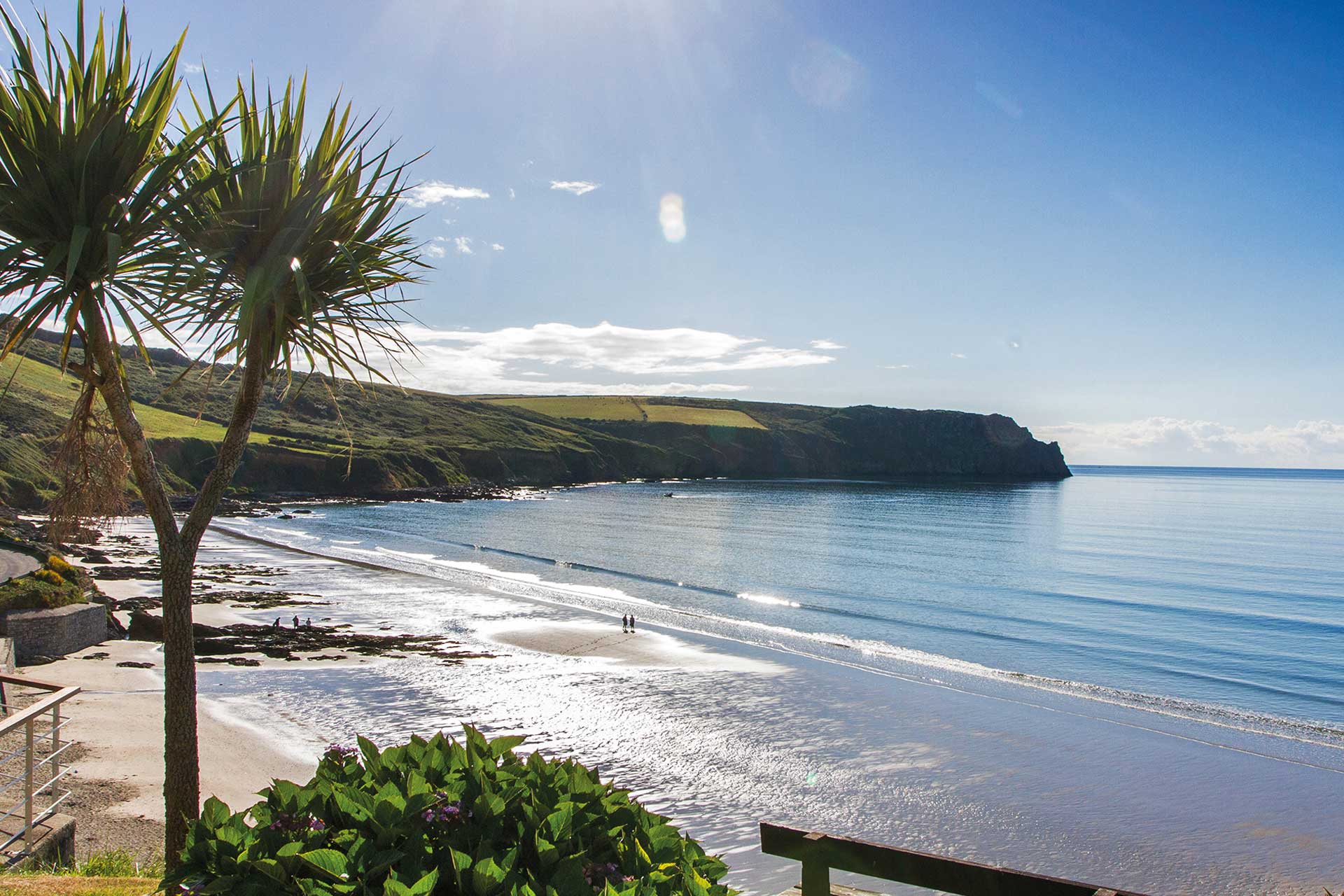 The Nare – Cornwall
Perched above gorgeous Carne Beach, which is perfect for afternoon games of fetch, The Nare allows dogs in all of its rooms including the sea-facing Whittington Suites that launched last year, each with a large private balcony. There's a doggie dinner menu which includes the chef's dish of the day (cold cuts), self- catering kennels for working dogs and the South West Coastal Path that runs past the hotel for spectacular walks by the sea.
BOOK: narehotel.co.uk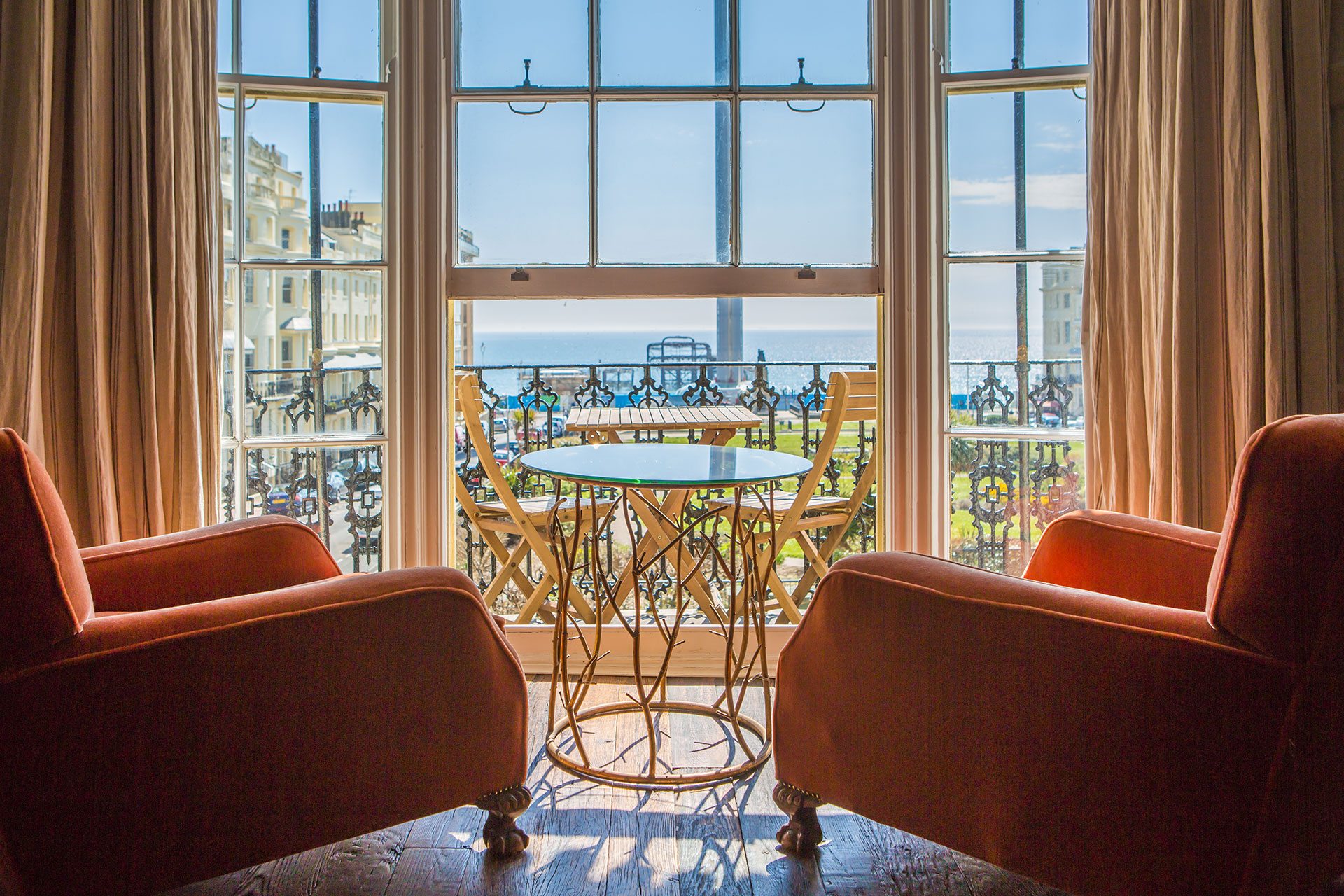 Artist Residence – Brighton
The brilliant location of this boutique bolthole, a two-minute walk from the seafront, makes it a shoo-in for a four-legged coastal escape. For hounds who really want to run free, the South Downs are just a short drive away. The Bigger Sea View and Below Deck rooms are dog friendly, where there will be a bed, bowl and Lily's Kitchen treats waiting. Dogs are also welcome to join you in the buzzing café-bar, while you sip morning coffee or early evening cocktails.
BOOK: artistresidence.co.uk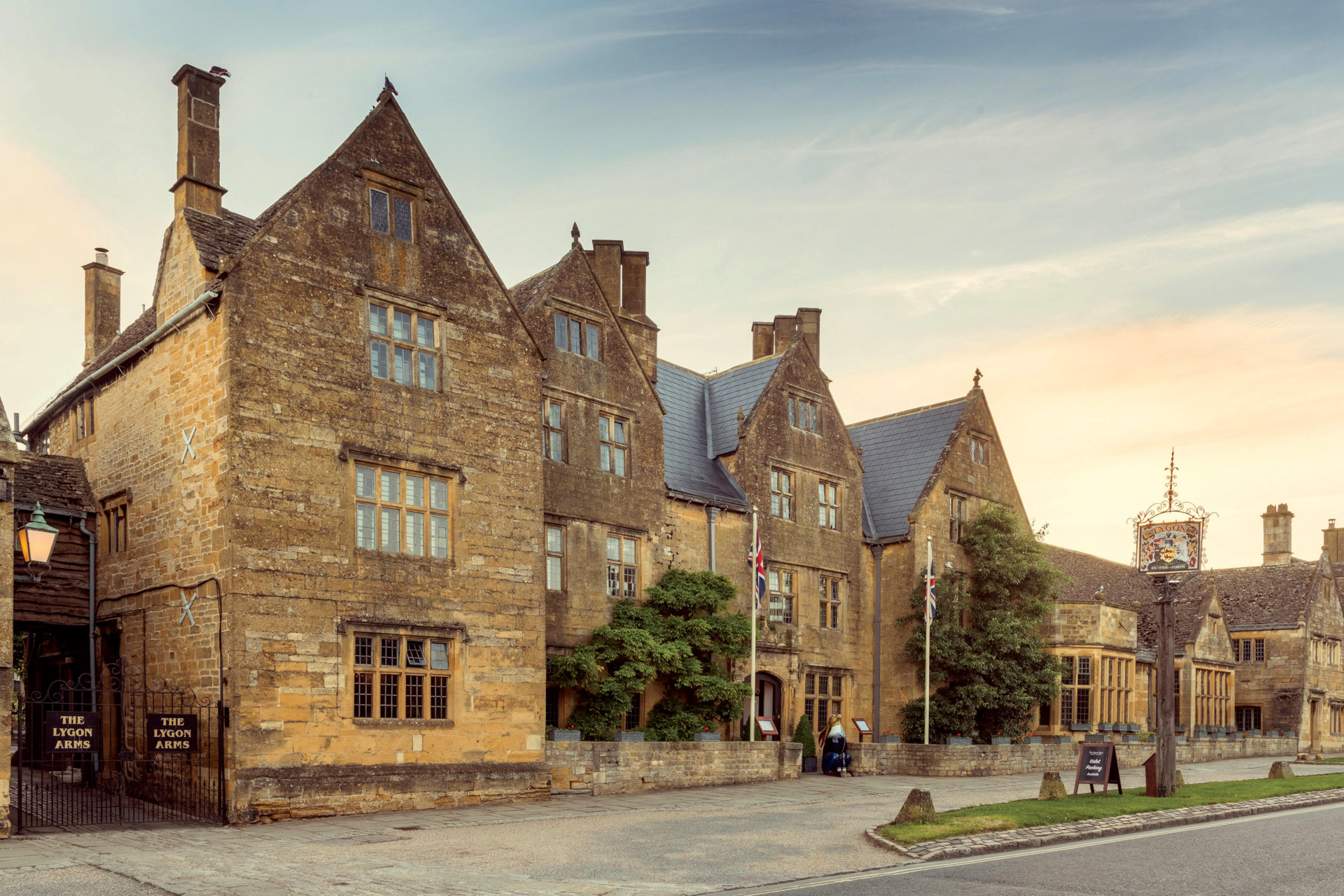 The Lygon Arms – Broadway, Cotswolds
Taking your canine companion to dinner is positively encouraged at The Lygon Arms, which serves up dishes such as beef steak or sausages to hungry hounds in the Russell Room lounge. There are great walks around Broadway; afterwards, clean up at the muddy paws station in the hotel courtyard. Ask about a 'nails and tails' spa session too – while you have a relaxing massage, Broadway Dog Groomers will spoil your pooch with a bath and facial.
BOOK: lygonarmshotel.co.uk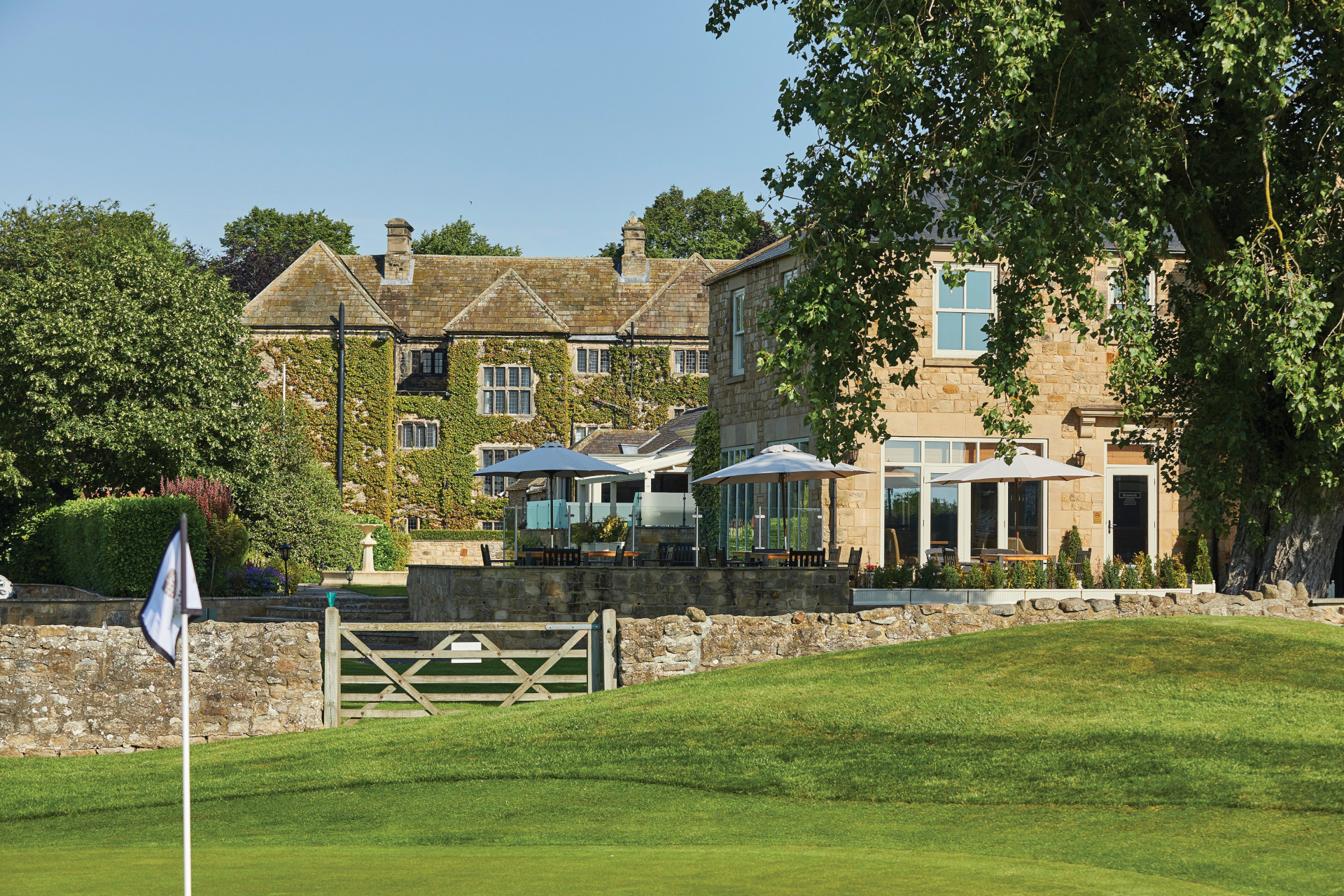 Headlam Hall – County Durham
At this country house retreat, the Mews bedrooms (ground floor, with direct outside access and a dedicated parking space) and self-catering apartment The Hideaway are both ideal for dogs and can be kitted out with a special bowl, towel and biscuit treats. Four-legged companions are also allowed in the brasserie, the main hall lounge and bar, as well as the walled garden. A few yards away is the village green for an off-lead run-around.
BOOK: headlamhall.co.uk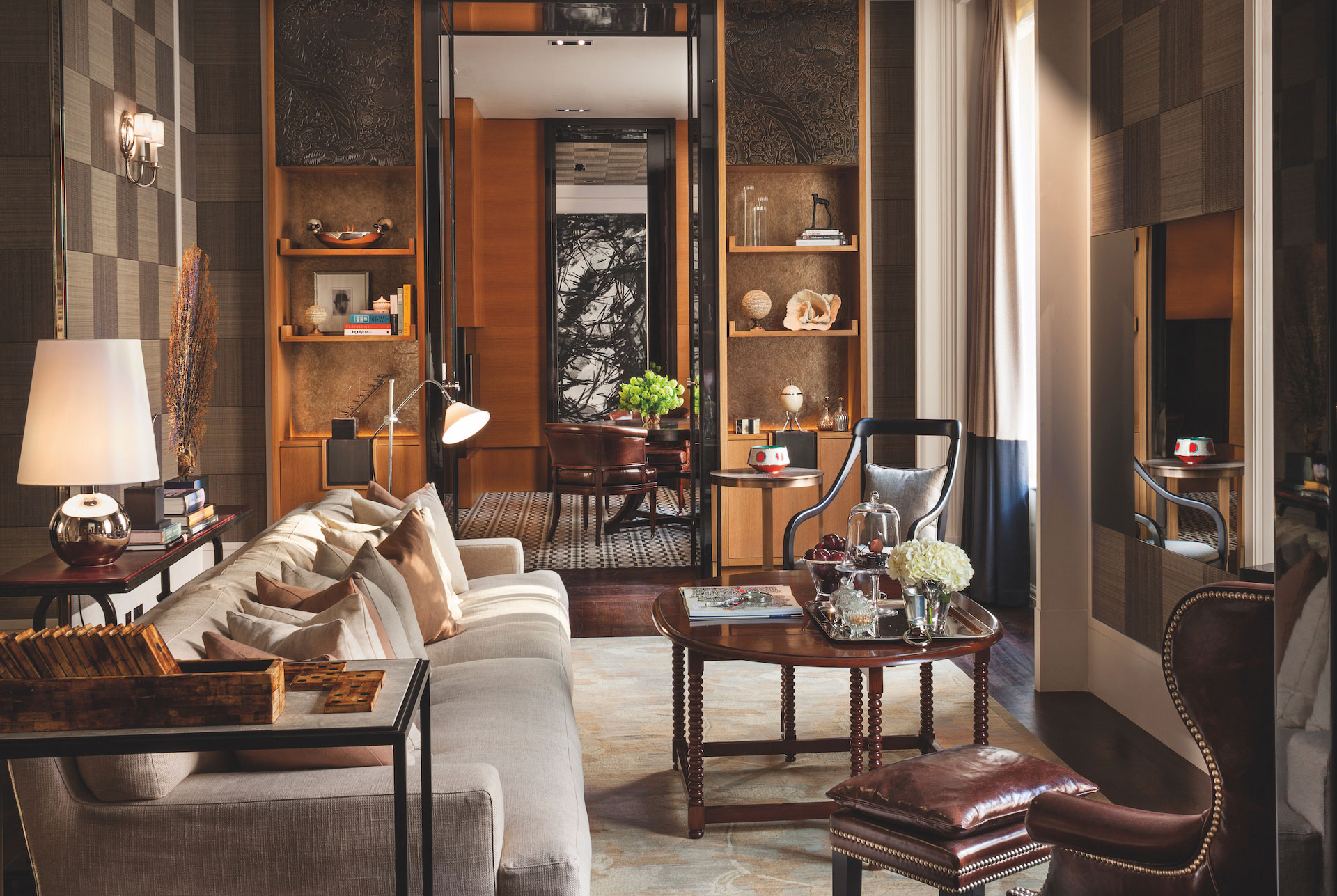 Rosewood – London
A Barbour dog bed, Lily's Kitchen meals and a pampering session with groomer Jamie Griffen (while you nip off to the spa) are all part of the Canine Package at the Rosewood. Dogs can venture into all of the restaurants and guests are given Pearl's Guide to London (Pearl is the hotel's resident retriever), an edit of the capital's dog-friendly pubs, coffee shops and parks, including
Lincoln's Inn Fields a three-minute walk away.
BOOK: rosewoodhotels.com
Featured Image (c) Down Hall, Essex.