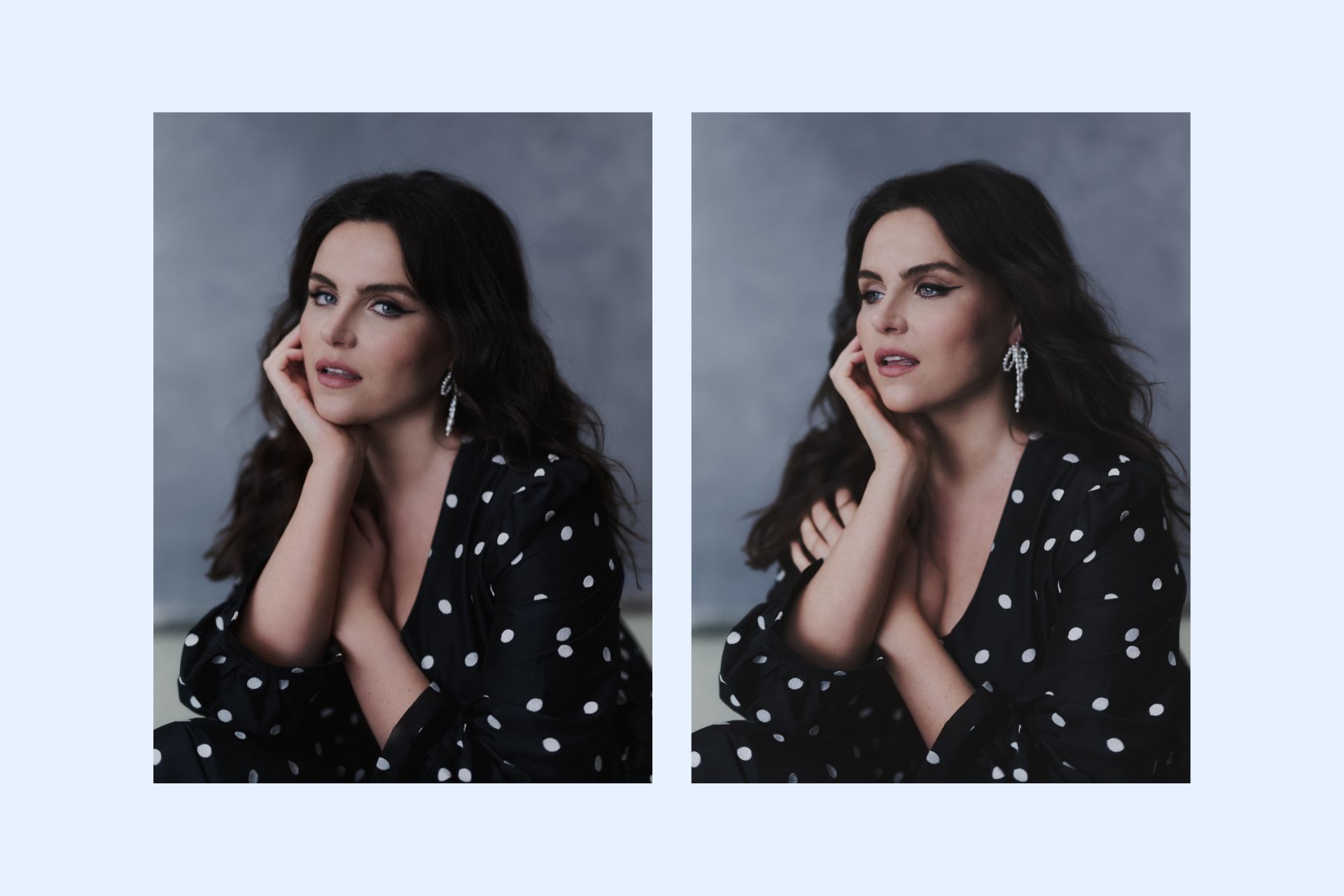 Emer Kenny: 'I Was Frustrated With The Scripts I Was Reading – All The Female Roles Were Unrealistic' – Interview
Emer Kenny is currently starring in series two of The Curse, which she also co-wrote
From Eastenders to Father Brown, Pram Face to Karen Pirie, Emer Kenny is one of British TV's exciting acting and writing talents right now. Sample her skills by tuning into the second series of The Curse on Channel 4 (or catch up on All4). 'It was the most fun I've ever had writing,' Emer tells us, having joined the writing team for series two. We sat down with Emer to talk all things The Curse, Karen Pirie, breaking female stereotypes and embracing tallness.
Interview: Emer Kenny On
The Curse,
Channel 4
Hey Emer, how is life going at the moment?
Life is pretty good! I just got off a flight from New York – we went because my script for Karen Pirie was nominated for an Edgar award. It was such a fun trip, but my three month old baby cried for the whole flight home (furious I didn't win, I presume – big Karen Pirie fan).
You've got series 2 of The Curse on Channel 4 right now – can you give us a quick summary for any readers unfamiliar with the show?
The Curse is a 1980s-set comedy about a bunch of East London petty criminals who decide to rob a security depot for £50,000 and accidentally stumble across £30 million in gold bullion. The gang aren't smart enough or tough enough to get away with a theft like that, so they're immediately on the run from the law and the bigger, badder criminals who want what they have. When we meet them in series two, they've gone on the run to the south of Spain, trying to go legit on the Costa Del Crime…
You play Natasha – can you tell us about her?
In series one, Tash was a mother of two who ran a greasy spoon cafe and dreamed of a more glamorous life. She masterminds the robbery and manipulates everyone around her, so she never has to get her hands dirty (metaphorically – physically they're covered in bacon grease). Even though she was wearing a tabard, she has the heart of a gangster. In series two, she's seven months pregnant, tanned as hell and running a glitzy hotel in Southern Spain… But she's also got the gang involved in a whole new level of corruption and money laundering, and her empire is built on shaky foundations…
You also wrote for series two of The Curse – what was that like?
It was the most fun I've ever had writing. We did a writer's room on zoom and never stopped laughing. I loved coming up with the weirdest, most ridiculous stuff for the boys to say and see if they go for it.
What was filming like? 
The opening scene is Tash covered in blood, shaking, crying and stumbling through the desert… Then we flash back to how she got there. So filming was a mixture of crawling through dirt screaming, and weeping with laughter at all the comedy stuff with the boys. The way we make the show is that, while we fine-tune every line in the scripting process, when we get to set, we improvise around it all a lot – so a lot of mad stuff comes out of everyone's mouths.
What is the cast dynamic?
I feel like the boys are all my weird, funny older brothers. Although Allan would say he's metaphorically younger than me because he's so 'cool'.
What demands do you have during rehearsals? (doesn't have to be serious!)
On set: two boiled eggs for breakfast, and everyone has to learn their lines. No one listens to me about the second one, but at least I get the eggs. Protein is important.
You've also got series 2 of Karen Pirie coming up, which you wrote on and starred in – can you tell us a bit about that?
Yes! Karen Pirie is a crime drama about a young female detective who is massively underestimated – she's assigned to a cold case from the 90s because the police need to put a woman on it for the 'optics', but have no expectation she'll solve it. The case is about a 19 year old girl who is walking home from the pub but tragically never makes it… The case becomes quite personal for Karen and she is fiercely determined to solve it. I play her best friend and forensic archaeologist River. The show went down really well, so we've been green-lit to make another series, which I'm writing right now.
How does it feel to have another series commissioned?
Good, and daunting. The first one took me four years from beginning to end, and was received very well, so I feel like I have set the standard quite high – and I've got to make it faster…
What was filming like?
It was my first time on set as a writer and exec, and it was exhilarating. Gareth Bryn, the director, is utterly brilliant and so collaborative, and me and Lauren Lyle, who plays Karen, had a real meeting of minds. She's a creative force and I adore writing for her.
How long have you been writing as well as acting? What made you want to move into writing?
I've nearly always done both. I started acting as a teenager, and I became quite frustrated with the scripts I was reading – it felt like all the young female roles were unrealistic and trope-y, sexy, bitchy and often quite naked. I started writing because I wanted to see something different.
What has been your favourite project to date and why?
The Curse series two. Not only was it really satisfying, but I felt challenged every day as a performer – to be very real and natural in extraordinary circumstances, but also to always be as funny as the boys. It was also just a pleasure to make: the music, the costumes, the locations and the rest of the cast are all so epic. And I was seven to eight months pregnant, so I'm really excited to show it to my son when he's older.
What's your dream role?
So many – but I'd like to do an action role. Something which requires military training for six months before filming! Rolling over car bonnets holding a gun! Kicking a baddie in the face! I'm tall (5'11") and I always struggled with that when I was younger, but a lot of iconic action actresses – Sigourney Weaver, Uma Thurman – are really tall too. I'd like to put this height to good use!
Which character that you have played in the past do you relate to the most in your own life?
There's a little bit of me in all of them – Tash from The Curse's slightly controlling nature, River from Karen Pirie's sense of humour, Bunty from Father Brown's love of a good outfit…
Who has been your favourite actor to work with in the past?
Victoria Wood. She wrote and starred in Eric and Ernie about Morecambe and Wise, in which I played Joan Morecambe, Eric's wife. She was an incredible woman, writer and performer and I really love everything she did.
Which co-star did you learn the most from?
Allan, Tom, Steve and Hugo [all on The Curse] all have incredible confidence with improv – they try so much out in the moment and see what sticks, and often it's genius. Lauren Lyle and Bobby Rainsbury from Karen Pirie are both amazingly in touch with their emotions – they can summon tears instantly and their performances blew me away in the final episode of Karen Pirie. I wrote them both extremely long monologues – I think Lauren's was twelve pages and Bobby's was seven pages – and we honestly could have used both of their first takes without any edits. If even a tiny bit of their magic rubbed off on me, I'd be delighted.
Do you get to spend much time at home?
Much more so now we have a baby! My husband, Rick, is a TV and radio presenter, so for the past decade we've often been long-distance, always travelling and often apart, but now we have a child we're trying to move together as a unit. We're happier that way, but it is logistically more difficult!
Do you live in the town or the country? Which do you prefer?
I'm a born and bred Londoner, but we've just bought and renovated a house in Cheshire because my husband's job has taken him to Manchester. I would have said I was a town girl, but I'm excited to embrace the countryside!
What's your interior design style?
I love mid-century design and Scandinavian and Japanese interiors. Our house in London was Victorian, so it didn't lend itself to it so much, but our new house is 1960s, and we've really embraced the wooden ceiling, geometric shapes, free-standing fireplace and lots of oranges, yellows and greens.
What qualities do you think have made you successful?
I read somewhere once that having grit is more important than having talent, and I think I have a lot of grit… The ability to dig in and keep at it, even when times are tough. Also, my dad always used to say – actually in relation to golf, not acting – 'the more I practise, the luckier I get'. Luck is a big thing in our industry, so I keep working at it, hoping I'll get a fluke! My golf needs work though.
What's your relationship with social media like? 
I find it quite overwhelming – the amount of platforms you can receive messages on now. I like writing 'thank you' notes by hand and sending cards by post, so I do that, but it took me forever after the baby was born and I ended up ignoring every message on my phone… I think everyone thought I was pretty rude, even though I was literally writing them very elaborate, very slow replies…
How do you find balance in your personal and work lives?
I'm not great at it. We had to make a rule – no laptops in the bedroom. That gives you an idea of what it was like before…
What did you want to be when you were growing up?
Wonder Woman.
If you could give advice to your 15-year-old self, what would it be? 
Have more fun. Write everything down. Take pictures. Do not wear your dad's vintage t-shirt collection out – you will get holes in most of them and you will regret it.
How can we all live a little bit better?
Walk more. Laugh more. Go easier on yourself and on everyone else.
Anything fun in the pipeline – professionally or personally?
Working on a rom-com-action-thriller project which I'll write and act in. And a lot of mothering a very sweet boy.
Quick Fire
I'm tuning into… Severance, Hacks, White Lotus
What I'm reading… Romantic Comedy by Curtis Sittenfeld and Pineapple Street by Jenny Jackson
The last thing I watched was… Succession
What I'm most looking forward to seeing… The Barbie movie
Favourite film of all time… Impossible question! Heartburn… Point Break… Calamity Jane…
Band/singer I always have on repeat… I always come back to Beyonce and Solange
My ultimate cultural recommendation… The Soho theatre in London. Pick a show, any show.
Cultural guilty pleasure… Selling Sunset, but I don't feel that guilty about it.
What's next for me is… a whole lot of writing followed by a whole lot of filming, if all goes to plan!
The Curse airs Thursdays at 10pm on Channel 4, and all episodes are available on All4. channel4.com
Featured image: Photography: By Pip. Styling: Hebe Fox. Makeup: Francesca Brazzo. Hair: Sven Bayerbach.