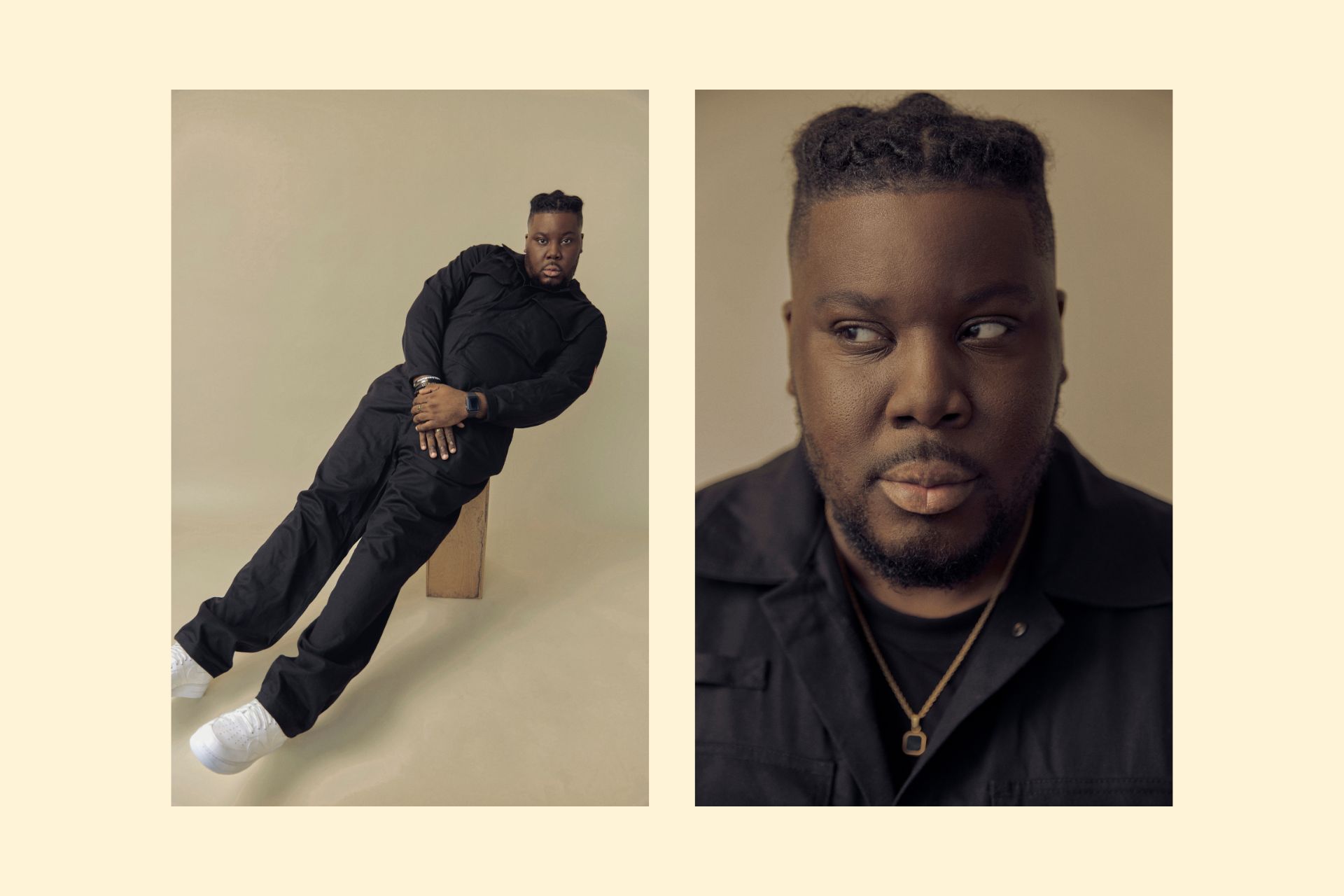 'My Dream Role Has To Be The Doctor': Hammed Animashaun – Interview
Hammed Animashaun stars in the new BBC comedy, Black Ops
BBC's new six-part comedy-thriller series Black Ops, is set in East London and led by star-power trio Gbemisola Ikumelo, Akemnji Ndifornyen and Hammed Animashaun. The series follows Dom and Kay, two Police Community Support Officers who join the Met hoping to clean up their community. However, they are quickly and unwittingly thrust into the murky world of deep cover infiltration. You might recognise Hammed from the likes of Pls Like, Gods of the Game, Breeders and the haunting Black Mirror episode, 'USS Callister'. We sat down with Hammed on the launch of Black Ops, and ahead of his appearance in comedy horror film, The Loneliest Boy in the World.
Interview: Hammed Animashaun
Hi Hammed, how's life going at the moment?
Life is good, I can't complain! We thank God!
You're about to star in the BBC's Black Ops – can you give us an elevator pitch for the show?
Black Ops is a comedy thriller centred around two black PCSOs (police community support officer), Dom and Kay, who have been tasked with going undercover to infiltrate a criminal gang. One problem, they have absolutely no experience with undercover work. So what could go wrong?
You play the lead – can you describe your character?
Kay is a God fearing, extremely kind man, who chooses to see the good in everything and everyone. And it's that unrelenting optimism that sometimes lands him in trouble. Good thing he has Dom to balance him out! Ha! 
What was it like playing him?
It was so much fun. It's not often you get to see someone like me playing characters such as Kay. So I made sure to soak it all in as much as I could.
How does it feel to be leading the show?
Well, it's not just me: I have a great scene partner in Gbemi – that's my sister, man! And AK bringing his genius to everything he does. I still pinch myself everyday.
How did you prepare for the role?
If I'm honest, I don't do very much. It's all in the writing. We were in such good hands with all the writers on the show. But I make sure to start the day with a coffee and music – usually Burna Boy.
Any funny stories from rehearsals or filming?
There were so many great moments on the show, but one of my favourites was when Charlie Swain and Evie Nairne from the art department had cameos in the show. It was pure magic.
What is the cast dynamic? Who was your favourite person to work with?
We all got on so well – it was like a little family. We all worked so hard to make sure we could make the best show possible, so everyone was on their A game. I honestly don't have a favourite – everyone was fantastic. Working with Katherine Kelly and Zoe Wanamaker was definitely a pinch me moment though.
Are you still in touch with any of your co-stars?
Oh yes, absolutely. We talk all the time.
Any roles in the pipeline that you're excited about?
I'm currently shooting season 3 of The Wheel Of Time on Amazon Prime Video.
Which character that you have played in the past do you relate to the most in your own life?
Probably Kay. We definitely come from very similar backgrounds. 
Who has been your favourite actor to work with in the past?
Lucian Msamati – I call him Uncle L. In my opinion, one of the greatest actors today. And I've been blessed enough to work with him three times; I can't wait to work with him again and again. 
Which co-star did you learn the most from?
I learnt a lot from Gbemi and AK in how to create a show from paper to the TV set. 
What's your dream role?
Ah man, has to be The Doctor. It'll happen one day.
What's something you'd like to do more of?
I don't know – whatever project I'm blessed to be a part of, I always make sure the vibe is right. And that I have as much fun as possible. That's always key for me.
Do you get to spend much time at home?
It depends on what project I'm working on. At the moment, not so much. 
Do you live in the town or the country? Which do you prefer?
I live in London. I think I prefer a cross between the city and the countryside.
What's your relationship with social media like? 
I think my relationship with social media is pretty healthy. Some might disagree, and that's OK.
How do you find balance in your personal and work lives?
I always try to make sure I keep them separate. Whatever is happening in my personal life, I make sure to leave it all at the door when I get to work. That way, I can completely focus on my job. And once work is over, back to life, back to reality.
What did you want to be when you were growing up?
I wanted to be a basketball player.
If you could give advice to your 15-year-old self, what would it be?
I've got no advice for my 15 year old self. He did everything he had to do back then – I thank him!
How can we all live a little bit better?
I think laughter goes a long way. I think we should laugh more. Let's watch more comedies. Watch Black Ops on iPlayer!
Anything fun in the pipeline – professionally or personally?
I've got a couple things in the works. But I'm going to keep that to myself for now. You're just going to have to wait and see what happens to me next. Ha!
Quick Fire
I'm tuning into… BLACK OPS. BBC1 and iPlayer.
What I'm reading… Everything Black Ops related.
The last thing I watched was… Black Ops, unforgiving plugs – sorry not sorry.
What I'm most looking forward to seeing… What do you think? BLACK OPS!
Favourite film of all time… It's going to have to be Friday. 
Band/singer I always have on repeat… PJ Morton
My ultimate cultural recommendation… The Royal National Theatre.  
Cultural guilty pleasure… Love Is Blind on Netflix 
What's next for me is… Watch this space…
Black Ops airs on BBC One on Fridays at 9.30pm and as a boxset on iPlayer. bbc.co.uk
Featured imagery by The Other Richard.