Anastasia Bernhardt speaks to Gizzi Erskine about who she would invite to Christmas dinner, her top cooking tips and her love of Padstow.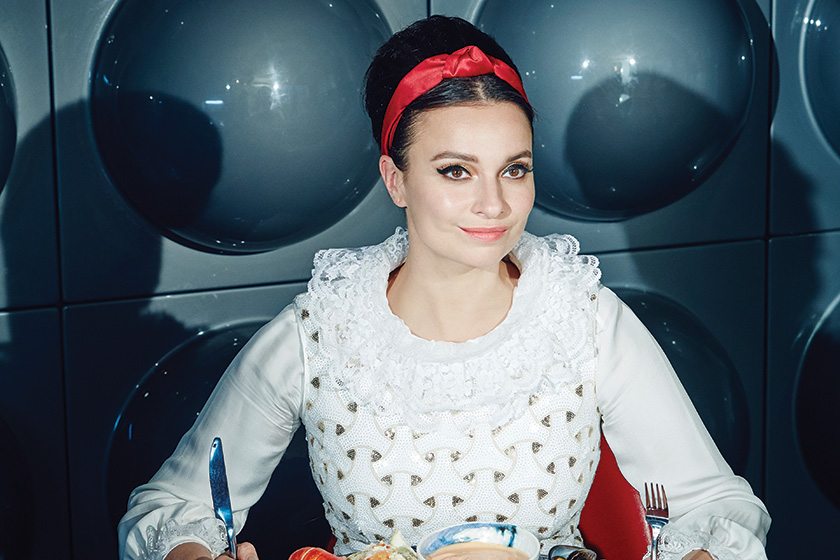 The first dish I invested time in was spaghetti bolognaise. I do a really classic version using veal and pork mince, chicken livers and pancetta, and cook it down in milk. I put loads of garlic in though, sacrilegious, I know. I make my own fresh passata and add white wine.
Christmas dinner would be my death-row meal. Turkey, pigs in blankets, stuffing, roast potatoes, all of the sides, the best gravy. My family calls me the Christmas fairy.
I would love to invite Aleister Crowley round for Christmas dinner. Obviously he's known for the debauched stuff, but I believe he was quite a progressive thinker. Chef-wise, I'd have Anthony Bourdain and Alice Waters, who is one of my heroes, and Margot Henderson, because she's a hoot, with Fergus, of course. I'd invite Wanda Jackson to sing at the end and bring Elvis back to life too.
Whatever you do, make sure your pan is really hot, it's really important, especially when browning meat because it's where you're going to get that caramelisation from. You have to get it roasty roasty hot, almost to the point of smoking.
My secret weapon is garlic, which sounds kind of boring, but I think you can change the whole body of a dish by putting more into it. I've got a trio of garlic, acidity and sugar – which a lot of people don't use. Add half a teaspoon of sugar to a tomato sauce to completely round it off.
I've got three fridges but in my home-use fridge at the moment I've got miso, buttermilk, ricotta, leeks, goat's cheese, lots of courgette flowers, broad beans, eggs, lots of herbs, vine leaves… I'm quite impressed with myself.
The one thing I hate is mangetout. They're the most pointless vegetable. They taste wiggly and slimy. They're too irony, and taste really acrid and bitter. If you served me mangetout as a side dish I'd think you had thrown me back into the Seventies. I'll eat them but they serve no purpose.
I go to Padstow every year for the Christmas Festival. I always go to Rick Stein's for Singapore crab, it's one of my favourite meals of the year – apart from Christmas, of course.
READ MORE: Dinner Party recipes from start to finish
READ MORE: Christmas present ideas for foodies
---