Let us help you this festive season with our one-stop-shop guide to your next dinner party…
Entertaining can be hard and stressful, so this festive season we've done the hard work for you, with the perfect festive dinner party from start to finish, with table setting tips from The Art of Entertaining and Natalia Miyar.
Drinks
Kick things off at your dinner party with a fun cocktail. We love a mulled wine in winter, and this white wine version is delicious and a change for many.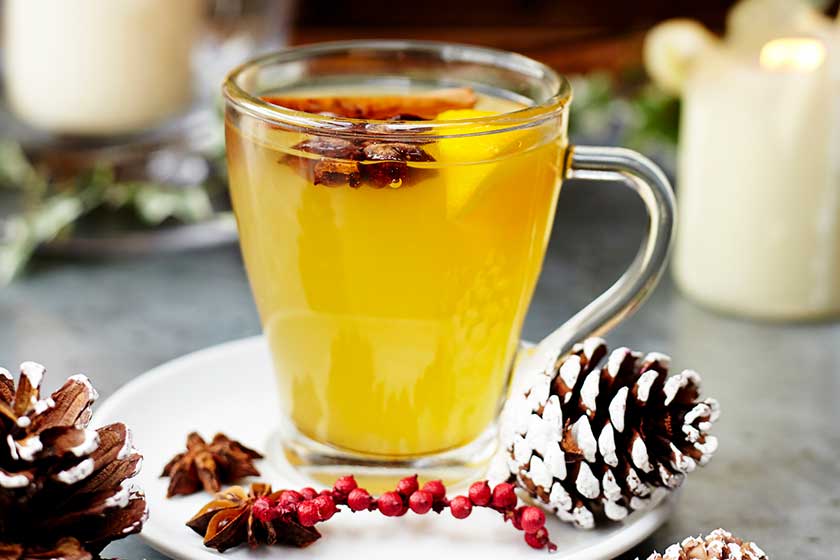 Ingredients (serves 6):

1 lemon

1 orange

25g honey


75g sugar

3 star anise

6 whole cloves

2 cinnamon sticks

150ml water

1 bottle white wine
Method:
Cut the lemons and oranges into thin quarter slices and add to a pan, before adding in the honey, sugar and star anise.

Next, cut the cinnamon sticks lengthways in half, then in half again, and add to the pan. Heat all the ingredients on the stove until they begin to 

lightly caramelise, then add the water. Allow to simmer for 5 minutes, add the wine to the pan, and let it simmer for another 5 minutes. Decant into a large soup dish and keep warm.

Serve in a latte glass with a star anise and a quarter slice of orange to garnish.
Recipe from Aubaine
Laying the Table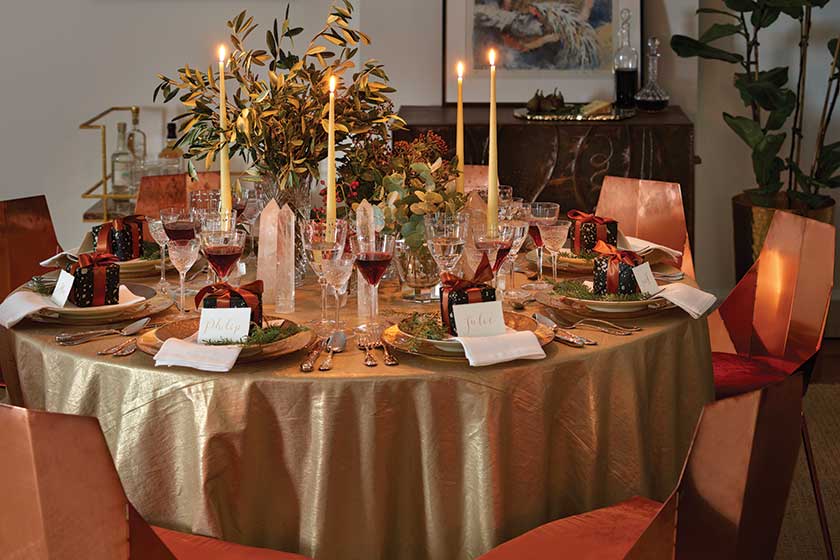 When it comes to laying the table, Natalia Miyar has some top tips.
'Mix cut crystal with modern tableware and bold foliage to stop the Christmas table looking like a dog's dinner' says interior designer Natalia Miyar. 'I adore vintage crystal, it reminds me of my glamorous grandmother. I mix vintage pieces with modern favourites for a one-of-a-kind Christmas table.' Working with florists Grace & Thorn, she'd recommend offsetting lush evergreens and berries with obelisk-shaped crystal to punctuate the arrangement.
Starters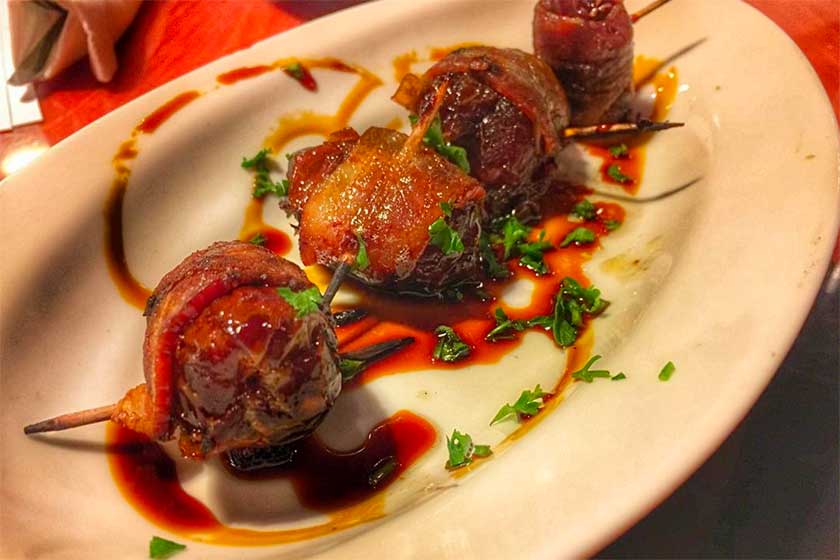 Pigs in a Blanket and Ibiza Devils on Horseback
16 sausages
16 dried figs
32 slices streaky bacon
Wrap each sausage and fig in a piece of bacon. Bake in a 375F/190C degree oven until bacon is crisp and brown. Drain on paper towels and serve. Simples!
Spiced Nuts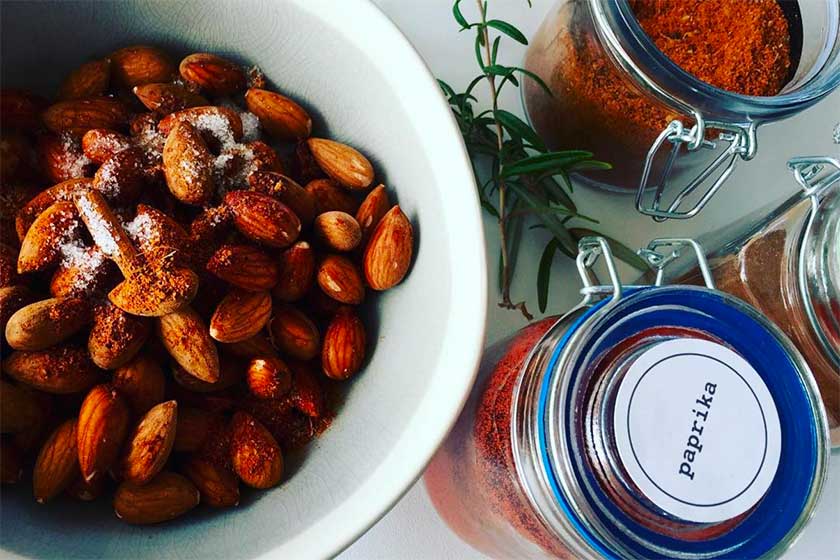 1kg mixed nuts (e.g. walnuts, pumpkin seeds, sunflower seeds and almonds)
6 sprigs rosemary, finely minced
Small handful of thyme, finely minced
4 sage leaves, finely minced
2 chillies peppers, finely minced
1 tbsp smoked paprika
Handful sea salt
4 egg whites, whipped to medium soft peaks
Mix the spices and herbs and fold into the egg whites. Add nuts and coat evenly with the egg white mixture. Bake in a 325F/165C oven for 20 minutes. Using a spatula, scrape up and break into smaller pieces and toss. Return to oven for 20-25 minutes until completely crisp.
Both starter recipes from Anne Sijmonsbergen's Ibizan Thanksgiving
The Showstopper Main
Confit Turkey Leg with B
read Sauce, Cranberries and Turkey Stuffing Balls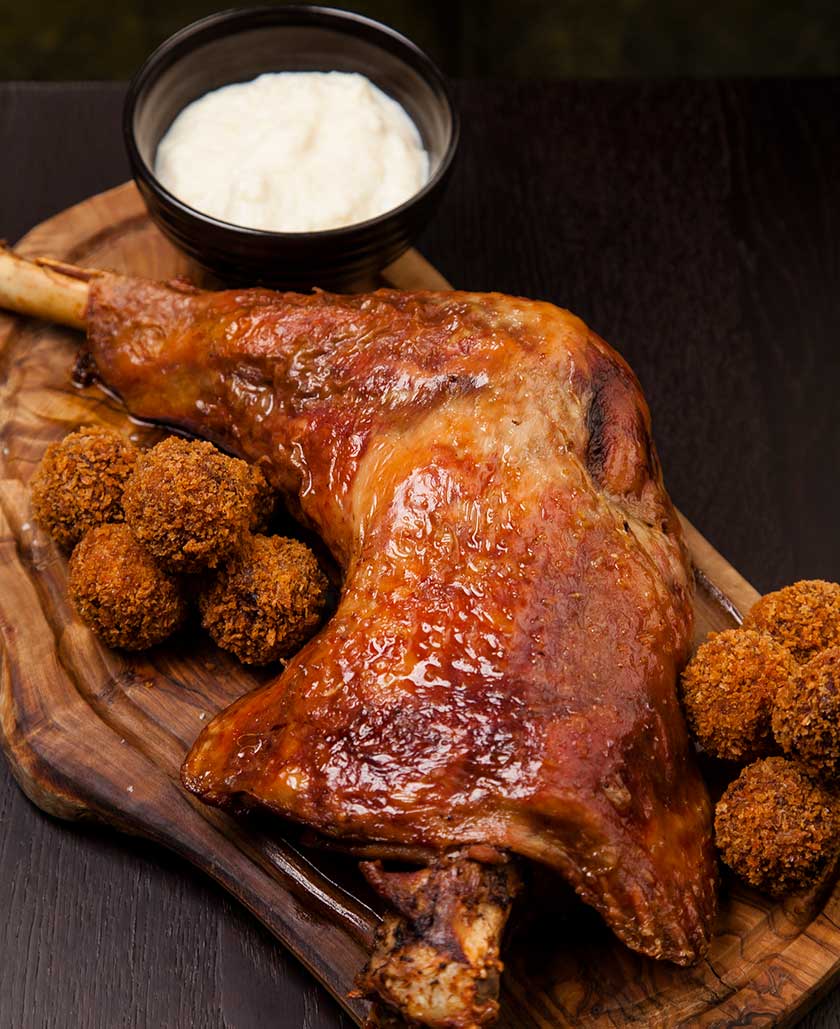 1 turkey leg, bone in, approximately 1kg
1 recipe Meat Brine (see below)
2kg duck fat
½ bunch thyme
3 bay leaves
¼ bunch rosemary
2 star anise
Brine the turkey leg for 4 hours in the Meat Brine. Preheat the oven to 100˚C. Place the duck fat in an ovenproof dish large enough to fit the turkey leg snugly. Add the herbs and spices and place in the oven for 5 minutes. Remove from the oven and carefully place the turkey leg inside. Cover with foil and place in the oven for 4-5 hours.
Check if cooked by placing a skewer into the meat, it should go straight through with no resistance. Once cooked, remove the entire tray and allow the turkey leg to cool down in the fat. Remove when still warm and strain the fat to reuse. When ready to serve, preheat the oven to 200 ˚C. Place the turkey leg in a roasting pan and place in the oven for 15 minutes until heated right through and crispy.
Meat Brine
4 litres water
280g salt
6g white peppercorns
6g coriander seeds
6g fennel seeds
10g thyme
4 bay leaves
Place all ingredients, apart from the water, in a large pan. Add one litre of the water and bring to the boil. Remove from the heat, add the remaining water, then cover and chill.
Bread Sauce
250g sourdough
600ml milk
1 onion, halved and peeled
2 bay leaves
8 cloves
¼ bunch thyme
1 tsp celery salt
Freshly milled black pepper
Place all ingredients, bar the bread, in a pan. Bring to a simmer for 20 minutes. Remove, cover with clingfilm, and allow to infuse. Strain off then add the bread. Leave to soak for 20 minutes then blend together using a stick blender.
Cranberry Sauce
250g frozen cranberries
100ml port
1 orange, zest and juice
1 stick cinnamon
150g caster sugar
500m cranberry juice
Place all ingredients in a pan and bring to a simmer. Simmer for 30 minutes, remove the cinnamon and refrigerate until needed.
The recipe itself was created by Chef Patron of Tredwell's and Group Operations Director of Marcus Wareing Restaurants, Chantelle Nicholson.
READ MORE: Christmas Present Ideas for Foodies
Sides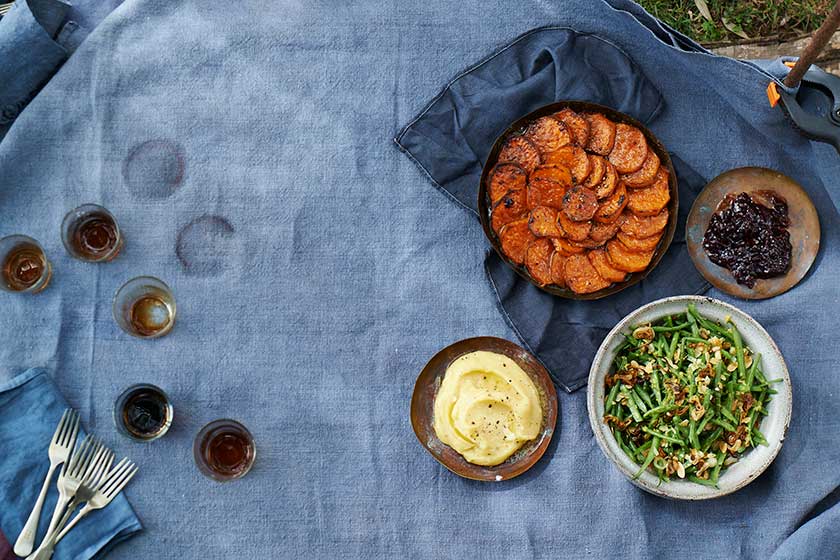 Green Beans with Shaved Almonds
1kg small green beans, washed
100g shaved almonds, toasted golden brown
75g unsalted butter
Salt and pepper
To par-boil the beans bring a pot of water to the boil, add 1 tbsp salt and the beans. Cook 3-4 minutes until al dente. Drain the beans and dump them into a bowl of ice water to fix the colour. Drain and set aside to cool. When cool, dry and store in the fridge until use. Melt the butter in a pan until it foams. Add the almonds, toss to coat and saute for a few seconds. Add the beans. Reheat the beans for 3-5 minutes, using tongs to gently turn. Season with salt and pepper.
Recipe from Anne Sijmonsbergen
Light Root Vegetables Gratin
Ingredients (for 8 guests):
400g of sweet potatoes peeled and cut in chunks
400g of parsnips peeled and cut in chunks
200g potatoes peeled and cut in chunks
400g carrots peeled and cut in chunks
200g celeriac peeled and cut in chunks
2 medium onions diced
150g cranberries soaked in hot tea until cold
16 sage leaves
½  tsp of grated nutmeg
5 eggs separated
100g grated mature cheddar
Salt and pepper PM
300g Crème Fraiche
150g butter
½ lemon
2btsp grain mustard
Even if the list of ingredients for this dish looks rather large for a side, it will ultimately make your life easier. At Christmas, we always seem to put ourselves in difficult situations by cooking 10 different types of vegetables- which takes up all the oven space and can make us unnecessarily stressed at this lovely festive time. This delicious and light dish combines lots of vegetables so you don't have to slave away over lots of individual dishes.
Method
Place the carrots, potatoes and celeriac in a pot with water and a bit of salt. Bring to the boil and simmer for 5 mins then add the parsnips and sweet potatoes. Leave to cook until soft for about another 10 mins.
In the meantime, melt the butter in a frying pan, add the onions and stir on low heat to soften them. When soft, up the heat to high to get a light colour then stop the heat and add the chopped sage, the drained cranberries and keep aside.
Mix the crème fraiche in a bowl with the yolks, the mustard then add the onion and mix well. Crush all the drained vegetables finely. Whisk the whites with a pinch of salt in a clean bowl until soft peak then add the lemon juice, keeping whisking until hard peak.
Fold the whites in the cream and onions mix with the cheese and then fold this mix in the crushed vegetables with a large spoon.. Pour it all in an appropriate gratin dish and place in the oven at 180c for about 30 mins or until lightly coloured on the top and hot inside. Serve straight out of the oven.
Recipe by Bruno Loubet of Grain Store
And Finally… Pudding!
Gizzi Erskine's Clementine and Ginger Trifle
Here is Gizzi Erskine's take on a classic, with an old-school clementine jelly and a classic ginger cake, made boozy with ginger liqueur and thick custard, cream, glacé cherries and chocolate.

Ingredients
600ml fresh custard

300ml double cream

1 teaspoon icing sugar

50g good quality dark chocolate


A few glacé cherries, chopped
For the Ginger Cake
225g unsalted butter, plus 

extra for buttering the tin

225g dark brown sugar

225g black treacle

2 free-range eggs, beaten

290ml milk

340g plain flour

1 tablespoon ground ginger

1 tablespoon ground cinnamon

A small, fresh grating of nutmeg


2 teaspoons bicarbonate of soda
For the Clementine Jelly
150ml water

50g caster sugar

300ml clementine juice

4 gelatine leaves


3 clementines, segmented
Method
Preheat oven to 180C˚/160˚C fan. Butter and line a 30x20cm roasting tin. Melt the butter, sugar and treacle in a pan, leave to cool for ten minutes, then stir in the eggs and milk. Sift the flour, ginger, cinnamon, nutmeg and bicarbonate of soda together in a large bowl, then fold in the butter mixture to form a batter. Pour into the prepared tin and bake for 45 minutes, or until the cake is risen and firm. Leave to cool and store in an airtight container until needed. You will have made too much cake, but this is no disaster – it freezes brilliantly.
To make the jelly, put the water, sugar and clementine juice into a small saucepan. Soak the gelatine leaves in cold water for ten minutes, then squeeze out any water and add to the clementine juice to dissolve. Arrange the clementine segments in the bottom of your trifle bowl, pour over the liquid and refrigerate for at least four hours, to set.
Now you're ready to construct the trifle. Chop up 150g of the cake and place on top of the jelly. Pour over the ginger liqueur. Pour over the custard and level out the top. Whisk the cream with the icing sugar until it's gently holding its shape, then spoon over the custard. Grate over the chocolate and finish with glacé cherries if you like. Pop the trifle into the fridge to chill for one hour before eating. Gizzi's Season's Eatings by Gizzi Erskine is published by Mitchell Beazley, £25
Denby and John Lewis's The Art of Entertaining report is an insight into modern day dining and entertaining habits. Interestingly, 87% of Brits regularly host friends and family at home. So in light of this, here are some tips from Richard Eaton, the head of design at Denby.
Richard Eaton's Top Tips for Setting Tables
1. No rules – Gone is the day that a table should be set with a traditional layout – be flexible. Have fun and play with different settings to ensure your personality shines through.
2. Be eclectic – Not every product has to match and it's great to add focal pieces too, whether its brightly coloured or patterned accent plates or a statement bowl.
3. Enhance the sense – Flowers have always had a part to play in setting a table, but why not change things to include herbs or evergreens to introduce a festive aroma to the table.
4. Go natural – Natural materials work really well with ceramics, whether it is wood, metal, glass or slate.
5. Finishing touches – Candles create a wonderfully warm atmosphere and are an essential part of any stylish table setting.
READ MORE: Gizzi Erskine shares her festive favourites
---