Glastonbury 2024 Ticket Delays: When Will Tickets Go On Sale?
The journey to securing tickets starts now
Secure your speediest Wi-Fi connection: the battle for Glastonbury tickets is coming. The most anticipated ticket sale on the UK calendar, it's notoriously hard to secure a spot at the festival, which returns to Worthy Farm in June 2024. Nonetheless, you have to be in it to win it, so here's everything you need to know about getting involved with the Glastonbury ticket rat race – plus the acts rumoured to perform.
Glastonbury 2024: Tickets, Dates, Line-Up
How To Get Tickets
Ticket sales for Glastonbury have officially been delayed by two weeks, due to some old profiles being deleted without clear notification for their users. The Glastonbury organisers reportedly made the decision to postpone 'out of fairness' to customers affected by the deletes; these customers created their profile before 2020. Previously, customers were notified by email that profiles created before 2020 would be automatically deleted on 2 October, which the chance to re-register before 30 October – though several fans say they weren't aware of this, and didn't realise until it was too late. The announcement to postpone the sale came just four hours before tickets including coach travel hit the market.
This means, if you forgot to register before, you're actually in luck: registrations will reopen at midday on Monday 6 November and close the following Monday (13 November) at 5pm, before coach tickets go on sale on Thursday 16 November. Everyone aged 13 or over who is trying to get tickets needs to register beforehand. Each person then gets their own unique registration number, which will be required when you book a ticket.
Tickets are sold solely by SeeTickets (glastonbury.seetickets.com). Each person can buy up to six tickets, and everyone will need to be registered – unless you're buying a ticket for a child under 12, who won't need a ticket or registration code.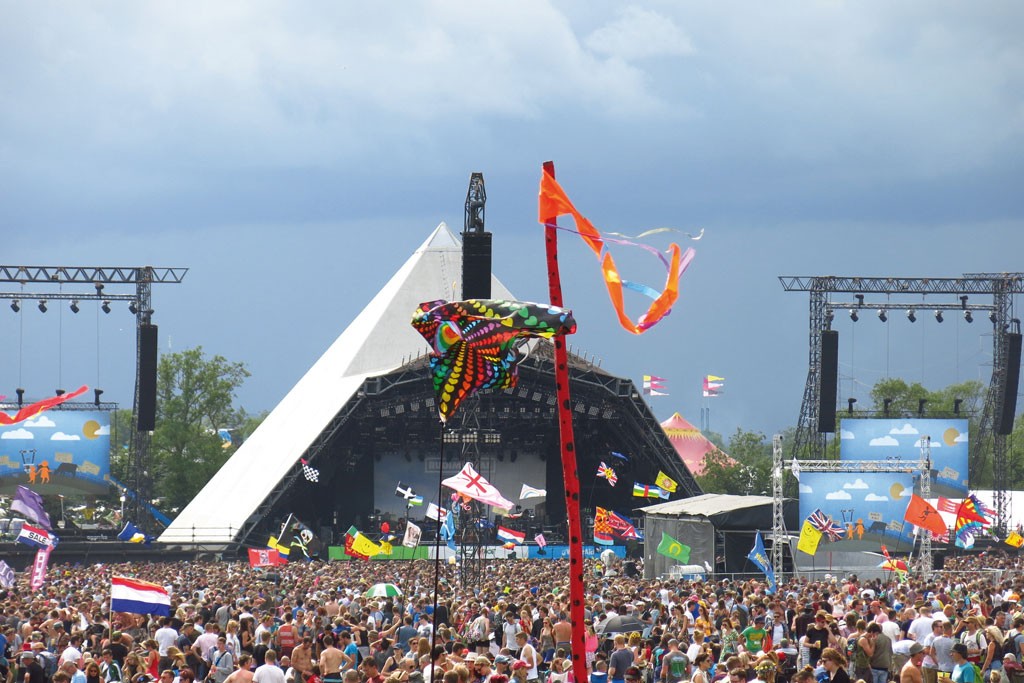 When Do Glastonbury Tickets Go On Sale?
Tickets for Glastonbury 2024 including coach travel will now go on sale on 16 November at 6pm, with general admission tickets on sale on 19 November at 9am. If you're trying for the coach sale, just be aware that you'll actually have to travel on that coach to get your tickets for the festival.
When Is The Resale?
Unsuccessful first time round? Fear not: there's still a chance to secure your spot at the Pyramid Stage. Towards the end of April 2024, a resale will take place where you can buy tickets from original buyers who haven't paid their full balance by the cut-off date.
How Much Are Tickets?
Ticket prices have officially increased once again, hitting £360 – a £20 increase from 2022, which cost £335 plus a £5 booking fee. Upon securing your ticket, you'll have to pay a £75 fee on the spot (an increase from £50pp in previous years), plus a fee for the coach if you're travelling that way. The rest of the balance will be due in the first week of April 2024.
Top Tips For Getting A Ticket
We all have that one friend who seems to get tickets every year, and while there's clearly an element of luck involved, there are some things you can do to up your chances.
Consider setting up a syndicate with a group of up to six people, so you can all try and secure tickets for the group. If you're feeling advanced, you can join with other groups: then, if you or someone in your group secures tickets for your six, you can start trying for the other group/s.

Organisation is key. Check your Wi-Fi connection, and ensure you have all your details ready – plus anyone you're trying to get tickets for. You'll need full names, registration numbers and postcodes. Pop them on a Google Doc so you can copy and paste them across, and create a WhatsApp group to keep everyone updated.

Make sure you have enough money on your card. If you're lucky enough to make it through, then your card fails at the crucial moment, you'll never forgive yourself. Remember you'll need enough to cover the booking fee for everyone in your group.

While some people argue for opening multiple tabs, the official Glastonbury advice is to use just one tab.
When Is Glastonbury 2024?
The dates have officially been confirmed: 26 June–30 June 2024.
Who Is Rumoured To Headline?
Glastonbury never fails to disappoint with its line-up of music headliners. Last year saw Elton John, Arctic Monkeys and Guns N' Roses perform on the Pyramid Stage – so who is rumoured for next year? No-one has been confirmed yet, but a few names have been circulating around the rumour mill. The festival's organiser, Emily Eavis, recently stated on the BBC's 'Sidetracked' podcast that a "really big American artist" reached out about the possibility of headlining; although no further details have been confirmed, the anticipation is building, and it's sure to be a star-studded list of acts. 
Taylor Swift
Earlier this year, Eavis said one of two female headliners had been booked, both of which will be performing at the festival for the first time. Initially everyone thought it was going to be Taylor Swift, but her 2024 tour dates have ruled her out. Other names flying around include Rihanna and Dua Lipa.
Madonna
Some avid Glasto fans are convinced Madonna will take to the Pyramid stage in 2024, due to organiser Emily Eavis leaving a comment on the pop singer's recent Instagram post.
Harry Styles
There's also talk of Harry Styles, arguably the biggest male artist of the moment, who has not yet played at the festival, despite rumours he would appear in both 2022 and 2023.
The 1975
Bands-wise, The 1975 is in the running: Matty Healy and the gang haven't played at the festival since 2016, and they've been on a huge tour recently.
Spice Girls
There have been whispers about the Spice Girls too, but Geri Horner sadly revealed these speculations are untrue in a recent interview with The Sunday Times.
Find out more at glastonburyfestivals.co.uk