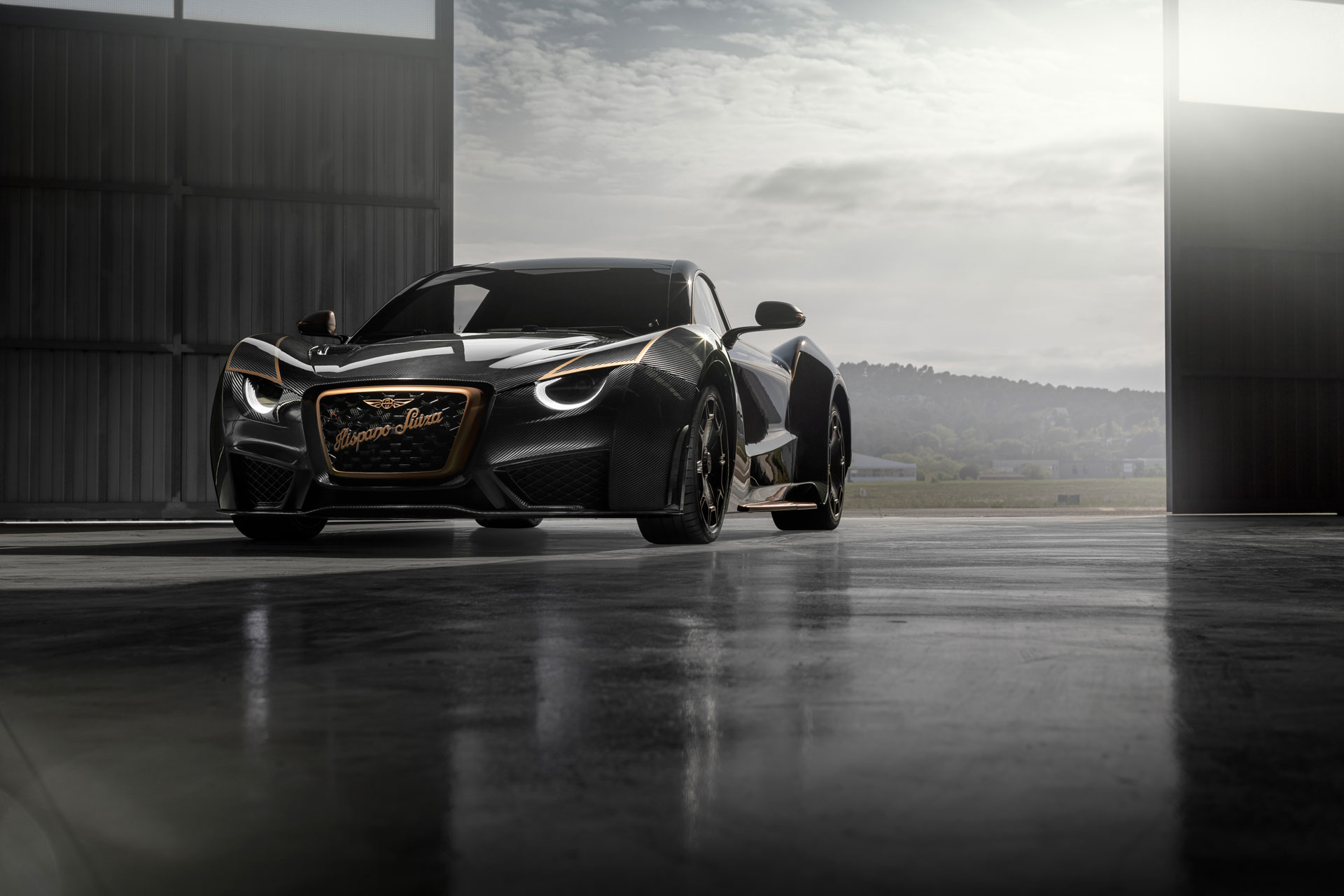 The Green Lane: The Hispano Suiza Carmen
---
The Green Lane: The Hispano Suiza Carmen
 Motoring editor Jeremy Taylor and sustainable fashion expert Jessica Saunders drive the Hispano Suiza Carmen, a luxury marque once coveted by Coco Chanel and Pablo Picasso.
JS – This looks like something special! What is a Hispano Suiza?
JT Hispano-Suiza once built extravagant motor cars admired the world over. The exclusive Spanish marque was adored by royalty, politicians and celebrities alike, creating stylish limousines that cost more than a Rolls-Royce.
Like who?
Icons such as Coco Chanel, Rene Lacoste and even Albert Einstein all chose Hispano-Suiza. Pablo Picasso famously drove a pre-War model all his life, long after the manufacturer ceased car production in 1946.
And this new one is electric? It's svelte, elegant and like nothing I've seen before. Tell me more.
 Established in 1904 near Barcelona, the then king of Spain, Alfonso XIII, was an early admirer of the family-owned brand. At one point, the car-mad monarch had dozens at his disposal. The company later honoured his patronage by adding Alfonso's name to the open-top 15T model.
So why are we driving this one?
Well, Hispano-Suiza is back, this time riding the surge in demand for electric hypercars with a seven-figure price tag. Together with other luxury marques using battery power, such as Lagonda, Rimac and Lotus, the Spanish company has unveiled a high-performance EV called Carmen that's as flamboyant as its petrol-powered predecessors.
Why Carmen – a love of opera or hair rollers?
Hispano Suiza – now minus the hyphen – relaunched in 2018 under the stewardship of Miguel Suque Mateu, the billionaire great-grandson of the co-founder, Damian Mateu. The family today owns the Peralada Group of luxury restaurants, vineyards and hotels in Spain. The jewel in the crown is the Peralada Castle in Catalunya, host to a major music festival each summer. Carmen is named after Miguel's late mother.
So that's why we had to come to Spain to drive it?
 The Circuit de Barcelona-Catalunya – where Lewis Hamilton won last year's Spanish Grand Prix – is next to the company base.
Let's get the tech out of the way.
Hispano Suiza has used battery technology from Formula E, the on-road, all-electric racing series, to create an incredible 1,0005bhp in the new car. That enormous shove is sent to the rear wheels and will silently slingshot the Carmen from 0-60mph in just three seconds. Top speed is restricted to 155mph.
That's mind-blowing on a racetrack. And they are really going into production?
Just 19 examples of the 'standard' Carmen will be built from £1.5 million each, plus five of the even sportier Boulogne models at £1.7 million. There are a host of extras for each car, so don't expect much change out of £2 million, if you can bag a build slot in time.
It's dressed like an art deco Batmobile on wheels?
Carmen has taken its design cues from pre-War streamliner cars. The aerodynamically advanced, 'teardrop' shape was mostly famously exploited on the racetrack by Auto Union – the direct ancestor of Audi – who dominated motorsport during the mid-1930s. To the uninitiated, many hypercars often look the same – low, wedge-shaped beasts waiting to be unleashed at the traffic lights. The Carmen is unique in that it simply can't be confused with anything else on the road.
The bold design won't appeal to everybody I suppose but nothing from Ferrari, Porsche or Mercedes can hold a slippery candle to this. That tail-heavy, hand-crafted body is voluptuous from every angle.
Yes, inspired by the company's Dubonnet Xenia model – they knew how to name cars in 1938 – the carbon fibre, all-electric Carmen is a unique proposition.
It's wonderful to open those theatrical scissor doors. They rise and pivot electrically in one movement. For me, the cockpit is a feast of retro-modern, with carbon-fibre seats swathed in leather and Alcantara. They've even employed a perfumier to offer customers the right 'nose' for their cossetted cabin!
Well, Hispano-Suiza was once at the very pinnacle of car production, until it ultimately fell victim to fall-out from the Spanish Civil War. The brand survived until the 1950s but only in the less glamourous manufacture of weaponry and parts for the aviation industry. Start saving.
Jessica Saunders is Director of Programmes at London College of Fashion, studying for a PhD in sustainable e-textile design
SEE MORE
The Green Lane: What Does the Tax per Mile Mean for EV Drivers / The Green Lane: Porsche Taycan Sport Turismo GTS