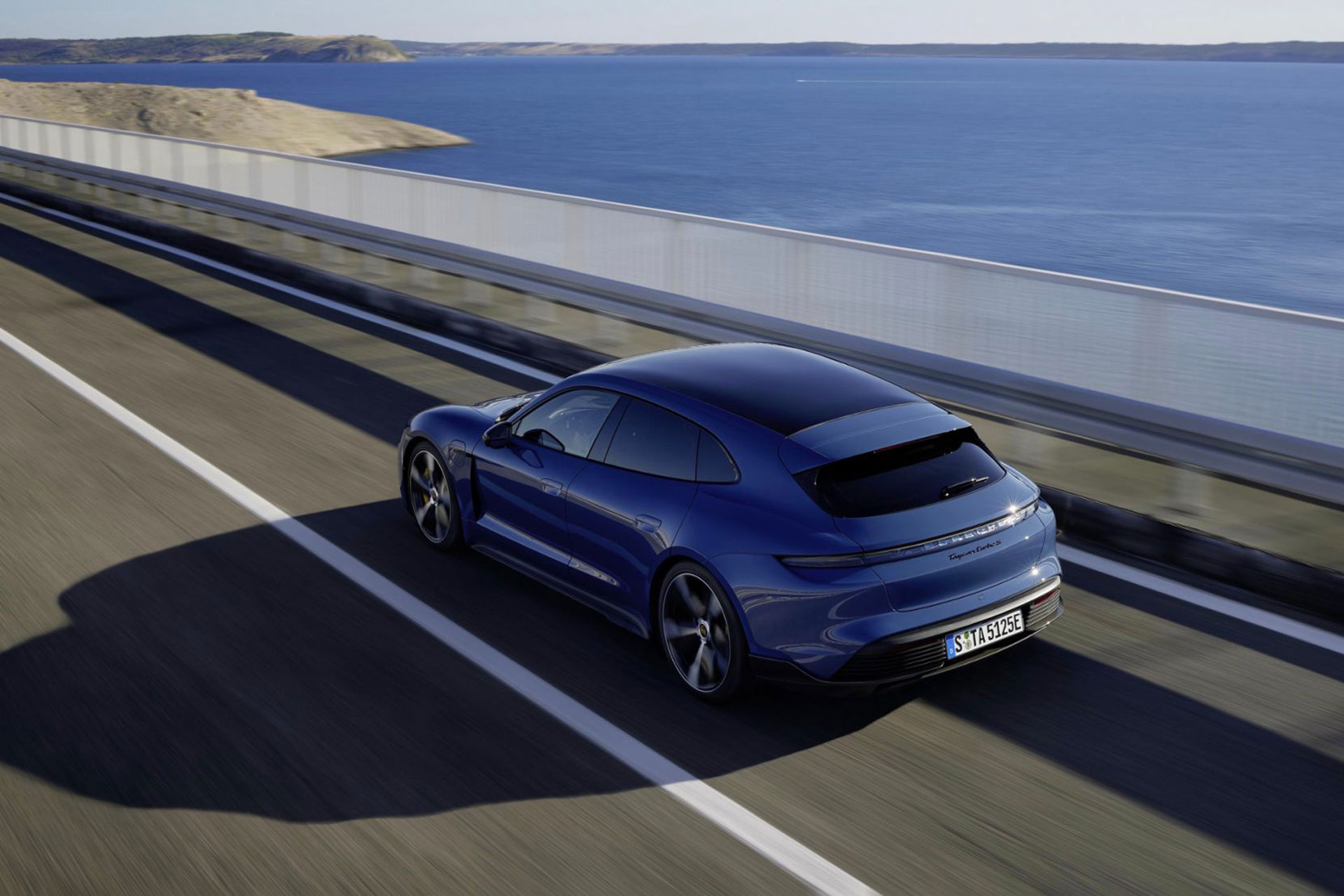 The Green Lane: Porsche Taycan Sport Turismo GTS
---
It's the first high-performance, electric estate car on the market — but how does it measure up?
The Green Lane: Porsche Taycan Sport Turismo GTS
Motoring editor Jeremy Taylor and sustainable fashion expert Jessica Saunders discuss the Porsche Taycan Sport Turismo GTS all-electric estate – a streamlined alternative to the ubiquitous SUV
Read All Our Electric Car Reviews by Jeremy
[JS] I thought estate cars had disappeared for good – why has Porsche launched an electric family car that isn't a sports utility vehicle?
[JT] Well, this is actually more of a shooting brake. Think of a stylish coupe with a boot – an all-rounder that adds a little more practicality to a sports car.
What's a shooting brake?
Historically, the term derived from a horse-drawn 'brake' used by shooting parties on a hunt, with enough space to stash shotguns, pheasants and the obligatory picnic in a wicker basket. With the arrival of the combustion engine in the early 1900s, the phrase was then transferred to motor vehicles and so shooting brake estate was born.
7 of the most delicious-scented car diffusers
The Porsche shooting brake looks elegant compared to an SUV. Why aren't there more shooting brakes?
 Sadly, the shooting brake has all but disappeared. SUVs are now the car of choice with family buyers, squeezing the life out of the sporty estate market, seemingly for good. Their raised seating position and do-everything practicality is perfect for a multitude of uses but not often for going fast.
 Well done Porsche design team, then?
Porsche certainly sees things differently. The new Taycan Sport Turismo GTS looks like a streamlined coupe and goes very fast, which suggests it also qualifies as the first, all-electric shooting brake.
The GTS sits very squat on the road – it has an air of sublime menace. How did Porsche managed to fit a 1,200-litre boot and more than enough leg room for four adults in such a compact design?
 Five doors helps. There's enough space for a load of luggage – or even the lockdown dog. The interior of our left-hand drive test car is beautifully put together, with the stamp of Porsche quality on every button and dial. Not that there are many to play with – 'drive' is selected via a tiny lever, while a curved, 10.9-inch digital screen takes care of much of the rest.
So Much More than a Car: The Rolls Royce Boat Tail
My favourite option would be the £1,000 panoramic sunroof, it brightens up an otherwise dark and moody cabin space.
 I like the Sunshine Control function too. It adjusts the amount of light using an electronically-controlled film, changing the glass from matt to clear and dispensing with the need for a blind.
 It looks expensive?
The Turismo is a sleek and gorgeous estate version of the Taycan saloon and in new, mid-range GTS guise costs around £104,000 – although that's before you dip into the extensive Porsche customisation programme.
It's a Porsche, so you'd better mention the technical stuff.
Power comes from a high-performance, 93.4 kWh battery pack with the equivalent of 590 horses at its disposal. The ride is comfortably firm and with the crazy Launch Control engaged, will rocket to 62mph in just 3.7 seconds.
So why will people buy it instead of an SUV – apart from the fact it looks considerably cooler?
It is the first high-performance, electric estate car on the market and, as such, a niche Porsche is keen to exploit to the max. While other manufacturers rush to build battery-powered SUVs, the luxurious Turismo is effectively a standalone product.
Is that how you'd sum it up?
Yes, a battery-powered alternative to the petrol-powered Mercedes-AMG E63 and Audi RS6 performance estates, the Sport Turismo should tempt buyers of Porsche's own Panamera petrol-electric hybrid estate – drivers looking to make the jump to an all-electric car for the first time. Think of it as a modern alternative to the classic Volvo ES shooting brake of the 1970s.
Should I cash in my savings and rush out and buy one then – which model?
In January, Porsche announced that the low-slung Sport Turismo will be soon available with all the same electric powertrains as the Taycan saloon. However, expect a mammoth waiting list for the high-performance, 741bhp Turbo S version – which means the GTS we drove is probably your best chance to get inside this sporty electric model without having to wait until 2023.
Apart from the price, what's the downside?
The GTS is a sensational drive, while the only downer is battery range. Porsche claim 313 miles fully charged but our test car arrived topped up with just 220 available. It's a tempting package. Even if you don't own a Labrador or a brace of shotguns.
Jessica Saunders is Director of Programmes at London College of Fashion, studying for a PhD in sustainable e-textile design
SEE MORE
The Green Lane: What Does the Tax per Mile Mean for EV Drivers