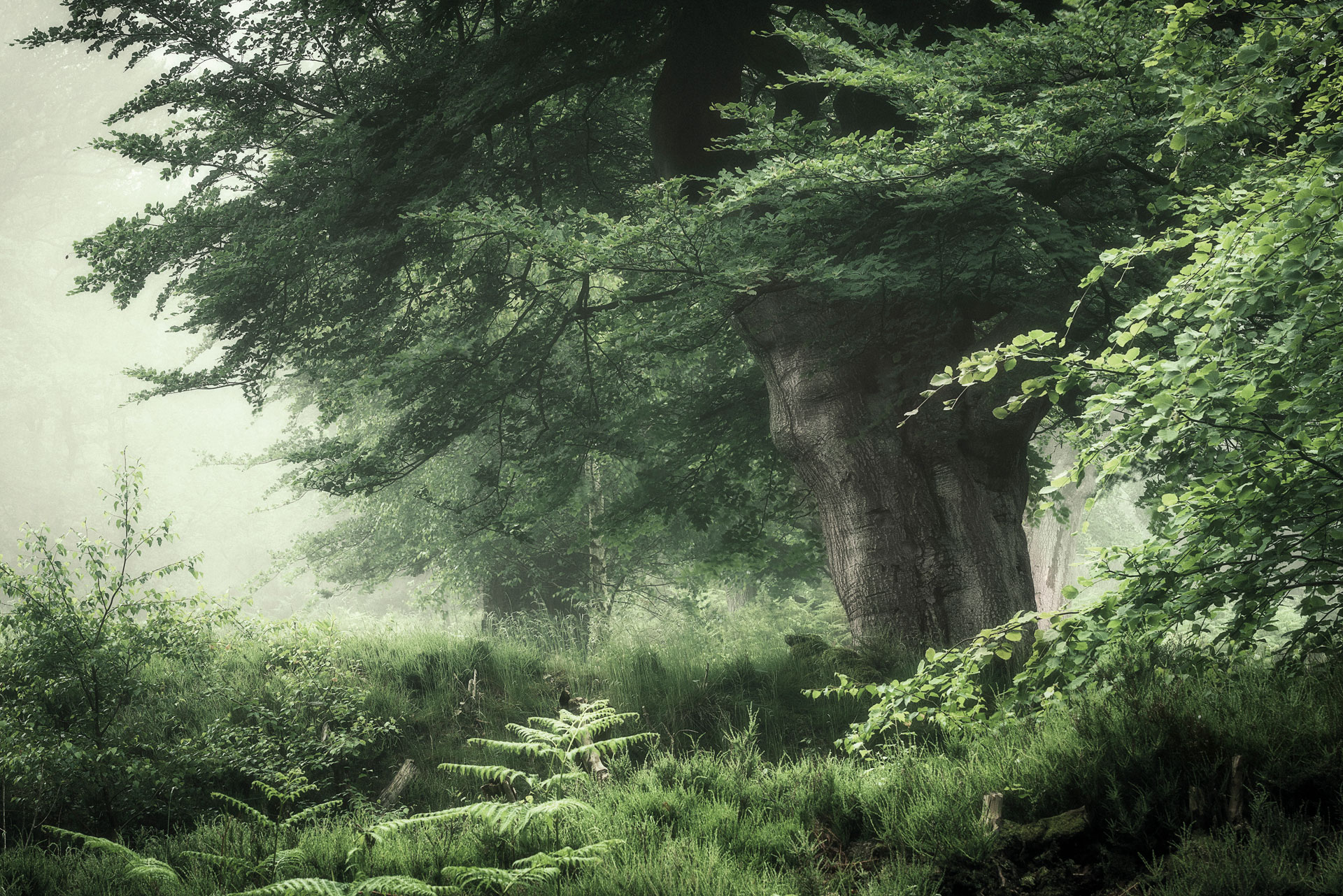 In Praise of Trees: The Healing Powers of Forests
---
Why we all need to hug a tree
The real secret to happiness? Forest bathing, says Amy Wakeham.
There's something endlessly unknowable, yet reassuringly familiar, about trees. Soaring silently from the dark earth, their immense height and far-reaching branches make them nature's true giants. They contain secret worlds, their intelligent systems hidden away under unassuming bark and within deep roots. And they are in themselves entire universes, hosting thousands of dependent species and ecosystems in their branches.
'Trees are sanctuaries,' wrote poet and philosopher Herman Hesse. 'Whoever knows how to speak to them, whoever knows how to listen to them, can learn the truth. They do not preach learning and precepts, they preach, undeterred by particulars, the ancient law of life.'
Trees outlive us by centuries and witness generations of human life – the oldest tree in the UK, the Fortingall Yew in Perthshire, is believed to be well over 2,000 years old. They remind us, lest we forget, how insignificant human lifespans really are.
There's an old English proverb that says: 'If you want to be happy for a year, plant a garden; if you want to be happy for life, plant a tree.' According to campaigners in 2020, the future happiness of the human race is predicated on planting trees (after we've moved on from Covid-19, of course).
In the UK alone, the Committee on Climate Change (CCC) has said we need to plant 90-120 million trees a year between now and 2050 to achieve carbon neutrality. It's the biggest push for tree planting since the end of World War I, when the UK's tree cover hit an all-time low of five per cent. Right now, only 13 per cent of UK land is made up of trees – the CCC wants to grow that to at least 17 per cent in the next 30 years.
Trees have become the new gold rush – a prize far greater than monetary riches, according to climate scientists. This is because they not only help capture carbon from the atmosphere, but are vital in our battle to stop declining wildlife numbers, by creating diverse habitats. Trees can also help reduce flooding by preventing soil erosion and slowing water flow, a hugely significant benefit considering our recent apocalyptic rains.
The National Trust is already on board. Britain's largest private landowner has promised to plant 20 million trees on its land over the next decade. Likewise, the Woodland Trust launched its Emergency Tree Plan in January, in which it urged governments and councils to take action.
Individuals are also on the case: Paul Lister, owner of the 23,000-acre Alladale Wilderness Reserve in the Scottish Highlands, is already seeing the benefits of reforesting his land, having planted 920,000 saplings between 2009 and 2012. His Highland neighbours, Danish clothing magnate Anders Holch Povlsen and his wife Anne, who own over 200,000 acres, plan to remove sheep and cull deer across their estates, to allow native woodland and other species to regenerate.
Elsewhere in the world, Tree Sisters, the women-led charitable foundation, has planted over six million trees across its projects in Kenya, Madagascar, Brazil, Cameroon, Nepal and India. Plant Your Future is a charity working in Peru that funds sustainable agroforestry, empowering farmers while protecting and regenerating Amazon rainforest. Forests Without Frontiers has also been integral to the rewilding of the Carpathian Mountains.
Of course, caution is needed. Dr Tony Whitbread, president of the Sussex Wildlife Trust, warns: 'Enormous ecological damage was done in the mid-20th century by tree planting,' with Sussex losing 80 per cent of its heathlands, half of which to trees. So care must be taken with which species are planted, and where.
Furniture designer Sebastian Cox, who has built his business around British woodlands, wants the UK to focus on the broader ecological issues, not just replanting. 'There's a massive opportunity with trees in terms of solving the world's problems,' he argues. 'If the concrete industry was a country it would have the third largest emissions after China and the USA. If we can replace some of that concrete with wooden structures, we could not only cut down on emissions, but also be storing carbon dioxide.'
Woods and forests aren't just beneficial to the planet, they can also improve our lives. A recent study by Derby University concluded that spending time among trees is linked to improved happiness and mental wellbeing.
Forest bathing has recently started sweeping the West, following the Japanese practice of shinrin-yoku, which involves spending time mindfully among trees. It's going mainstream in retreats, spas and hotel programmes worldwide, and it's backed up by science: Professor Yoshifumi Miyazaki, of Chiba University in Japan, found leisurely forest walks led to a 12.4 per cent decrease in the stress hormone cortisol, compared with urban walks. Participants in his studies also reported better moods and less anxiety.
'It's a matter of opening your senses to the stimuli of the forest, gently walking, breathing the vital air under the trees and reinforcing an emotional connection with the landscape,' explains Marco Nieri, a bio researcher and co-author of The Secret Therapy of Trees, who leads the forest bathing retreat at Rosewood Castiglion del Bosco in Tuscany. 'Practice involves one's connection to the natural world, and awakens the perception of beauty, wonder and curiosity.'
Nieri sees forest bathing as a cure for our frenetic urban lives. 'Today, people spend more and more time in closed spaces and technostress is increasing everywhere,' he says. 'This leads us to suppress the innate biophilia that characterises us as human beings – which means the neurological and rooted need to be in contact with nature and other living beings.'
That disconnect from the natural world could have serious consequences for the environment. Recent research by the National Trust has found that people who make small, everyday connections with nature (like birdwatching, forest bathing or gardening) are much more likely
to take action to protect it.
Above all, it's about rebuilding centuries-old connections between humans and trees, and forging a deeper understanding and appreciation of woods and forests, as well as the natural world. Perhaps by listening to trees, as Hesse suggested, we'll end up all the wiser.
Where to Try Forest Bathing
Rosewood Castiglion Del Bosco, Tuscany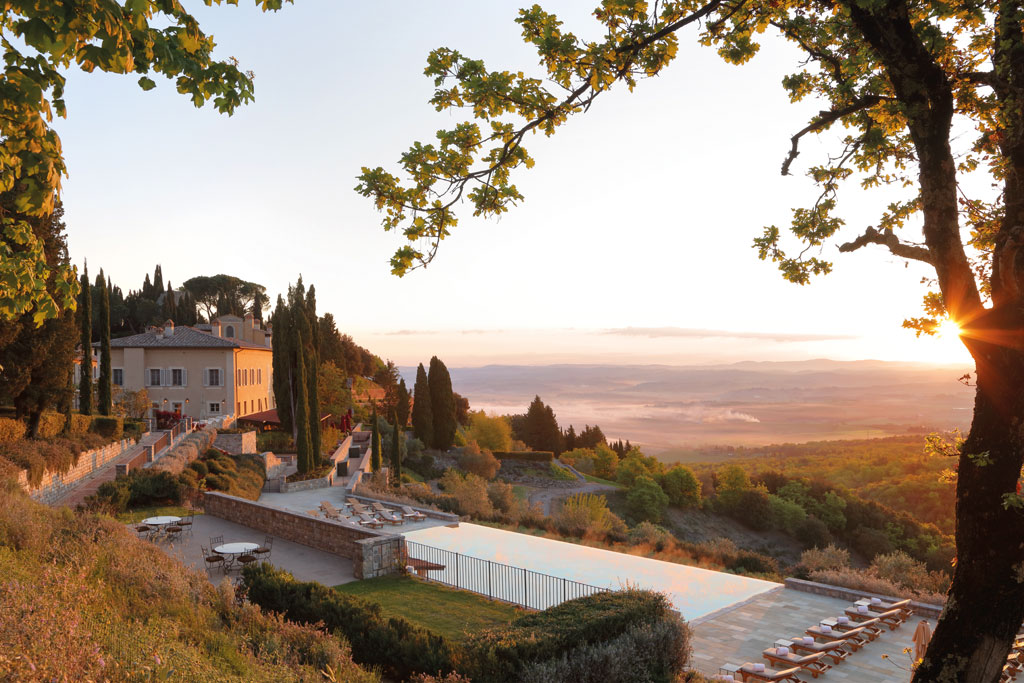 Step out into the Tuscan woods with arboreal healing guru Marco Nieri himself as he leads the hotel's new forest bathing programme. Experience meditative nature walks, as well as yoga in the woods. Dates TBC. From c. £1,740 B&B, per suite, per night. rosewoodhotels.com
Swallowtail Hill, Sussex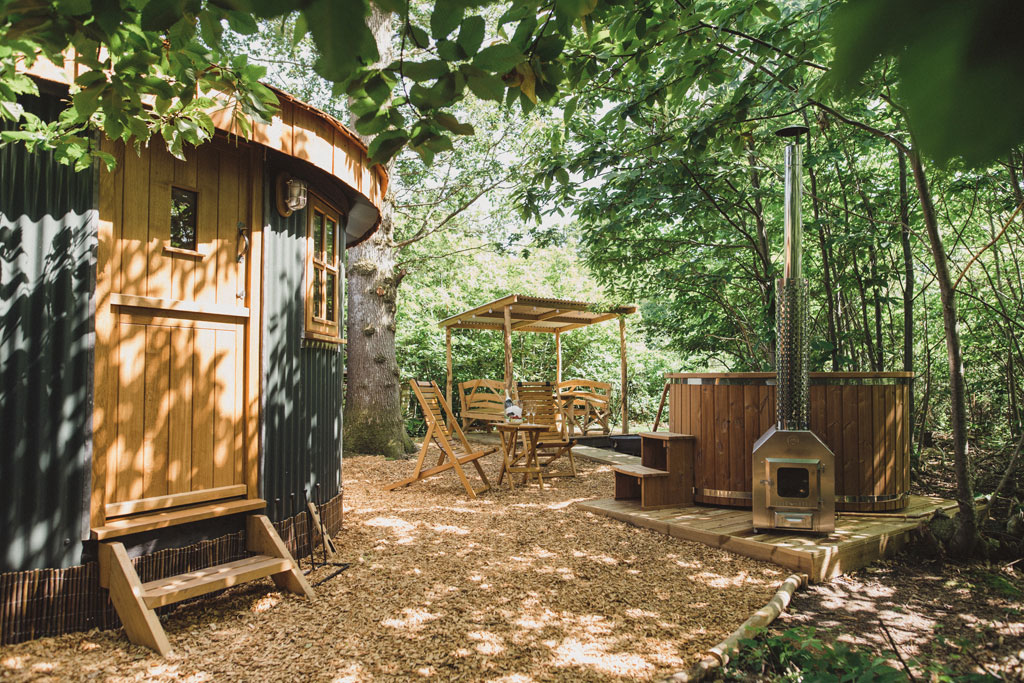 Set among 40 acres of wildflower meadows and woodlands in Sussex, Swallowtail Hill Farm was established to preserve the natural landscape. You can take a guided walk around its woodland, and kids can join the forest school for more hands-on fun. Two nights in a cottage from £230. swallowtailhill.com
Forest Holidays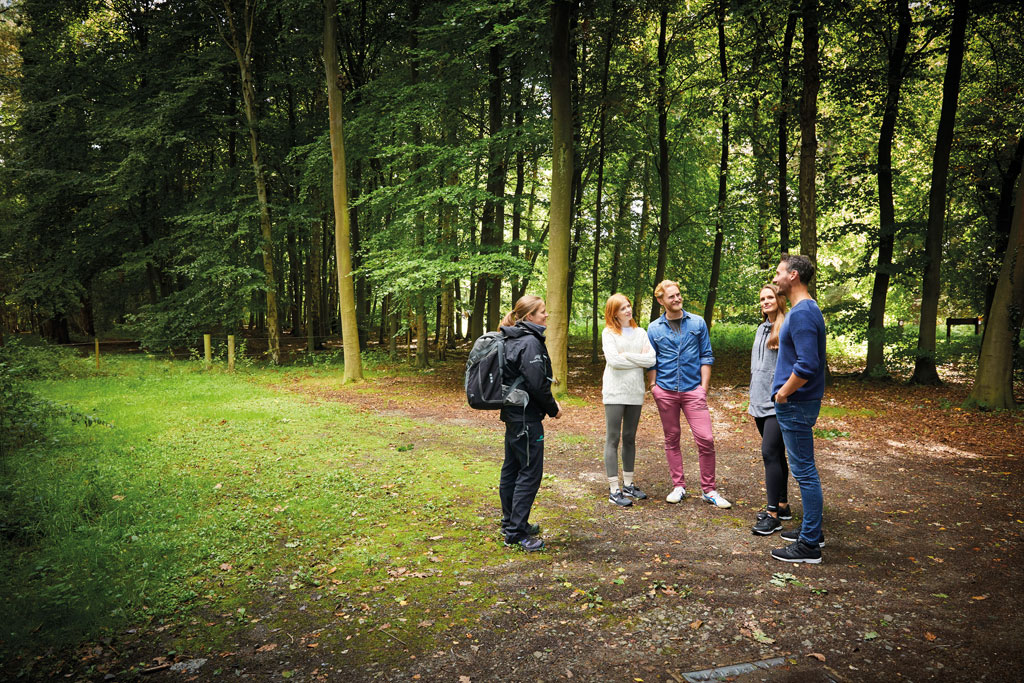 The first in Britain to offer dedicated forest bathing escapes, Forest Holidays has luxury cabins and treehouses all over the UK. You can get back to nature in all of them, but Blackwood Forest hosts dedicated forest bathing experiences led by trained guides. Cabins from £495 for four nights midweek. forestholidays.co.uk
Aman Kyoto
The just-opened Aman Kyoto will take you back to where it all began, in eight acres of beautiful forest carpeted with moss and bordered by a trickling stream. Gentle yoga takes place beneath the trees, and a secluded spa offers hot springs and Zazen meditation. From £1,258 per night, sharing. aman.com
What to Read
Four books to reconnect you to the natural world