Head to the Business Design Centre in Islington this week for the 30th-anniversary edition of London Art Fair. The Fair Director gives us her top insider tips…
Returning with a bang for its 30th anniversary, London Art Fair will be showcasing over 130 exhibitors from around the world this week at Islington's Business Design Centre. From 17 – 21 January 2018, head to the UK's largest fair for Modern British and contemporary art to discover a unique blend of 20th-century giants and emerging cutting-edge artists. This year's Fair is the most international to date, including galleries from Korea, Israel, Turkey and Angola.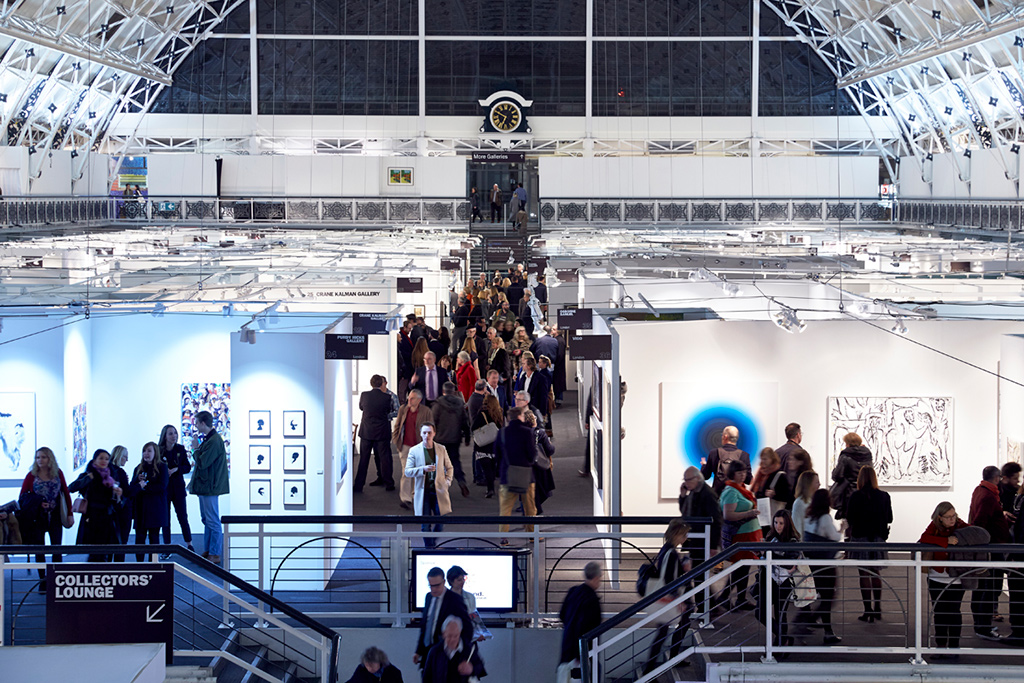 We speak to Sarah Monk, the Fair Director of London Art Fair since 2013, to bring you the ultimate insider's guide. Having exhibited at the Fair in 1999 before becoming its Manager in 2001, her long association with the Fair and expert eye make her perfectly placed to give us the inside scoop on the names to know and the pieces to make sure you see.
The Insider's Guide to London Art Fair
C&TH speaks to Sarah Monk, Fair Director of LAF
What is particularly exciting about this year's fair?
We are incredibly proud and excited to be celebrating the 30th anniversary of London Art Fair this January, making it one of the capital's longest-running art fairs.
In celebration of our 30th birthday, we have teamed up with our Museum Partner Art UK to present a unique exhibition called Art of the Nation: Five Artists Choose. The five contemporary artists at the heart of the exhibition are Sonia Boyce, Mat Collishaw, Haroon Mirza, Oscar Murillo and Rose Wylie. Each artist has selected works from Art UK, home to the UK's public art collections, that reflect a theme personal to them, promising a captivating display which celebrates the richness of our regional collections across the country.
Names to know?
Rose Wylie's paintings are crude and joyous and as she enjoys her first institutional solo exhibition in London at the Serpentine Sackler Gallery, it's wonderful to have her work also featuring prominently in this year's Fair. Union Gallery will be showing new drawings based on the artist's childhood memories. Rose is also one of the artists who has selected work for our exhibition with Art UK, in which she aims to celebrate work that is not usually valued, eager to include 'painting that isn't on the face of it acceptable to the art establishment'.
In contrast, I'd recommend exploring the work of Alan Davie, who is not only one of Scotland's most important artists of the 20th century, but was the first British painter – and perhaps the first European artist – to realise the vitality and significance of American Abstract Expressionism. Alan Wheatley Art were made sole representatives of his Estate in September, and will be showing a both sought-after and previously unseen works.
READ MORE: The Best Current Exhibitions in London
What are you most excited about seeing at the Fair?
Grayson Perry is undisputedly one of the UK's most important and relevant artists of his generation and a London Art Fair favourite. Castlegate House from Cumbria are showing an astounding embroidery by Perry entitled 'Britain is Best'. Having grown up in Northern Ireland, this work has a particular resonance for me, striking a satirical note on the Belfast unionist banners in his recognizable style. He's an artist whose breadth of work and talent seems to hold no limits.
Whilst the Fair offers collectors the opportunity to reconnect with our established galleries year on year, it also feeds the appetite of those wanting to make new discoveries and access new galleries. Having first met La Lanta Gallery from Bangkok whilst they were showing at Scope Art Fair in Basel, it's fantastic to have the gallery joining us in London. They're bringing Eri Imamura's great Japanese and manga-inspired works, which strive to reconcile material urbanism with an animistic desire to reconnect with nature.
Who are the new kids on the block to keep an eye out for?
Our Art Projects section offers a platform for emerging international galleries, and this year we're excited to welcome Darger HQ from Nebraska, USA, which has crowdfunded its trip to the Fair in order to bring Midwestern art to the UK. They will exhibit a collaborative installation by artists Kristina Estell and Peter Fankhauser, who will build an environment onsite that reflects the surrounding natural, architectural and cultural space.
Meanwhile, The Cynthia Corbett Gallery returns to the Fair with a selection of the most promising artists from their Young Masters Art Prize, including Azita Moradkhani who won both the 2017 Young Masters Art Prize and the newly-launched Young Masters Emerging Woman Art Prize with her exquisite drawings in coloured pencil on paper.
Where do the insiders hang out during the Fair?
We're incredibly lucky to have such an amazing selection of restaurants and bars on our doorstep for when fair fatigue hits. I can often be spotted at the great local French brasserie Bellanger. We've teamed up with them this year on a special offer – a 2-course meal with wine and a London Art Fair ticket for just £25 – so there's even more reason to hang out there!
Whilst visiting the Fair many of our collectors will also take the opportunity to call in on some of our cultural neighbours with both the Estorick Collection and Parasol unit foundation for contemporary art walking distance from the Fair.
READ MORE: The London Culture Diary
Tips for first-timers?
Although buying art can undoubtedly become a great investment, the starting point for an experienced collector or novice alike should be to have an immediate connection and love of the work. Art is a mid to long-term investment and you have to hold onto it for a while for the price to appreciate, so it is important that you like it and enjoy living with it.
Visiting the Fair obviously gives collectors the opportunity to view an enormous selection of work under one roof. If you're not sure where to start, Sotheby's Institute of Art will be offering daily tours to help navigate the Fair with different highlights including photography, contemporary art, prints, Modern British and emerging markets.
And finally, the best exhibitions to look forward to next year?
The Fair heralds the start of a series of major openings across the capital's public museums and galleries.
At the Southbank Centre, the Hayward Gallery reopens and kicks off its 50th anniversary year with the first UK retrospective of German photographer Andreas Gursky (January 25 – April 22). One of the world's most celebrated contemporary photographers, Gursky's large format images scrutinize the consumerism and capitalism of modern life in impeccable detail and will no doubt look stunning in the Hayward's revamped galleries.
READ MORE: Everything You Need to See in 2018
The Royal Academy is also celebrating a major birthday with the opening of their 250th birthday extension in May, unveiling a newly transformed building that brings together Burlington House and Burlington Gardens and lots of new space for the RA schools and learning programmes.
I also can't wait for the opening of The London Museum of Photography in the second half of 2018.  It's an offshoot of Fotografiska, a contemporary photography centre based in Stockholm, and the building will be in the Whitechapel Building in East London.
London Art Fair is taking place from 17 – 21 January at the Business Design Centre. For further information and to book tickets visit londonartfair.co.uk
---