What's On by C&TH gets the inside scoop from The Other Art Fair's manager…
This month sees the return of The Other Art Fair, the Saatchi Art-sponsored showcase of the next generation of art superstars with editions in New York, Los Angeles, Sydney and Melbourne. The world's leading fair for buying directly from artists, the London edition will be held at Victoria House in Bloomsbury from 22 – 25 March.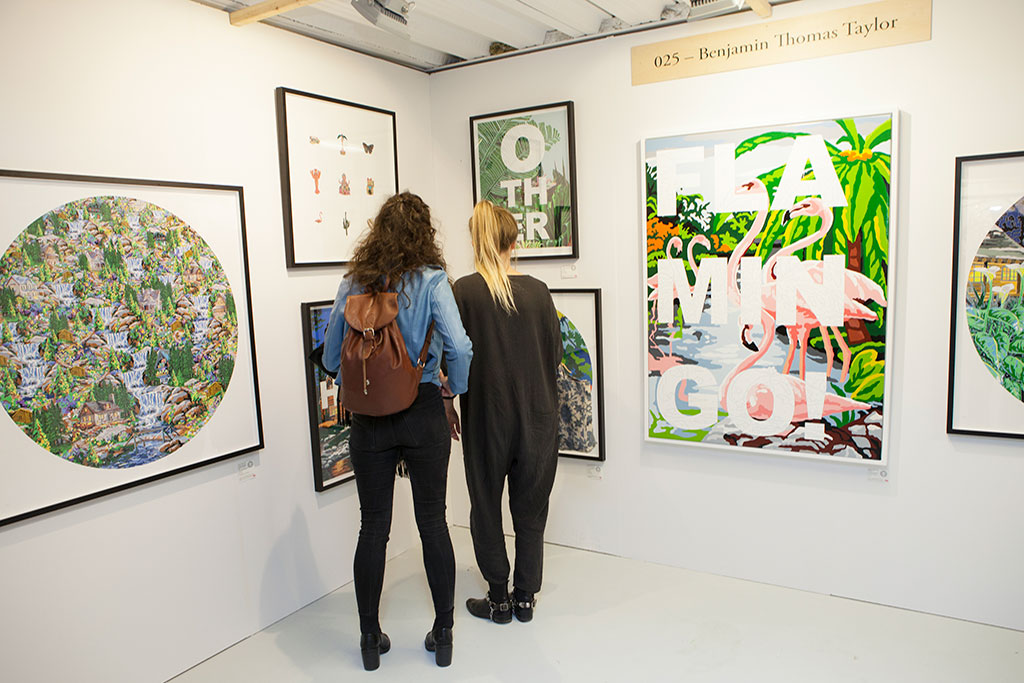 A panel of industry experts has selected 120 up-and-coming contemporary artists from across the globe to showcase in London, covering all mediums. The Fair is a highlight of the art calendar for experienced collectors and first-time buyers alike, giving visitors the chance to discover emerging artists that have been curated by distinguished names in the art world, and buy from them directly.
"From its humble beginnings in a warehouse in London in 2011 The Other Art Fair has grown into the world's leading fair for buying directly from artists. 2018 is a monumental year for us, hosting ten fairs including expansion into two new cities, LA and Chicago. We are presenting over 1,000 artists in seven cities, and we anticipate selling over 6,000 artworks" – Ryan Stanier, Founder of The Other Art Fair
We speak to Jessica Chow, the UK Fair Manager, to hear her insider's perspective on this year's artists to watch – essential reading for those thinking of investing in the rising stars of global contemporary art.
The Artists to Watch
May Parlar
'A Turkish American photographer and filmmaker who grew up between Istanbul and New York. Her photography explores fundamental concepts of identity, gender, vulnerability, belonging and alienation. Her staged images, often featuring women, create different narratives of reality and cause the viewer to question the defined and socially constructed.'
The C&TH Guide to the Biggest Exhibitions of 2018
Liviu Mihai
'Romanian artist Liviu Mihai creates enigmatic paintings that are full of life. His careful observations of social interactions and expressive brush strokes fabricate captivating stories.'
Rosemary Chatin
'Rosemary Chatin's painted landscapes play with perspective, line and form to draw you in. Her simplified forms and colour palette create enchanting scenes of pools, palm trees, people and architecture. She dropped out of an architecture degree to study languages, but the influence is still apparent in her spectacular sense of perspective.'
The Best Art Exhibitions in London Right Now
Highlights
'Other highlight features to see include an immersive entrance installation by Morag Myerscough, known around the world for her large scaffold structures adorned with neon geometric patterns and shapes. Experience the ultimate chill out in Fei Alexeli's 'No Bad Days' bar installation of palm trees, neon lights and swinging seats. Brooklyn-based hand poke tattoo artist Rosa Bluestone Perr, known as Bluestone Babe, brings her unique designs for the first time to London, just for fair visitors.
There will also be free printing workshops by Sisters in Print, free curated tours and a series of talks and panel discussions throughout the weekend (find out more here). Charity project Art on a Postcard will also be hosting a secret auction including works by (Turner Prize winner) Lubaina Humid, Paula Rego and Billy Childish.'
Interestingly, over half of the participating artists this year are women – so, keep an eye out for works by Kristjana Williams, Victoria Topping, Marcelina Amelia, Sara Dare and more.
C&TH Reader Offer
We've teamed up with The Other Art Fair to give our readers an exclusive discount on tickets – click here to book discounted access to any day of the fair, using the code "CTH25". That means more money to invest in your favourite piece of art…
When & Where?
The Other Art Fair will take place at Victoria House, Southampton Row, London WC1A 2QP from 22 – 25 March 2018. Find out more here.
---