Actor Annabel Scholey makes a mean rogan josh and is a competitive games player…
Where do you go to escape the city?
We are already quite out of it in Hastings but my favourite place to get away from it all, if I'm feeling fried, is Camber Sands. I didn't know this part of the country before I moved here but it's just gorgeous.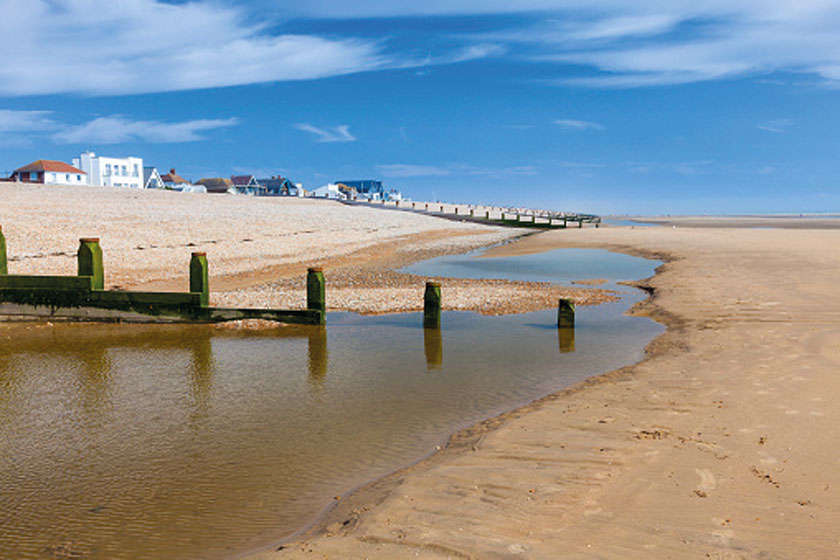 Where's home to you? 
I am originally from west Yorkshire and a big part of my heart is still up there in Wakefield with my family. However, I recently moved to Hastings with husband, and I have been surprised how quickly I have fallen in love with it and it has become home.
What has been the most memorable night out you've had in London?
My hen do last May has got to be the most memorable. It was a surprise as I didn't think I was going to have one, but a couple of my friends took me to The Nightjar in Old Street then Smokestak in Shoreditch and got very merry. We ended the night eating beige snacks.
Best thing a cabbie has ever said to you?
When I was in New York a Brooklyn a cabbie recognized my accent with its flat 'As' and knew I was from Leeds. I was feeling homesick so it was great to talk about home for a bit.
Which historic country house would you most like to snap up?
My husband and I are geeks for historic houses so we have visited quite a few. Recently we went to Petworth House in West Sussex and I was totally taken aback by it. I'd be very happy living there surrounded by Turner paintings.
Last thing you saw at the theatre?
I saw Follies at the National Theatre and I wasn't disappointed, it was beautiful and heartbreaking. I love Imelda Staunton and Emelda Saunton and Janie Dee, my first job when I was 13 was on the Sound of Music with Janie Dee and I have admired her ever since.
What would you do as mayor for the day?
I would start the ball rolling on dealing with the homeless problem we have. We are in the middle of a housing crisis, it's 2018 and it's inexcusable to still have homeless people on the streets.
Have you done something naughtier than run through a field of wheat?
I should hope so. I was filming Medici: Masters of Florence in Italy and all the cast became good friends while filming and living in Tuscany. One night we decided to go swimming in a fountain which was filled with thermal waters, not knowing this was a big no-no. We weren't caught but it was absolutely freezing.
Where do you go when you don't want anyone to get hold of you?
That's easy, Fermanagh in Northern Ireland. It's where my husband is from and there is no phone signal.
Post Brexit Britain… Sum it up in a sentence
A worryingingly isolated, increasingly expensive, angry mess.
What's your favourite game to play and why?
I avoid board games in public because I am very competitive. But, I do love articulate because I thrive on the pressure.
What are Saturday afternoons made for?
My husband and I are obsessed with TV programme Salvage Hunters. We re-enact it by going to antique fairs and shops collecting items for our new house. Otherwise, it's walking eating and drinking good wine.
What would you change about yourself?
I would make myself more chilled out and live in the moment.
Which book would you take and song would you listen to on your desert island?
My song would be Moon River. My husband's sister is a cellist and she played it at our wedding. It makes me think about the bigger picture and the people you love. The I would take the Wide Sargasso Sea by Jean Rhys. It's based on the mad woman in the attic by Jane Eyre and is emotional and visceral. I played the protagonist in a play once.
What three items would you save from your burning house?
Photographs of my family and our wedding album, my Nan's rocking chair and then it's a toss-up between my husband and cat.
What would really improve your life?
I would love to take up meditation. I'm about to go to Sri Lanka so it would be a great place to start.
Who's coming round for dinner and what are you cooking?
I'm famous for my one pots so I'd make a lamb rogan josh and invite Lucy Worsley the historian and television presenter, Michael Fassbender as I think he likes a good party and my friend Zoe who would make everyone laugh and makes great vodka.
Where was the last place you 'discovered'?
Sicily. I'm a huge fan of Italy but had never been to Sicily before so we went for a week. We didn't have time to do Palermo or the north so we'll have to go back.
Brand new drama The Split is coming soon to BBC One
More from the Mag: Inside the April Design Issue | Everything You Need to See in 2018
---