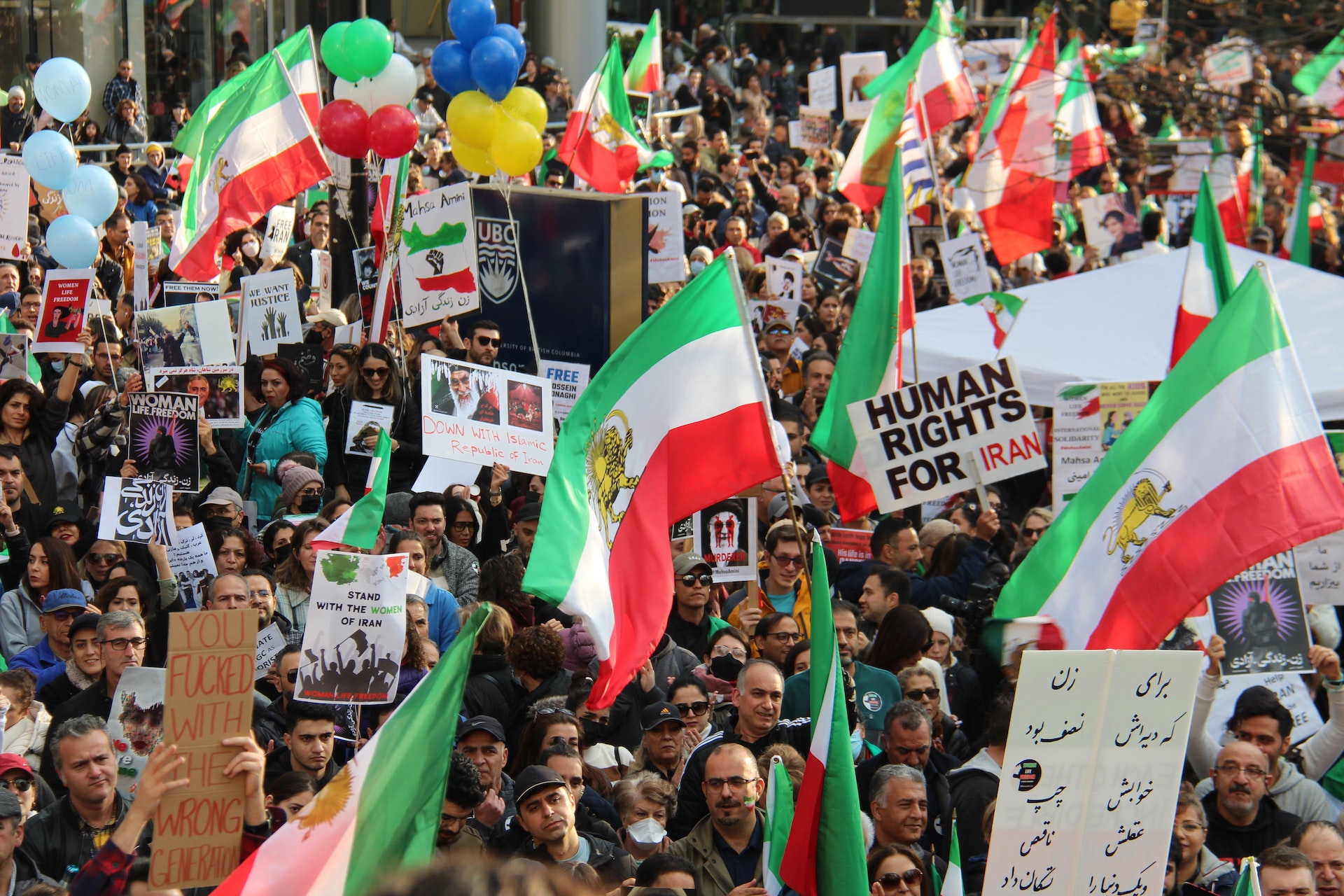 How Iran Became the Frontline of Feminism
---
The fight for equality that touches us all
Kamin Mohammadi looks at the long fight for equality by Iran's women and places the current protests in the 100-year-long struggle for Iranian sovereignty and democracy, revealing how Iranian women's struggle touches us all.
How Iran Became the Frontline of Feminism
The picture was ordinary enough: a woman with her long hair loose holding a sign written in Kurdish – 'Woman Life Freedom', the resonant chant of the protests that have shaken Iran in the past three months. This image appeared on Iranian film star Taraneh Alidoosti's Instagram feed in December, an innocuous enough picture but the actor is Iranian and, in the Islamic Republic of Iran where mandatory hejab is compulsory, for her to post a picture of herself without it, with her hair loose and visibly supporting the protests, was enough to land her in jail – she was released three weeks later on 4 January.
Taraneh, an award-winning actor who was seen earlier this year at Cannes promoting Saeed Roustayi's film Leila's Brothers, which won the FIPRESCI Prize at the festival, is one of Iran's best-known stars. She also co-starred in Asghar Farhadi's Oscar-winning 2016 drama The Salesman and has been seen on Western red carpets more than once. Yet her fame offered no protection in the face of the Islamic Republic's brutal repression of the current protests. Even the regime itself admits that more than 300 people have died, including many children, although human rights groups estimate this figure as being much higher. Eighteen thousand people are under arrest, closed trials are taking place and execution orders are being handed out to protestors, activists, rappers and students. Well-known figures from Iran's arts and entertainment currently in detention include filmmakers Jafar Panahi, Mohammad Rasoulof and Mostafa Al-Ahmad, rapper Toomaj Salehi, and Kurdish rapper Saman Yasin, who faces the death penalty.
Women Life Freedom Protests
The protests erupted after the death of Mahsa Jhina Amini, a 22-year-old Iranian Kurd, who was taken into custody on 13 September because of 'bad hejab'. She was visiting relatives in Tehran when the Morality Police had challenged her about hair showing from her standard hejab of headscarf and long loose coat. She was in custody for two hours before being taken to hospital, where she lay in a coma. She died on 16 September. The authorities claimed that she had a heart attack from a pre-existing condition. Her family deny this, and state that her body showed signs of being beaten.
Protests broke out in Mahsa's homeland of Iranian Kurdistan and, in spite of a brutal crackdown by the authorities, they soon spread throughout Iran. The Kurdish freedom cry of 'Woman Life Freedom', the dominant chant to what has become the biggest protests that Iran has seen since the revolution of 1979, has been recorded in 350 locations. And all over the world, people are coming together in support of the brave protesters of Iran – millions of people have now marched in solidarity across the world in weekly demonstrations that gather hundreds of thousands of people together.
What started as a protest against the mandatory hejab soon became a demand for freedom. While the brutal treatment of Mahsa Jhina Amini was the spark that lit this conflagration of rage, the real heat comes from decades of oppression of any viable opposition to the hardline clerical regime, a free-falling economy and mass corruption. Plus, the hypocrisy of the ruling elite, who refuse to engage with Iranians' simplest demands even as their own children post pictures of the parties they hold in mansions in LA bought with the pilfered resources of our country.
The demonstrations are not a call for the end of Islam: they are a call for the end of the symbols of state power and abuse, a call that even devout Iranians have joined. Religious women in hejab are in the protests alongside the girls who have so courageously whipped off their headscarves to face the regime's forces with their hair flowing.
A History of Protest
The women of Iran have been demanding freedom ever since Ayatollah Khomeini took power in 1979 – the first demonstration against mandatory hejab was three weeks after Khomeini's arrival. Before the revolution Iranian women had some of the most liberal laws in the Middle East, and they had been voting since 1963. Significant uprisings in Iran led by women have taken place since the Iranian Revolution. From 2009 onwards, men have joined women in these protests, often adopting hejab themselves to express their equality with women.
But these demonstrations feel different to those that have come before in significant ways. In spite of a brutal crackdown that has seen live and rubber bullets being shot into protesters, mass rounding up of university students, dystopian scenes of school children being beaten by security forces in their own schools, a mass attack on Kurdistan with drones and shelling directly onto people's houses, and a massacre in another ethnic minority province of Sistan and Baluchistan, the people of Iran are not giving up. There are increasing instances of quiet civil disobedience – women going about their daily lives without the mandatory hejab is becoming more common throughout Iran. And in spite of two executions that have now been carried out, and many more protesters awaiting their trials, the courage and bravery of ordinary people in Iran – both men and women – continues to drive this movement forward and keep the protests alive. National strikes are now sweeping regularly across the country, too, a sign that the uprising is changing gear but with no intention to stop.
The day after Taraneh's arrest, a group of Iranian filmmakers, actors and writers gathered outside the notorious Evin prison to protest her arrest. They continued the protest daily until she was released. Outside Iran, social media activists brought attention to her arrest through social media posts using her hashtag – as in the past, a detainee's fame has served to protect their life. Whatever happens now to Taraneh, and the many thousands who are still being held in custody, tortured, raped and brutalised, the protests show that something important has changed in Iran, and whatever violent repression is used to send people back home from the street protests, Iran and its people will never be the same again.
What is happening in Iran is the forefront of feminism: young women taking back the right to their space, to their bodily autonomy, even at the cost of their lives. And, given the assault on women's rights we are seeing globally from the US to India, this is a struggle that touches us all.
Kamin Mohammadi is author of The Cypress Tree: A Love Letter To Iran, published by Bloomsbury. kamin.co.uk; @kaminmohammadi