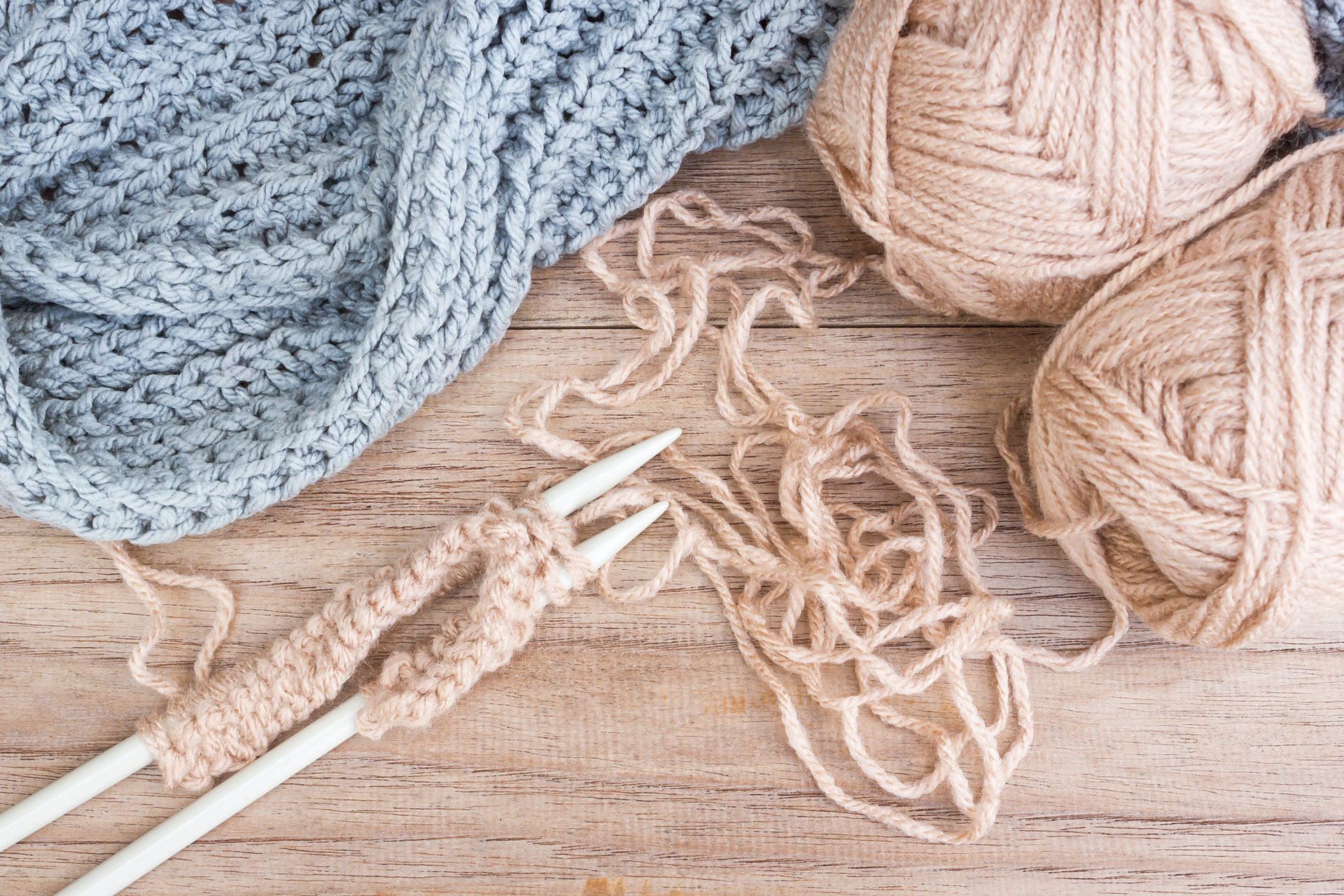 The Beginner's Guide to Knitting
---
Want to make 2022 the year you learned how to knit? We've enlisted the help of knitting and yarns expert Abby Parkes of Luxury Yarns for some tips on becoming a knitting pro (or at the very least completing your first scarf). It's as simple as knit one, pearl one…
'Knitting and crochet are very much back in fashion, and there are loads of gorgeous patterns available,' Abby tells us. So once you've bought your first needles and picked up a good quality ball of yarn, here's what you need to know.
A Beginner's Guide to Knitting
Why knitting?
Personally I find it very meditative – it completely relaxes me and actually calms the brain so is a perfect pastime at the end of a busy day. There have also been several studies into the many benefits of knitting: in the elderly it has been shown to fight dementia, and can also prevent the onset of arthritis and tendonitis, and in the young, the educational benefits are substantial: it helps in the development of fine motor skills, increases the ability to concentrate, encourages creativity, is beneficial to maths and spatial recognition, induces relaxation and can even reduce stress. It also instils a sense of pride and is a wonderfully satisfying hobby with endless possibilities for the creative imagination.
What do you need to get going?
A pair of needles, a ball of wool and YouTube.
How long will it take to learn?
It depends on how dedicated you are – like anything in life, it involves practice. However, it is very repetitive, so is quick to learn, but takes longer to master.
Is it easy, and what's the biggest challenge?
Yes it is easy – I haven't ever met anyone who hasn't been able to learn – but you actually have to want to do it. There are only really two stitches to learn and then the rest is just a matter of which stitch to use when. I'd say the biggest challenge is learning how to read a pattern. They can be very daunting to begin with as they are a series of instructions all written in abbreviated form so it looks like another language, but once you understand what each instruction is then they are quite straight forward.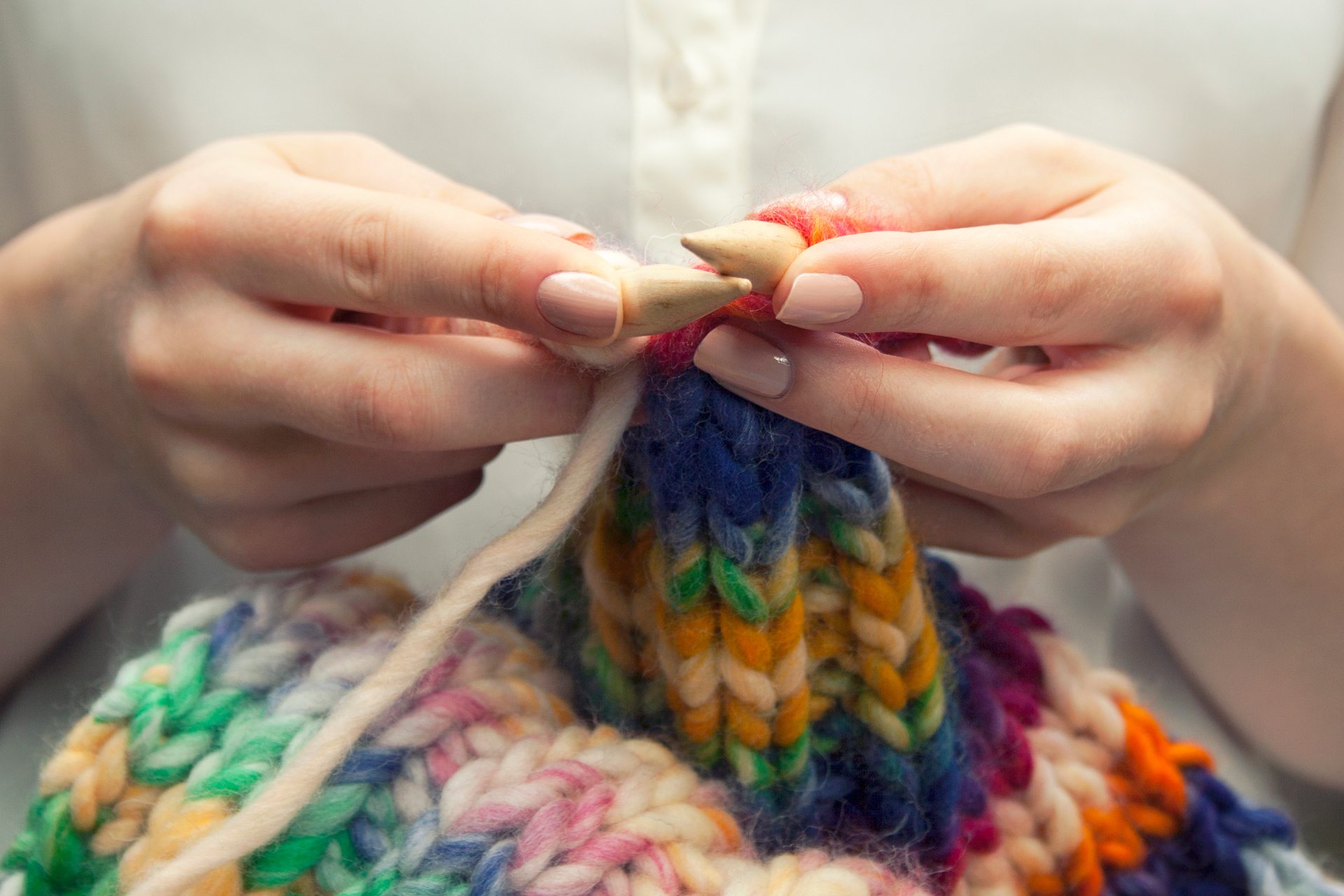 What's a good first project?
A scarf is probably the easiest project because it doesn't involve any shaping.
The best tip you can give?
Start out using a circular needle rather than the long traditional needles. Circular needles are far less cumbersome, they fit in your bag so you can take your knitting with you and do it whenever you have 5 minutes… waiting for a bus, on public transport, etc… They are even allowed on most airlines!
Anything to avoid?
Acrylic and cheap wool – personally I do not see the point in spending hours making something that ultimately feels cheap and horrible. I do understand that budget is a consideration, but buy the best wool that you can afford. Also, when starting out – the bigger the needle and thicker the yarn the quicker your project grows – hence the more satisfying it is. It is important to see your progress and stay enthusiastic!
How do you buy the best wool for your project?
There are literally hundreds of ways to buy wool now – with the widest choice being online. However, if you prefer to see and feel wool before you buy it then you can't beat your local yarn store. These are always a great place to get advice and tips too.
Also – join Ravelry – it's an online social network for knitting and crochet and has more than one million users world wide every month and more than six million registered users! It's a fantastic resource.
What is the difference between knitting and crocheting and how should you choose which to take up?
The main difference is knitting uses 2 needles and lots of stitches at the same time, whereas crochet only uses 1 hook and you work one stitch at a time. In terms of choosing I think it depends on what you want to make, although there are many patterns for both.
Abby Parkes started luxuryyarns.co.uk – an online store for knitting and crochet yarn and accessories, after the birth of her first child. She has been knitting and crocheting since she was five years old and teaches to both adults and children.
More resources:
READ MORE: The Best Virtual Art Exhibitions / The Best Craft Kits For Adults