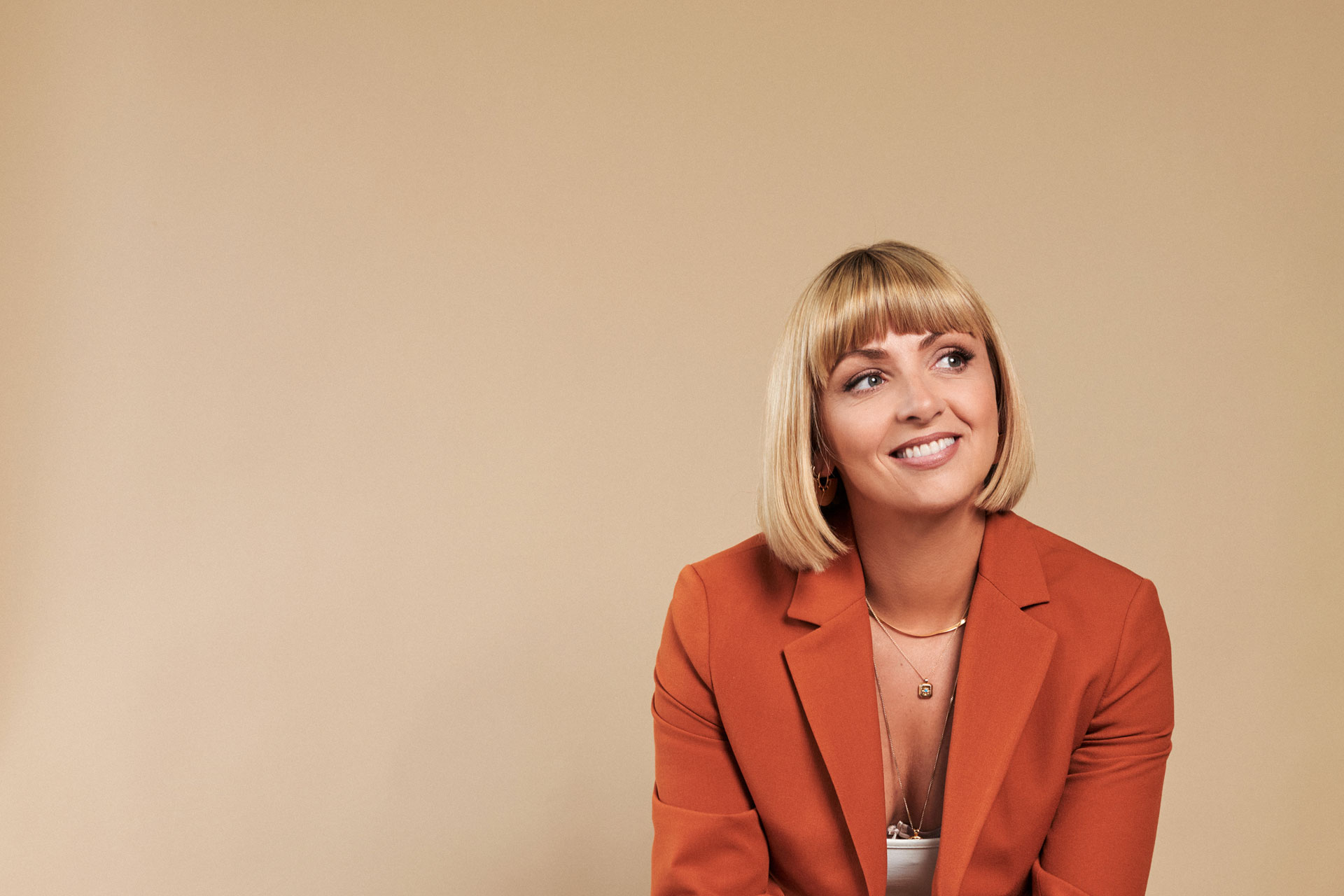 Lisa McGrillis on Romesh Ranganathan's New Show Avoidance
---
'Rehearsals took place over Zoom'
British actress Lisa McGrillis began her career on the stage, starring in plays for the National Theatre and Shakespeare's Globe. In 2012, though, she turned her attention to the screen, taking on the role of Vicki in BBC Two Series Hebburn. A flurry of other TV roles followed, but Lisa is perhaps best known for Mum, Stefan Golaszewski's family sitcom in which she played the ditzy but loveable Kelly. 'It was pure escapism, I absolutely loved the bones of Kelly,' she tells us. Her latest project is another sitcom, Avoidance, Romesh Ranganathan's new show about a man with severe conflict avoidance issues who is forced to change for the sake of his son. Ahead of the premiere, Lisa is here to tell us all about it.
Q&A with Lisa McGrillis
What can you tell us about Avoidance?
Avoidance is a bittersweet comedy about a man with severe conflict avoidance issues who is forced to change for the sake of his son. Jonathan's (played by Romesh Ranganathan) life revolves around his nine year old son Spencer, and he always defers decisions to his partner Claire (Jessica Knappett), no matter how big or small. So when Claire tells Jonathan she wants to leave him, he realises he has no home, no friends and no ambition, except one: preserve his son's happiness in the face of his parents break-up. So rather than tacking the situation head on, Jonathan takes Spencer and runs away to his sister Danielle (Mandeep Dhillon) and her wife Courtney (me!). Over the course of the series, will we see this unlikely foursome become a loving family?
Any funny stories from rehearsals?
Rehearsals took place from the comfort of our own homes over Zoom. Not ideal, but covid has really taken the fun out of rehearsals by – more often than not – not allowing them to happen in person. But Zoom does give you the opportunity to meet someone in their natural habitat. I do like having a nosey at people's homes and Zoom gives you a little glimpse at that. I like it when people's dogs/children/cleaners walk in. Or if they haven't made their bed.
Favourite person you've worked with on Avoidance?
You aren't allowed favourites are you? Fortunately I loved them all in equal measures.
Favourite role to date and why?
Playing Kelly in Mum has to be one of my favourite roles. It was pure escapism, I absolutely loved the bones of Kelly. Her innocence and lack of social awareness. She said what she was thinking in that moment, wrong or right. She was so kind and yet so damaged by the lack of love and nurturing from her own mother. She was just desperate to be loved and her relationship with Cathy was so beautiful. Stefan Golaszewski is a genius, I genuinely believe that. It was all there on the page, I was just lucky enough say it out loud.
Role you'd cut your right arm off to get?
I'd have cut my right arm off to play a part like Villanelle in Killing Eve. Roles like that don't come along every day. There's no way I could have done it anywhere near as good as Jodie did. She is outstanding in that role.
What demands do you have during rehearsals?
I really have no demands. I like a nice cup of tea, I'm easily pleased.
What qualities do you think have made you successful?
I'd like to think I'm quite easy to work with. I was incredibly eager to please in my youth, slightly desperate when I look back. I remember doing my first proper part in a film and I was asking anyone and everyone if they wanted a cup of tea. The runner actually stopped me and was like 'why are you trying to do my job?'. I think the longer I do it the less desperate I am to please people and more focused I am on just doing a good job. But I do think being nice can get you a long way. I remember overhearing an actor (who will remain nameless) – who I'd moments before been having a lovely chat with – talk badly to a runner. I was so shocked. It really stayed with me and completely changed my opinion of them and their work.
Film you think everyone in the world should see?
A beautiful French film called Intouchable.
What's your relationship with social media like?
I don't look at Twitter anymore, it depresses me. I came off Facebook about two years ago. But I am addicted to Instagram. Instagram and the weather app I seem to check all the time. In fact, I need a break from it. It makes me procrastinate so much. But I just love it.
What did you want to be when you were a little girl?
A travel agent. But when I look back I think I just liked pretending to be one and now I'm a professional pretender, so yeah… I need to play a travel agent probably.
If you could give advice to your 15-year-old self, what would it be?
Stop worrying about everything all the time. I'm just rereading that sentence now, to remind myself to stop worrying all the time.
Three books you'd take to a desert island and why?
I wish I could pretend to be a big reader, but I'm just not. So this is a hard question as I probably read about one book a year –which is stupid because I love nothing more than that feeling of not wanting to put a book down. I absolutely adored The Time Traveler's Wife –I remember vividly reading it on a train from Newcastle to Derby when I was about 24, I had to take myself off to the toilet to have a massive cry. Then A Thousand Splendid Suns by Khaled Hosseini: I remember just adoring this book, I couldn't stop thinking about it and didn't want it to end. And Marching Powder by Rusty Young. I'm totally fascinated by prisons – especially In South America. Thomas McFadden was a convicted British drug trafficker who used to run tours around San Pedro prison in Bolivia, it is so compelling.
The most challenging moment of your life?
When our daughter was born, she was very poorly and spent a week in NICU. It was terrifying how fragile and vulnerable she was and how completely helpless I felt being her mother and not being able to do anything, not even hold her. I feel eternally grateful to our NHS and the tireless work they do. We are so lucky to have them. My daughter is 16 months old now and fighting fit.
How can we all live a little bit better?
By slowing down and just taking a moment. Lockdown forced us to do that and it felt nice, but now the world has reopened and it has sped right up again and it sometimes feels so overwhelming. So I'm really trying to learn, as often as I can, to just stop and take a moment.
What's your interior design style?
We've gone from dark walls to light walls in the last month. It's changed my life – and mood. When we were filming Avoidance, Danielle and Courtney's house was painted in this gorgeous pink colour, it was so calm. I spoke to the design team and was like 'what is this colour?' I need it. It's 'Setting Plaster' by Farrow and Ball. Then a bit of rattan thrown in, pistachio velvet cushions and some House of Hackney printed fabric.
What is your current beauty regime?
My good pal Nicola Schuller is a make-up artist, she is so in the know about how best to look after your skin. Basically if she recommends something I buy it. She introduced me to 001 Skincare London. Their products are so incredible. I use Alpha-Paradise Cleansing Dew, it's like heaven in a bottle. Followed by Alpha-Glow Flash Facial Serum-Primer-Mask and then to moisturise Amino-Acids & Lipids Recovery Cream. I'm only three weeks into my new regime but so far so good.
What are your indulgences?
I really like treating myself to a massage.
What would your best friend say about you?
Ha! I'd hope they'd say I'm the kindest, funniest, loveliest most generous and warm and clever and beautiful and wise and wonderful person they have ever met.
How do you relax?
Have a massage, drink some wine, have a bath, watch Selling Sunset.
If we're coming to your area for a visit, what should we do?
We live in Wanstead and it's an absolute gem of a place. I can walk to parts of Epping Forest, which are so beautiful, it has two tube stops, it has an M&S and a Gails. But my favourite café on the High Road is Bare Brew, the coffee is incredible and they do a bacon naan, which in my opinion will change your life.
Are you a rule breaker or a rule taker?
I am a rule taker. I fear the consequences of rule breaking too much.
Avoidance is out 10 June on BBC iPlayer
Main image: Joseph Sinclair
MORE INTERVIEWS: