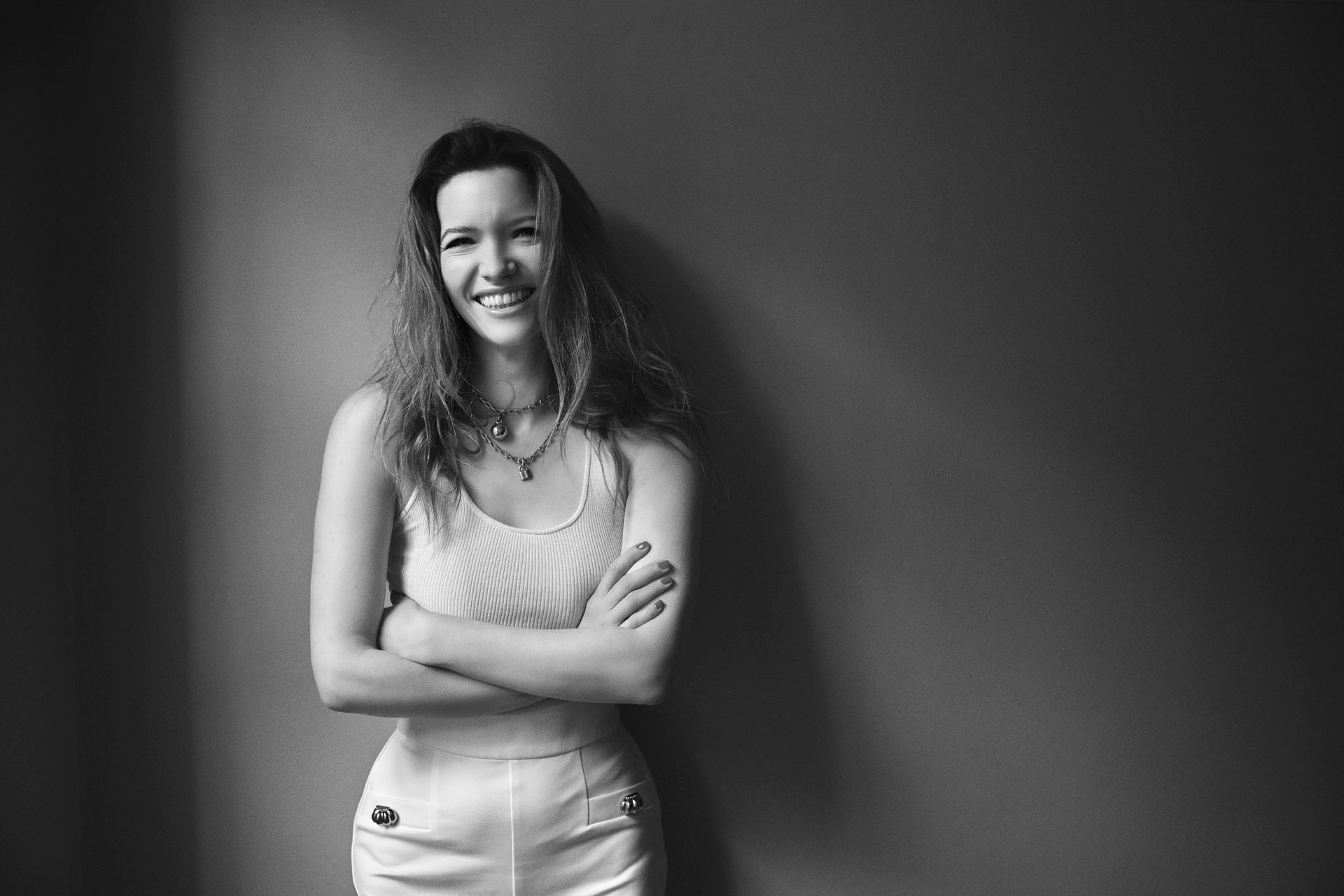 Talulah Riley on Playing Vivienne Westwood in Pistol
---
'I really loved playing Vivienne – I'd wanted to work with Danny Boyle forever'
Since finding fame as one of the leads in the 2007 St Trinian's reboot, Talulah Riley has become a renowned actress, starring in the likes of Inception and Westworld. But acting is just one string to her bow. Talulah is also a novelist and a tech entrepreneur, having founded a retail app called Forge while living in Silicon Valley with Elon Musk, the world's richest man who Talulah married and divorced not once, but twice. Her latest project is Pistol, a new FX series about the rise and fall of the Sex Pistols, based on guitarist Steve Jones' 2017 memoir and directed by Danny Boyle. Talulah stars as Vivienne Westwood, alongside her now-boyfriend Thomas Brodie-Sangster, who plays the band's manager Malcolm McLaren. Ahead of the show's release on 31 May, C&TH meets Talulah.
Q&A with Talulah Riley
What can you tell us about Pistol?
Pistol tells the story of punk band, The Sex Pistols. I play Vivienne Westwood, whose partner at the time, Malcolm McLaren, was the band's manager. Vivienne helped create the aesthetic of punk.
Any funny stories from rehearsals?
We had an extensive rehearsal period when the boys were in 'band camp' – they really got into the punk spirit and were always throwing fruit at each other (I have no idea why). When it snowed they had an indoor snowball fight. They used to climb scaffolding poles up to the ceiling, and wrestle/jostle constantly. It was a fun energy to be around.
Favourite person you've worked with on Pistol?
Thomas Brodie-Sangster.
Favourite role to date and why?
I really loved playing Vivienne. I'd wanted to work with Danny Boyle forever.
Role you'd cut your right arm off to get?
None, I'm very fond of my right arm!
What demands do you have during rehearsals?
While we were rehearsing I was doing Lent, so had given up dairy, meat and processed sugar. For snacks I was limited to the fruit bowl (the bowl from which the boys would be throwing fruit) and Thomas kept coming up and eating chocolate Penguins in front of me… I should've demanded peace.
What qualities do you think have made you successful?
In acting: a lot of luck.
Film you think everyone in the world should see?
One of my favourite films is Sleepless in Seattle. I think Nora Ephron was genius.
What's your relationship with social media like?
My relationship with social media is incredibly fickle. I have accounts but don't have the apps downloaded permanently on my phone.
What did you want to be when you were a little girl?
I wanted to be so many different things when I was a little girl: writer was definitely on the list, as was actress. But so was Olympic equestrian, archaeologist, scientist, ornithologist, housewife, professional golfer…
If you could give advice to your 15-year-old self, what would it be?
Stand up straight and eat more vegetables.
Three books you'd take to a desert island and why?
If I was stranded on a desert island for any particular length of time I'd probably want things that reminded me of home, so, Good Wives, because it is my favourite book and is cosy. Then John Seymour's Complete Book of Self-Sufficiency, because it is bucolic English life between two covers, but there might also be transferable skills for desert-island life. And Middlemarch because it's poignant without being depressing, and nice and long.
The most challenging moment of your life?
Dealing with the death of loved ones.
How can we all live a little bit better?
Swap online communities for real-life communities. Take care of the basics: eat well, get enough sleep, take some exercise. Commune with nature. Keep some things sacred.
What's your interior design style?
Vintage Laura Ashley meets the Bloomsbury set.
What is your current beauty regime?
Vitamin C serum and SPF in the morning. Hyaluronic acid in the evening.
What are your indulgences?
Books. Baths. Restaurants.
What would your best friend say about you?
I just asked her and she said: 'too fierce at pop-lacrosse'.
How do you relax?
I find baking whilst listening to music a good way to relax.
If we're coming to your area for a visit, what should we do?
If you were coming to visit, I'd suggest we stop at the local farm shop for supplies, pack a picnic and go for a long walk (the countryside is quite flat where I live, but the blossoms are out at the moment). Then to the local pub.
Are you a rule breaker or a rule taker?
I respect rules, as long as they're not arbitrary.
Pistol is out on 31 May on Disney+ and Hulu. Imagery by Leo Cackett.
MORE INTERVIEWS:
Downtown Abbey's Laura Haddock / Bridgerton's Martins Imhangbe