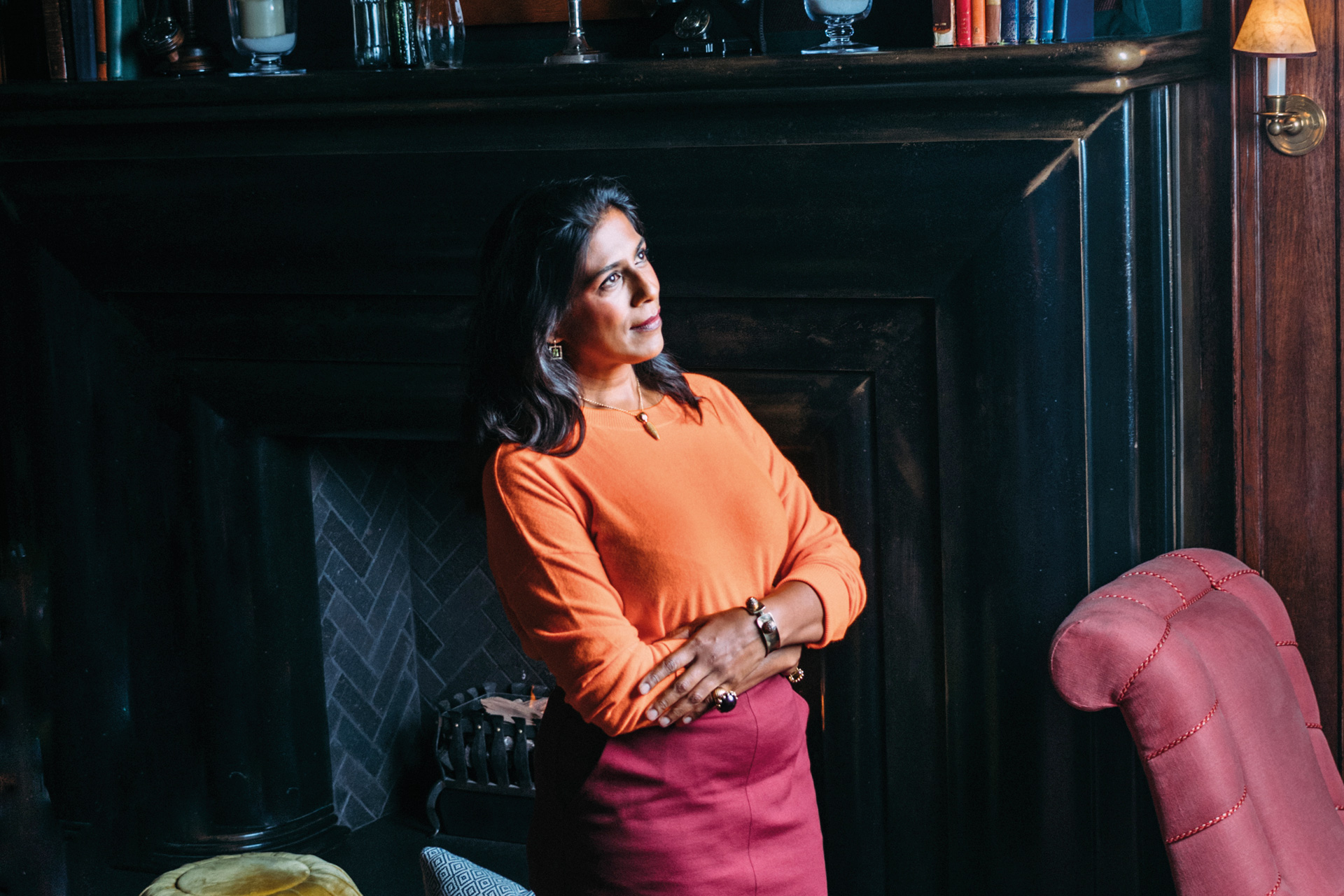 Conversations At Scarfes Bar: Lolita Chakrabarti
C&TH meets the acclaimed actress and Hamnet playwright
Lolita Chakrabarti talks to Charlotte Metcalf about her love for theatre, the long road to success, and never being able to take a holiday.
Conversations At Scarfes Bar: Lolita Chakrabarti
In 2012 the actor Lolita Chakrabarti exploded into our collective consciousness with her play Red Velvet. Her husband, Adrian Lester, took the lead role when the play opened at The Tricycle (now The Kiln) in Kilburn, and they became theatre's most fêted couple. 
Over a decade later, Lolita has become one of theatre's most sought-after writers, as well as being a successful actress. She won numerous awards for her adaptation of Life of Pi and, following a sell-out show at Stratford, her adaptation of Maggie O'Farrell's Hamnet opens at the Garrick theatre at the end of September, bringing the most significant box-office advance in the theatre's 134-year history. 
View this post on Instagram
Lolita was born in 1969 in Hull but grew up in Birmingham where her father was an orthopaedic surgeon at Selly Oak Hospital. The family lived in a hospital flat, where Lolita remembers being 'utterly happy.' When she was ten, the family emigrated back to Calcutta (now Kolkata), but only stayed 18 months, because there were no facilities for Lolita's older sister to sit her A-levels. However, Lolita had discovered a love of acting – back at a convent school in Edgbaston, she was spotted by the drama teacher. 'Amid all the nuns, there was Maureen Stack, a bleached blonde in stilettos,' remembers Lolita. 'She knew I could do it and persuaded me to apply for RADA.' 
Lolita was accepted and, after graduating, embarked upon a career as a stage actress. Six years later, between jobs, she started writing plays and numerous short stories for Interact, a charity that sends actors to read stories to stroke patients, for which Lolita is now an ambassador. 'I was seeing if I could write and slowly I ventured out to see if anyone was interested in my stories – but they weren't!' laughs Lolita.  
Then, in 1998, she was told about a reading at a theatre festival in Brighton, about the 19th-century African-American actor Ira Aldridge. 'In 1833, Aldridge replaced Edmund Kean as Othello at the Theatre Royal in Covent Garden, but I'd never even heard of him,' she says. 'I searched everywhere afterwards but there was no mention of him anywhere. In many ways his invisibility was like looking through a historic lens at my own experience and I decided he required recognition.' Lolita started writing his story as a film, but later Indhu Rubasingham, (who became The Kiln's Artistic Director), suggested writing it as a play. The play became Red Velvet. 
'There were 15 years between that Brighton festival and Red Velvet's opening night, so it was no quick route to success,' says Lolita, 'but it exploded beyond my expectations. Now Aldridge is up on the wall with greats like Kean, Garrick and Olivier, and Red Velvet is on school and university curricula.'
Even after the play's success, offers didn't materialise: 'I was ready to be pursued but wasn't! But then came the chance to adapt two impossible books.' First came Italo Calvino's Invisible Cities, followed by Life of Pi, which opened at Sheffield's Crucible in 2019, and went on to scoop up countless awards, here and on Broadway, including three Tonys and five Oliviers. 
Then Acting Artistic Director of the RSC Erica Whyman asked Lolita to adapt Maggie O'Farrell's Hamnet, about Shakespeare's son who died aged 11. 'It usually takes me six weeks to write a  first draft and I have to be alone,' says Lolita. 'It begins as the equivalent of a child's crayon drawing and, hopefully, slowly becomes fine art. I write as an actor and need to imagine saying the lines. Sometimes Maggie thought something sounded a bit too modern, but I'd explain the reason for it and she'd understand.'
Once Hamnet opens in London, will Lolita have time for a holiday? We laugh as she says she recently took her two daughters, 22 and 19, to Menorca but only managed a week. She loved the break but is itching to get back to some acting: 'I'd relish playing a well-written character again like Meera Harwood, whom I played in the BBC series Showtrial. She had something to lose so I could emotionally invest in the part.' Shakespeare? 'Yes absolutely! I loved every moment of playing Gertrude in Kenneth Branagh's Hamlet and I dream of a juicy part like Queen Margaret in Richard III. Or Cleopatra. Or even a Greek tragic heroine like Medea.' 
Lolita has an acting role for Apple TV, which she's not allowed to talk about, and several writing projects on the boil, including a play she is writing about her father: 'It's a true story about a murder in the 1960s. My father was in charge of the injured patient and gave evidence at the Old Bailey. Now in his nineties, he's been a brilliant adviser.' 
What is for certain, is that Lolita's evident enthusiasm and determination means her writing career, though stellar and recognised with an OBE for services to drama, has not even begun to peak. As we part ways, I realise I've been in conversation with a woman who will surely be recognised not just as a great actress but as one of the most significant playwrights of her generation.
Hamnet is at the Garrick Theatre from 30 September to 6 January 2024. thegarricktheatre.co.uk