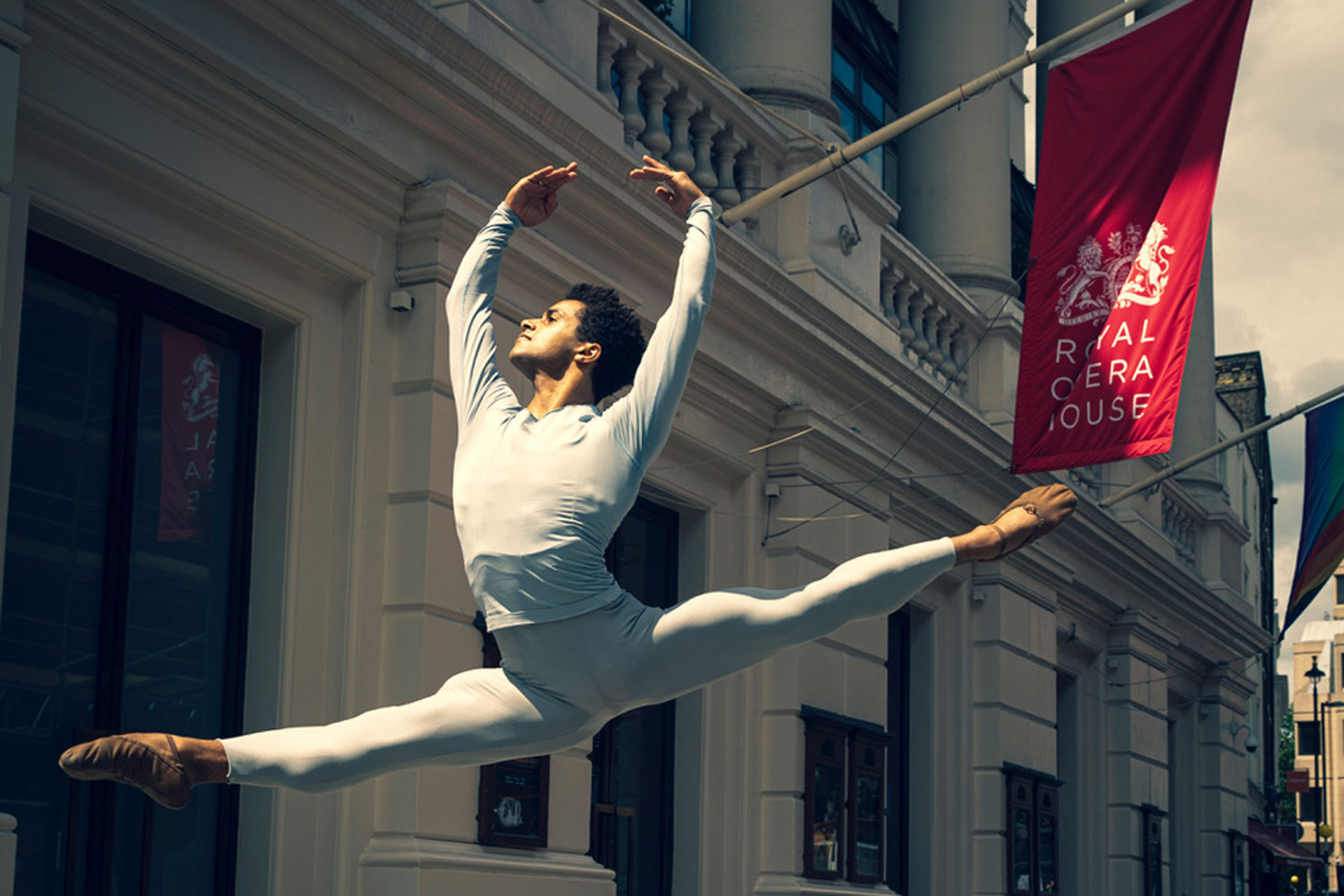 Marcelino Sambé on the Joys of Playing Romeo
---
'It's a production that keeps on giving because each generation has brought something so fresh and new to it'
This week on Break Out Culture Ed Vaizey and Charlotte Metcalf chat to Portuguese ballet dancer Marcelino Sambé. After training at The Royal Ballet Upper School, Marcelino graduated into the company during the 2012/13 season, going on to become a Principal of The Royal Ballet some years later. This month, he's playing Romeo in a production of Kenneth MacMillan's Romeo and Juliet, which is being broadcast to cinemas across the world this Valentine's Day.
This interview was taken from our Break Out Culture podcast with Ed Vaizey and Charlotte Metcalf.
Listen on iTunes
Listen on Spotify
Marcelino Sambé on the Joys of Playing Romeo
Is this the first time you have played Romeo?
No, I was so fortunate to be able to perform Romeo back in 2019, the season that I got promoted to Principal. I feel like it was one of those roles that really showcased my versatility, which is everything that I always wanted to do. I always wanted to be able to switch from the cheeky mischievous Mercutio to the dreamy Romeo. I think that there's such beauty in having a company that believes in your range, and that's the Royal Ballet for me.
Tell us a bit about the fantastic reviews you've had since it opened in October…
So it's quite interesting because in October I was performing the role of Mercutio, which is more of a soloist position in the ballet – but I enjoyed it as much as I do Romeo. It's such a different character with such a different perspective into the story. Of course he knows that everything is going on, but he is much more detaching when it comes to the poignant love story. But the reviews were raving. It's a production that keeps on giving because each generation has brought something so fresh and new to it. And it's something that we can all relate to: we all sometimes lose our heads.
What have you brought to the role that's really made it your own?
I've thought a lot about this because obviously getting the opportunity to play Romeo is one of the best roles a male dancer can expect. I feel like what I bring to this role is a level of honesty and my acting in ballet is very inspired by what I see in the National Theatre or my favourite actors. For so many years there was such an idea of what Romeo and Juliet would look like, and then for me to be able to look so different from the past Romeos is something that really makes me happy as well.
Does the camera make any difference to how you perform?
I would like to think it doesn't, but it does in a way. I'm suddenly much more aware of the little stupid details that I usually wouldn't even think about. You start thinking, 'Oh my God, is my line here right? Am I facing the right angles for the kiss?' It just becomes a bit more thought out – but I think, with experience, you would probably just be having another day, another show. Because it's all about being present, isn't it? The camera always adds that element of: 'this is forever'.
How has the departure of Tamara Rojo gone down in the world of ballet?
Tamara Rojo has done such amazing things here in England, and she has such an interesting vision. She was a fierce colleague and now she's a fierce director and I really appreciate her power. It will be so great for San Francisco to experience this. She's really a European director – she has this sense of unity. It'll be so interesting to see what she does in America and the repertoire that she'll bring over there.
Tell us about your journey to ballet…
My path in ballet has been quite unusual. I started with African dance – I was brought up in this neighbourhood that was mostly African immigrants, and my dad was from Guinea. So I've always been really connected with these African rhythms and these events where everybody would just dance in a circle and show off their best moves. I've always had this natural way of wanting to perform and be the centre of attention. And when I discovered that I could do this as a career – perform for people and no one would make fun of me for wanting to dance – I just thought, 'wow, this is great.' So I went to do the audition to the Conservatoire in Lisbon and somehow I got in with no ballet experience at all. Someone in that panel must have saw that I had some potential. I was eight years old.
Do you think that classical ballet is still too conservative?
I thought that ballet was conservative for the longest time when I was studying in Portugal, and my vision of ballet was Russian ballet. And then I started seeing different productions. For example, I started looking at Anthony Dowell's Swan Lake, which was made in the early eighties and the production was ground-breaking.
I think ballet is not conservative at all. And I feel like it's our job as a generation to be able to change that perspective. We have Wayne McGregor doing amazing things with ballet dancers. He can make girls on pointe shoes look like animals – and you don't miss the tutus.
But then there's such magic to a curtain rising up and seeing 24 women dressed in tutus, pretending to be swans. But you can do that in a very cool way with new designs, pushing forward the stereotypes of what a man and a woman can do in ballet. Maybe it's time to tell a bit more LGBT stories in ballet. You can still have that classical shape, but why not two queens and two princes falling in love? There's a long way to go, but it's an exciting way – I want to be part of that change.
Do you think there's an English ballet culture, a French ballet culture and a Russian ballet culture that almost compete with each other?
I always say that we are all different gems. So here, we are diamonds. In Paris, emeralds. And Russia, rubies. We are all somehow special in our own way. I was very attracted to the English style of ballet because of choreographers like Frederick Ashton, Kenneth MacMillan. They were mavericks of ballet. This Romeo and Juliet, it's unbelievable compared to the original versions that were made in Russia. It's so visceral, so human. The way that I act on stage is the way that I would act if I was falling in love with someone across the room in a club. It's super real. But then on the other side, you go to Russia and you see a physicality, a technique that is just so pure. The bodies are so long. There is this amazing style rooted on character dancing.
I hate comparing arts. It's like, how can you quantify if someone is better than the other? In the future, hopefully if I can lead a company or be part of a team that leads a company, I really want to make sure that people really truly understand that you cannot compare Picasso to Degas. They both bring something so special to the world, but in their own voices. And I think ballet dancers and ballet styles and ballet companies and choreographers should all have their space to shine in their own way.
Find out more about Romeo and Juliet at roh.org.uk
MORE BREAK OUT CULTURE: