After the 17th Century masterpiece The Goldfinch by Carel Fabritius travelled to Edinburgh to be exhibited at the National Galleries of Scotland, we list the best masterpieces in the UK and where you can see them.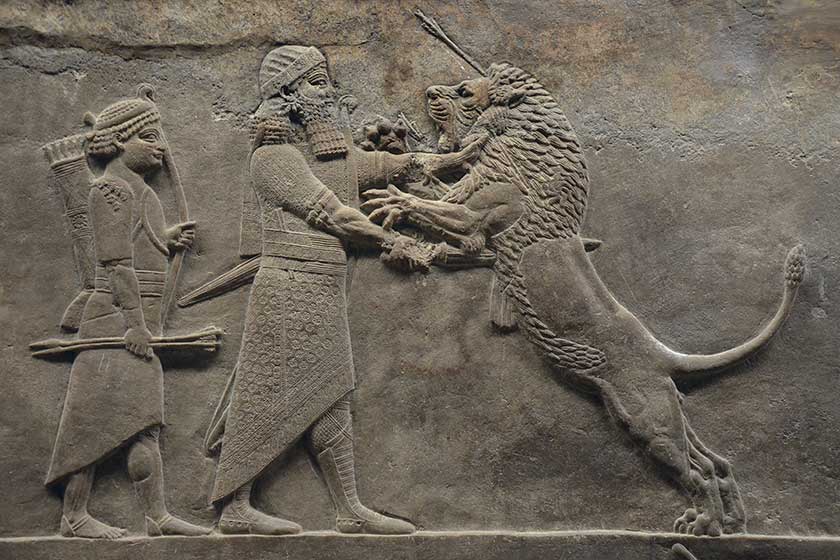 The Hunts of Ashurbanipal: British Museum, London
645-635 BC
Lion hunting was considered the sport of kings in ancient Assyria. It showed his people that he would protect and fight for them, and this sculpted relief marks this act of loyalty.
Ardabil carpet: Victoria & Albert Museum, London
Iran 1539-40
One of the most well-preserved and celebrated oriental carpet in existence, the Ardabil. This 11 metres by five carpet is an equal to any 20th-century abstraction, with motifs of flowers and lamps included.
Titian 'Diana and Actaeon': National Gallery of Scotland, Edinburgh
1556-9
Head to the National Galleries in Edinburgh to see Diana and Actaeon is one of six large mythologies that Titian produced for King Philip II of Spain between 1549–62.
 John Constable, 'Salisbury Cathedral from the Meadows': On long-term loan to the National Gallery, London
1831 Private collection
This landscape composition by John Constable is on long term loan to The National Gallery. Constable's piece is thoroughly British showing us an atmospheric view of Salisbury Cathedral from meadows. It is a careful observation of the natural world and an example of classic British Romanticism.
Vincent van Gogh, 'Vincent's Chair': National Gallery, London 
1888
To see Vincent Gogh's famed work, you need to head to Trafalgar Square's National Gallery.
Peace: Burial at Sea, JMW Turner: Tate Britain
1842
Turner's dramatic and emotional landscapes capture the essence of a moment in history. In this particular moment, his friend David Wilkie had just been buried in the Bay of Gibraltar. This is a painting about the eternal, but very much in the here and now.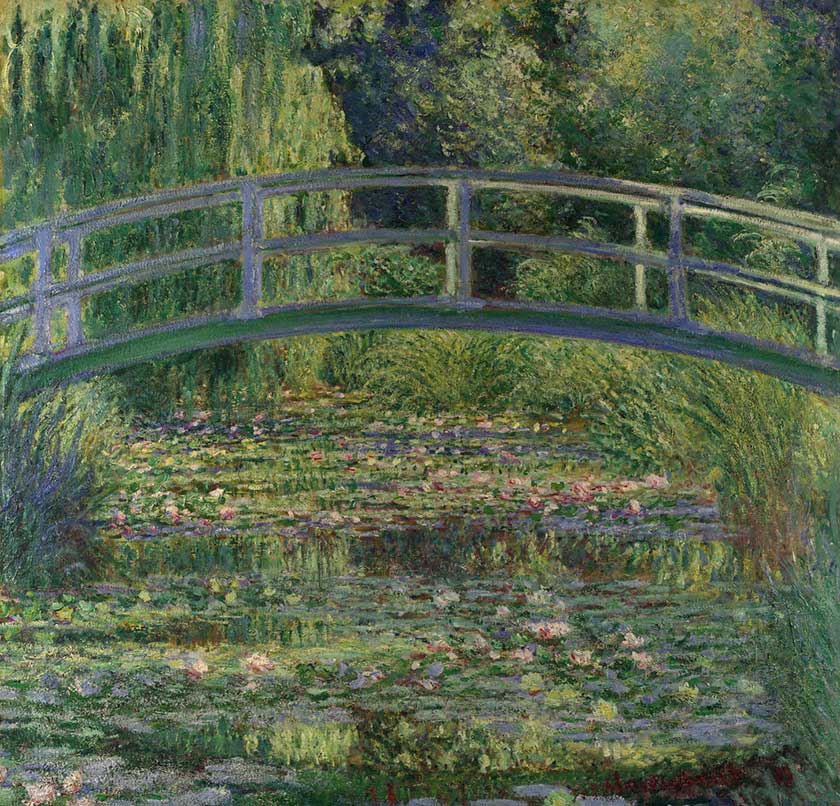 The Water-Lily Pond, Claude Monet: National Gallery, London
1899
One of the most famous paintings in the world, and the most emblematic of the impressionist movement, Monet's 'The Water Lily Pond' is one of the easier masterpieces to go and see. Located at the National Gallery in Trafalgar Square, it's within walking distance from Charing Cross, Waterloo, Embankment and Piccadilly Circus.
The Foetus in the womb, Leonardo da Vinci: Royal collection Windsor Castle
1510-13
In this work, Leonardo expresses the human condition in a nutshell. As part of the royal collection at Windsor Castle, you can go and visit this as part of a lovely day out in the city.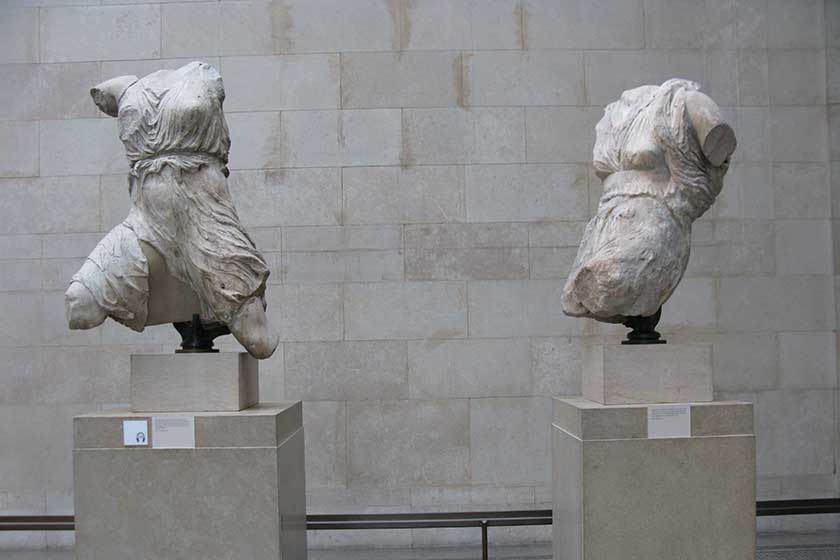 Parthenon Sculptures: British Museum, London
447-442 BC
These iconic broken statues of reclining gods that Lord Elgin removed from the Athenian Acropolis two centuries ago are the origin for most inspiration, and nearly every Roman sculpture created was based on these sculptures. 'This collection is the real thing: the very art that created the idea of the "classic". Gaze on the lowing heifer that inspired Keats's Ode on a Grecian Urn and the goddesses whose robes uncannily resemble pictures by Leonardo da Vinci', says The Guardian.
'A Survey of Sculptures and Drawings', Ken Price: Hauser and Wirth, Somerset
1959-2006
Sculptures and drawings by Ken Price, one of the most influential figures of 20th century ceramic art are showing at Hauser & Wirth in December until February. Working amongst a group of innovative artists who emerged from the creative landscape of 1960s Los Angeles, Price spearheaded a revolutionary shift in the traditional conception of ceramics from a purely functional medium to the realm of art object.
JMW Turner: Adventures in Colour; Turner Contemporary, Margate
Featuring more than 100 works in both oil and watercolour, the exhibition highlights Turner's engagement with developments in colour theory and his adoption and exploitation of new materials. Beginning with the more traditional 'Old Master' aesthetic that Turner quickly matched and then superseded, the exhibition charts the impact made by the artist's experimental techniques.
JMW Turner: Adventures in Colour is curated by art historian Ian Warrell and will be exhibited at the Caumont Art Centre, Aix-en-Provence, from 4 May to 18 September 2016.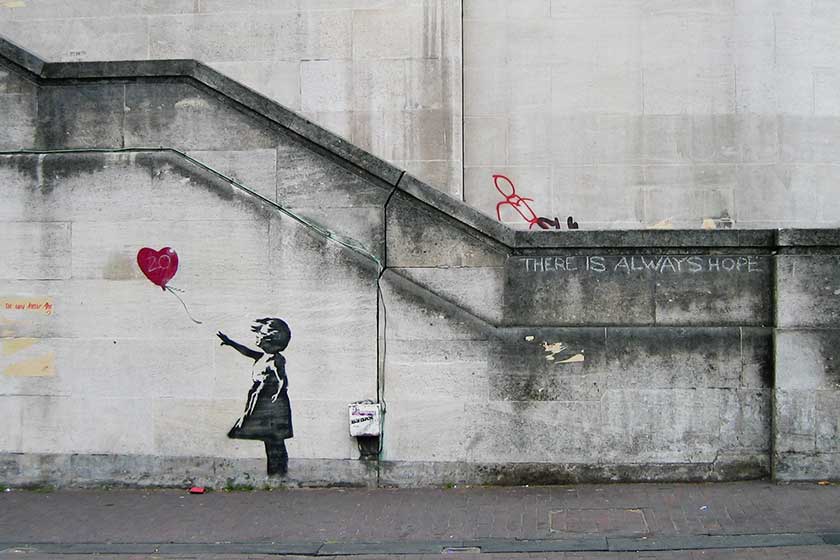 'There is Always Hope' Banksy: London, Southbank 
Banksy's street art has been scattered all over the country, from Brighton to Bristol and Liverpool. But 'There is Always Hope' arguably his most recognisable piece, can be found in the Southbank.
Barbara Hepworth: St Ives, Cornwall
To see the largest collection of Barbara Hepworth sculptures, head to St Ives's The Barbara Hepworth Museum and Sculpture Garden.
READ MORE: The Goldfinch arrives in Scotland
READ MORE: The Diary – December 
---