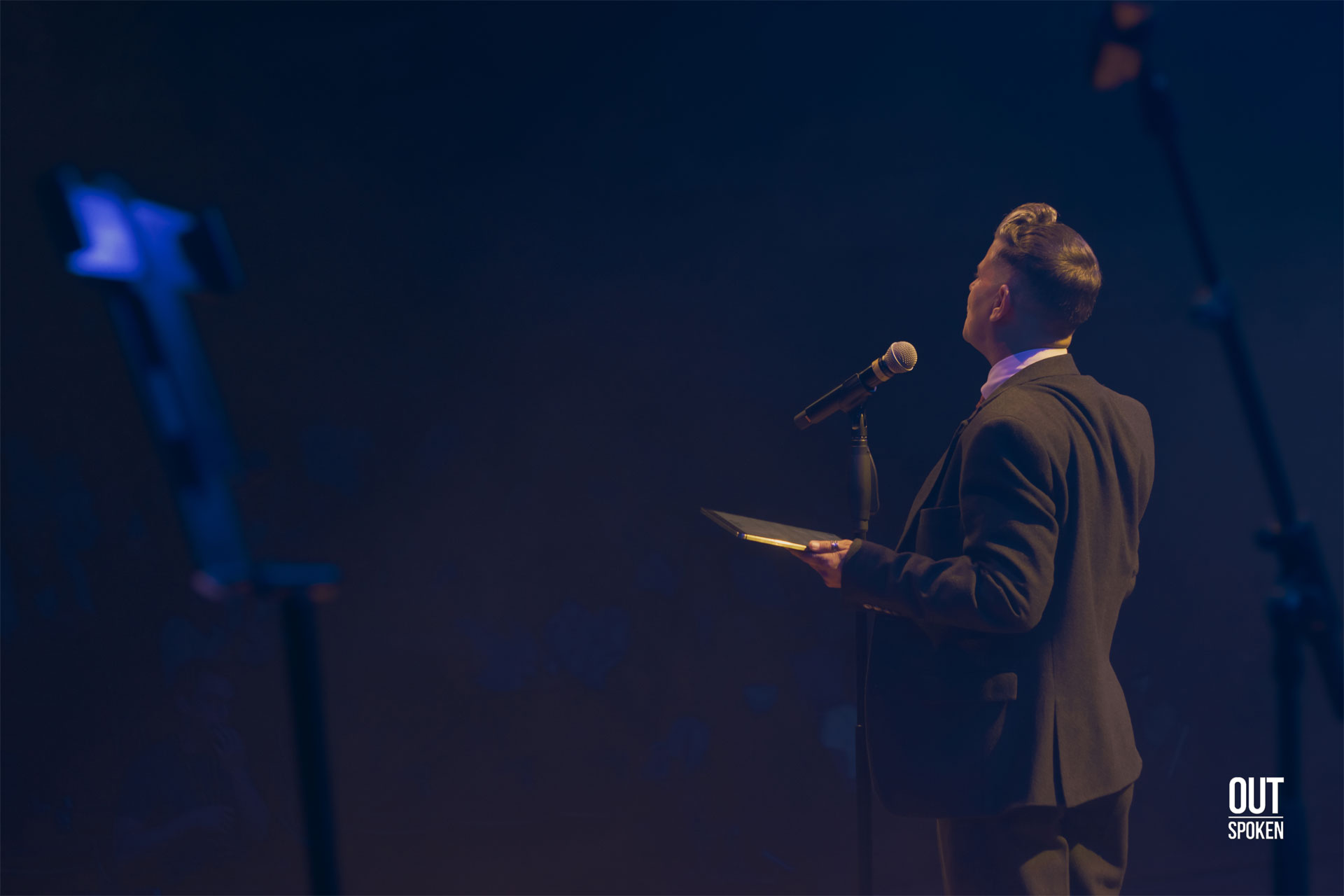 Out-Spoken: A Poetry Night You Need To See
---
Poetry-pro? New to the whole scene? Out-Spoken has you covered
If you like poetry nights, you need to check out Out-Spoken at the Southbank Centre, London.
Out-Spoken: A Poetry Night You Need To See
London has a bubbling poetry scene for listeners and verse-makers alike. However, it's not always easy to know exactly where to look for the best upcoming poets and spoken word artists. Luckily, Out-Spoken does the work for you; presenting three poets each month (supported by two musicians, often small and on the cusp of breaking out – see them here first), both from the big names and also fresher, recently-discovered talents, in an energetic and often-moving variety night.  
Now at ten years, we checked out the biggest night of Out-Spoken yet at the Southbank Centre. On this occasion, the night occupied the Queen Elizabeth Hall and saw about two-thirds of its 916 seats filled, possibly – and excitingly if so – the biggest numbers gathered for spoken word since the Allen Ginsberg Poetry Incarnation at the Royal Albert Hall in 1965. 
REVIEW: 'A tumble of lyricism' at this Poetry Night
Entering the Queen Elizabeth Hall at the Southbank Centre, I was taken in immediately by the tremor and masses of excitable voices, many hands occupying plastic cups of house red, and a bustling sight of a rather large crowd – gathered with the common intent of hearing the poets and musicians programmed for this night. 
It is almost a surprising sight. Poetry often finds itself on the fringes of performance arts; preconceptions of pretence and English Literature GCSE classes have sometimes put wide audiences off from spoken word nights. In this line-up are, in fact, two names that those studying for exams might recognise from syllabus papers (Jackie Kay and Simon Armitage), aiming to combat this impression of the art. They, along with the team at Out-Spoken, are curating accessible – whilst still biting and challenging – nights where poetry is available to all and where the faces on stage represent a diverse, modern Britain. In fact, much of their success as a night can be directly linked to the ways in which Out-Spoken consistently champions exciting emerging working class talent (alongside established talent from a range of backgrounds). 
The poetry is explosive and moving. Opener Max Porter (of Grief Is The Thing With Feathers fame) commands language authoritatively, holding the audience in a silence at poignance and toppling them into hysterics in his rise and fall spoken word soliloquy. By contrast, Jackie Kay uses her language to stir the quiet movements of a feeling in the audience; recounts of violence experienced by her son at the hands of British police during the BLM protests are woven gently into a poem following an Uber Eats order (A Banquet for the Boys). Simon Armitage presents a tumble of lyricism and poeticism that often interchange, reading both his recent repertoire and the words to songs he has written with his band, LYR – the Poet Laureate's material is no-nonsense, tangible, and enjoyable to hear spoken aloud, as most of the audience were likely familiar with its written form due to his popularity in schools. 
The MC Joelle Taylor (pictured in main image), too, impresses with both her written work (her brilliant poetry speaks to butch lesbian subculture and powerfully enlivens her lived experiences, and is well worth either watching or reading), and with her dancing throughout the night. The dancing brings a needed interactive energy as interspersed amongst these wordsmiths are sets by musicians Bshp and Kay Young. 
Bshp was recognisable to some from her cover of Des'ree Kissing You, which featured on Love Island, and presented her sultry sound across a ten minute sound that she bopped along to throughout. Kay Young equally brought a level of energy to close the ten-year Out-Spoken – leading with a call and response, Kay was thoroughly capable of drawing the audience into her songs, and the fluidity with which she moved from soulful RnB to grime-inspired rap was impressive. Her band were equally something to watch, as they supported her with conviction, and had the sort of laughter exchanged on stage you don't get to see as frequently in such venues as the Southbank. 
VERDICT: 'A must for poetry lovers – or those just dipping their toes'
Entering the night, I admit I initially experienced some trepidation – I had not attended a spoken word event before, and I wasn't sure if it would be 'for me'. Later, discussing the event with its poet-founder, Anthony Anaxagorou, though, it became apparent that that's exactly the point of this evening – to open the doors of a sometimes insular form of art to an audience who range from regulars to first-timers. 
As Anthony said, 'if you can get people who have got no vested interest, no agenda, just the curiosity to be there, and then leave them feeling involved in the poems, then it works. There's nothing else to it.' 
A successful night in all in this case, because my experience of the evening was of complete involvement. It was hard not to be moved by the poets and their words, and the atmosphere of so many hooked-ears. I expect I will find myself back at this evening in the future, possibly with an entourage of friends who will also experience their trepidation break down over five acts of music and poetry and language.
This night is a must for poetry lovers – or those just dipping their toes for an evening – and you can watch more at the Southbank Centre, with their upcoming Out-Spoken events and other poetry nights. 
Featured image credit: Karim Kamar, Out–Spoken / Southbank Centre
READ MORE
The Best Spoken Word Poetry Events in London / Timeless Poetry Books to Buy Now & Love Forever