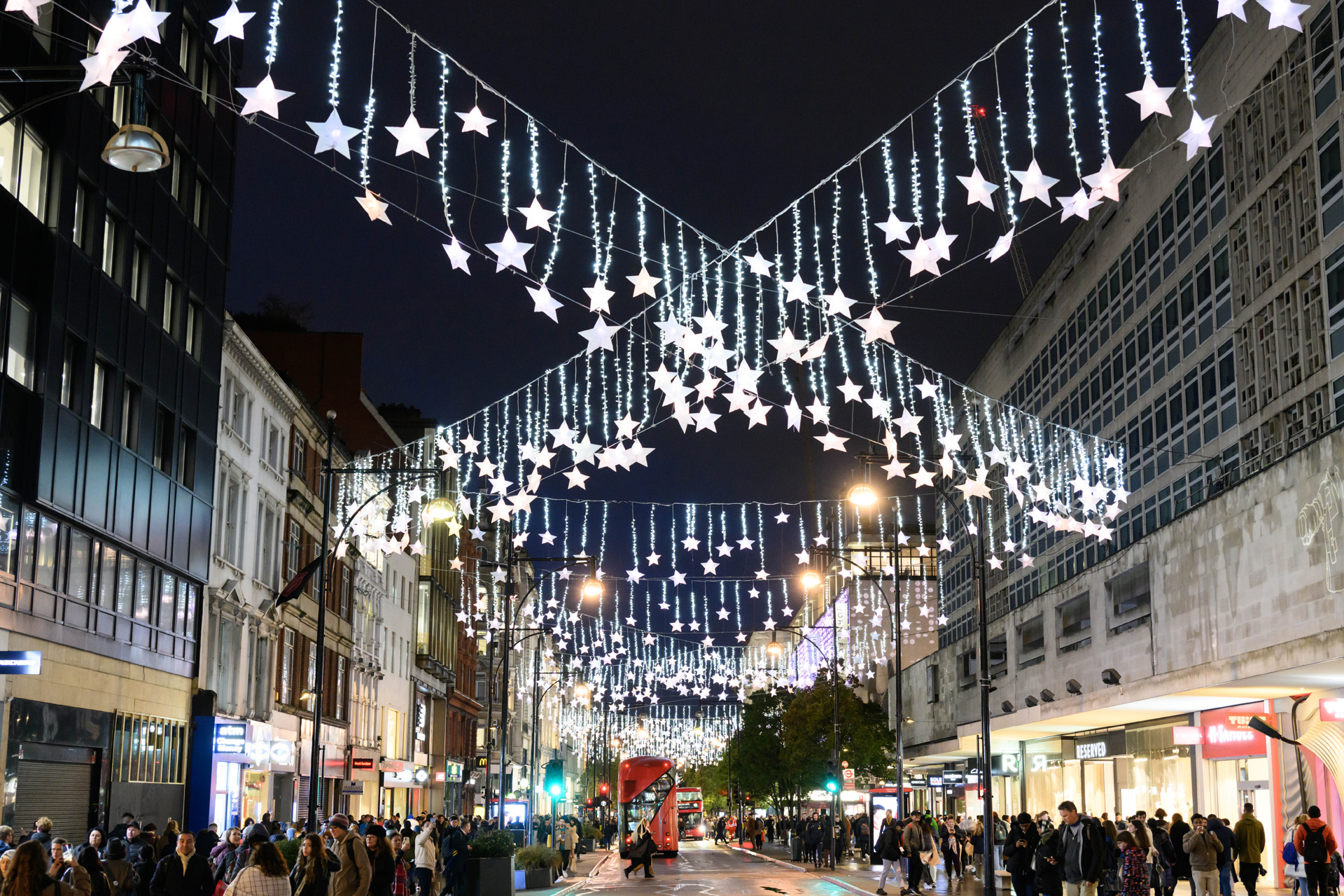 Oxford Street Kicks Off The Festive Season With Their Christmas Light Switch On
Featuring a Lioness to make the street even Bright-er
Last night (2 November 2023), Oxford Street sliced through the rainy, wintry gloom with their Christmas lights: magical festive stars zigzagging down the world-famous street.
Where To See Christmas Lights In London 2023
Oxford Street's Christmas Lights Are Officially On
Carnaby Street may have delayed their light switch on (to 8 November) thanks to Storm Ciaran's blustery winds, but Oxford Street is shining bright for another year. The world-famous street flicked the all important switch last night with the help of aptly-named Millie Bright, captain of the Lionesses and Chelsea Football Club. Millie is a supporter of Oxford Street's charity partner, Starlight, and launched the 'Stars for Starlight' 2023 initiative, which offers the public the chance to sponsor a star, with their donation going towards making a child's hospital stay brighter through play.
'I'm so excited to be a part of the launch of the iconic Oxford Street Christmas lights this year alongside the amazing children's charity, Starlight,' said Millie. 'I've been visiting Oxford Street at Christmas time with my family ever since I can remember, so tonight was a special moment for me.
'I'm so happy to be here supporting Starlight and the work they do to support children in hospital,' Millie added. 'It's an issue very close to my heart. Having been hospitalised with pneumonia as a baby and then growing up with asthma, which I still manage today, I spent a lot of time in and out of hospital as a kid, and was told it would affect my ability to play sport – which I obviously didn't let happen!
'I encourage everyone to visit the wonderful light displays and Christmas activity on Oxford Street to get into the festive spirit and for those who can, to sponsor a star in the installation to support children who will be spending Christmas in hospital this year,' Millie said.
Every year, 100,000 children spend Christmas in hospital. Oxford Street invites the public to sponsor a star for £10 to make their festive season a little more magical through play.
The Christmas light display signals the beginning of the festive season in London, creating a spectacular backdrop and transforming the capital into a winter wonderland. This year, the stars were crafted from recycled polymer, and the 300,000 LED lights are 75 percent more energy efficient than standard bulbs. Visitors can now see them everyday between 3pm and 11pm.
That's not all that's happening on Oxford Street this season: the 'Feel the Magic' campaign will also see an array of festive on-street and in-store activities, including the return of 'Magic Days'. On three Saturdays in the lead up to Christmas (2, 9 and 16 December), Oxford Street will come to life with on street performers as well as exclusive offers, gifts, and festive experiences across the variety of stores and brands.
Meanwhile, for the first time, Oxford Street visitors will be able to ice skate, too. The all-new Skate West End opens on 4 November, providing a new elliptical rink for skate-loving Londoners. There will also be a free-to-visit, life-sized snow globe at Outernet, presented by Uniqlo.
DISCOVER
Stay up to date with the festivities @oxfordstreetw1. For festive inspiration, details on Oxford Street Magic Days, or to sponsor a star for Starlight visit oxfordstreet.co.uk