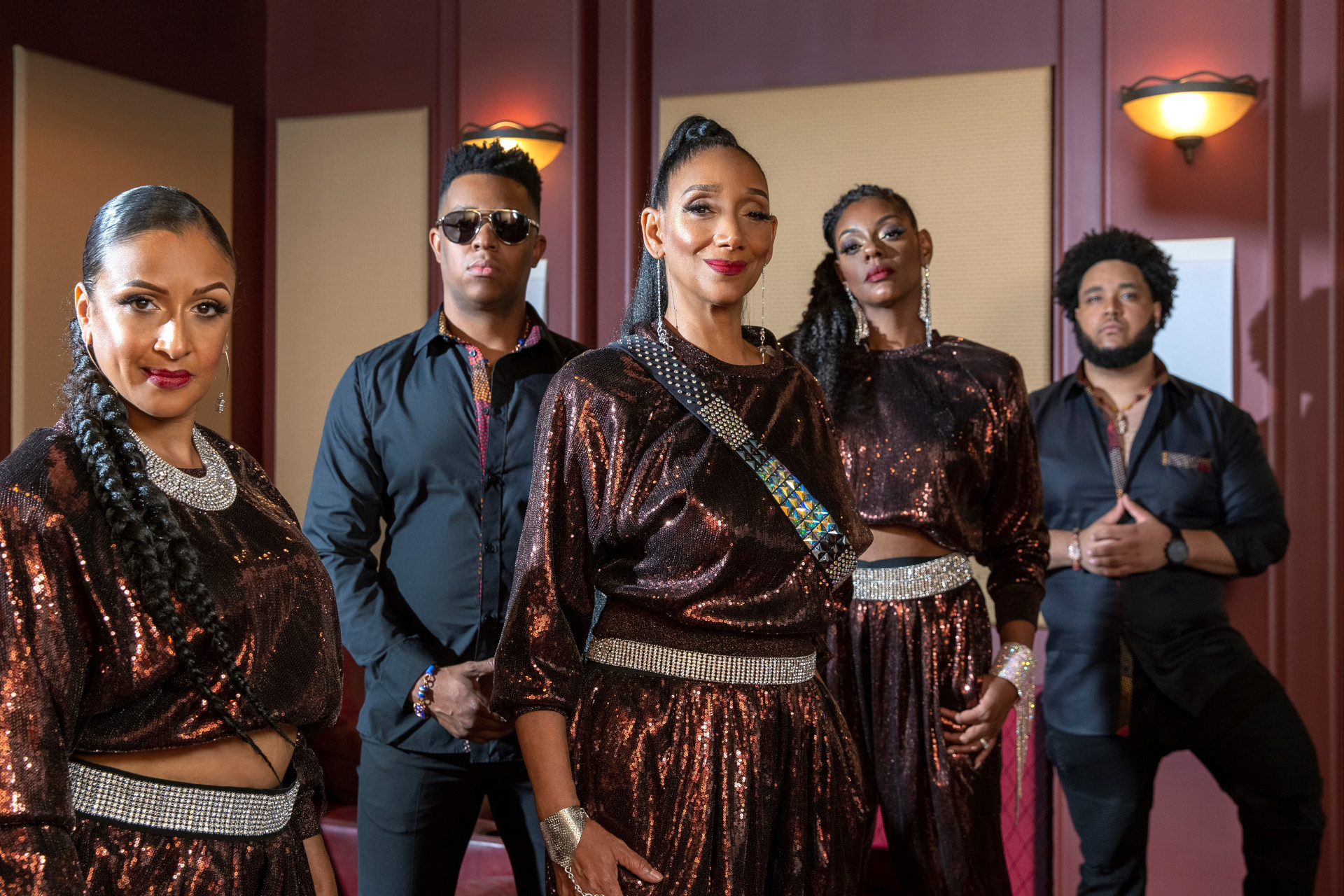 Q&A with Sister Sledge ft. Sledgendary
---
We sat down with the newly formed Sister Sledge ft. Sledgendary, the band with a legacy dating back to the 1970s – and who are more relevant today than ever. 
Many of us will remember Sister Sledge as the iconic band who brought out hit tracks like 'We Are Family', 'Lost in Music' and 'He's the Greatest Dancer'. The group is home to a family of talented musicians, who in turn have passed on their talents to the next generation. Debbie Sledge, one of the founding members of the original Sister Sledge lineup, has always been keen to include her family on every step of her musical journey – and this year, they've taken one of their biggest steps yet. Sister Sledge ft. Sledgendary sees Debbie bring the next generation of Sledges to the forefront, Camille, David and Thaddeus Sledge, as well as one of Sister Sledge's long-time collaborators, Miss Tanya Ti-et, to form an exciting new supergroup.
Country & Town House had the opportunity to chat with Sister Sledge ft. Sledgendary as they celebrate the 50 year anniversary of the original group's debut.
This interview was conducted in October 2021
Q&A with Sister Sledge ft. Sledgendary
How was Sister Sledge ft. Sledgendary formed?
Debbie Sledge: Sister Sledge ft. Sledgendary is the organic and natural offspring of our children who grew up immersed in our hectic, exciting and often challenging musical family life.
Thaddeus Sledge: The original group has been touring since its inception in the 70's but the new group formed organically over the past decade. Slowly adding new pieces to the puzzle until we found something that really clicked.
David Sledge: Well, as the newest member of the team, I was just blessed to be a part of something so great. I believe we transformed into this group and God had a plan for us and this is where he guided us. My mother had a visualisation of what this group could be and she worked very hard to make it a reality.
Camille Sledge: By my mom! She saw the vision, and she has always been passionate about family legacy.
Miss Tanya Ti-et: Out of love, inspiration and the desire to be completely free to be all we can be.
What role does family play in your music-making process?
Debbie Sledge: Family can be your biggest fans, offering encouragement and inspiration as well as your toughest critics offering painful but useful honesty. What artist can ask for more? My children (and I'm including Tanya) are all talented songwriters as well as vocalists. I am more amazed each day at the various gifts and strengths discovered in our midst.
Thaddues Sledge: My family plays a huge part in that process. I love to bounce ideas off them! Whether it's melody ideas, harmony parts, help with lyrics or even recording and producing, it really helps to have people I trust in the business to run things by.
David Sledge: Family is everything. I get my inspiration from my family. They inspire me to work on my craft. They inspire me to write and be great.
Camille Sledge: Every role is a family member. It's everything!
Miss Tanya Ti-et: Family plays so many roles in this process. Family is inspiration and family often provides a safe space to share ideas. Family is our 'cheer squad' when we've done something great and also our coaches when it's time to reflect and revise. Best of all, it's a winning team when we all meet on the same page and prepare to put a plan in motion. It's awesome.
With Black History Month in full swing, how can we all get involved?
Debbie Sledge: We can celebrate and acknowledge the history of black folk in general and as individual families. We can continue to strengthen our own families by remembering and learning from the journey of our ancestors.
Thaddeus Sledge: With Black History Month going on now, I would say the best way is to support your local black owned businesses as well as take a deeper dive into black culture and history. Take care of your community and the community will do the same.
David Sledge: Education is key and we all need to continue to educate ourselves on issues in the world. Please be mindful and educate yourself and others.
Camille Sledge: Go outside and get involved. There is so much one can do. Seek out events, support black businesses, volunteer for agencies and non-profits that service these communities – even make a new friend.
Miss Tanya Ti-et: I believe the first step to getting involved is getting educated on what we're actually getting involved with. How much do we all know about Black culture, Black history, Black events, Black struggles? How much does it all mean to each one of us? We should read more books about black inventors and black icons. Make this information more visible and easily accessible for people, especially children. Study up on African countries and their contributions and their conditions. Examine current and not-so-current events in our societies to see how Black people are viewed and treated.
But most importantly, no matter what your ethnic or cultural background is, talk. Talk, listen and interact with the Black people around you in order to better understand the "differences" that are so often magnified and distorted. It is ok to recognize our differences, but far better to recognize how much more productive and amazing we can be when we gain true knowledge and understanding of each other. After all, Black (African) history is really everyone's history.
How important has music been in Black history? What impact would you like to have as musicians?
Debbie Sledge: Music has helped to tell our story. It has helped to give voice to the cry of the human soul. It gives us a means of communication that can carry us through the 'now moments' and beyond – through to generations. Faith in God has gotten us through. Music has been our carrier.
Thaddeus Sledge: Music has been one of the corner stones in Black history since the days of our ancestors. It was and will continue to be the greatest form of self-expression and freedom ever. Without Black History laying the foundation in music, we wouldn't have genres like rock and roll, blues, jazz, hip-hop, disco and funk. As a musician, I would love to inspire people to chase their dreams and find that freedom of expression inside themselves
David Sledge: Music is incredibly important. The impact I want to have as a musician is showing how to have fun. Enjoy yourself and enjoy the company you keep. I want everyone to get lost in music. I want people to believe in themselves and strive for greatness and to not settle for less.
Camille Sledge: Music is our number one storyteller throughout history. It's so important to tell a story for generations after you to thrive upon. I hope I can do that with my music, as my mom and aunts have done with theirs.
Miss Tanya Ti-et: Music is a source and a force, serving as both in a huge way throughout the history of Black people. It has healed broken spirits in times of bondage. It has delivered people to higher places in life through times of oppression. It has always served as a voice for generations of people, forcing change in a world that worked to silence them. Music has so often been a bridge between love and hatred to inspire unity and equality and that's what makes it so important.
My hope is that the music we create and share with the world inspires people to be more compassionate, more joyful and feel more powerful, spiritually. I hope to have melodies and lyrics that penetrate through confusion and ease pain. Our music should be created not only with inspiration but with intention because we can affect so many lives with just one song. It really is a calling and a blessing.
What do you think it means to be an African American artist in 2021?
Debbie Sledge: African American artists can be musical historians, echoing the experiences and thoughts of our time. As African American artists we can realise the importance and the power of our voice through music to help bring about positive change. It is vital to echo truth, which is the only message that will withstand through the ages.
Thaddeus Sledge: I believe that as an African American artist today we have a responsibility to inspire change in others. Whether its inspiring someone to chase their dreams or to change their environment, to inspiring changes on a much bigger scale, both socially and racially. Music is such a powerful medium that can be used to do so much good in the world.
David Sledge: To be a black artist in 2021 is everything. Showing your art on a large stage is life changing. Not just for the artist but for people watching. I want to inspire and influence other African Americans that they can do anything in life. All they need to do is believe in themselves and continue to grind. There will always be people to judge you or hold you back. Those people will soon see you shine. Continue to be positive and work towards your goals.
Camille Sledge: It means you are among the most important storytellers of your time. Be responsible.
Miss Tanya Ti-et: I believe it means understanding and embracing your power. It means using your God given gifts to rise into your highest self, not just for yourself but for the generations behind you who are looking to be guided towards their own greatness. It means being proud of who you are and not shrinking behind anything or anyone that attempts to render you invisible. It means lifting up your brothers and sisters around the world so that they too may shine. As artists, we have a unique power to change things for the better and we absolutely should use that power every chance we get.
What advice would you give to aspiring young musicians – especially young black musicians?
Debbie Sledge: Know who you are! Take pride in the good and noble aspects of your heritage. Learn from the past and from others who have accomplished excellence in their field. Ask God for wisdom. Keep the faith! Sharpen your skills. Be your unique self. Forge new creative territory. Share your gifts. Keep a teachable heart and an attitude of gratitude. Your gifts will make room for you (Proverbs 18:16).
Thaddeus Sledge: My biggest advice would be to hone your craft and work every day at what you love. To find your voice and stay true to it and to always remember where you come from and the people who shaped you along the way.
David Sledge: Have fun, work hard, don't give up, focus, enjoy your craft, have a strong team, pray, stay healthy.
Camille Sledge: Believe in the power of music, if nothing else. It will see you through.
Miss Tanya Ti-et: Be your whole, authentic self without fear of judgement. Allow yourself to live through your music because this is the gift that God gave you to express yourself and to set others free as well. Ride the inspiration to where it takes you but also set intentions. Respect and polish your craft (you never know who's watching). Love what you do and share that love.
Get to Know Sister Sledge ft. Sledgendary
Expect new music from Sister Sledge ft. Sledgendary in the new year. For updates, make sure to follow the band on Twitter (@SisterSledge_) and Instagram (@sistersledgeofficial). sistersledge.com
Featured image: Sister Sledge ft. Sledgendary. From left to right: Miss Tanya Ti-et, David Sledge, Debbie Sledge, Camille Sledge and Thaddeus Sledge. (Photographer: Chris Loomis Photography / Make-up Artist: Danielle Devonn – Many Face Goddess / Hair Stylist: Leslie Martin – Leslie Martin Hair and Makeup/ Ladies Designer: Dsquared2 / Mens Designer: Veronica Lupampa – Melmikay's / Jewellery: Fulani Malik / Stylist: Kristian Jackson)