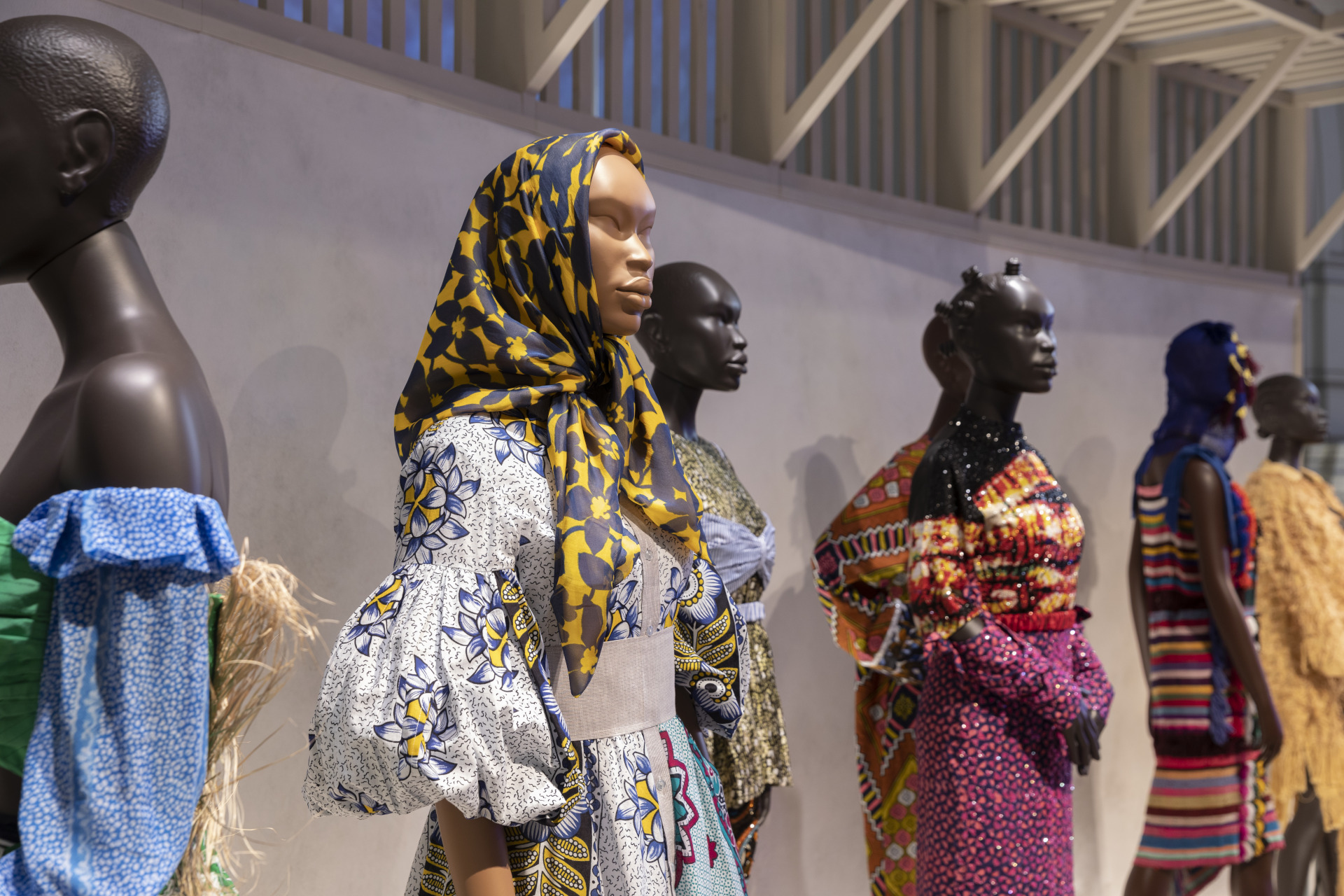 African Creatives Wow Audiences in New V&A Exhibition 'Africa Fashion'
---
'There is an art scene that bubbles with ingenuity'
The V&A is once again back on our radar, as it opens its latests exhibition, Africa Fashion, to the public this weekend. We took a trip to the museum for an early preview of the exhibition – and we can confirm: it does not disappoint.
Review: Africa Fashion at the V&A
While the third instalment in the V&A's series of fashion-led exhibitions for 2022 (the first two being Fashioning Masculinities and Gabrielle Chanel. Fashion Manifesto), Africa Fashion marks the first in-depth celebration of African creatives in the museum's history. As V&A Director Tristram Hunt emphasised in a speech at the exhibition's opening, '[it is] emblematic of the museum's commitment to build on its collection of work from African creatives and those from the diaspora, celebrating the genius of African creativity.'
With over 250 objects spread across two floors, Africa Fashion was curated with abundance in mind. The show's curator, Dr Christine Checinska, emphasised a focus on the variety of African perspectives, piecing together a modern history of creativity that offers an introductory experience for visitors. 'There is an art scene that bubbles with ingenuity,' said Christine. And Africa Fashion brings the most innovative threads of this movement, from modernity to contemporaneity, directly into the spotlight.
Housed in Room 40's temporary exhibition space, Africa Fashion makes use of the two floors and domed ceiling to enfold visitors in an exciting audio-visual experience, with video projections (look up to see Lakin Ogunbanwo's 'Who Dey Shake?'), music, photography and, of course, fashion setting the scene.
As mentioned, this is an exhibition spread across two floors, marking two historical chapters: Africa's cultural rebirth and its contemporary flourishings. Opening the exhibition is Cameroon-born couturier Imane Ayissi, with a piece from their AW19 collection. The dramatic pink ensemble represents a 'crossroads between fashion systems, bridging historical and contemporary periods, continental and Global Africa, artisanal craft making and haute couture.' As the first and last visual of the exhibition, it drives home the idea that any preconceptions we have of African fashion fall short of the reality: these are creatives that choose their own paths and set alight the contemporary fashion scene.
The ground floor, representative of the period between the 1950s and 1990s, focuses on the African liberation years. Here, the exhibition explores how political and social reordering impacted creative practices, with new radical publications and records as well as a resurgence in appreciation for African heritage. In particular, as part of the 'Politics and Poetics of Cloth' section, the making and wearing of indigenous cloths is examined as a strategic political act where African leaders reclaimed their cultural identity in the aftermath of the Year of Africa.
A spotlight is also shone on the first generation of African designers to gain international recognition. 'The Vanguard' charts the rise trailblazing creatives like Shade Thomas-Fahm, Chris Seydou, Kofi Ansah, Alphadi and Naïma Bennis through the archival ensembles (many of which are being shown in a London museum for the first time).
Alongside the work of designers is a curated selection of photographic portraits from the mid-late 20th century, which act as documents of the wider social climate. Here, vistors can see the growth of modernity, cosmopolitanism and fashion consciousness amongst the African population, who were able to feel seen through studio portraits by the likes of Sanlé Sory, Michel Papami Kameni, Rachidi Bissiriou and James Barnor.
In comparison, the upper floor is representative of a new generation of creatives, divided into seven sections covering the directions that contemporary designers have taken with their work – think reimaginings of Rwandan royal dress by Moshions on the 'Minimalism' stage, an exploration of traditional adornments by IAMISIGO in 'Mixology', NKWO's celebration of hand crafts with 'Artisanal', African spirituality and ancestral relationship courtesy of Thebe Magugu as part of the 'Afrotopia' selection, talismanic jewellery and storytelling in 'Adornment' as well as playful depictions of identity in 'Sartorialists' and the results of bespoke collaborations in 'Co-Creation' (keep an eye out for Lady Ashely Shaw-Scott Adjaye's wedding dress on the end).
This half of the exhibition continues to show the role of photography as a means of self-expression, but in an evolved state with the addition of film and social media. A 'performance of identities', visual materials by the likes of Sarah Waiswa and Gouled Ahmed highlight the ways we cultivate an image today. Trailing into the final elements of the exhibition, 'Global Africa', we can see how these identities are shared and admired through social media, led by creatives of African descent.
Final Word
A vibrant celebration of creative ingenuity from Africa and the diaspora leads a strong exhibition at the V&A, where visitors are drawn into a complex landscape full of social, political and artistic possibility. Christine shows that the future of African fashion is brighter than ever, growing from traditions and recent history into a completely new visual language. Thrumming with excitement for the next generation of designers, photographers and artists, this is an exhibition you won't want to miss.
BOOK
Africa Fashion is available to book now, with regular tickets priced at £16. For more information, please visit vam.ac.uk
DISCOVER MORE
The Must-See Fashion Exhibitions of 2022 / The Best Art Exhibitions in London