Are you hitting the slopes this season for the first time? If so, don't go before you head to Chel-Ski, an indoor ski centre in the heart of Chelsea. We bring you the low-down…
The C&TH team headed to Chel-Ski one dreary Tuesday evening. With two groups (beginners and more experienced) we each tried out the slope for half an hour of leg burning skiing.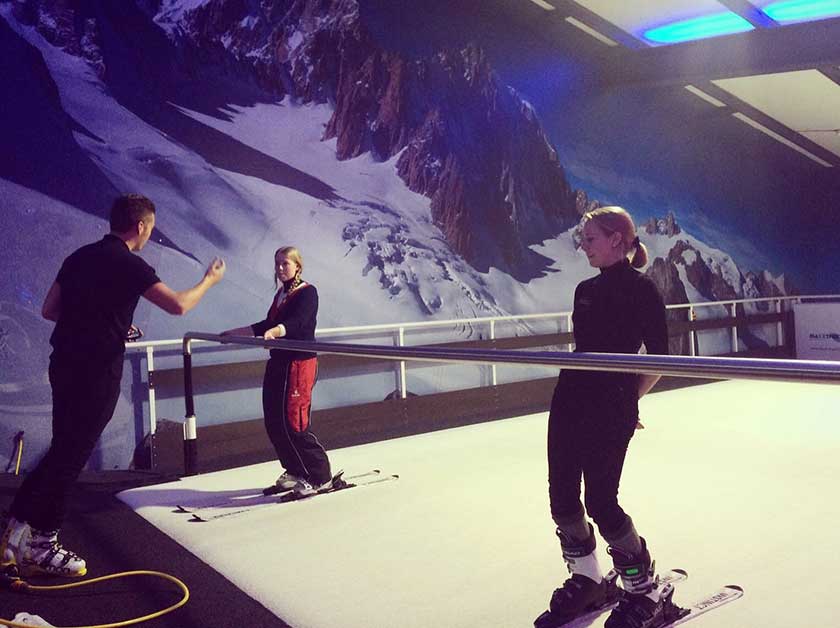 As a former ski racer and instructor, I was feeling pretty confident until the slope started moving and suddenly I forgot everything I knew and my 21 years of ski experience. The session begins by taking you back to basics (thankfully, in my case) as you start to learn the differences between the indoor slope and snow. Chel-Ski provides a unique opportunity to perfect and improve your technique, and similar slopes are used by World Cup racers in the off season.
However, for beginners, while strange at first, it is a great opportunity to get the hang of the basics, without the distractions of the hundreds of people, amazing views, and occasionally steep slopes.
Chel-Ski is the largest indoor ski slope in London, and offers private and group instruction for BASI qualified instructors. They also have an après ski Alpine bar upstairs where you can rest your weary limbs and enjoy a mulled wine or hot chocolate.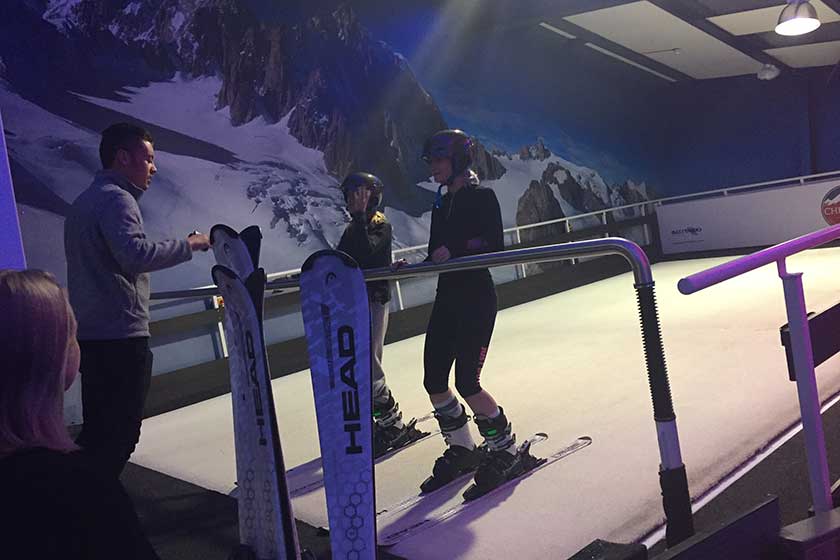 While a few sessions here won't turn you into Bode Miller, it will help you get a feel for the movements and the basics of skiing on snow. If you are an intermediate skier, the experience can be a little trickier. Any bad habits will be amplified at Chel-Ski, making it the perfect place for working on your technique. If you are looking to build your confidence however, this might throw you back a bit… Lord knows I was struggling.
The key things I have taken away from Chel-Ski is that it's great fun; your legs will BURN; and it gives you a taste of what we have to look forward to this ski season. So if you are dying to get out to the slopes (especially as there is so much snow in the Alps right now) then popping over to Chel-Ski is a great idea.
Olivia Milligan, our sales executive, another member of the experienced team said, 'I really liked the bit with the skis… Just kidding. Chel-Ski was a totally unique experience, one that I would highly recommend especially to those thinking of taking their first skiing holiday this season. Nothing beats the snow but Chel-Ski is the closest you will get to the alps this side of the Channel.'
Anastasia and Harriet from C&TH formed the beginners' group. Anastasia said 'I was concerned that I might get carpet burn, or break a leg, but by the end I could see how the session would improve technique.'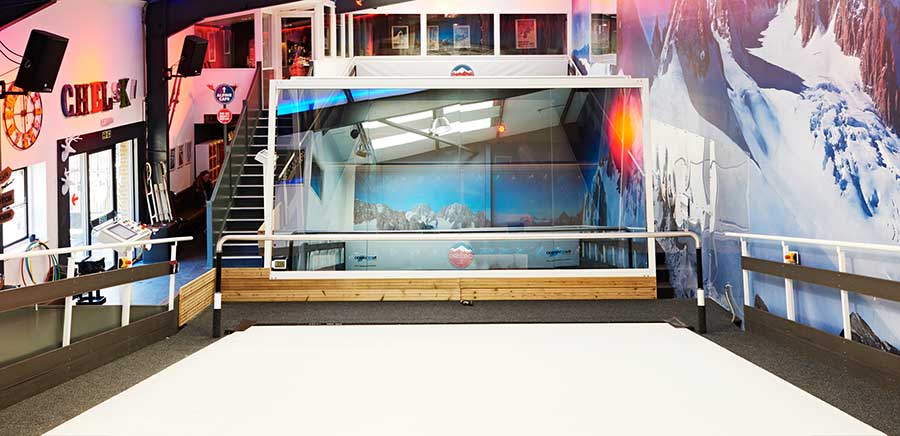 Prices start at £34.95 for kids and £39.95 for adults for a half an hour session. Prices include tuition, supervision and feedback provided by a qualified instructor, and supply of boots, skis /snowboards and helmets (mandatory for any child aged 12 or under). Please call Chel-Ski on 020 3829 6961 or email [email protected] to book a session or for private slope hire. Phone lines are open from 10am to 5:30pm, 7 days a week.
READ MORE: The best hotel rooms with a view
READ MORE: An insider's guide to the ski season
---