Loquet London founder Sheherazade Goldsmith believes the key to happiness is long walks and plenty of seaside visits…

Where did you spend lockdown and with whom?
I spent lockdown in London. We moved most of our Loquet office into my house, so I've returned to preparing the orders which is something I haven't done for years. It's been a very creative exercise to be interacting with the collection in a way that I did when we first started.
Where did you dream of going during those months?
I dreamt of surfing. I love the sea and surfing is something we enjoy as a family. I read somewhere that we all have a blue mind, a sense of general happiness and calm that's triggered when we're in or near the water.
What did you miss most?
Dancing. The kitchen was a good substitute and my girls roped me into a few TikToks, but after a couple of rowdy routines you need your friends.
How did you get creative at home?
The aspect of lockdown I'm most grateful for is that it allowed me to get closer to our Loquet community. Through various social media campaigns we've had a lot of interaction with our customers, it's this intimacy that I found so creatively inspiring and helped me relook at all our designs.
Favourite secret place in London?
The woods by the top ponds of Richmond Park. Early evening is the best time to go, as it's virtually empty and utterly magical.
What always brings a smile to your face?
My kids. I love who they've become, nobody makes me laugh like they do.
What would your therapist say about you?
Hmm, I don't have one. Maybe that says it all.
Favourite independent designer?
Phoebe Philo. I consider her an independent as she brings her unique contemporary style to anything she does. For jewellery, it has to be the legendary Jar.
Instagram accounts you follow?
@charliemackesy as his posts have been so poignant during this lockdown moment and their simplicity has made them truly valuable, and @mubi for its impeccable film collection.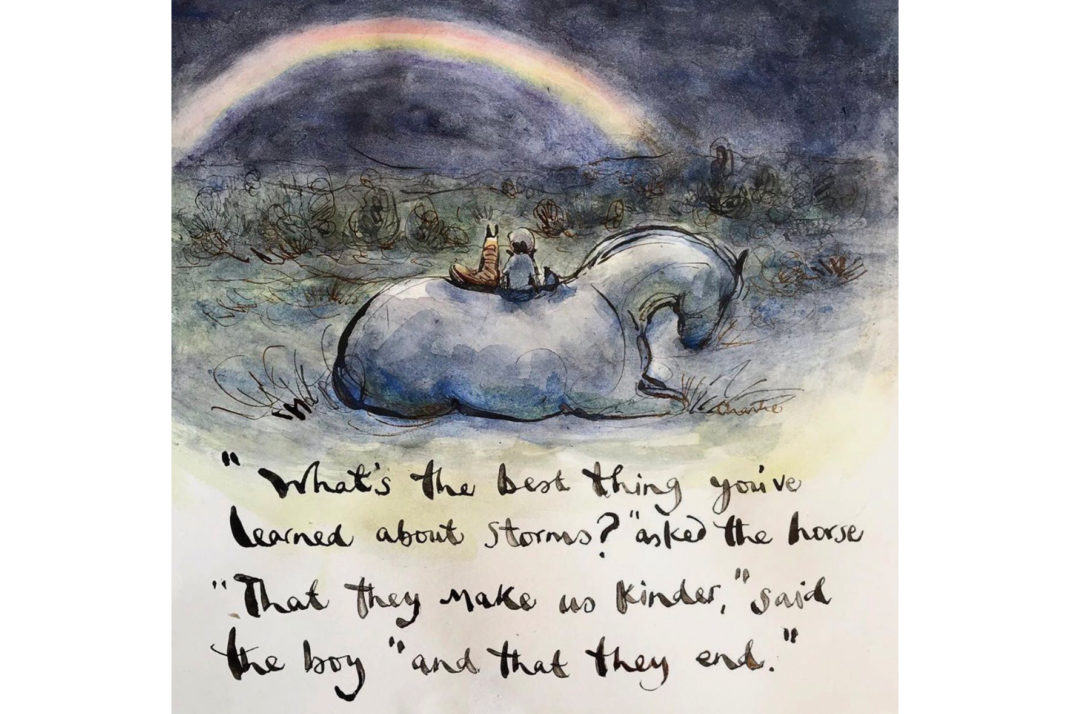 The books you'd take to a desert island?
I'd have to go with those that always have something new to offer, however many times you read them: Emily Bronte's Wuthering Heights, Dostoyevsky's Crime and Punishment and William Sieghart's The Poetry Pharmacy books, a brilliant curation of poems for every emotion.
Most valuable piece of advice you've received?
During one of my trips to India, I visited a palm reader. In India they are like GPs, every family has one, and at the end of the session he wrote up a prescription on a formal letter headed notepad. Mine was to make sure to sing and dance for 20 minutes every day.
The song that always makes you dance?
Thinking of you by Lord Echo.
Your signature dish?
Pasta pomodoro. My first boyfriend was Italian and we used to spend long hot summers in a small town outside Naples. His mother was a superb cook, who only ever used recipes passed down through generations. She taught me how to make a fresh pomodoro, one of the simplest recipes and therein lies its deliciousness.
Your most annoying habit?
Tidiness.
Who would you want to write your epitaph and what would it say?
My kids and they'd simply say that I was a mother.
Motto you live by?
You live once.
What you most like to do in the countryside?
A long, rambling walk as you often find the most beautiful deserted corners, teeming with nature and nothing else. Woods are my favourite, particularly those with a stream or river. I used to live in Devon and have never found better walks than those that surround Dartmoor.
Favourite flowers?
Lily of the Valley, I love the shyness of the tiny bell-like flowers, the subtlety of their heavenly scent and how the deep green leaves unfurl to reveal the beauty inside.
MORE INTERVIEWS: Interview: Anya Taylor-Joy on Becoming Austen's Emma / Interview: Arizona Muse on How to Live a Better Life / The Rurbanist: Q&A with Gillian Anderson
---