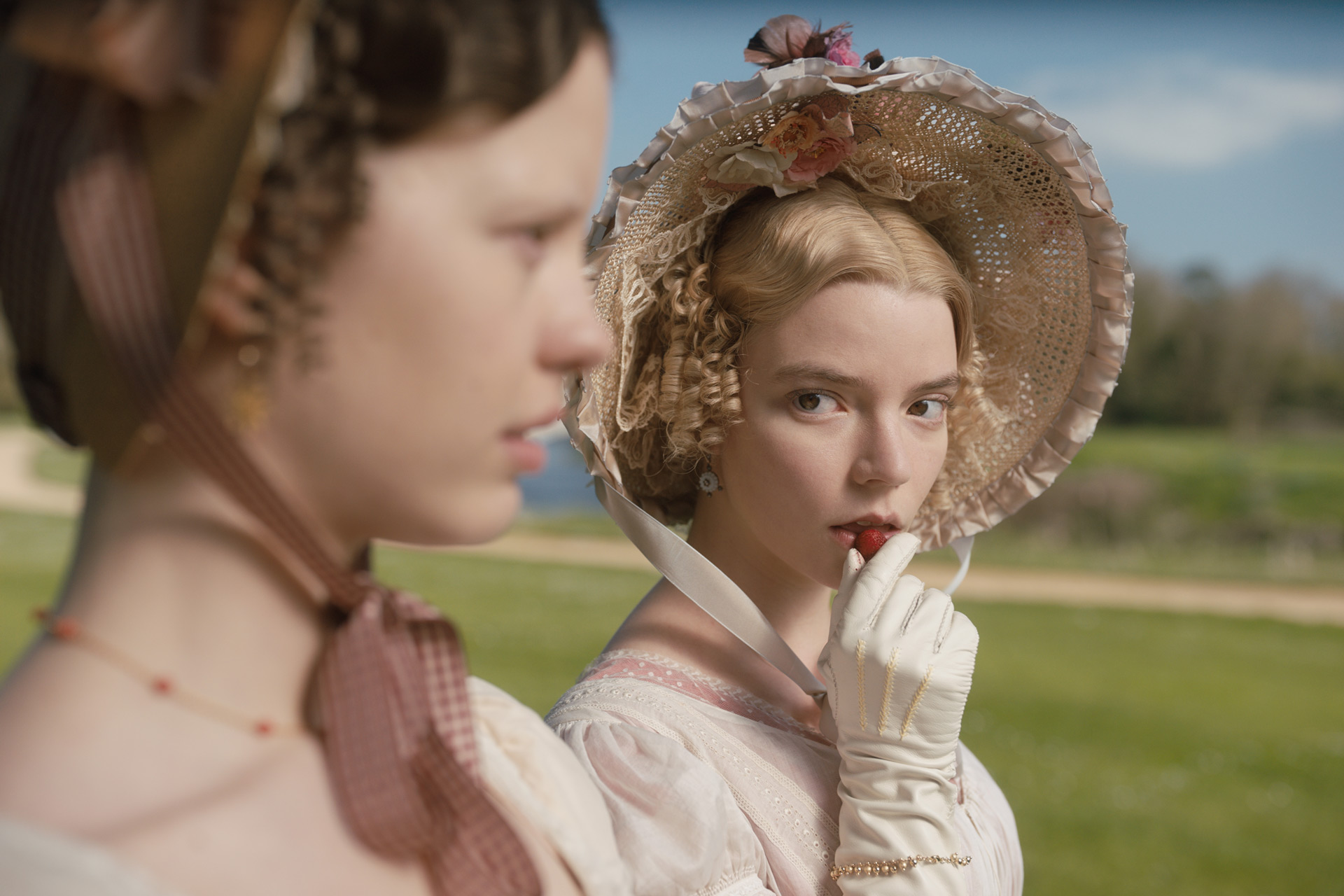 Interview: Anya Taylor-Joy on Becoming Austen's Emma
---
'We were literally at summer camp with corsets'
Anya Taylor-Joy on the delights of country life, corsets and the making of Autumn De Wilde's Emma.
From Douglas McGrath's 1996 rendition starring Gwyneth Paltrow to 90s teen comedy Clueless, Jane Austen's Emma has continued to charm film and literary lovers for generations – and Autumn De Wilde's adaptation, which hit UK cinemas this February, is certainly no exception. In fact, we might even argue that it's the best on-screen Emma yet.
An enchanting and saccharine take on the early 19th Century novel, De Wilde draws us into a kaleidoscope of fanciful interiors and pastel colours, resplendent country estates – most significantly the historic Firle Place – and sumptuously soft-hued regency attire. We are delighted by performances from a star-studded cast including Miranda Hart as the vivacious Miss Bates and Bill Nighy as the adoring Mr Woodhouse, but it is of course Anya Taylor-Joy's witty, endearing and meddling Emma Woodhouse that makes us fall in love with the literary heroine all over again.
Polls apart from her previous roles – namely horror film The Witch and psychological thriller Split – Taylor-Joy says she 'might have completely lost my mind' if she'd assessed too highly the value of taking on such an iconic and beloved character.
We spoke to the 24-year-old actress about becoming Emma, life in lockdown and what's next on the agenda.
What was it like taking on the role of such a renowned and complex literary heroine?
I really only started thinking about that once it was over. If I had that sort of pressure going into it, I might have completely lost my mind. It was incredible getting to know Emma; getting to grow with her, really relishing in the witticism of Austen and how intelligent the language is, and getting to play with such incredible actors. I felt very lucky. It almost felt like going to a weird sort of school – I learned a lot from it.
Emma is a very different film to those you've acted in previously. What drew you to the role?
Each character is completely different. When I was younger I thought, 'ok, there's a way in which to do this. There's a way to get into character'. But because each character is so unique and requires such different parts of you, or requires you to understand or access something that doesn't necessarily exist within you already, it's such a completely unique experience. With Emma, it was about understanding the motivation behind some of her brattier moments. It was understanding that this is light and funny, but at the same time, why does she feel such an intense need to control things around her? That made it easier to understand why she lashes out and that it's not just being bratty – there's a reasoning behind it.
Are there any aspects of Emma that you resonate with yourself?
Her love for her father and that feeling of 'how am I going to branch out in my life without making sure my parents don't get left behind' – I really connected with that. Emma ultimately wants everyone around her to be happy and safe, so I also connect with that. Sometimes I really worry about the welfare of my friends and the people that I love.
The period costumes are just spectacular. What was your favourite piece to wear?
The corset I was wearing was actually a lot more comfortable than a corset I wore previously. Once you get to the Regency period, there's a little more room to have a bust and hips. I've worn a very conical corset before and that's like you're not allowed to have ribs, so that's a very different experience. In terms of my favourite thing, there's a necklace Emma wears which really resonated with me. Our genius costume designer Alexandra Byrne is really into subtle nods, so the necklace was modelled after a very special one that Jane Austen wore which was given to her by her brother.
Have you always been an Austen fan?
I think having a good knowledge of the book made it very clear to me that I wanted to play Emma the way that I enjoyed reading her. Part of the enjoyment of Emma is hearing her voice and understanding why she's being bratty and why she's being unfair, because then when you get to the end of the book or movie you really understand the growth that she's experienced. I wanted that energy from the book.
The film transports us to some stunning locations. Which was your favourite?
I think for all of us it was Firle Place. Lord and Lady Gage were so kind to us, they really let us treat it like a home. We'd all have our own little corners of the house, our own little nooks, and would have our lunch on the grounds in the middle of summer – it was just so idyllic.
Were many changes made to the house in advance of filming? 
Yes, because it's an Autumn De Wilde film so she painted a lot of the rooms, added furniture, and really changed things around because she wanted to be in control of everything aesthetically.
Have you taken any interiors inspiration yourself from set?
Absolutely, I mean, once Emma ended, I was joking (but not joking) that I am now really into interior design. Autumn and I talk about that kind of stuff all the time – our text chain conversations are just tons of pictures of wallpaper. But our production designer Kave Quinn was so brilliant – I really love the pink dining room with that incredible embossed wallpaper.
As such an uplifting and joyous film, the DVD release seems quite timely. Despite the current circumstances, do you think Emma can bring joy to people at this time? 
Absolutely. As a movie lover, when I was a kid I adored the 'behind the scenes' because that was my only real understanding of how the film was made. I would just gobble that kind of stuff up, and on this one we actually have a beautiful gag reel and some wonderful behind the scenes. The gag reel almost makes all of us cry when we watch it because we really just had such a great time when we were making the movie.
What was the atmosphere like on set with Emma?
It was so much fun – we were literally at summer camp with corsets. It was just the most wonderful, idyllic setting with gorgeous people who were really kind and don't take themselves too seriously. We were constantly joking around – I'm almost surprised we got any work done.
How have you been finding life in lockdown? Have you been working from home at all?
A little, but I feel very lucky because obviously, some people are having a really hard time of it. I've been away from home for such a long time and jumping from project to project with no days in between, so I was really living the character life for quite a while. This is the first time in my early 20s that I'm experiencing being in a house with other people, where I get to make my breakfast in the same kitchen every day, so I'm really appreciating that pause and that 'ok, this is what just living your life as you, without a twin sister feels like'. So I'm just trying to be really quiet and rest before I go back to work.
Emma is based in the fictional countryside village of Highbury – do you live in town or country?
I live in the town currently but I grew up in the country. I love being out in wide open spaces and being close to nature. No makeup, hair down, big woolly jumper, bonfire – that's my happy place.
Has working on Emma propelled you to take part in more comedies and film adaptations?
Absolutely. It's always been based on strengths of the character and the script. I will do any genre of any kind if the character and the world they live in is interesting. I'm starting work hopefully towards the end of this year on Robert Eggers' The Northman which I'm really excited about because that's my first film family, it's just wonderful to be with people you know very well and so much fun to create with as well.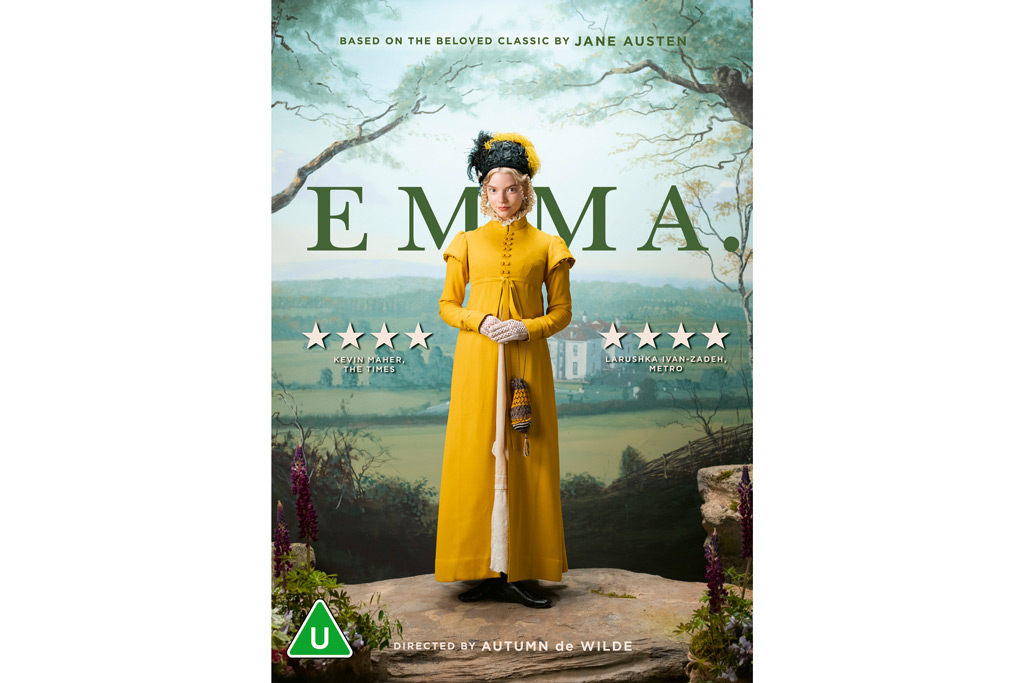 Emma is available on Blu-ray and DVD from 22 June.
MORE INTERVIEWS:
Arizona Muse on How to Live a Better Life / A Gala Performance: Interview with Gala Gordon / Irons Man: Interview with Max Irons