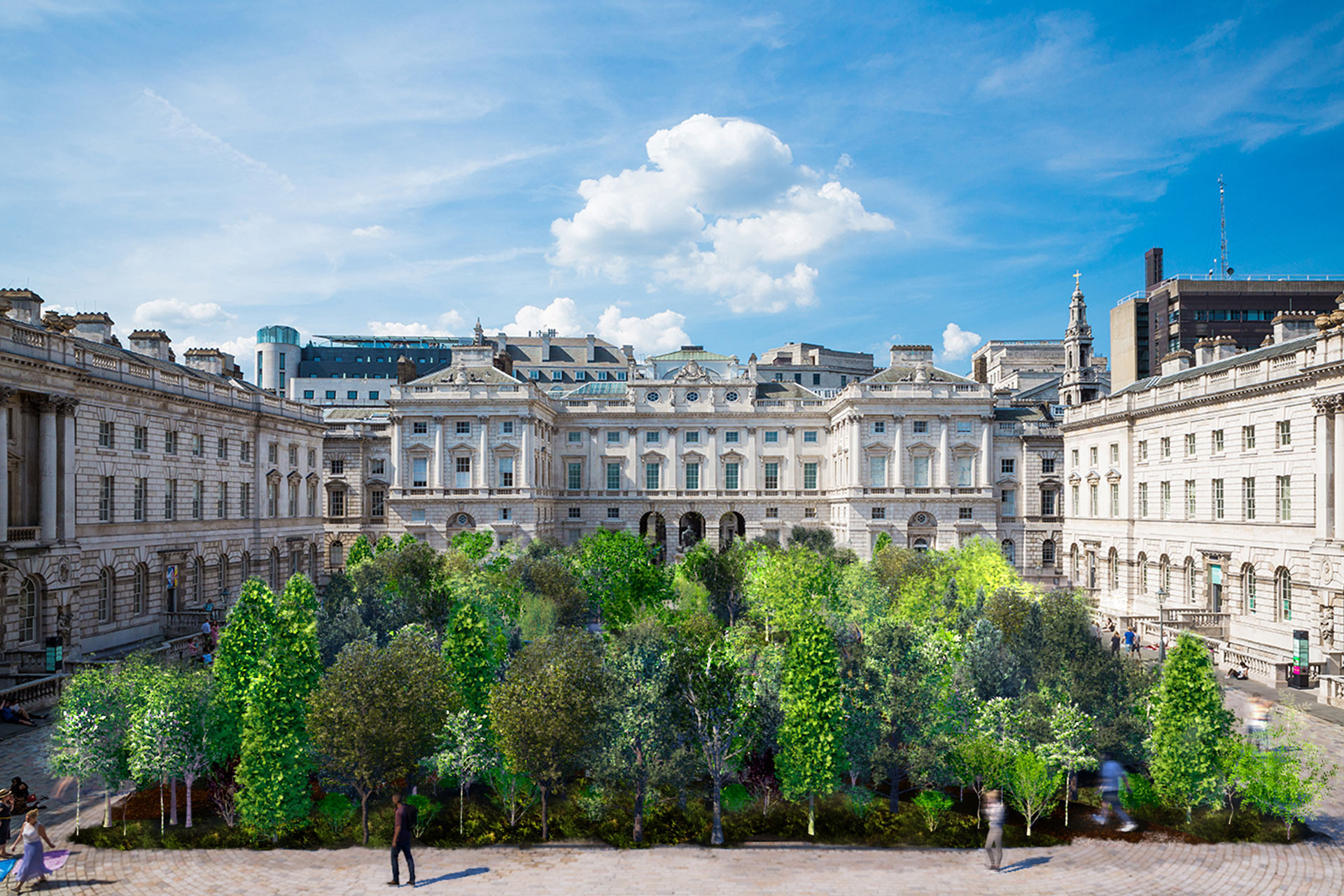 A Forest is Popping Up in Somerset House This Summer
---
How can design provide solutions to the major challenges of our time? asks this year's London Design Biennale
This June, hundreds of trees will be appearing in the Somerset House courtyard as part of the exhibition programme for this year's London Design Biennale.
Designed by Es Devlin, artistic director of the Biennale, the forest will feature 23 varieties typical to those found across the UK and Northern Europe, creating a spectacular centrepiece to the iconic space. The project, titled Forest For Change, The Global Goals Pavilion, hopes to raise awareness of the United Nations' Global Goals for Sustainable Development – an ambitious plan to eradicate poverty, fight inequality and tackle the climate crisis. These goals will be highlighted in an installation in the central clearing of the forest.
'When I was first shown around Somerset House many years ago, I discovered that the Enlightenment principles on which the building was conceived, specifically forbade the introduction of trees into the courtyard,' says Devlin. 'Of course, the first thing we wanted to do when considering this year's Biennale was to counter this attitude of human dominance over nature, by allowing a forest to overtake the entire courtyard.
'In literature forests are often places of transformation: the forest of Arden in Shakespeare, the enchanted forests of the Brothers Grimm. The UN Global Goals offer us clear ways to engage and alter our behaviour and it is our hope that an interaction with the Goals in the forest will be transformative.'
The outdoor experience is being presented in partnership with Project Everyone, a not-for profit agency founded by Richard Curtis, Kate Garvey and Gail Gallie to further spread the word about Global Goals.
The theme of this year's Biennale is resonance, focused around a key question: "how can design provide solutions to the major challenges of our time?" Exhibiting countries, territories and cities will be responding to this in a number of different ways. There will also be a dedicated 'Sustainability and Innovation' exhibition, consisting of a series of installations by a selected group of universities, organisations, and brands demonstrating their contribution to these global issues through design.
The London Design Biennale takes place from 1 – 27 June 2021. Tickets are on sale now at somersethouse.org.uk
READ MORE:
Best UK Exhibitions of 2021 / Virtual Art Exhibitions To Tune Into