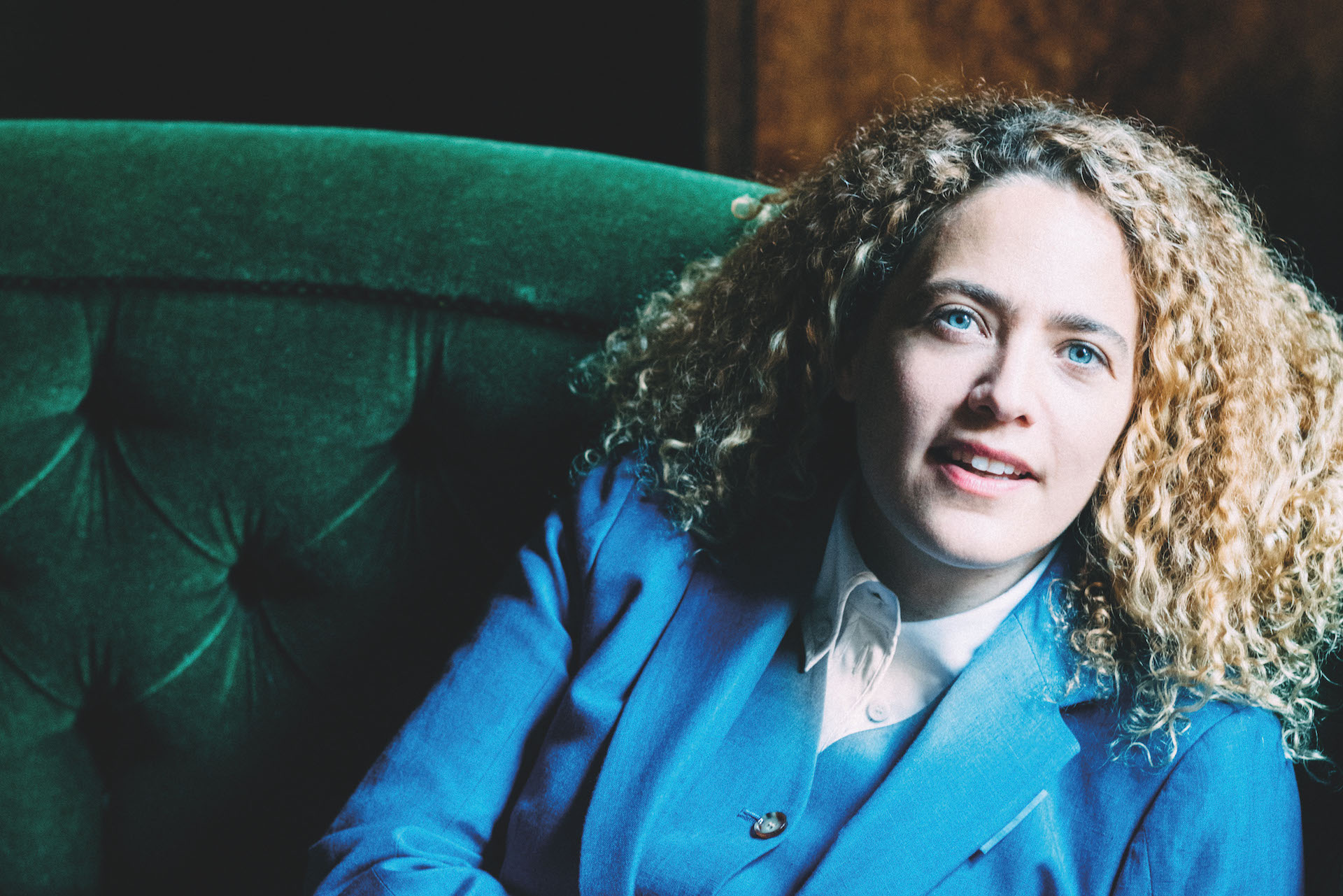 Conversations at Scarfes Bar: Tabitha Goldstaub
Learning how to talk to robots
AI entrepreneur Tabitha Goldstaub is a refreshingly normal voice in the confusing world of tech. She talks to Charlotte Metcalf about becoming fascinated by the internet, fighting tech bro culture, and why we need to learn to talk to robots.
If Tabitha were not so likeable, she'd be downright intimidating. She's only 34 and yet her stellar rise as a serial tech entrepreneur could make Elon Musk quail. At just 24, she co-founded video streaming platform Righster, which floated for £20.4m two years later. She went on to co-found CogX, which started hosting small dinners to help people understand Artifical Intelligence (AI). It quickly mushroomed into a festival attracting over 105,000 attendees online or in person. Today she chairs the government's AI Council, supports the Alan Turing Institute and has written a book, How to Talk to Robots.
How on earth can a technophobic woman like me have a conversation her? Yet Tabitha is delightfully disarming, chattering openly about her dyslexia and privileged background. 'My mother [Jane Procter] was editor of Tatler, so I was lucky enough to grow up in the fascinating world of magazines,' she says. 'At Bedales school I was told I could do whatever I wanted. It gave me the confidence to live with my dyslexia.'
Nevertheless, it was still a gigantic step from there to becoming one of Britain's most influential women in tech. How did it all start? 'I didn't get into tech, it got into me,' she laughs, 'I was at Wimbledon Art College when Facebook launched. I saw the phenomenal immediacy with which friends could communicate. Nowadays, there are multiple ways to show off our personalities but then it was amazing. The fact you didn't need a door to walk into other people's lives blew my little mind.'
She became fascinated by the internet, attending the London College of Communication, where she began doing website design. 'I was far too dyslexic to learn coding, but I really enjoyed working out how to do something entirely different – I felt like Kung Fu Panda in training.'
After graduating Tabitha joined the online television network T5m, helping it monetise its content. T5m's CEO Charlie Muirhead became her co-founder at Righster and the rest is history. 'Basically, I was the person good at getting stuff online and knew about optimisation,' she explains. 'This was still the era when TV involved great big tapes, but we were livestreaming shows for London Fashion Week, though I was the totally uncool nerd in the back room.'
Tabitha began researching AI and became 'fearful' at what she found. 'The reality is the world is sexist and AI exacerbates that,' she says. 'Tech teams are largely white males, so the data is skewed towards men. That's changing, thanks to the pioneering research of women like Caroline Criado Perez, but back then I was shocked.' Tabitha's book is her calling card entreating women everywhere to engage with AI. 'I was talking to women at Riposte magazine about why AI matters and became quite tearful when I saw that none of them were aware how AI was coming after their jobs,' she remembers. 'HarperCollins approached me after that. When they said the book could sell in Topshop I thought, "Hell, yes!" I got pregnant, Topshop's no longer there and Covid happened, but with a baby on my boob, I got it done.' Now her son is two and she and her partner Ed divide up their parenting roles – 'I'm minister for Education and Health and Ed is the Home Office and the Treasury.'
The book is a bible for all tech novices, written in straightforward language designed to persuade us of AI's benefits and smash through the gobbledygook barriers erected by tech-bro culture. 'My mum asks Siri to find her phone torch or switch on Radio Four,' Tabitha says. (I grin with recognition.) 'We're already using AI all the time without realising it.' The book contains fascinating interviews with women like Martha Lane Fox, Hannah Fry and Jeanette Winterson.
I recommend every technophobe to read Tabitha's book, but meanwhile she's full of simple tips for making AI more user-friendly. 'Activate your Siri or Alexa and get used to talking to it. Find a book or a podcast that resonates. Join a local group or start one and invite an AI expert to come and talk to you. Then learn to protect yourself. You have more agency than you think and a legal right to an explanation and to know how much data platforms like Facebook have on you.'
I tell her I recently had a conversation with someone who believed the biggest threat to the next generation was AI. 'That's why we need to get AI into the school curriculum, get kids asking questions that encourage cognitive reasoning,' she nods. 'Forget learning about the Tudors! Kids need to be taught to think and apply their knowledge. AI is the future, it's inescapable so let's get it working for us rather than feeling threatened by it.'
Somehow, knowing Tabitha is in the world makes me feel that the day robots conquer the universe might just be a little further off.