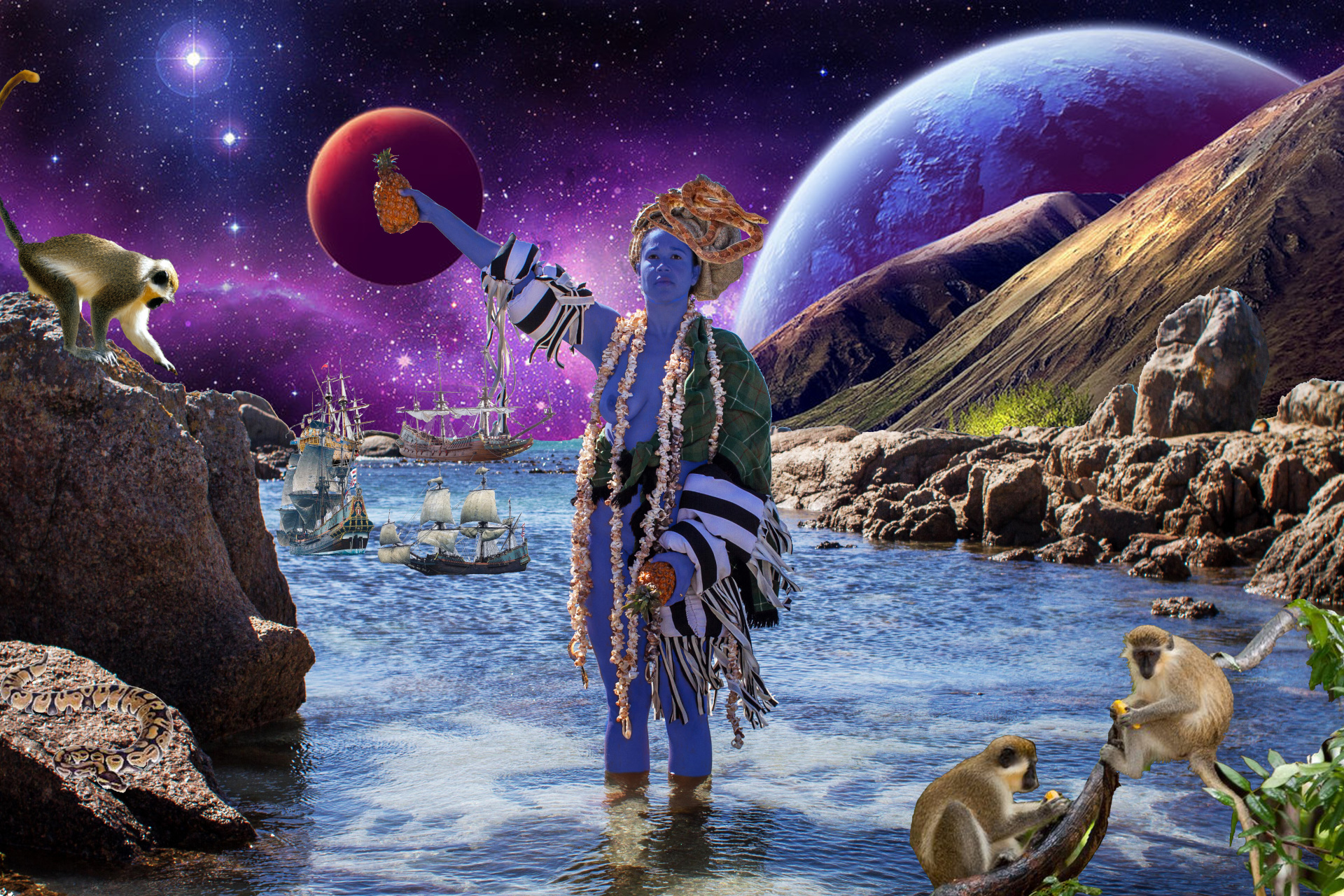 Female Artists to Have on Your Radar in 2022
---
The ones to keep an eye on for the future
The art world is constantly evolving, challenging preconceptions on what it means to be an artist and what exactly constitutes an artwork. Female artists are taking the lead in innovation and building an artistic landscape far more inclusive than any other in the history of art. 
Immersive Exhibitions To Book Now
Female Artists to Have on Your Radar in 2022
Creativity never stops, even during a pandemic. Art has continued to thrive since March 2020, despite the impact of lockdown on creative industries, galleries, and art shows. Artists have kept working to hone their craft, producing artworks which provide a commentary on their experiences of the pandemic and life in general.
We live in a time where artists, in particular female artists, are able to receive more opportunities for exposure than ever before. Women are stepping out from the shadow of male-dominated history, taking a leading role in the art of the here and now. They continue to shape the contemporary art landscape for the better – even with the limitations of lockdown. Taking their art from gallery to home, and from home to social media, the reach of the female artist is nothing to scoff at.
With the hopeful news that galleries and museums will reopen within the coming months, we wanted to take you through some female artists you should be keeping an eye on in 2022.
Sung Tieu
A young artist on the rise to look out for is Sung Tieu, a multi-disciplinary artist whose work saw her awarded the 2021 Frieze Artist Award. With work spanning installation, sound, video, text, sculpture, photography, performance and public intervention, Tieu explores her own experiences of cultural collision and displacement to investigate the art historical legacies of late Modernism.
The Vietnam-born artist has already exhibited with the likes of Frieze, Ars Viva, Taipei Fine Arts Museum, Emalin Gallery and the Royal Academy of Arts – so it's safe to say we'll be seeing a lot of more Tieu's work in the near future.
View this post on Instagram
Alberta Whittle
Barbadian-Scottish artist, researcher and curator Alberta Whittle is quickly gaining attention on a global scale. The artist offers a multi-disciplinary practice that looks into the manifestation of self-compassion and collective care as a means of battling anti-blackness. Creating artworks that are both sensitive in their message and full of cutting humour, Whittle was the recipient of the 2020 Frieze Artist Award, the Margaret Tait Award and a Turner Prize bursary.
Look out for Whittle in the 2022 instalment of the Venice Biennale, where she will be representing Scotland. The Biennale will take place between 23 April and 27 November 2022.
View this post on Instagram
Mary Sibande
South African artist Mary Sibande has spent the last few years making waves in the contemporary art scene with her sculptural artworks. Descended from three generations of domestic workers, Sibande uses her artwork to explore issues of identity through the lens of black women in South Africa.
Sibande's artwork largely revolves around her alter-ego, Sophie, a domestic worker based on her ancestors. Cast from Sibande's own body, Sophie's various sculptural forms become a visual conduit for the dreams and desires of black women in South Africa; through the increasing extravagance of Sophie's costumes, Sibande plays on the wish for social mobility and its correlation with later generations of black women.
Sibande's work has branched out to global exhibitions, including the group shows 1-54 Contemporary African Art Fair (Somerset House, London, 2019) and Radical Revisionists: Contemporary African Artists Confronting Past and Present (Moody Centre for the Arts, Texas, 2020).
View this post on Instagram
Amanda Gorman
You'll recognise Amanda Gorman from her performance of 'The Hill We Climb' at Joe Biden's Inauguration Ceremony. The American poet and activist was the first person to be named the National Youth Poet Laureate back in 2017, but has recently shot to international fame in the art world for her poetical discussions on race, feminism, and African diaspora.
Activism and expression are central to Gorman's work, which she uses to examine the importance of Black art in contemporary society. She's also very vocal about her belief in poetry as an artform. In an interview with Michelle Obama and TIME, Gorman emphasised how: 'Poetry and language are often at the heartbeat of movements for change… Never underestimate the power of art as the language of the people.'
Gorman released three books in 2021: 'The Hill We Climb: An Inaugural Poem', 'The Hill We Climb And Other Poems', and 'Change Sings: A Children's Anthem'.
Yayoi Kusama
Yayoi Kusama is one of the most commercially well-known artists on this list – and for good reason, too. The Japanese artist has worked in the industry for over sixty years now, wowing audiences with installations, performances, sculptures, and more. Repeating patterns, dots, bold colours, and impressions of light are central to her work, creating immersive experiences that are as beautiful as they are Instagram-able.
Kusama was scheduled to have a show at Tate Modern back in 2020, but the pandemic delayed its opening. Featuring her largest and most successful installation, The Infinity Rooms, Kusama's collaboration with Tate Modern sees viewers travel across a walkway into a room full of reflective surfaces; the mirrored walkway, walls, and ceilings combined with hundreds of LED lights give the impression of an endless luminescent space. YAYOI KUSAMA: INFINITY MIRROR ROOMS will be showing from the 18 May 2021 until the 12 June 2022.
View this post on Instagram
Prune Nourry
Performance and visual artist Prune Nourry uses her artwork to explore her interests in anthropology, in particular how social conventions have shaped the way we define gendered characteristics. Nourry's artworks are known for being confrontational in their address of social issues, often outlining inequalities in the way women are treated in communities around the world (the projects Holy Daughters and Terracotta Daughters are a great starting point if you want to get an idea of how Nourry's explores these themes in her work).
One of her more recent works is Serendipity, a film which discusses how issues around the human body are treated in social settings. Begun when Nourry was diagnosed with breast cancer at the age of 31, Serendipity documents her treatment and the effects on her body. The resulting artwork is an intimate portrait of Nourry's life and her relationship with her body.
Cauleen Smith
American filmmaker and multidisciplinary artist Cauleen Smith is known for her examination of the African American identity with relation to the impact of capitalist power structures. Smith made headlines last year for her ongoing artwork, COVID MANIFESTO. Taking to Instagram during lockdown, the artist shared handwritten notes reflecting on her experience of the situation and encouraged people to continue connecting with one another despite the limited means.
Smith's notes were rewritten for a series of videos with CIRCA, a new platform for public art on the Piccadilly Lights. Covering a wide range of social issues, frustrations, and reflections, Smith documented her reactions to the events that defined 2020. If you happened to walk through Piccadilly Circus one evening in November 2020, you may have already seen some of her work in action.
Helen Cammock
British multidisciplinary artist Helen Cammock uses video, photography, song, and poetry to explore how oppressed voices can be raised up. Cammock often draws on her experiences growing up in Britain as a mixed-race woman, creating discussions around the themes of race and female representation in history.
Cammock was also one of the artists awarded the Turner Prize in 2019, with the prize being shared by all the nominees after they wrote a letter asking the judges not to choose a single winner.
The artist has seen a lot of success despite not having a conventional path into the art world. A social worker for ten years before going back to art school in 2005, Cammock breaks down some of the misconceptions surrounding the career of the artist – proving that you don't need to follow convention to be successful.
Ann Veronica Janssens
Preoccupied with the impact of light on perception and experience, Belgian artist Ann Veronica Janssens creates experimental installations that look at how the qualities of a space can be transformed with simple materials. Coloured lights, artificial fog, and reflective surfaces are used to create fluid spaces that the audience can immerse themselves in.
Janssens' exhibitions are great for viewers who like to get stuck into an artwork, as they focus more on audience participation and experience rather than just simply looking. Her most recent exhibition, and her first major exhibition in UK, was at South London Gallery, where the artist showed the artworks Untitled (Blue Glitter) and Bikes. By inviting her audience to walk through piles of scattered blue glitter or cycle around the gallery on bicycles with custom-made mirrored wheels, Janssens' installations played on the effects of reflected light through audience participation and interaction.
View this post on Instagram
Juno Calypso
Photographer and filmmaker Juno Calypso is another artist who, following in the steps of Cindy Sherman and Mary Sibande, uses an alter-ego to craft characters that draw attention to prominent social commentaries. Calypso's artwork sees her take on the role of 'Joyce', 'a woman disenchanted by the 'laboured construct of femininity.'' Joyce is located in the mid-twentieth century, an era that saw feminism feed into a growing disappointment with societal expectation for women. Through Joyce, Calypso explores solitude, frustration, and the parallels between the presentation of women then and now.
Her most notable work, The Honeymoon, is a prime example of how Calypso builds her characters. Posing as a travel writer, Calypso went to a love hotel in America where she used her access to several of the rooms to take self-portraits as Joyce. Whether gazing at her reflection while sat in a heart-shaped bathtub, testing out beauty treatments and body improvement devices, or simply staring into space, the resulting photographic image seeks to highlight the mundane rituals women both love and resent.
View this post on Instagram
Female artists have never been non-existent in the history of art, but their capacity to be seen and heard is a struggle that we know all too well. Compared to the historic successes of male artists like Leonardo da Vinci or Picasso, women have had to fight to be appreciated as equal or better than their male counterparts.
We hope this list demonstrates that there are numerous female artists out there to be discovered, and with exhibitions a promising possibility for the future there is no doubt that they will continue to update and challenge what the art – and artist – of today will look like. So, keep your eyes and ears open; female artists continue to create, shock, awe, and inspire their audiences.
Featured image: Alberta Whittle, 'Celestial Meditations V', 2018. C-type print, 91.4 x 129.1 cm. Courtesy of the artist & Copperfield, London
DISCOVER MORE: