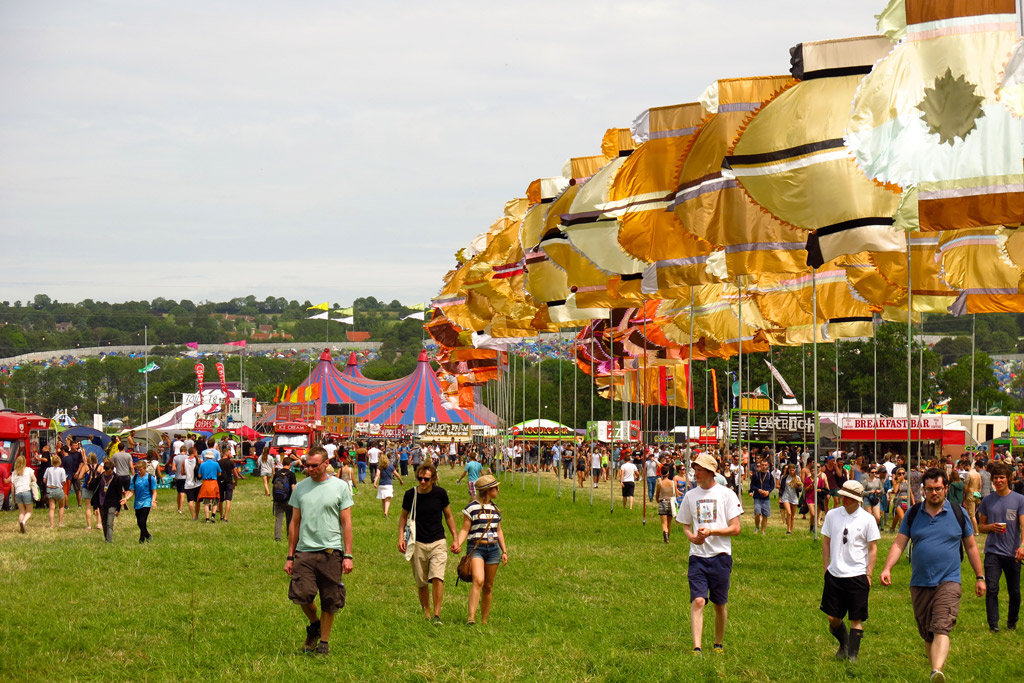 The Glastonbury Lineup 2023: Six Artists To Get To Know
Want to freshen up your playlist before Glastonbury 2023? We've got you covered...
After a much-anticipated first announcement, the lineup for Glastonbury 2023 has finally been revealed. It is no surprise that there are plenty of big names set to headline the iconic festival: Elton John, Arctic Monkeys and Guns N' Roses were among the first acts to be confirmed, and new additions include Rick Astley, Skepta, Caroline Polachek and Queens of the Stone Age. But if you're itching for something a bit different – and you'd like to reach beyond this star-studded but largely-male list of headliners – allow us to present six lesser-known artists on the Glastonbury lineup who are well worth a listen. 
The Glastonbury Lineup 2023: Six Artists To Get To Know
Cat Burns
View this post on Instagram
A recent graduate of the BRIT School, Cat Burns caught her big break when snippets of her dreamy acoustic songs and covers began to gain traction on TikTok in early 2020. Since then, she's performed as the opening act for both Sam Smith and Ed Sheeran, played Jools Holland's Annual Hootenanny on New Year's Eve 2022, and started recording her debut album. Her songs are earnest and diaristic, and if you're in the mood for something especially heartwarming, she occasionally enlists her mother to sing some gorgeous harmonies. Here's hoping the pair will grace the stage together at Glastonbury…
What to expect: Acoustic pop laced with gospel influences 
Standout song: 'Go'
Christine and the Queens
View this post on Instagram
Héloïse Adélaïde Letissier, known professionally as Christine and the Queens, is a French singer-songwriter who soared to fame with his debut album Chaleur humaine. Letissier's work (and his fabulous stage name) was originally inspired by the performances of London drag queens, which he witnessed during a trip to the UK in his student years. Letissier sings in both English and French, covering themes including emotional expression and transgender identity. His irresistible, breathy vocals are usually set against a colourful backdrop of '90s synths and punchy basslines. 
What to expect: Avant-garde French pop
Standout song: 'People, I've Been Sad'
Maggie Rogers
View this post on Instagram
The story of Maggie Rogers' fame is particularly unique: during a music masterclass at New York University, she played an original song to pop legend Pharrell Williams, who was visibly struck by her brilliance – and a video of this fascinating moment went viral. Nearly seven years later, Rogers has released two vibrant indie-pop albums, toured the world, and played at the ultra-cool Coachella music festival last year (she has also played at Glastonbury before). Her most recent tour bears the title 'Feral Joy,' and it is safe to say her concerts are giddy, near-transcendental experiences. 
What to expect: Dizzyingly joyful indie-pop
Standout song: 'Want Want'
Mahalia
View this post on Instagram
Mahalia is somewhat of an undiscovered gem on the music scene, though she recently garnered more attention after appearing on Jacob Collier's bubbly track 'All I Need' with Ty Dolla $ign – a track which earned a Grammy nomination in 2021. Beyond the slick drums and enticing R&B melodies, there is a delightful kind of purity to Mahalia's honeyed vocals and to the traces of soul music which make her work so unique. A definitive female powerhouse who places particular emphasis on confidence and empowerment, you won't regret giving her a listen. 
What to expect: Sumptuously smooth soul/R&B
Standout song: 'I Wish I Missed My Ex'
Rina Sawayama 
View this post on Instagram
This Japanese singer-songwriter is perhaps not so underrated: in fact, some might say she's been taking the world by storm. Influenced by a whole host of big names from Paramore to Taylor Swift, Sawayama's records are truly a treasure trove of sounds: her most recent album, Hold the Girl, traverses genres including pop, disco and punk, creating an extravagant and ever-thrilling listening experience. Her live performances are equally as exciting, featuring some fantastic choreography.
What to expect: Glittering electro-pop with doses of rock and disco
Standout song: 'XS'
Raye
View this post on Instagram
As well as releasing her own music, newly-independent artist Raye has written songs for superstars including Beyoncé and John Legend. Her personal sound is that of modern R&B with hints of velvety jazz, while her lyrics are perceptive and intimate. The best bit? Her recent album, My 21st Century Blues, features a collaboration with none other than Mahalia. 
What to expect: Slinky R&B with rousing drum tracks and touches of jazz
Standout song: 'Worth It'
To find out more about Glastonbury 2023, visit glastonburyfestivals.co.uk