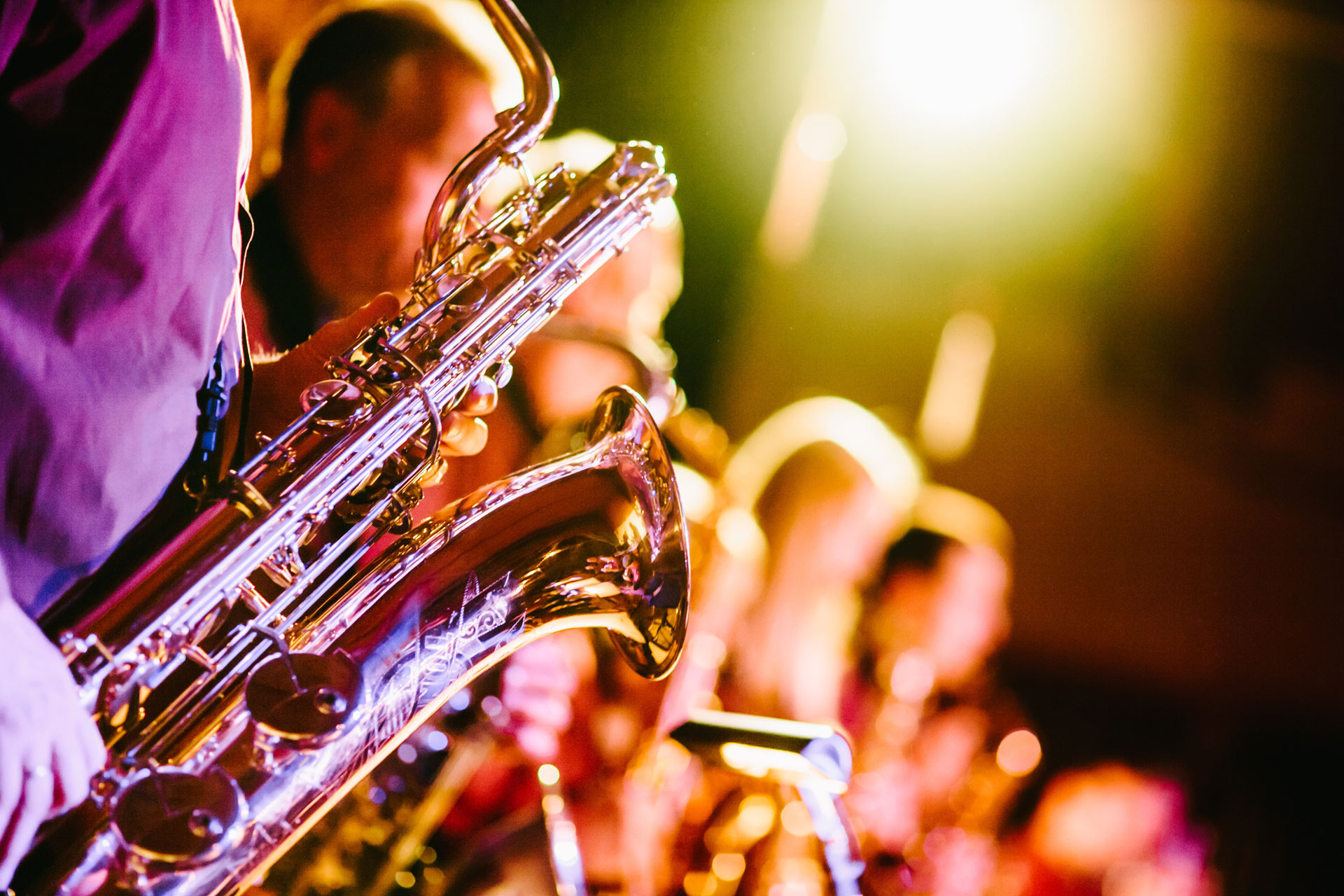 That's Jazz: London's Best Jazz Bars
From Shoreditch to Soho, here's where to enjoy jazz music in the capital
Believe it or not, London can do jazz. From the legendary Ronnie Scott's to lesser known gems and buzzy new openings, this scene is one of the best nights out the city has to offer. Read on for the best jazz bars in London, from Soho to Chelsea.
The Best Jazz Bars in London
1. The Jazz Cafe
Distinctly more hectic than the rest of the jazz bars in London, it's not all table dwelling and head bobbing here. There is a decent sized dance floor, which can get quite raucous at the weekends. Anyone wanting to catch the action without being overly committed can book a table in the restaurant mezzanine for a view of the stage alongside good food and cocktails. The music covers a host of genres with the likes of Roy Ayers, Kelis and Bobby Womack having all graced the stage. If you fancy dining while you listen, the first floor restaurant offers a great vantage point for watching the show.
Details: 5 Parkway, London NW1 7PG. thejazzcafelondon.com
2. The Dalston Jazz Bar
A bar, restaurant and club all in one, The Dalston Jazz Bar is quite unique. Head there for the best live jazz in Dalston, and bear in mind that the restaurant does not price its meals – diners simply donate depending on how they rate the quality of their meal.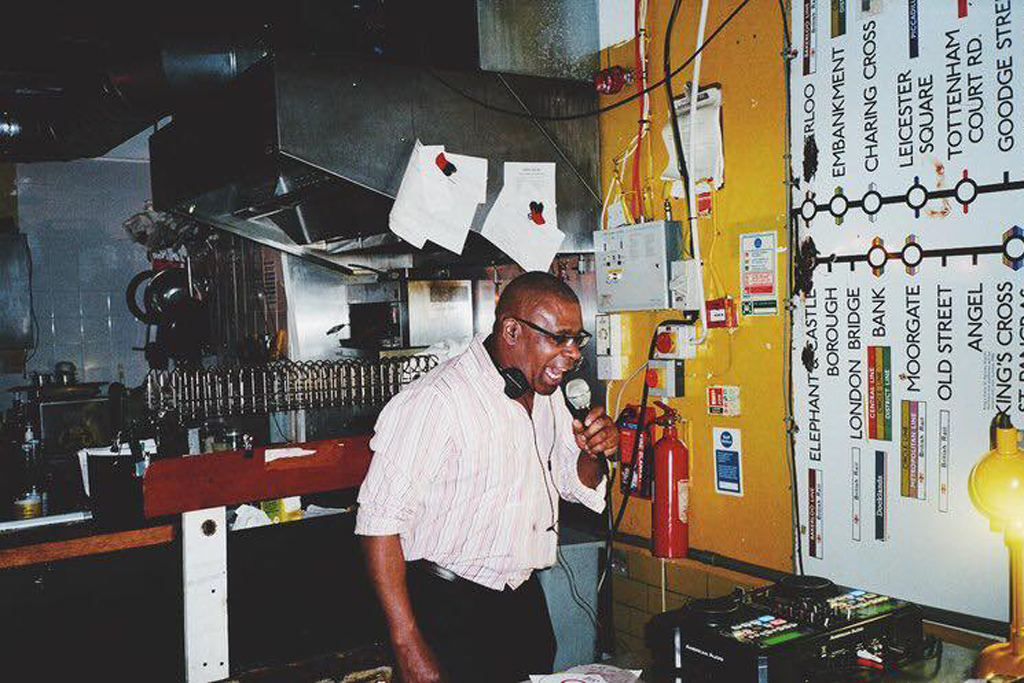 Details: 4 Bradbury Street, London N16 8JN. dalstonjazzbar.co.uk
3. 606 Club
The 606 has been one of the busiest jazz clubs in Europe since 1976. Featuring jazz, soul, groove, Latin, R&B, funk, gospel, blues and groove artists with live music seven nights a week plus Sunday lunches. With a capacity of 120 seated, this intimate basement Club and restaurant is known for its speakeasy atmosphere and has hosted many a future jazz star in their formative years. These include Jason Rebello, Liane Carroll, Polly Gibbons and Jamie Cullum, who describes it as 'London's best music venue'.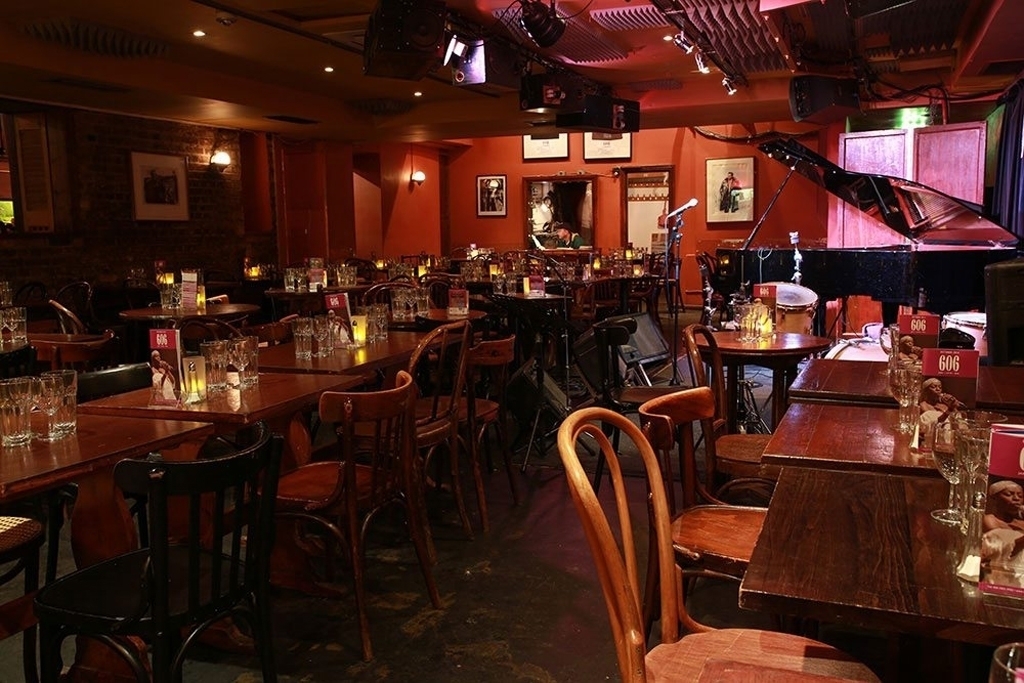 Details: 90 Lots Road, London SW10 0QD. 606club.co.uk
4. Ronnie Scott's
Ronnie Scott's is widely considered the best jazz bar in London – and for good reason. It was opened by Ronnie himself in 1959 (albeit in a different location) and has since established itself as one of the world's most famous jazz clubs, with some of the biggest names in the industry playing alongside hotly tipped rising stars. It isn't as small as some, but the atmosphere remains extremely cosy and intimate.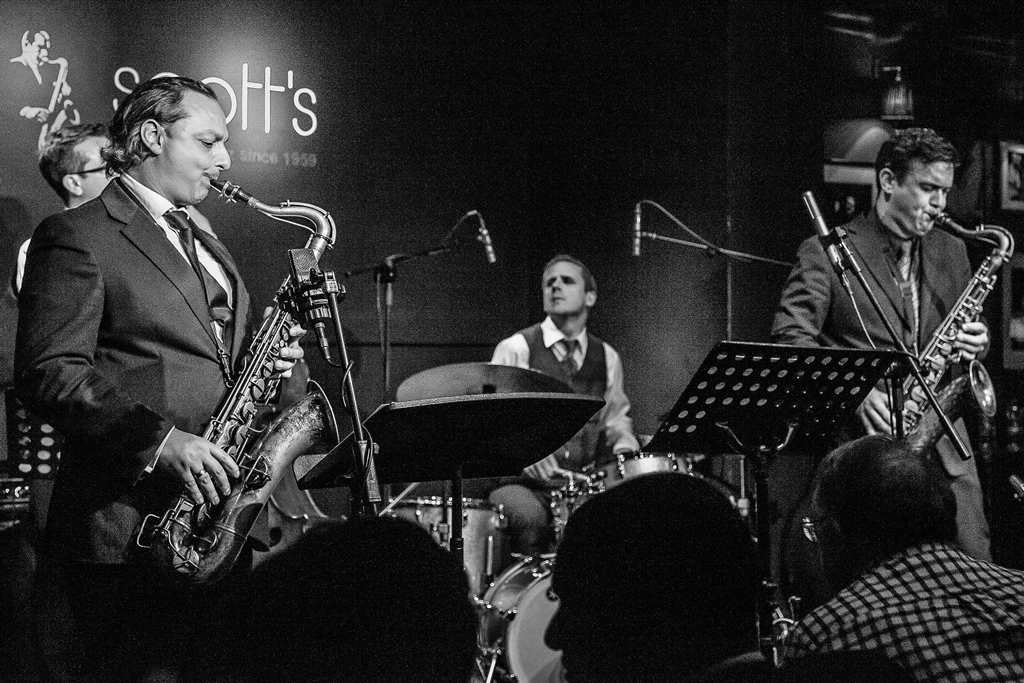 Details: 47 Frith Street, London W1D 4HT. ronniescotts.co.uk
5. Soho Live
There are multiple spaces to enjoy the best of London's jazz scene at Soho Live Music Club, but The Shed is certainly the jammiest. With a diverse programme of performances nightly from Wednesday to Saturday, enjoy Jazz and its subgenres – namely be-bop, hard-swing and hard-bop – amid marble table tops, moody lighting and sumptuous interiors. Champion up and comers in pink surroundings: rather than a wall of jazz legends, framed black and white pictures of up and coming artists sit in stucco pink oblongs on monochrome pink walls, accented by globular gold lights and subtle QR codes directing you to their music. Accompany the music with Mediterranean small plates and a tasty cocktail – or why not try one of the curated wine flights? Upstairs, more jazz awaits in The Piano Bar and The Boulevard, from casual to mesmerising performances in perfect acoustics.
View this post on Instagram
Details: Soho Live Music Club, 6 Walker's Court, London W1F 0BT. Reserve a table at soho.live, where you'll also be charged a music cover fee, ranging from £8-10/head. Soho Live Music Club members (£35/year) have cover fees waived for themselves and up to three guests. Only members can walk-in, so make sure to book ahead if you're not a member.
6. QT Presents The Green Room
Luxury hotel Middle Eight is ready to welcome this century's roaring twenties with The Green Room, a contemporary take on the classic speakeasy. This jazzy takeover of the QT hideaway features music legend Leo Green, who has played all over the world with the likes of Jack Savoretti, Paul McCartney and Jerry Lee Lewis. The Green Room showcases an array of talented musicians and singers ready to spice up some of our favourite tracks from the last three decades.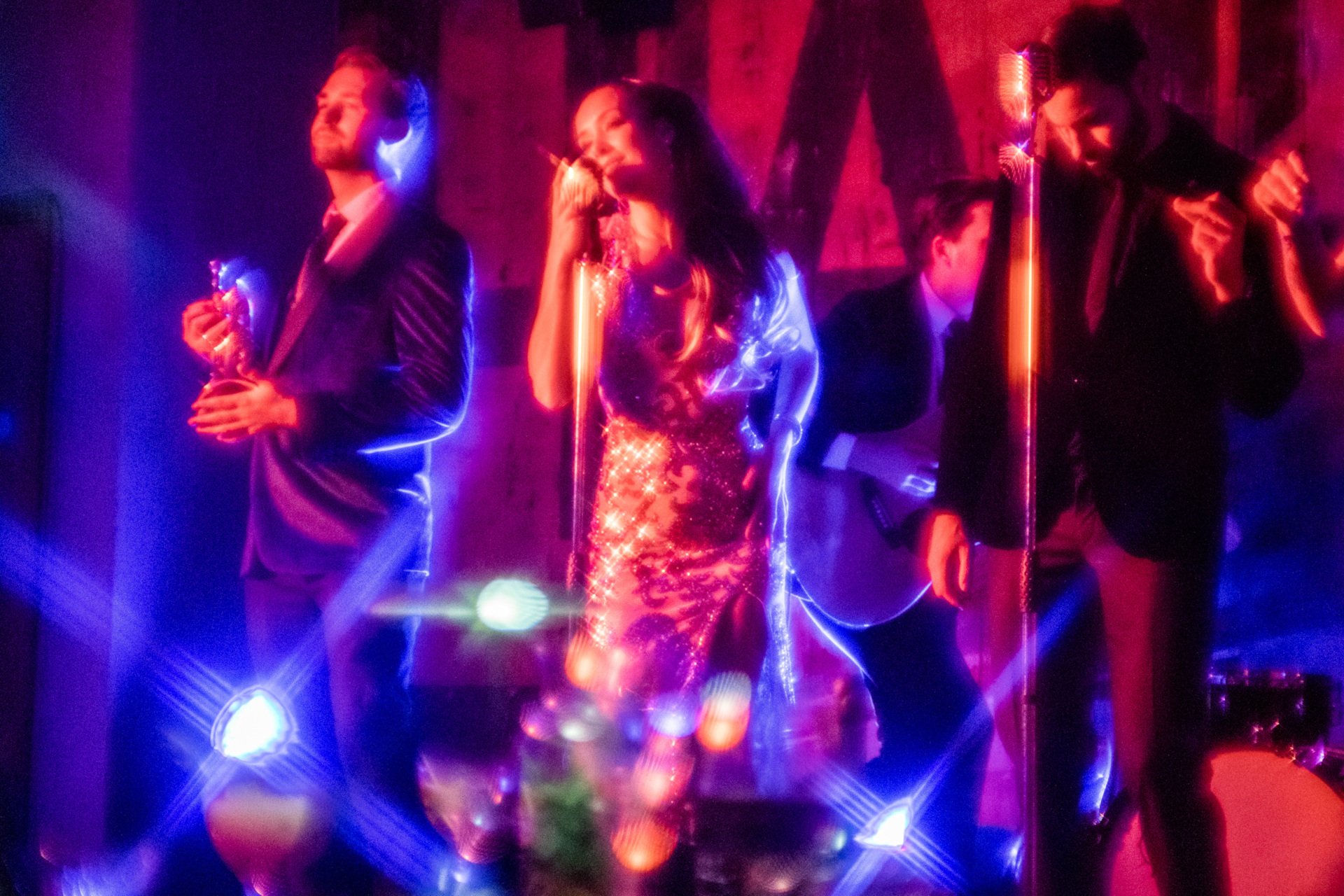 Details: QT Covent Garden, 66 Great Queen Street, London WC2B 5BX. Tickets for The Green Room are priced at £25, £35 and £45; middleeight.com
7. "mu"
Jazz with a side of delicious Japanese food? Don't mind if we do. Over in Hackney, Amit and Aneesh Patel's "mu" opened in April 2022 with a bang, home to nightly live music and unique robatayaki grill Japanese dishes, with a curated list of natural wines and an array of classic and seasonal cocktails for good measure. Named for the seminal album by legendary trumpeter Don Cherry, the live music draws on global influences, and the small, curated menu is led by head chef Duarte Loupa, with an array of bar snacks, small plates, large plates and sides on offer, with one shining dessert: the humble crème brûlée (with a Japanese twist, of course).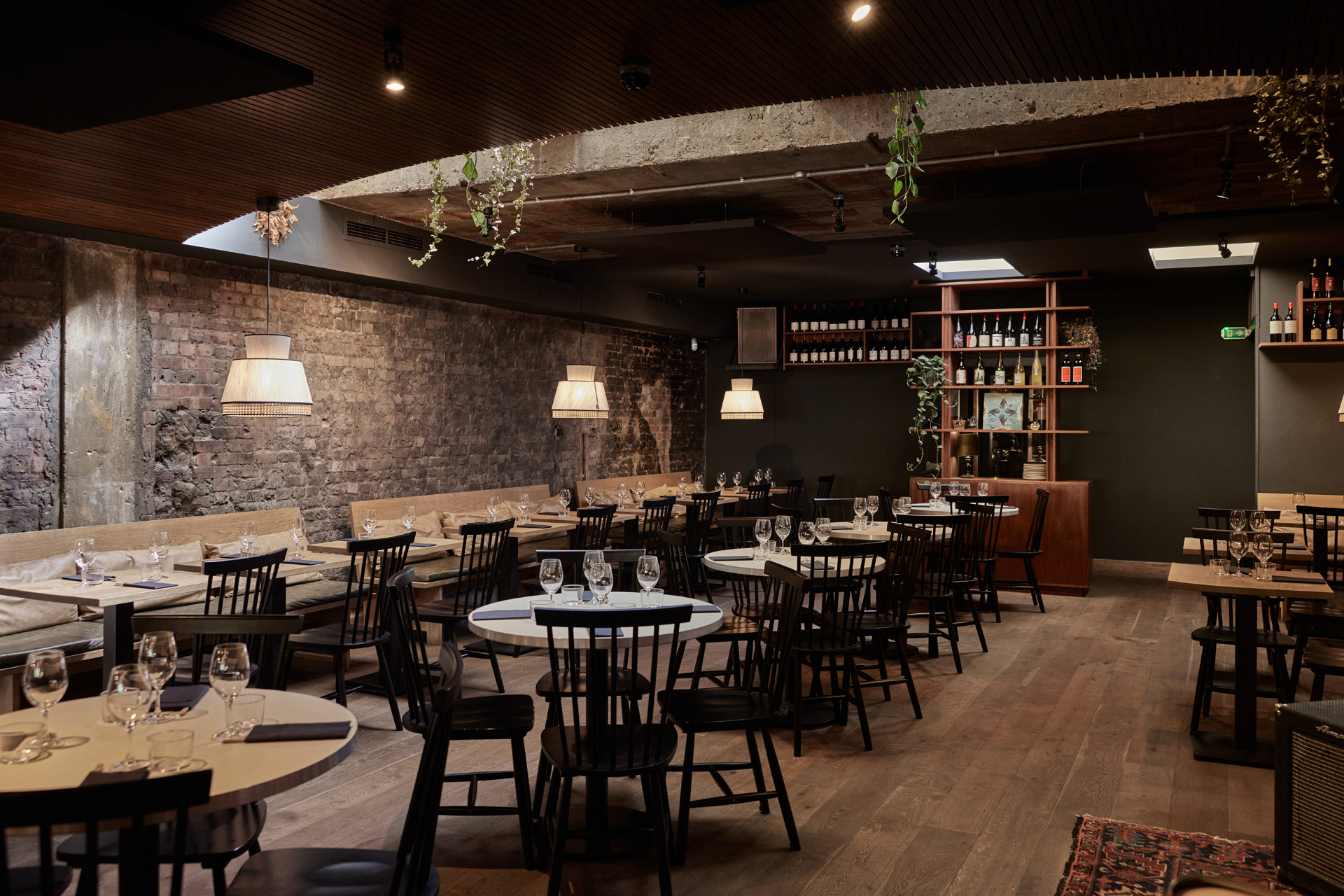 You'll want to try the smoked salmon teriyaki, juntoro and parsnip crisps and black cod miso (and they, buttery and moreish, live up to high expectations), but don't underestimate the small things: the grilled shishito with yuzu salt make an addictive start to the journey, and lettuce has never tasted better than in the baby gem, miso and panko. All served with a large dollop of eclectic jazz, of course.
Details: 432-434 Kingsland Rd, London E8 4AA. mu-ldn.com
8. Palm Court at The Langham
It doesn't get much better than delighting in live jazz at The Langham. The treasured Marylebone hotel's elegant Palm Court – renowned as the 'birthplace of afternoon tea' – has been open f0r over 150 years, and hosts live jazz performances every Thursday, Friday and Saturday. See the likes of Blue Rose and Coco Malone (whose credentials include recording with Lionel Richie and performing for the Queen) whilst dining on lobster bisque, pacherri pasta, pistachio crème brulee and more.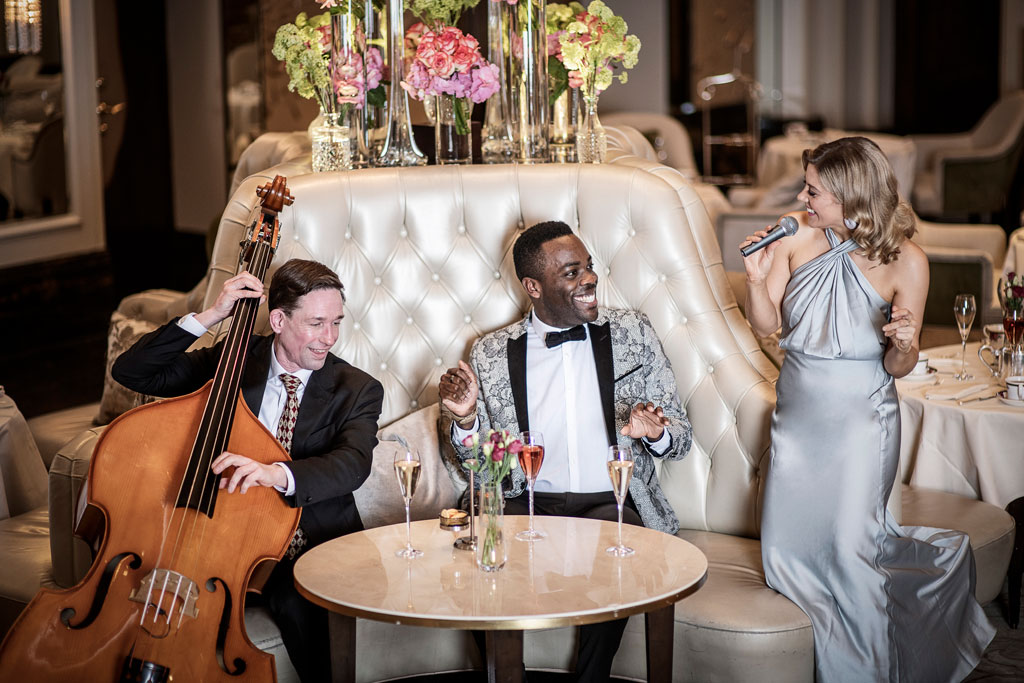 Details: 1C Portland Place, London W1B 1JA. langhamhotels.com
9. Nightjar
This is not a jazz bar per se; first and foremost it is a small, speakeasy-style cocktail bar, and one of the best in the world at that. The interiors are 1920s-esqe, cosy and glamorous without the clichés. The drinks have innovative garnishes (but stop short of being gimmicky); the service is attentive, without being annoying; it has a lot of class, without a hint of pretentiousness. The music doesn't disappoint either, with top live jazz and blues playing seven nights a week. Look out for acerola, calmus root and pine sap – just a few of the surprising cocktail ingredients to be found at the Night Jar.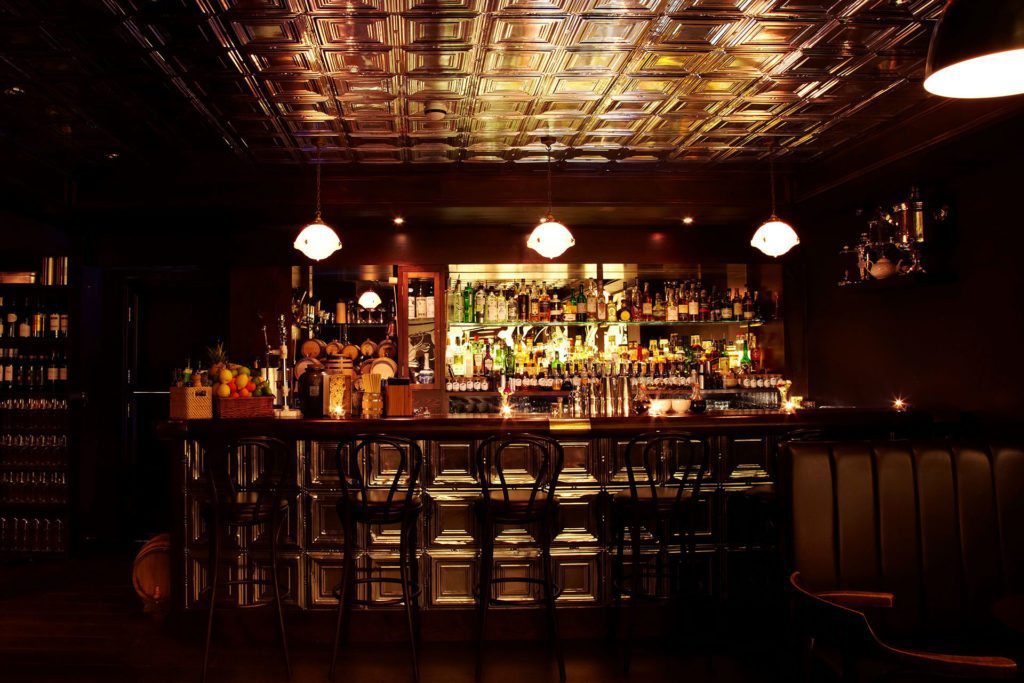 Details: 129 City Rd, London EC1V 1JB. barnightjar.com
10. Vortex
Vortex has been a renowned jazz hangout since its opening in the late '80s. However, property developers took over the original premises on Stoke Newington's Church Street and it hasn't had quite the same 'vibe' since its relocation to the Dalston Culture House in 2005. This isn't necessarily a bad thing at all – in 2013 it was the winner of the Live Jazz award and constantly tops the lists as one of London's best music venues. And they clearly know their stuff when it comes to music – they set up record label Vortex Records in order to release the debut album of London buskers Portico Quartet, who are fantastic and went on to be nominated for the Mercury Music Prize in 2008. Don't miss sets from Nishla Smith, and Robert Castelli.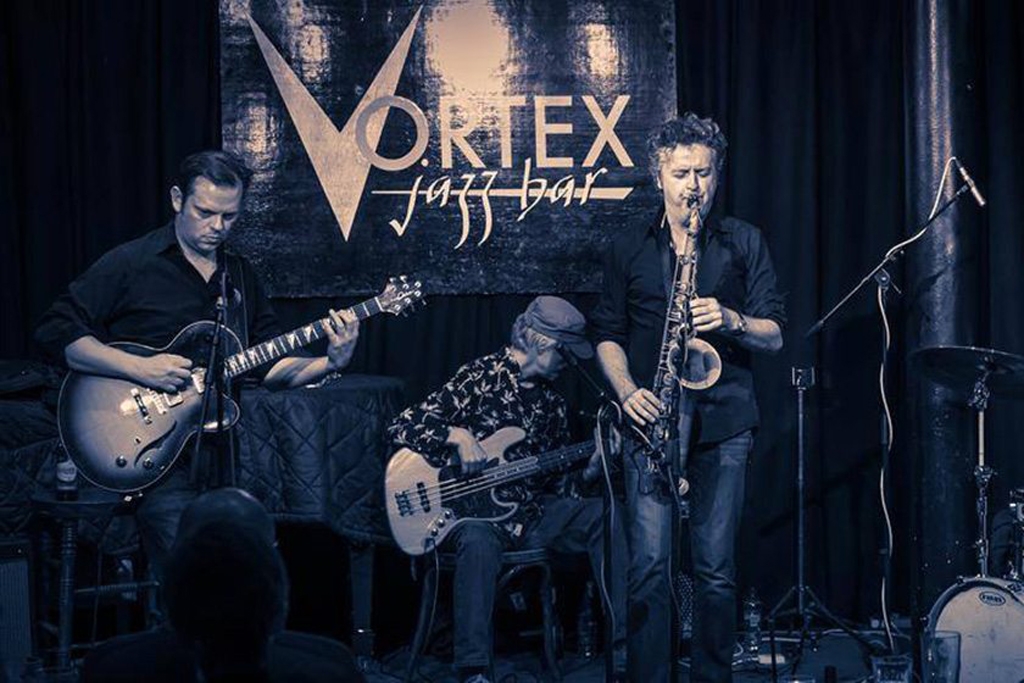 Details: 11 Gillett Square, London N16 8AZ. vortexjazz.co.uk
11. Boisdale
Scotland and jazz music isn't a traditional combination, but it's a winning one. The food (and whisky) is Scottish and excellent, and the nightly live jazz music is the best in the business. You wouldn't expect any less with Jools Holland as the patron of music. There is a cigar terrace, and even an Oyster Bar & Grill in the Canary Wharf venue.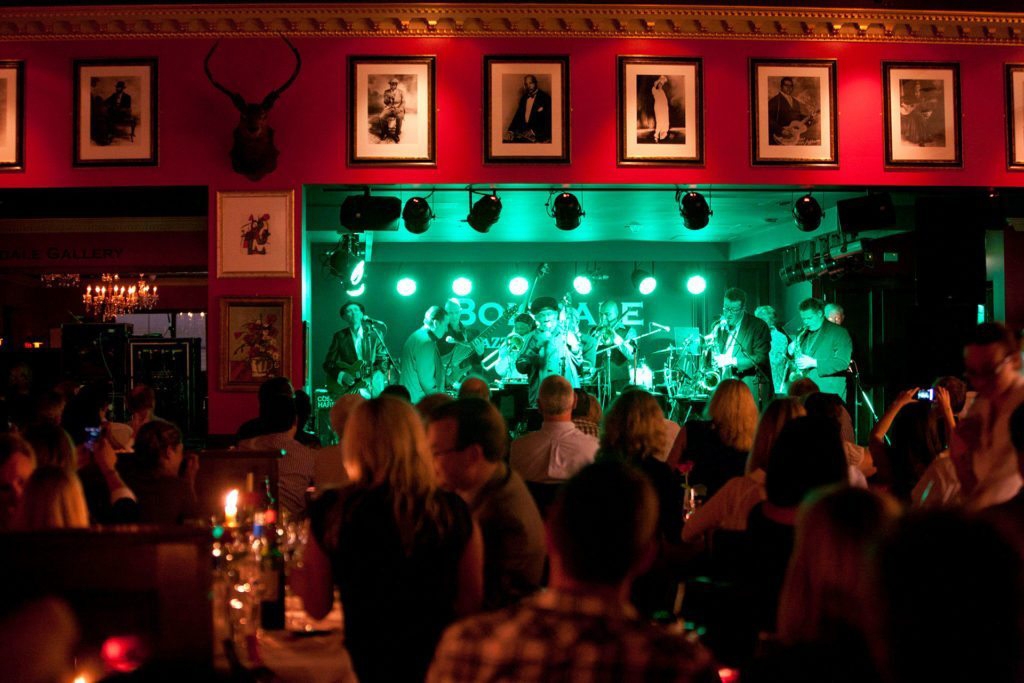 Details: Branches in Canary Wharf (1 Cabot Square, London E14 4QT), Belgravia (15 Eccleston Street, London SW1W 9LX) and Mayfair (12 North Row, London W1K 7DF). boisdale.co.uk
12. The Blues Kitchen
London's own home of BBQ, blues, and rock n' roll. The Blues Kitchen's chicken wings, stripped back Wednesday night soul, and Sunday blues jam make this is London's answer to laid back Deep South living. It's open until late on Fridays and Saturdays for the night owls among you. However, it is also a popular daytime spot, with great brunch and lunch menus.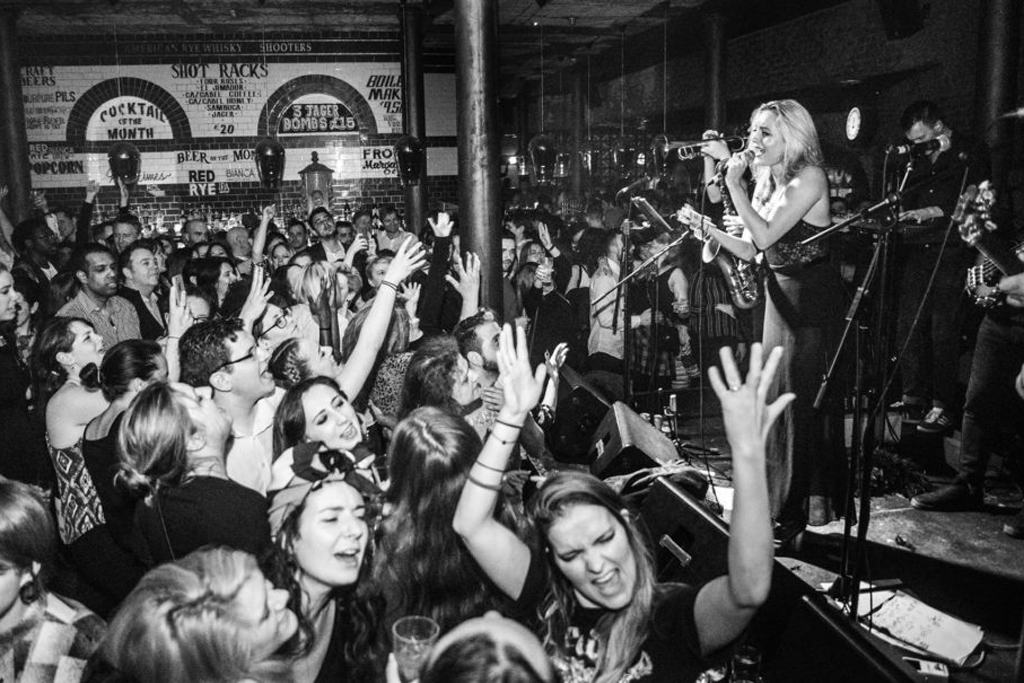 Details: Branches in Camden (111-113 Camden High Street, London NW1 7JN), Shoreditch (134-146 Curtain Road, London EC2A 3AR) and Brixton (40 Acre Lane, London SW2 5SP). theblueskitchen.com
13. The Wellesley
Glamorous five-star hotel by day, elegant jazz bar by night. The Wellesley's Jazz Lounge is a hidden gem for jazz fans, with live performances every Friday and Saturday evening. It pays tribute to its history as the former home to the famous Pizza on the Park at Hyde Park Corner, where jazz greats such as Jamie Cullum, George Melly, Amy Winehouse and Barbara Cook regularly performed. This is a great place for a special occasion with its sumptuous surroundings and stunning live music. When paired with some of London's best Italian cuisine from The Oval restaurant, a perfect accompaniment to the smooth sounds of jazz. Pop into the legendary Cigar Room afterwards, too.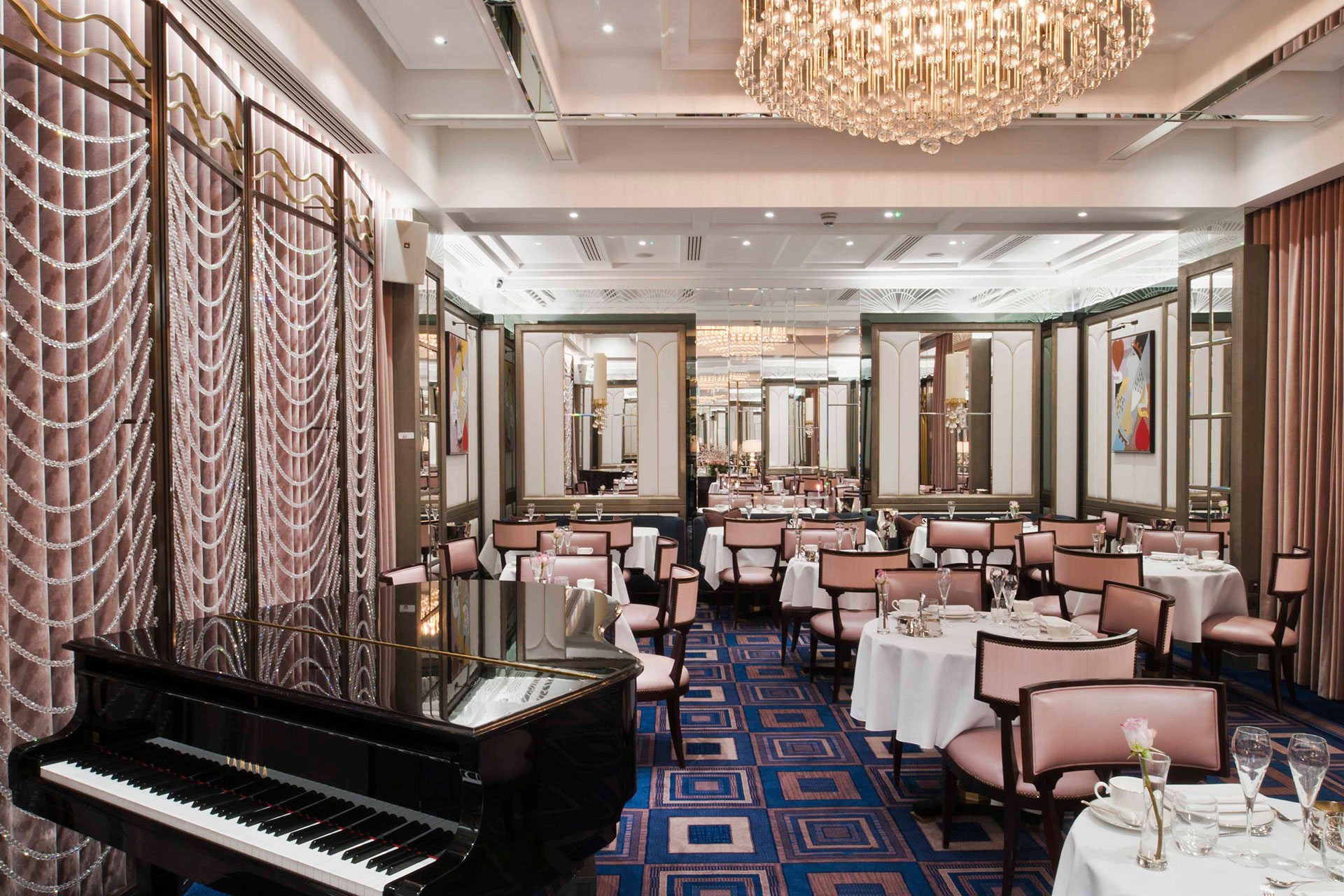 Details: 11 Knightsbridge, London SW1X 7LY. marriott.co.uk
14. Pizza Express Live
Before you judge, this isn't your average Pizza Express: it's a serious jazz club, with a Sloppy Giuseppe thrown in as a bonus. Some of the world's very best musicians have taken to the stage. From Roy Haynes and Kenny Garrett, to Norah Jones, Jamie Cullum and even the late Amy Winehouse. The sound system is brilliant and none of the tables are far from the stage, which any live music fan knows is of the utmost importance.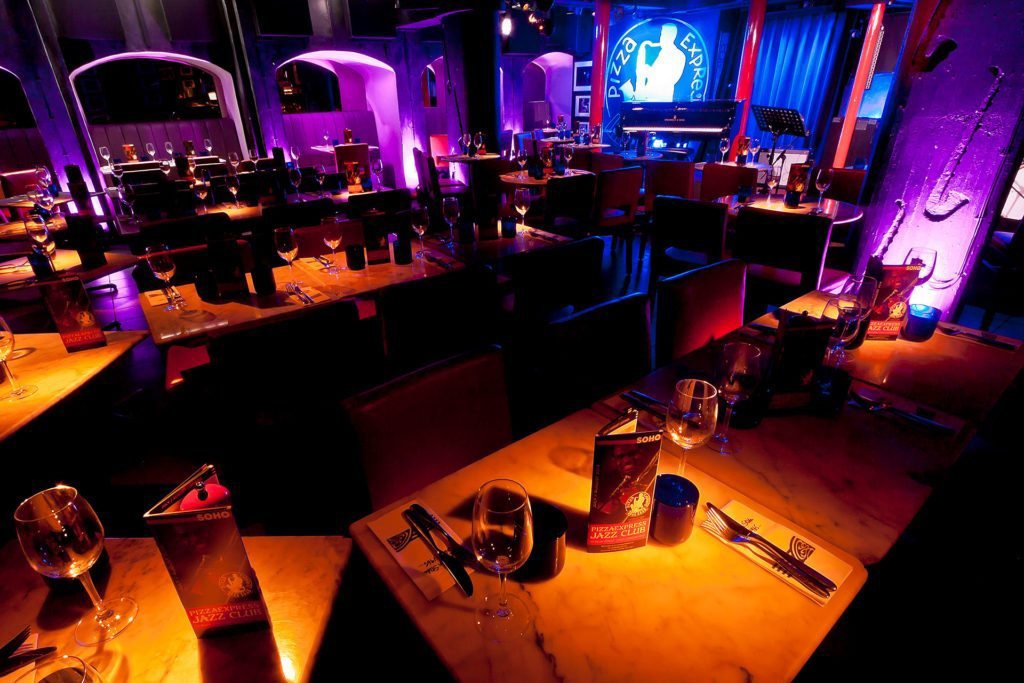 Details: 10 Dean Street, London W1D 3RW. pizzaexpresslive.com
15. Larry's Jazz Nights @ The National Portrait Gallery
Trail down the stairs into the vaults of the National Portrait Gallery for a quality jazz spot. Half dive-bar, half-speakeasy, Larry's is a glamorous cocktail bar serving picky bits and sharing boards, and offers a rotating lineup of jazz and soul music from Wednesdays through Saturdays. Discover Kitty LaRoar, accompanied by Nick Shankland, whose sultry voice and look tributes Marilyn Monroe, or meet Whiskey Moon Face, a jazz folk group bringing a touch of both New Orleans and Beirut – and more. Larry's presents the perfect cultural day out: explore the gallery by day, before hunking down with some drinks and live music by night.
Details: National Portrait Gallery, St. Martin's Pl, London WC2H 0HE. daisygreenfood.com