Stuck on what to do today? Let us help you. This Wednesday 28 March, we recommend that you take a trip to Mayfair to see Achille Salvagni's Atelier which has been transformed into a retro-futuristic space capsule. 
If you often find yourself stuck for ideas of what to do, we've come to the rescue with our brand new 'What To Do Today' feature. We handpick the best of what's on in London and the country right now, whether a new restaurant, must-see show, exhibition ending soon or a pop-up that you must, ahem, pop in to. Check back every day for inspiration…
What to Do Today: Visit Achille Salvagni's Studio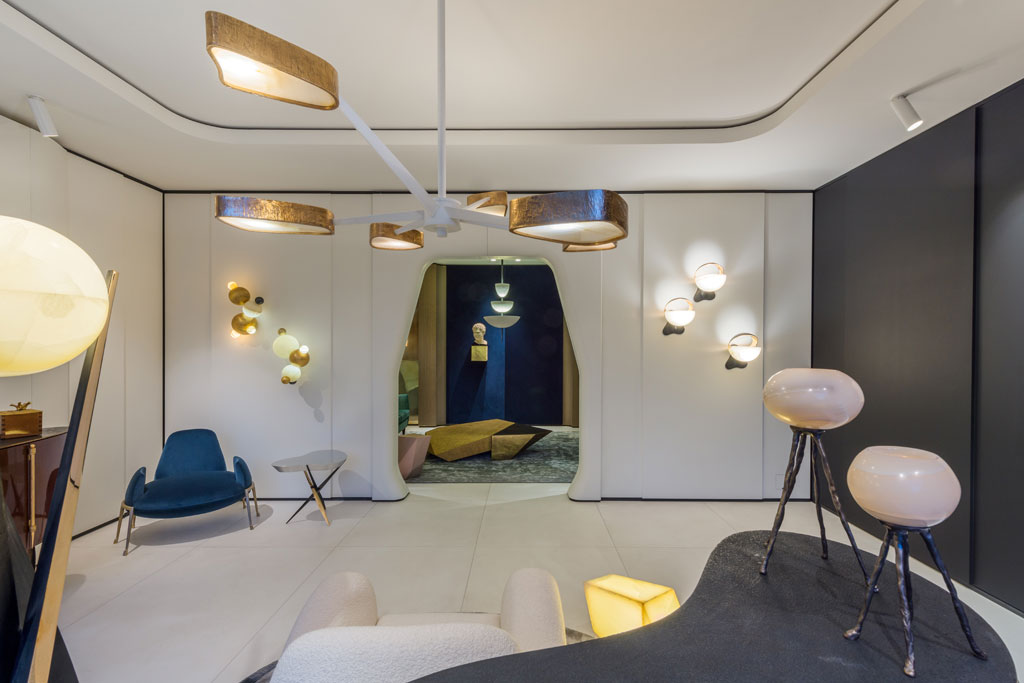 Achille Salvagni has transformed his Atelier into a series of rooms inspired by set designs from iconic 1960's science fiction films. Stanley Kubrick's 2001: A Space Odyssey plays a large part in the new eye-catching space age environment – Achille used several features from the film as inspriation.
With the earthy and metallic tones of Salvagni's signature pieces dotted around the space, the collection stands out against the white-washed floors, ceilings and panelled doors throughout. Pieces from the collection are made from natural materials such as onyx, 24k gold-plated bronze and European walnut. A pair of portholes that look out into 'space' are featured as well as a six-armed Spider chandelier that dominates the space in the front room.
Other items feature in the studio such as the Emerald and Menhir side tables and alien-like, six-legged Papillia armchairs. The Bubbles wall sconces, suspended on the walls, stand out in white, gold and a dark grey.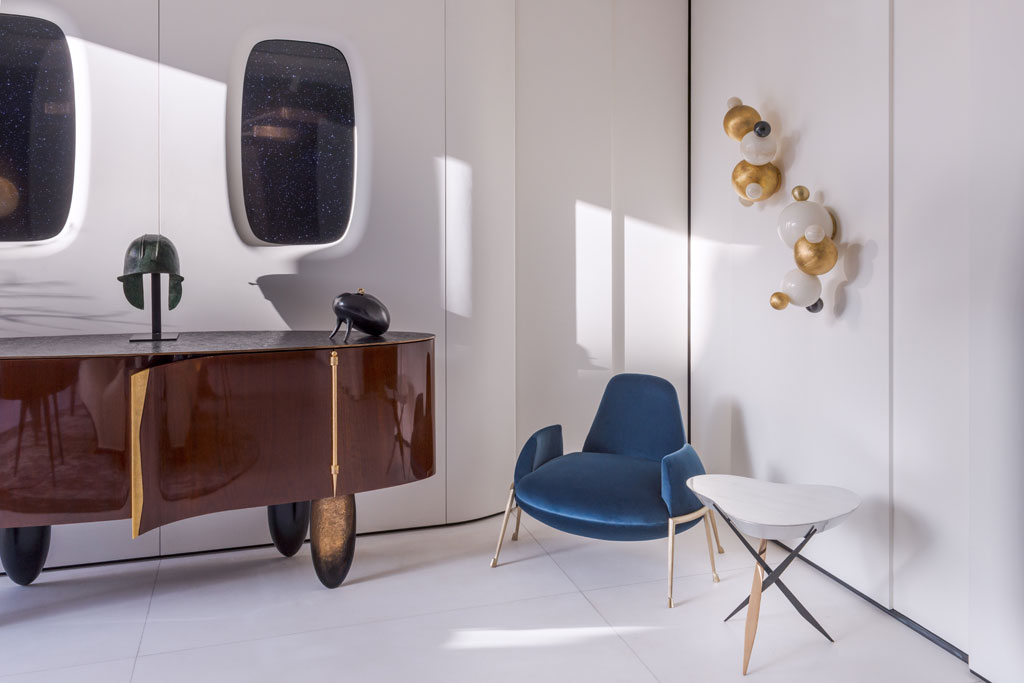 The second room features wood-panelled walls and the Simposio chandelier, hanging from the ceiling like an orbiting moon. A Cosmedin side table completes the collection with its marbled appearance like a view of the planets from space.
'I admire the ground-breaking production design of 2001: A Space Odyssey and the visionary atmospheres of 1960s science-fiction movies in general. As commercial space tourism takes shape, I created my own interpretation of a space capsule. I wanted to imagine a futuristic yet opulent interior with highly crafted pieces, design a personal response to the imminent exploration of this unchartered territory, another marvel soon to be revealed.' – Achille Salvagni
Achille Salvagni's unique designs use soft curves, white washed interiors and organic textures to merge between past and future tradition and innovation.
Available to see from 15 March – 7 September, achillesalvagni.com
---